Global Left Midweek - June 17, 2020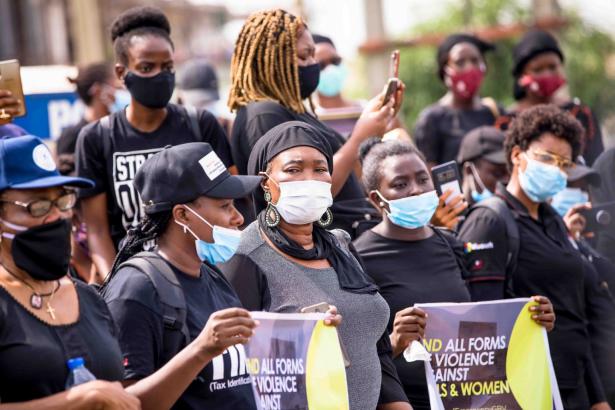 Sexual violence and femicide under lockdown motivated hundreds to take to the streets in Nigeria to demand the government take measures to stop sexual and gender based violence,Photo from Peoples Dispatch
__________
After Covid: Pamphlet Download
Institute for Critical Social Analysis / LuXemburg (Berlin)

Our goal in this text is to address the specific situation of the left amidst the crisis and to show how we can be proactive within it.
__________
Statements on the Upsurge
Interview  Arundhati Roy / Dalit Camera 
Our Unconditional Solidarity  Editors / Socialist Project (Toronto)
The Seed of a Radical Transformation  PI Council members / Progressive International (Athens)
Minneapolis and Jerusalem  Jonathan Cook / Middle East Eye (London)
__________
From Pakistan: Anti-Imperialism and Internationalism
Haqooq-e-Khalq Movement / Progressive International
To overthrow capitalism and to ensure a sustainable planet, we need to build an integrated strategy that overcomes the manufactured rivalries between popular classes from the global North and the global South.
__________
Two Directions for Momentum UK
Elliot Chappell / LabourList (London)
Following the nomination stage, members of the Corbynite activist network are choosing between 57 candidates competing to sit on the National Coordinating Group. Campaign groups Forward Momentum and Momentum Renewal have each unveiled a slate of candidates.
Pro  David Raby / Public Reading Rooms (London)
Con  Yanis Iqbal / Eurasia Review (Albany OR)
__________
Victory in Russia
Anton Kass / LeftEast (Bucharest)
The security forces in Izhevsk (the capital of the Udmurt Republic of the Russian Federation) has had second thoughts about launching a criminal case against the co-ordinator of the Russian Socialist Movement Dmitry Morozov.
__________
Press Repression in Philippines
Jodesz Gavilan / Rappler (Manila)
Human rights groups slammed the guilty verdict on Rappler CEO and Executive Editor Maria Ressa and former Rappler researcher-writer Reynaldo Santos over a cyber libel case that tested the Philippine Cybercrime law.
___________
Sexist Violence Targeted in Nigeria
Pavan Kulkarni / Peoples Dispatch (New Delhi)
A series of mass protests have been organized in cities across Nigeria demanding that the government take immediate measures to curb sexual gender based violence.
__________
Uruguayan Workers vs Neoliberalism
Peoples Dispatch
Uruguayan workers went on a 4-hour national strike and mobilized in the capital Montevideo. The action was taken to protest the Urgent Consideration Law (LUC), promoted by the ruling right-wing government of President Luis Lacalle Pou.
__________
Legacies
Sarah Hegazi  Egypt Today (Cairo)
Domingo Choc Che  teleSUR (Caracas)