Tidbits - June 18, 2020 - Reader Comments: Juneteenth events in Defense of Black Lives - find one near you; Police; Police and Military Spending ; Right to Refuse Unsafe Work; Remembering Berta Cáceres; Resources; Announcements; More...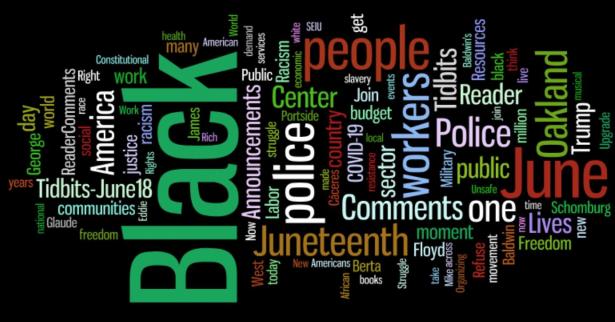 Tidbits - Reader Comments, Resources and Announcements - June 18, 2020,Portside
Resources:
Announcements:
Join the Week of Action to Defend Black Lives - June 19 - June 21 (Movement 4 Black Lives)
 

Everyone of us has a role to play in the great rising up across the nation in defense of Black lives and to demand justice for the victims of police and vigilante violence. Here we offer ways to come together, share, and take action.

"Power concedes nothing without a demand."
If you'd like to attend an event this weekend, either from home or out in the streets, check out to get plugged in. If you don't see one in your area, feel free to host one! We're building community with one another more deeply every day.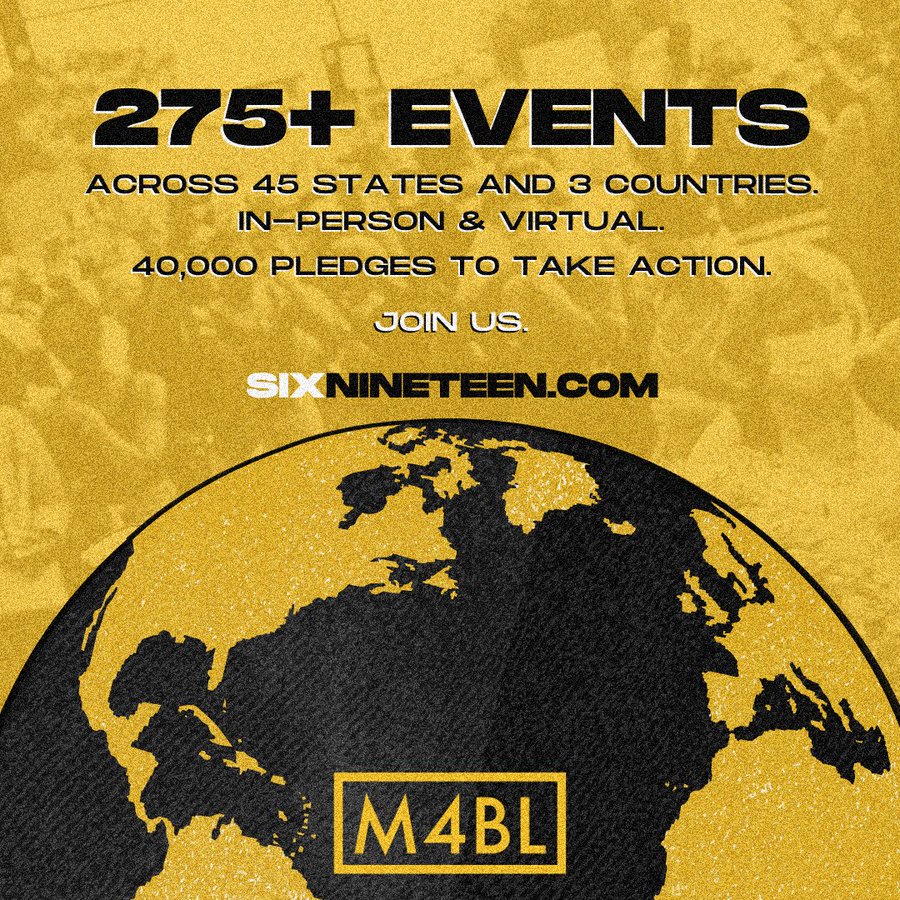 This Juneteenth is a rare moment for our communities to proclaim in one voice that Black Lives Matter, and that we won't tolerate anything less than justice for all our people.
 
At the end of May, streets once emptied by COVID-19 have filled with protesters in over 700 U.S. cities and towns. They demand justice in the wake of a new wave of state-sanctioned violence against black people-in particular the brutal murders of George Floyd, Breonna Taylor, Tony McDade, and Ahmaud Arbery-that recall with sickening familiarity the police murders of Eric Garner, Aiyana Stanley-Jones, and so many other black Americans. They were mothers, fathers, daughters and sons, leaving behind grieving friends and family members and a collective sense of outrage. The Trump administration's ineffectual, race-baiting, and militaristic response to the uprising has only served to heighten the crisis.
Laura Lynch
Posted on Portside's Facebook page
Re: Dockworkers to Shut Down West Coast Ports in Memory of George Floyd
(posting on Portside Labor)
 
"Keith Shanklin, the first black president of ILWU local 34 in Oakland, came together with the historically militant locals 10, 75, and 91 to organize the Juneteenth stoppage. 'Right now, workers have more power than a lot of people in this country understand," Shanklin said. "That's why we are going to put that power on display: to raise the voices of labor, and to raise the voices of black people in this country. To demand and return justice for George Floyd'."
Lucy Lewis
Posted on Portside's Facebook page
Many Brands Are Being Updated For Today  --  cartoon by Lalo Alcaraz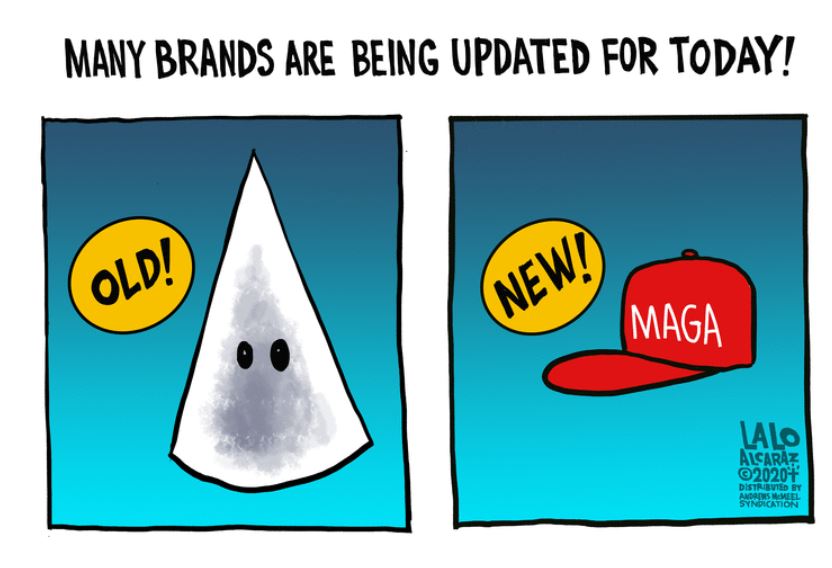 Lalo Alcaraz
June 18, 2020
Re: The Trump Regime Is Beginning to Topple
 
What a way to start the day. Trump properties are losing a million Dollars a day in revenues since the start of the coronavirus...you think he would want to get active on the problem rather than do bunker inspections.
Rich Cardia
Posted on Portside's Facebook page
     =====
he will get ten times that amount in bail outs.
Kathleen Katzmark
Posted on Portside's Facebook page
     =====
There's no oversight and if there was . Barr would block it.just like mcconnel blocks all the bills to the Senate floor. An administration of grifters.
As I recall last administration, no one went to jail or had dozens of ongoing in investigations
News today 30 evangelical leaders coming out against trump and his behavior. Finally
Nen of god should have figured this out from the beginning.
Rich Cardia
Posted on Portside's Facebook page
     =====
if anyone knows of a good moving company can you please pass it on to the White House will be in need in January!! thanks for your help!!
Dan Vold
Posted on Portside's Facebook page
Re: Police are the Problem, Not the Solution
(posting on Portside Culture)
I believe that our police forces should be cut in half and not permitted to have ex military equipment - in fact they should only be armed with non lethal defenses. The half of the budget saved should be used to consolidate public health and out reach programs ( food stamps and heat bill help and mental health treatments and job training ~ all should be under one roof so the whole person can be helped not just parts of their issues)
I think that police need to be trained for 3times as long as they are now ( from 8 months to at least 2 years )
They should get great base pay get no overtime and never anykind of bonus
They should never work more than a regular 8 hour day ( many police are on 12 hour shifts and noone can function well with that no sleep pattern)
Stop patrolling and looking for trouble - Wait to be called to help
That's all - have a great day !
Dusty Harrah
Posted on Portside's Facebook page
Re: Police Budgets, Austerity, and Tax Cuts for the Rich Are Colliding in Democratic States and Cities
 
No! To state budget cuts due to COVID-19! Ditch inhuman discriminatory austerity rules, authorize states to BORROW MONEY to protect the public in the face of multiple unforeseeable shocks!
Ellen Shaffer
Posted on Portside's Facebook page
How does Oakland Public Library spending compare to Oakland Police Department? 
 
Amy Martin, 13-year City of Oakland Library Worker and SEIU 1021 member, outlines the high price of the police budget compared to the library budget.
Amy Martin, a 13-year City of Oakland Library employee and SEIU 1021 member, sent a letter to Oakland Officials and shared her thoughts on NextDoor, a popular social network for neighborhoods, to say the police budget was taking up too many funds:
"In this historic moment, cities across the nation are moving to reappropriate police funds into social services. LA, New York, Minneapolis, San Francisco, and other major cities are looking to move funding from police into services that benefit Black and Brown communities.
 
One of the reasons I live in Oakland is its reputation as an activist city, at the forefront of social change. I hate to think that Oakland could be one of the cities left behind, and stay known as the city that spends nearly half of its General Purpose Fund on police. As you work with SEIU, IFPTE, and other Labor partners in the weeks to come, I implore you to weigh the benefits of the City services non-sworn employees provide, and not force us to bear the brunt of financial fallout from the COVID-19 pandemic.
 
I leave you with this final fact: OPD has been budgeted about $15 million for overtime for the last four years. Every one of those years, they have exceeded that budget by 100%, spending about $30 million. If they *only* exceeded their budget by 50%, $10 million would be saved, and concessions from Labor would be unnecessary. I live in Oakland. I love Oakland. And I vote. Every time.
Read full letter here.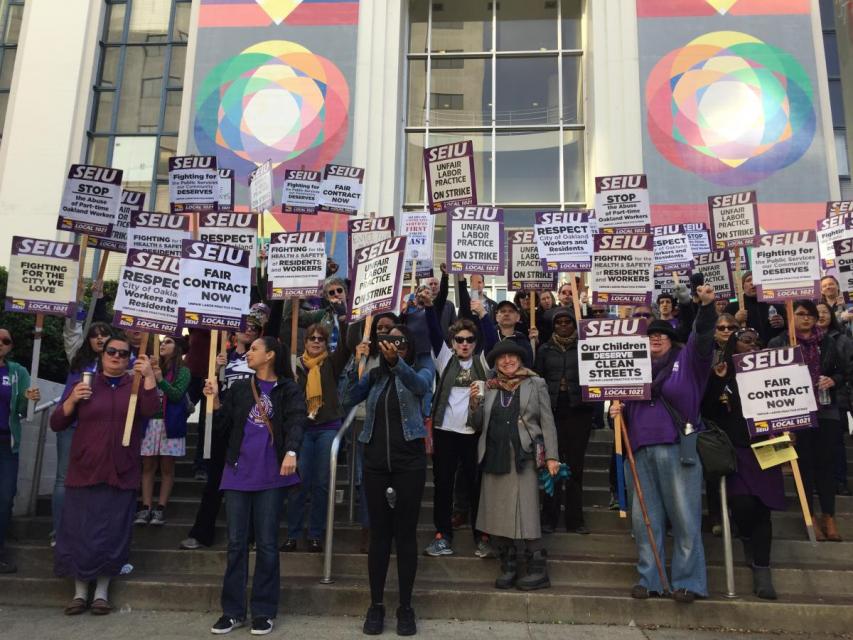 Re: Defund the Police, Defund the Military
 
So . . . if the police and military are defunded, what would replace them?
You're suggesting that these entities should not exist?
How about improving the policies and actions of these entities, rather than simply purge them out of existence.
Of course, that would require rational thought . . .
Oh well
Charles Ostman
Re: As Trump Threatens to Send Military Into Cities, Some GIs Refuse to Comply
Just remember the Neuernberg trials after world two those Nazi war criminals that stated they were only following orders were convicted because the ruling was they should have let their conscience be their guide and not commit the crimes against humanity that they did
Marty Hansen
Posted on Portside's Facebook page
     =====
Brave hero soldiers
Phyllis Aldrich
Posted on Portside's Facebook page
Re: The Right to Refuse Unsafe Work Is More Important Than Ever - But Expect a Fight
 
Your right to refuse to do a task is protected if all of the following conditions are met:
o Where possible, you have asked the employer to eliminate the danger, and the employer failed to do so; and
o You refused to work in "good faith." This means that you must genuinely believe that an imminent danger exists; and
o A reasonable person would agree that there is a real danger of death or serious injury; and
o There isn't enough time, due to the urgency of the hazard, to get it corrected through regular enforcement channels, such as requesting an OSHA inspection
Shays: A road map for resistance
Posted on Portside's Facebook page
     =====
If opening businesses is safe why are the U.S. Chamber of Commerce and conservative groups lobbying lawmakers to give companies legal immunity if workers get sick on the job, or if families say their loved one died after catching COVID-19 at work?
Tom Caves
Posted on Portside's Facebook page
Stupidity Unmasked  --  cartoon by Mike Luckovich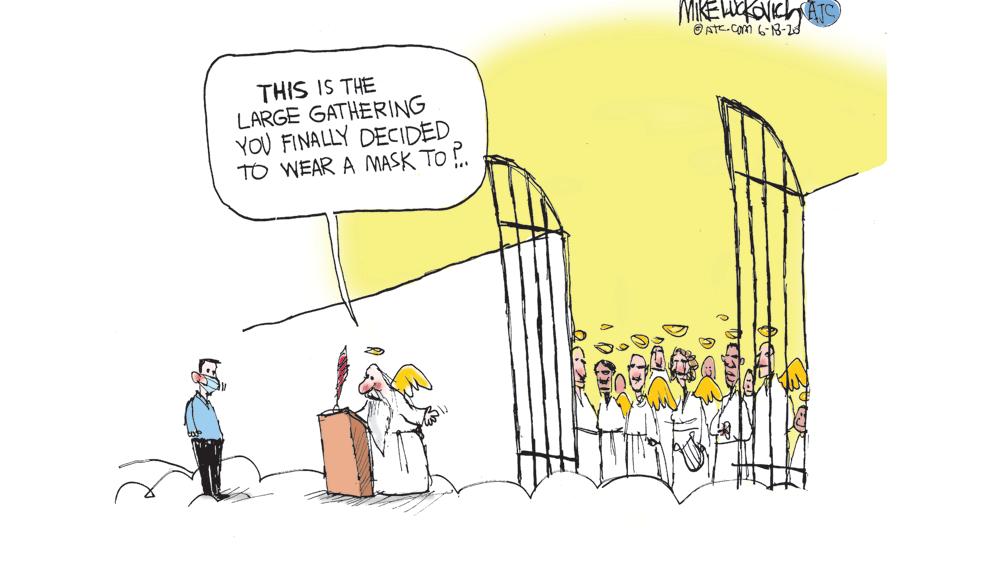 Mike Luckovich
June 18, 2020
Atlanta Jounral-Constitution
Yesterday, June 16, our group in Franklin County, MA, called for rallies in front of Post Offices at several towns across our county and sizeable numbers of people with "Save the Post Office" signs showed up at their local post offices. This is a very popular issue and a good way to talk about the importance of the Post Office and privatization of public services.
Judy Atkins
Posted on Portside's Facebook page
Re: What Black America Means to Europe
 
Who doesn't know that US racism has its deep roots in the culture of Jolly Old England, France (remember Haiti?) and Belgium in the Congo? Not to speak of the Spaniards/Portugese who initiated the genocide of First Peoples all over the New World. Shame on you bloody handed clowns, you've a lot to atone for, we Yanks learned it all from you,
Mike Liston
     =====
Thanks...Gary Younge.!!!
History lesson...sad and so true throughout centuries.
Sara Torres
Posted on Portside's Facebook page
Re:What the World Could Teach America About Policing
 
International examples abound of police reforms that are seen as "radical" in the United States.
John Gehan
     =====
Now this is enlightening. Don't agree with everything but no one has to.
Barbara Mocking
Posted on Portside's Facebook page
Re: How McCarthyism and the Red Scare Hurt the Black Freedom Struggle
 
Red baiting and race baiting often went hand-in-hand in the 1950s. In the bitter struggle in the electrical manufacturing industry between UE and the anti-communist IUE, which was created by the CIO leadership to raid and replace UE, the IUE offered as "proof" that UE was a Communist-controlled enemy of decent American workers, the fact that UE advocated equality for black workers.
Alan Hart
Posted on Portside's Facebook page
Re: For Murdered Honduran Organizer Berta Cáceres, "Any Injustice Was Her Battle"
 
Berta wasn't just anybody. They killed her because they knew the devastating impact it would have on the social movement in Honduras, and it has had that devastating effect. It's still recovering.
I think her legacy is multifold. For lots of people, her leadership role and vision in recovering the Lenca identity, in retrieving that pride in identity and culture will be her greatest legacy. Her actions, in a society ruled by machismo and patriarchy, to call out and act towards equality was absolutely pioneering. I don't know many Indigenous organizations that have done that even today. She made LGBT rights a core principal of COPINH. For her, every battle was her battle. Any inequality, any injustice was her battle.
Disraelly Gutierrez Jaime
Posted on Portside's Facebook page
     =====
What was clear to me when I started reporting and investigating her murder is that you couldn't understand Berta's murder without understanding who she was, nor could you understand her murder without putting it into a wider context of a criminal state propped up by national and international economic and political powers, including the U.S. government and the World Bank.
Dave Butler
Posted on Portside's Facebook page
Re: The Half-True Story of Catherine the Great
(posting on Portside Culture)
 
I enjoy watching as a reminder of how grotesque the aristocracy really was and is. Also reminds me why we should never encourage references to royalty, ie. my little princess, when referring to our own children.
Haydée Vélez-Colón
Posted on Portside's Facebook page
     =====
We do nor need royalty, supposedly given the rights to be parasites by God. Why this uptick in interest in movies about royalty and slave owning aristocracy? I wish we would get over such nostalgia.
Sonia Collins
Posted on Portside's Facebook page
Racism and Capitalism are Intertwined: An interview with Libero Della Piana (Organizing Upgrade)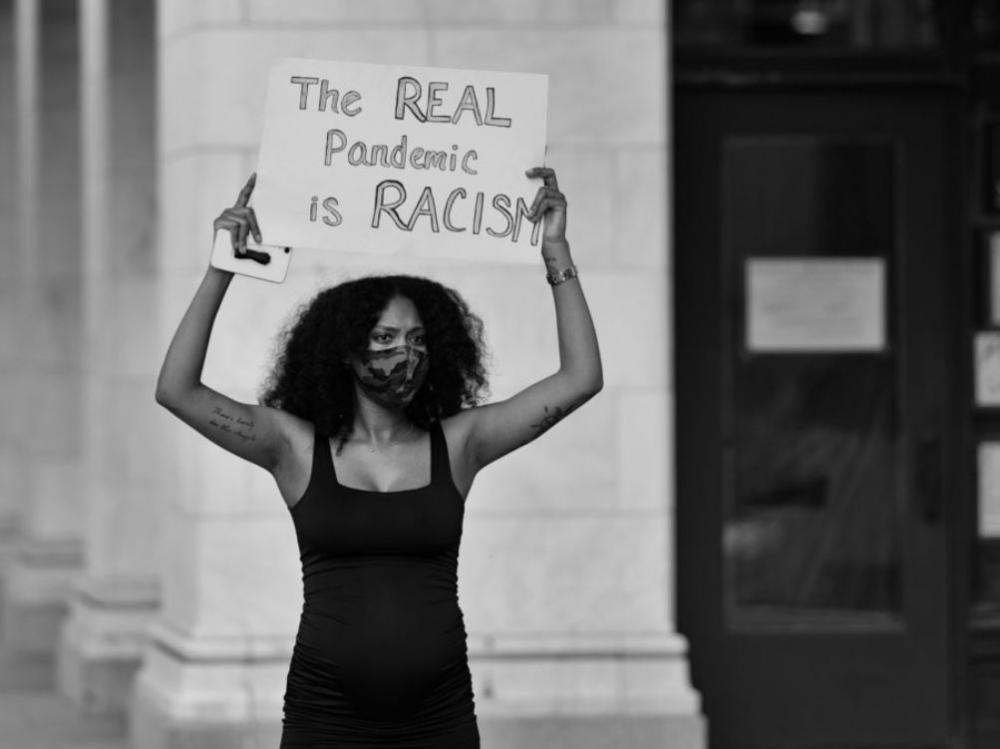 Note: This interview was originally published in l'Humanité in French on June 2. We are republishing it here at Organizing Upgrade to bring it to English speaking organizers. It has been lightly edited for republication.
Libero Della Piana is one of the leaders of Alliance for a Just Society, a popular education organization that combats racism, advocates for social justice policies, and builds the capacity of local community organizations. Here, he analyzes the groundswell raised by the murder of George Floyd.
When so many African Americans are brutalized and murdered by the police, how do you explain the powerful wave of anger sparked by the death of George Floyd?
I think there is always a breaking point for oppression. We have reached the breaking point. Black people have learned to live with the outrage, with constant harassment, jail, and death. Often times the police killings are localized and isolated. They don't make it to the national consciousness. The first time that reality changed was with the Rodney King beating in 1992. Black people knew the experience of police harassment and brutality, but to millions of Americans, it could be ignored or dismissed. Then suddenly it was on camera. Then as now, we assumed the evidence of police crimes on tape would lead to justice. When they didn't in the case of Rodney King, Los Angeles erupted. Now, nearly 30 years later the killing of George Floyd has ignited the anger of the whole country in an unprecedented way.
I think what makes this killing different is 1) the particular brutality of an officer putting a knee on Floyd's neck. The officer's casual disdain and inhumanity. This was not a bullet fired in the heat of the moment but a nine-minute slow-motion lynching. 2) We have had a decade of increasing attention to the police killing of Black people and the slow spread of public support for Black Lives Matter (as a principal more so than an organization). All of this combined with decades of Black grief and frustration, decades of economic and wage stagnation and deep poverty in Black and indigenous communities, combined with the death of over 100,000 people in this country because of the negligence of our government, and the recent unemployment of over 40 million workers forced into unemployment in the past three months is a recipe for a social explosion.
Read full interview here
New Report! Reimagined Recovery: Black Workers, the Public Sector, and COVID-19 (UCLA Labor Center)
 
A new report from the Center for the Advancement of Racial Equity at the UCLA Labor Center offers a blueprint for COVID-19 recovery and reinvestment in the public sector to promote economic opportunities for Black workers. Through the most recent government data and relevant literature Reimagined Recovery: Black Workers, the Public Sector, and COVID-19 speaks to the demands and the causes of local uprisings, with concrete recommendations for recovery in Los Angeles County.
Among other findings, the report notes:
1 in 5 Black workers work in the public sector
Nearly ⅔ of Black public sector workers are Black women
Black public sector workers earn 46% more than Black private sector workers and live in households with total incomes that are 22% higher than their private sector counterparts.
44% of Black public sector workers own their homes as opposed to 28% of Black private sector workers contributing to greater economic stability of Black pubic sector workers
The report offers a set of recommendations that provide state, county, and local governments guidelines for protecting and expanding public sector jobs that can uplift communities through workforce development training and pipelines, specifically targeting Black communities.
Applying a racial equity lens to all forthcoming budget decisions
Prioritize hiring and retention programs in the public sector
Intentionally target Covid-19 response resources to Black working-class families
Provide Black workers with adequate safety and safety net tools
Protect the health of Black workers, Black families, and Black communities.
Download Full Report here (PDF)
UCLA Labor Center
PO Box 951478
10945 LeConte Ave Ste 1103
Los Angeles CA 90095-1478
Phone: 310-794-5983, Fax: 310-794-6410
END Systemic Racism, STOP Police Terror, and STOP Privatization of the Port of Oakland! - June 19th (ILWU)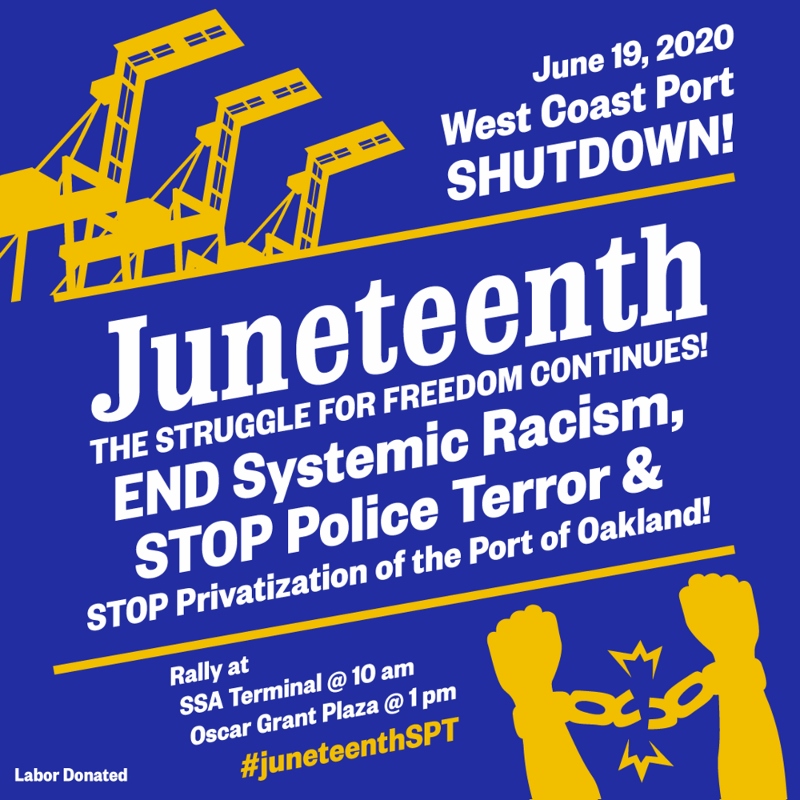 Presented by Committee to Stop Police Terror and End Systemic Racism
Join ILWU Locals 10, 34, 75, and 91 for a day of solidarity and resistance in Oakland as they close 29 West Coast ports and march from the Port of Oakland to Oakland City Hall on June 19, 2020.
The people of this country demand an end to the racist violence that claimed the lives of Brother George Floyd and so many others! The Fight against Racist Terror has been going on for centuries. 
It is time for organized labor to join the struggle!
#JuneteenthSPT #BlackLivesMatter #BLM  #Sixnineteen #StrikeForBlackLives
Join the March - click here
Schomburg Connection: Celebrate Juneteenth this 2020 - June 19th (Schomburg Center for Research in Black Culture)
 
Friday, June 19 is Juneteenth, a commemoration of when the last of our enslaved ancestors learned they were free. 

Although the Emancipation Proclamation was supposed to go into effect on January 1, 1863, many states refused to end slavery. The actual announcement of emancipation didn't reach Galveston, Texas until June 19, 1865. Since that day, African Americans have marked that day with celebrations, food, and advocacy, making Juneteenth another kind of independence day, with people celebrating with food, friends, and family. Especially food. 

The centuries-long freedom struggle had many architects and methodologies—from the rebellions of the enslaved and the efforts at abolition to the conductors along the Underground Railroad. This spirit of resistance is part of Juneteenth this year.

On this Juneteenth, as the world again grapples with the blight of racism, we invite you to explore our Black Liberation Reading List. The 95 titles on the list represent books we and the public turn to regularly as activists, students, archivists, and curators, with a particular focus on books by Black authors and those whose papers we steward. Nearly all of the books on the list can be borrowed for free in a digital format via The New York Public Library's e-collections, including its e-reader app SimplyE. Select titles are also available for purchase through the Schomburg Shop. As a thank you for your support, use discount code MEM2 at checkout. There, you will also see a preview of our Young Reader's List.

Join us to celebrate Juneteenth—live online—Friday, June 19 at 2 PM, in conversation with chef and historian Therese Nelson, Dr. Andrea Roberts, and founder of Texas Freedom Colonies Project. See our Featured section for more information. 

Plus, I encourage you to join our teach-in on Tuesday, June 23 at 5 PM. Brian Jones, associate director of the Schomburg Center's education department, and Professor Bettina Love discuss abolitionist teaching. Details on both events are below. 

We can all do one thing right now. Please complete your 2020 Census. Encourage your friends and family to do the same. Our ancestors once counted as three-fifths of a person. Today, we each count as one. Let's make sure our communities receive their fair share of federal funding for our hospitals, schools, and libraries to thrive. 

Sincerely,

Kevin Young
Director, Schomburg Center for Research in Black Culture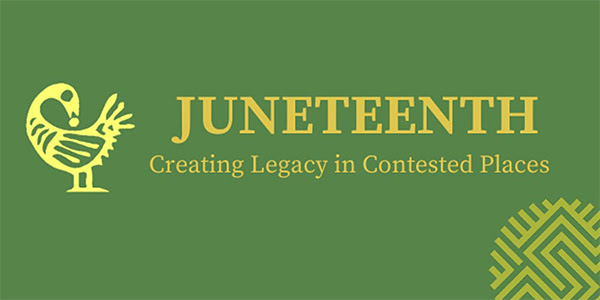 JUNETEENTH: Creating Legacy in Contested Places

Friday, June 19 | 2 PM
Join us online for an afternoon of music, conversation, and reflection. Chef and historian Therese Nelson, Dr. Andrea Roberts, founder of Texas Freedom Colonies Project, and chef and TV personality Carla Hall, author of Carla's Comfort Food: Favorite Dishes from Around the World, examine the artful negotiations of formerly enslaved African Americans and celebrate the persistent pursuit of freedom. Plus, Rootstock Republic premieres a new arrangement of "Strange Fruit," the seminal song, made famous by Billie Holiday, which called attention to the lynching of Black people in America.
Register here  -- FREE
Juneteenth: The Black Freedom Struggle Continues (Center for Constitutional Rights)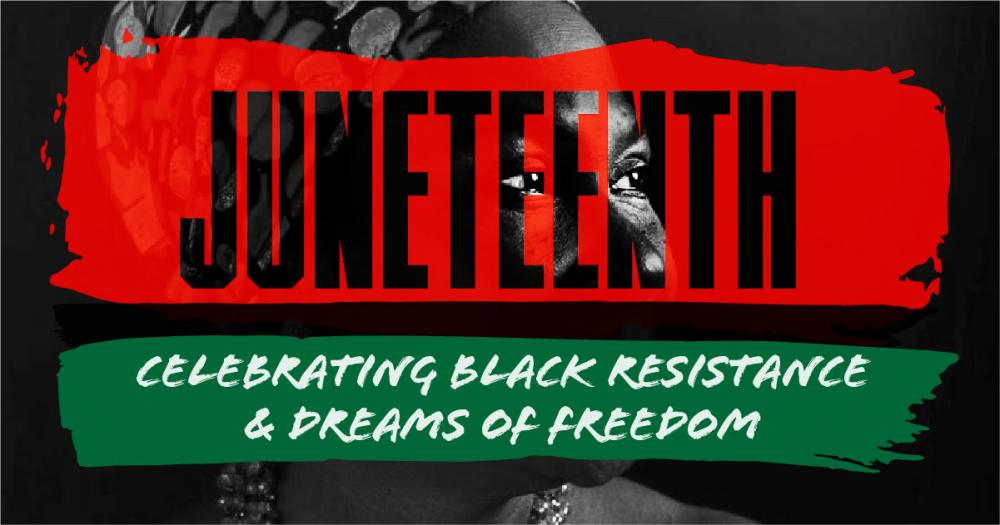 We honor Juneteenth—the celebration of the end of chattel slavery in the United States—by envisioning a world freer than the one in which we currently live. Each year since the June 19, 1865 reading of the Emancipation Proclamation to Black people in Galveston, Texas, Black people have celebrated the ongoing fight for freedom. 155 years later, Juneteenth comes during a national uprising against anti-Black racism. Broad coalitions all over the world are standing up for the abolition of our unjust prison and policing systems and our life-depleting institutions and ideologies.
The Center for Constitutional Rights marks this extraordinary moment of protest and hope with a week of art, culture, and commemoration centering Black voices and demands for justice, accountability, and freedom. The ratification of the 13th Amendment in December 1865 did not abolish all slavery in the United States, and instead explicitly permitted slavery in prisons. Today, the prison-industrial complex and the epidemic of policing and caging Black and brown bodies serve as the current manifestation of global anti-Blackness. Our Juneteenth week includes the release of our Juneteenth statement; discussions of prison abolition and visions of a world without cages; a showing of The Black Power Mixtape 1967-1975 as part of our Freedom Flicks series; and a joyous musical celebration of Black Liberation on Instagram Live. On Juneteenth itself we will join Rise St. James for a commemoration of the lives of enslaved people buried in Louisiana at a gravesite threatened by the construction of a Formosa Plastics factory. In solidarity with freedom fighters everywhere, the Center for Constitutional Rights engages in the liberation struggle with joy, honesty, and love.
The Black Freedom Struggle Continues
This moment of both protests against police violence and the novel coronavirus demands us to commit to rejecting all harmful value systems, ideologies, and institutions that serve to uphold an immoral hierarchy of human life.
The prison-industrial complex serves as the current manifestation of anti-Blackness globally: in the spirit of slavery abolitionists and the ongoing Black freedom struggle, we hereby commit institutionally to its abolition.

READ THE FULL STATEMENT
Center for Constitutional Rights
666 Broadway
7th Floor
New York, NY 10012
Main: 212-614-6464
Fax: 212-614-6499
THE MASS POOR PEOPLE'S ASSEMBLY & MORAL MARCH ON WASHINGTON - A DIGITAL JUSTICE GATHERING - June 20
 
Somebody is hurting our people. It has gone on far too long, and we won't be silent anymore.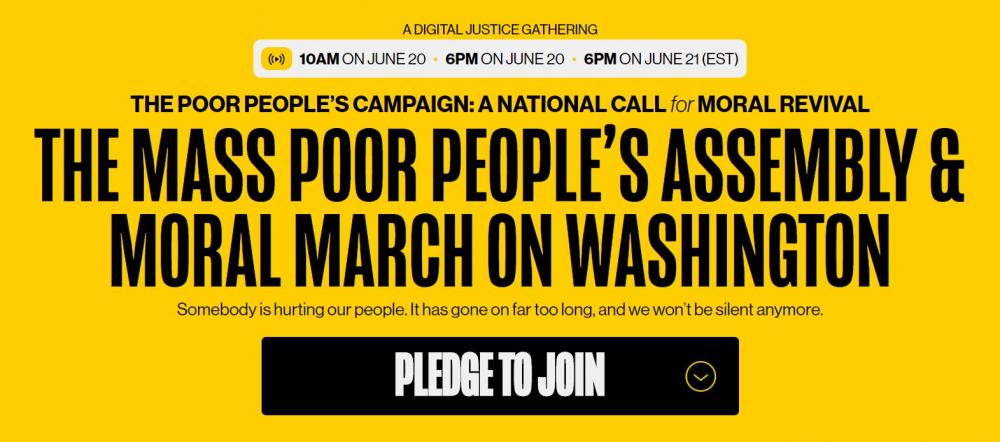 A DIGITAL JUSTICE GATHERING
10AM ON JUNE 20 -- 6PM ON JUNE 20 - 6PM ON JUNE 21 (EST)
   
Join the movement to unite the 140 million poor and low-income people across this country. We'll also send your message to your elected officials inviting them to listen to our voices, demands, and solutions. After you take the pledge you'll have the chance to take a selfie to join the digital assembly and march. Then make sure to watch our livestream at 10am and 6pm EST on June 20th, and again at 6pm on June 21st.
What is the Poor People's Campaign: A National Call for Moral Renewal?
The Poor People's Campaign: A National Call for Moral Revival is building a broad and deep national moral fusion movement—rooted in the leadership of poor people—to unite our country from the bottom up.
There are 140 million poor and low-wealth people in the richest country in the world. We're bringing together tens of thousands of people across the country to challenge the evils of systemic racism, poverty, the war economy and militarism, ecological devastation and the nation's distorted morality.
This Campaign is made up of people of all backgrounds. We are Black, Brown, Indigneous, Asian and White; we are old and young; we are people of faith and not of faith; we are people of all sexual orientations and gender identities; we are people of all abilities; we are led by poor people and we are a broad movement made up of those from all walks of life.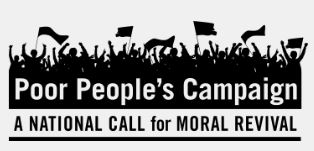 contact us at https://www.poorpeoplescampaign.org/about/contact-us/
Economic Freefall & Structural Racism - June 24 (CUNY School of Labor and Urban Studies)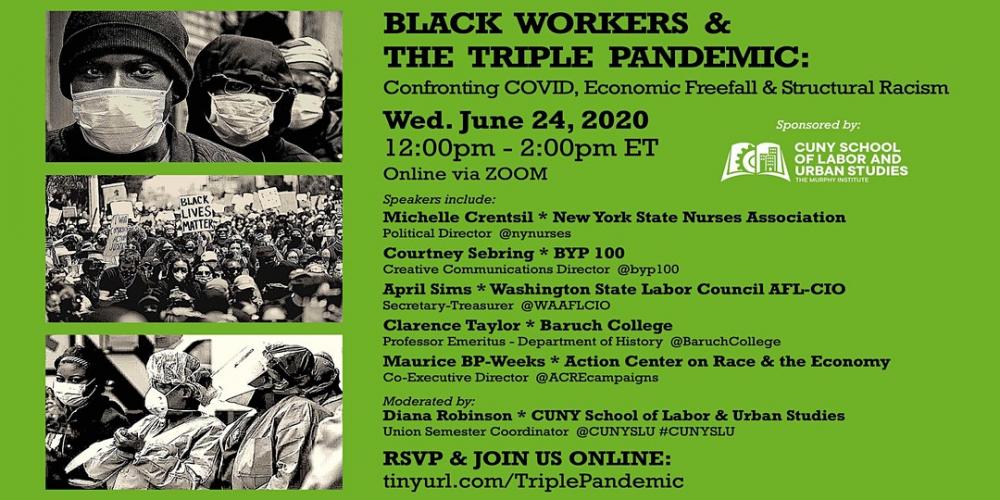 Black workers are facing a crisis on multiple fronts. They are more likely to be frontline workers and more likely to die from COVID-19. Unemployment rates for Black workers continue to rise even as rates for white workers fall. And they are on the front lines in the system of structural racism that leads to police brutality, poverty, and worse health care outcomes.
At the same time, the Movement for Black Lives has created the foundation of a resistance, and an opening to imagine real change.
How can we build a broad movement of unions, worker centers, community organizations and social justice activists to dismantle white supremacy? Considering the legacy of structural racism and police brutality, as well as the virus and economic crisis, our speakers will discuss ideas on how to build working class power for a better world.
Join us on Wed. June 24th!
Click here to RSVP & get link to Zoom webcast
The Moment Was Now - A musical journey to 1869 - June 24 (Organizing Upgrade)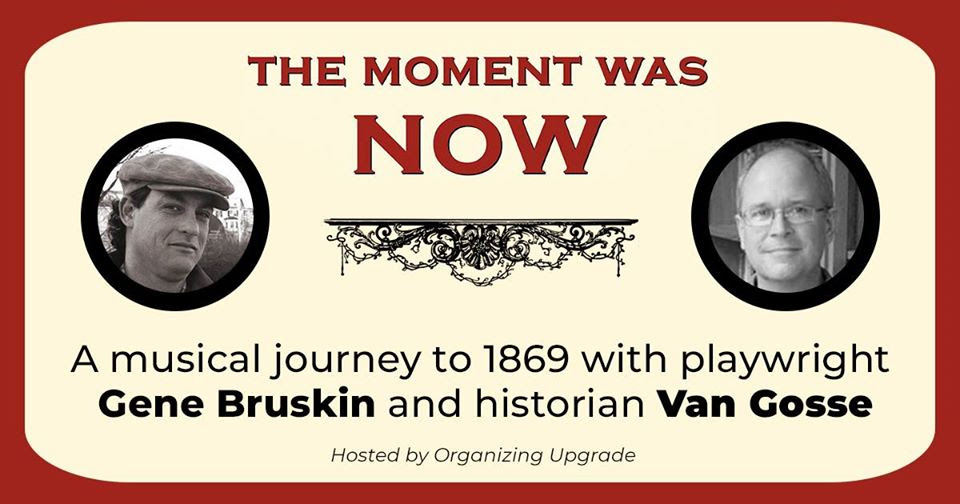 The Moment Was Now portrays a fictional meeting that might have taken place during Reconstruction between Frederick Douglass, Susan B. Anthony, William Sylvis, Issac Myers and Frances Ellen Watkins Harper. It concerns the very same issues we are dealing with today - how to fight racist reaction and mesh the Black, labor, women's and other movements together.
The Moment Was Now was first written as a musical play; now it has been made into a film. Full information about the film is here, and you can watch a brief clip here.
Join us for a special online event sponsored by Organizing Upgrade featuring a segment from the film followed by a discussion between playwright Gene Bruskin and historian Van Gosse on its meaning for today.
Registrants will receive an email on the day of the event with information about how to join.
Wednesday, June 24, 2020 at 8 PM - 9:15 PM
Register here  --  FREE
Begin Again: James Baldwin's America and its Urgent Lessons for Our Own - July 1 (Haymarket Books)
 
image - Begin_Again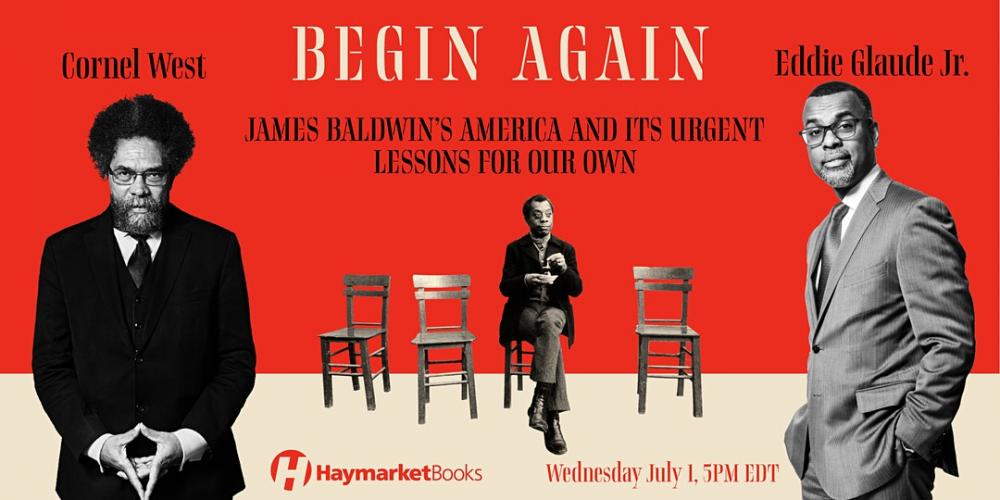 Eddie Glaude and Cornel West discuss the enduring legacy of James Baldwin and lessons from his work for confronting racism today.
July 1  --  7:00 - 8:30pm EDT - New time
Haymarket Books is an independent, radical, non-profit publisher. Every dollar we take in from book sales and donations goes directly to support our project of publishing books for changing the world—a project has never been more necessary or more urgent. We need your help to continue to do the work.
While all of our events are freely available, we ask that those who are able make a solidarity donation in support of our continuing to do this important work.
Register through Eventbrite to receive a link to the video conference on the day of the event.
------------------------
"In the midst of an ugly Trump regime and a beautiful Baldwin revival, Eddie Glaude has plunged to the profound depths and sublime heights of Baldwin's prophetic challenge to our present-day crisis." —Cornel West
James Baldwin grew disillusioned by the failure of the civil rights movement to force America to confront its lies about race. In our own moment, when that confrontation feels more urgently needed than ever, what can we learn from his struggle?
We live, according to Eddie S. Glaude Jr., in a moment when the struggles of Black Lives Matter and the attempt to achieve a new America have been challenged by the election of Donald Trump, a president whose victory represents yet another failure of America to face the lies it tells itself about race. From Charlottesville to the policies of child separation at the border, his administration turned its back on the promise of Obama's presidency and refused to embrace a vision of the country shorn of the insidious belief that white people matter more than others.
We have been here before: for James Baldwin, these after times came in the wake of the civil rights movement, when a similar attempt to compel a national confrontation with the truth was answered with the murders of Medgar Evers, Malcolm X, and Martin Luther King, Jr. In these years, spanning from the publication of The Fire Next Time in 1963 to that of No Name in the Street in 1972, Baldwin transformed into a more overtly political writer, a change that came at great professional and personal cost. But from that journey, Baldwin emerged with a sense of renewed purpose about the necessity of pushing forward in the face of disillusionment and despair.
In the story of Baldwin's crucible, Glaude suggests, we can find hope and guidance through our own after times, this Trumpian era of shattered promises and white retrenchment. Mixing biography—drawn partially from newly uncovered interviews—with history, memoir, and trenchant analysis of our current moment, Begin Again is Glaude's endeavor, following Baldwin, to bear witness to the difficult truth of race in America today. It is at once a searing exploration that lays bare the tangled web of race, trauma, and memory, and a powerful interrogation of what we all must ask of ourselves in order to call forth a new America.
Eddie S. Glaude Jr. is a scholar who speaks to the black and blue in America. His most well-known books, Democracy in Black: How Race Still Enslaves the American Soul, and In a Shade of Blue: Pragmatism and the Politics of Black America, take a wide look at black communities and reveal complexities, vulnerabilities, and opportunities for hope. He is the William S. Tod Professor of Religion and African American Studies and chair of the Department of African American Studies at Princeton University.
Cornel R. West is Professor of the Practice of Public Philosophy at Harvard Divinity School. He is best known for his classics Race Matters and Democracy Matters, and his memoir, Brother West: Living and Loving Out Loud. He is the host with Tricia Rose of a new podcast, The Tight Rope.
Preorder a copy of Eddie Glaude Jr.'s new book, Begin Again: James Baldwin's American and Its Urgent Lessons for Our Own, coming out June 30th.