Mandela Taught Us the Value of a United Cause in Prison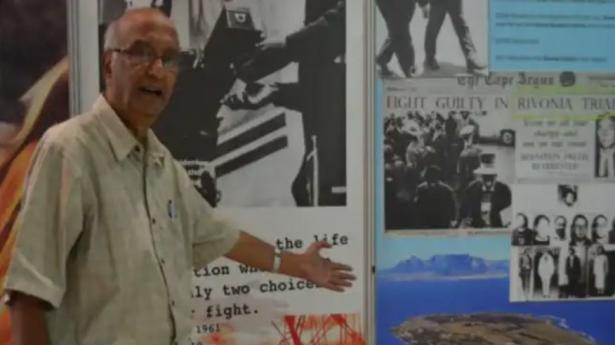 Anti-apartheid struggle activist Sunny Singh points to an image of Robben Island where he was imprisoned for 10 years.,photo: IOL (South Africa)
When one is a young political activist, it's difficult to understand why it's so problematic for the different political formations to unite for a common cause against a common enemy, apartheid.
I could understand when we were still struggling against apartheid we, the Congress Alliance, used non-violence as our tactic, but that came to an end with the brutal massacre of 69 of our people on March 21, 1960.
The ANC came to a common understanding to change the strategy and form an armed wing.

My focus is on our struggles inside prison. These were struggles to improve the terrible conditions that were beyond any civilised standards.
Robben Island prison saw hundreds of us from different organisations, especially the ANC and the PAC and YCCC, who were arrested from 1962 to 1965.
A new struggle had to be waged in prison, to unite the other groups so we could confront the enemy as a united front, to improve the conditions.
The PAC wasn't interested in unity. When we went on hunger strikes, they didn't join the others. After many hunger strikes, food began to improve, so all of us benefited. Even in sports, we were divided. After a couple of years, one of the PAC clubs began to integrate with an ANC manager. Sport should be a unifying force.
Learning to change in the adverse conditions we found takes time, but humans do change to improve their lives, and changes began with early shoots, even in the most trying conditions.
After about two years, the shoots began to sprout in a beautiful plant with an integrated club called Manong.
Manong became one of the best clubs on the Island. The chair was from the ANC.
We reached a stage of provocation by ultra-nationalists, so the ANC leadership selected the following comrades to respond: they were Harry Gwala, Zola Nkquine and Seretse Tshwabe.
They put an objective position on the history of the ANC and silenced the PAC forever.
On a lighter note, the perceptions of our relations with the PAC, especially the Indian comrades, began to improve, not from a principal position, but through trust and closeness.
I would deliver news to the various sections including to the PAC. As a result, I became friendly with many of them. I used progressive French, Russian and American literature to change some of those who were close to me. Changing mindsets is a long process.
We had a comrade by the name of Kisten Moonsamy who spent 14 years on Robben Island and was dark in complexion. He got along very well with the PAC members, especially with Dikgang Moseneke, our former deputy chief justice. He worked with Jafta Masemola in the blacksmith shop. Both got along very well.
Building unity in the isolation section was also a big problem. Even smaller groups, like the YCCC, challenged Mandela's leadership. Mandela had mountains of patience, even under hostile attitudes. Fikile Bam was elected as chair, to the surprise of the other ANC inmates.
Here, too, Mandela was tolerant and a flexible leader and persuaded all the other inmates in their section to accept Fikile as chairperson.
When conditions became unbearable, it needed a strong leader, and Mandela gave that leadership.
When we got the tragic news of the passing away of the president of the ANC Albert Luthuli in July 1967, the ANC leadership organised a memorial service and invited the other organisations to attend and say some words for the first Nobel Laureate in Africa. Mandela writes in that when Neville Alexander from the Yu Che Chan Club rose to speak, it was apparent that he had come not to praise Luthuli, but to bury him.
History, time and again, teaches us that even in the harshest conditions like the fight against fascism, against Mussolini in Italy and Franco in Spain, all the forces fighting the regimes, whether they were communists, socialists, liberals or Catholics, were united against a common enemy.
So the question is: why were we in South Africa different when there was a common enemy, apartheid? Mandela writes in
after Sharpeville in 1960, both the ANC and PAC were banned.
The PAC thought they were the leading liberation movement, so this gave them the right to claim supreme power over others, but history proved them wrong.
In it shows how yesterday's so-called "enemies" changed attitudes. Here is what Neville Alexander had to say on how his thoughts changed about Mandela. "Mandela made a central contribution to Robben Island, not only through the impact of his personality and his general approach to people and political issues, but he, in particular, was able, through rigorous and sometimes exhaustive debate, to bring people to understand that in trying simply to get the best condition for everybody he was not being evil or collaborationist or trying to sell out. And generally speaking, we all came to accept that that strategy was correct.
"Mandela and Walter Sisulu supported our youthful rebellious attitudes towards prison conditions and towards the warders, but they made us understand that we were going to accept that we were going to be there for a long time and that tactically, we were going to run ourselves into the ground by continuing rebellion and getting punished and beaten up.
"And therefore, it was better to have a strategy of slowly but surely getting the conditions improved, getting the warders and authorities to understand that we weren't criminals, and to make use of the period there to study, to teach others, and to prepare for the continuation of the revolutionary struggle once we got out."
Alexander ends by saying: "Mandela is not just an icon, it is important to highlight those things that show how a really humble person, with tremendous vision and insight, was able and still is able to inspire millions of people to go the extra mile, to go beyond themselves, to bring about a change, regardless of whether they accept what he stands for or not. I think that side of Mandela, that side of him is most attractive to people."
What lessons have we learnt? Yes, the fight was a very long one with heavy tolls. Yes, sometimes we fought politically among ourselves, but unity prevailed with victory in 1994 with a first democratic state.