Global Left Midweek - September 16, 2020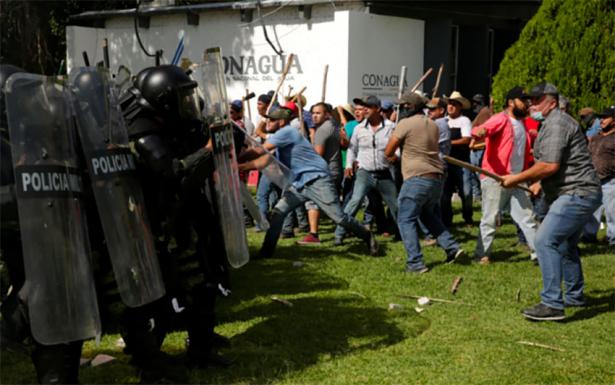 Farmers and Mexican National Guard face off at La Boquilla dam in Chihuahua,Credit: Mexico News Daily
__________
Sunflowers and the Revolutionary Party
Manuel Cabieses Donoso / The Prisma (London)

The editor of Chile's Punto Final magazine proposes a botanical approach to building the political left. "If it were only necessary to form a party in order to construct a Left alternative, it would have already happened. However, we have spent years insisting on this method with no result."
__________
Video: Protests Recall Chile's 9/11 Coup
Lucia Newman / Al Jazeera (Doha)
After 47 years, many hope that a new constitution will replace the one written during the dictatorship.
__________
Hong Kong in Revolt
Ivan Franceschini and Au Loong-Yu / Made in China (Canberra)
Hong Kong leftist intellectual Au Loong-Yu retraces the development of the protest movement in his place of birth over the past two decades, setting them within the context of broader political trends in mainland China and beyond. 
__________
Mexico: Three Sites of Struggle
Feminists in Mexico City  Zoe Mendelson / Hyperallergic (Brooklyn)
Indigenous Environment Defenders  Demetrio Romeo / openDemocracy (London)
Farmers in Chihuahua  Mexico News Daily (Puerto Escondido)
__________
Yellow Vests' (Temporary) Quarantine
Francesco Ditaranto / Il Manifesto Global (Rome)
What happened to the movement after the pandemic began? [Portside note: Read the Yellow Vests' response to this premature obituary.]
__________
Bolivia: MAS Candidate Speaks
Luis Arce / Jacobin (New York)
Massive protests last month forced Bolivia's post-coup government to pledge that elections will take place on October 18. But democracy is still in danger, with powerful private interests standing to gain from the continuation of the current regime.
__________
Delhi Police Target Left Academics and Activists
Ajoy Ashirwad Mahaprashasta / The Wire (New Delhi)
Delhi police are charging that well-known activists and academics are part of a conspiracy behind widespread violence as mass demonstrations protested the anti-Muslim Citizenship Amendment Act.
__________
Why Corbyn Lost
Andrew Fisher / openDemocracy (London)
Neither the emergence of Corbynism nor its failure were primarily due to individuals or groups of individuals, but to structural factors that need to be understood.
___________
Kenya: Healthcare Workers Turn Up the Heat
Strikes, slowdowns and demonstrations have forced the government to take steps to provide health workers with the medical coverage they demand.
__________
No Socialism Without Accountability
Alex Demirović / Socialist Project (Toronto)
The ideas and concepts of socialism are the subject of discussion and conflict. There are a range of suggestions for how to define it. If there are differences and contradictions between the claims to universality and the various social groups, their interests, and needs, then there is a need for forms which can mediate contradictions and tensions between the universal and the particular. Democracy is the process through which this happens.