Tidbits - Oct. 22, 2020 - Reader Comments: 2020 Elections; Amy Coney Barrett; COVID and workers; Bolivia; Workers photo exhibit; People's Culture; resources; announcements; more....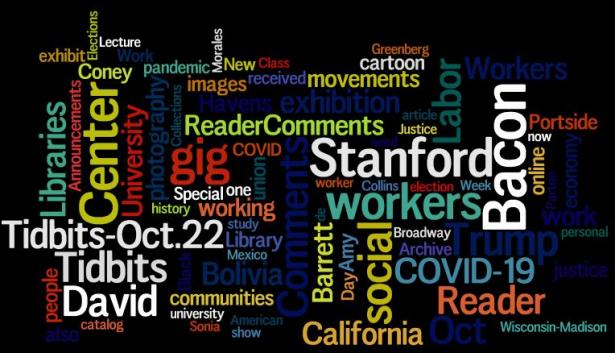 Tidbits - Reader Comments, Resources, Announcements, AND cartoons - Oct. 22, 2020,Portside
Resources:
Announcements:
Re: Barrett's Evasions Show Why Expanding the Court Is Necessary
 
Evasions like hers have been the standard approach for Trump SCOTUS nominees.
She's been evasive about things that are core to the integrity of the court and the rule of law, for instance she wouldn't commit about a peaceful transfer of power should Trump lose the election. And when asked about climate change, she pretended to have no idea whether it's real, or whether there's a scientific consensus about it.

If her evasions were legitimate, then there would be no questions at all for a Senator to ask a judicial nominee, because it can't be predicted what specific issues might come before the SCOTUS.
Norm Littlejohn
Posted on Portside's Facebook page
     =====
We need to get rid of the lifetime appointment and the approval process that relies on a simple majority in the House of Lords.
Sonia Collins
Posted on Portside's Facebook page
Liberty's Mask  --  cartoon by Mike Luckovich
 
i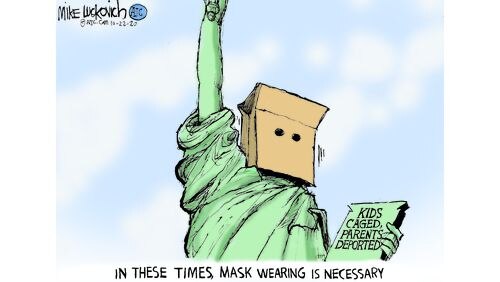 Mike Luckovich
October 22, 2020
Atlanta Journal-Constitution
Re: Workers Can Expect Sympathy from Amy Coney Barrett – As Long As They Don't Bring a Class Action to Defend Their Rights
If I remember correctly wasn't she involved in the Bush Jr stolen election???
Dudley Harkins
Posted on Portside's Facebook page
     =====
She. Kavnagah and Roberts all worked on a VERY SPECIAL CASE TOGETHER
BUSH V GORE.
NOW THATS THE REST OF THE STORY
Gerry Ryan
Posted on Portside's Facebook page
     =====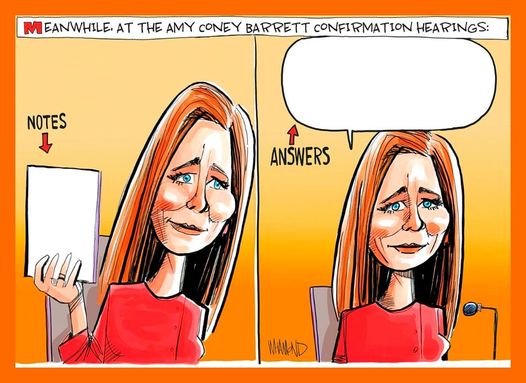 Mary Alvarez Garza
Posted on Portside's Facebook page
     =====
She cannot be trusted as she claims to be Catholic. A true believer would follow and believe in the teachings of Christ and not the Republican party! I'm under the assumption that she's really the devil's mistress!
Neil Uscier
Posted on Portside's Facebook page
Viruses for Trump  --  cartoon by Lalo Alcaraz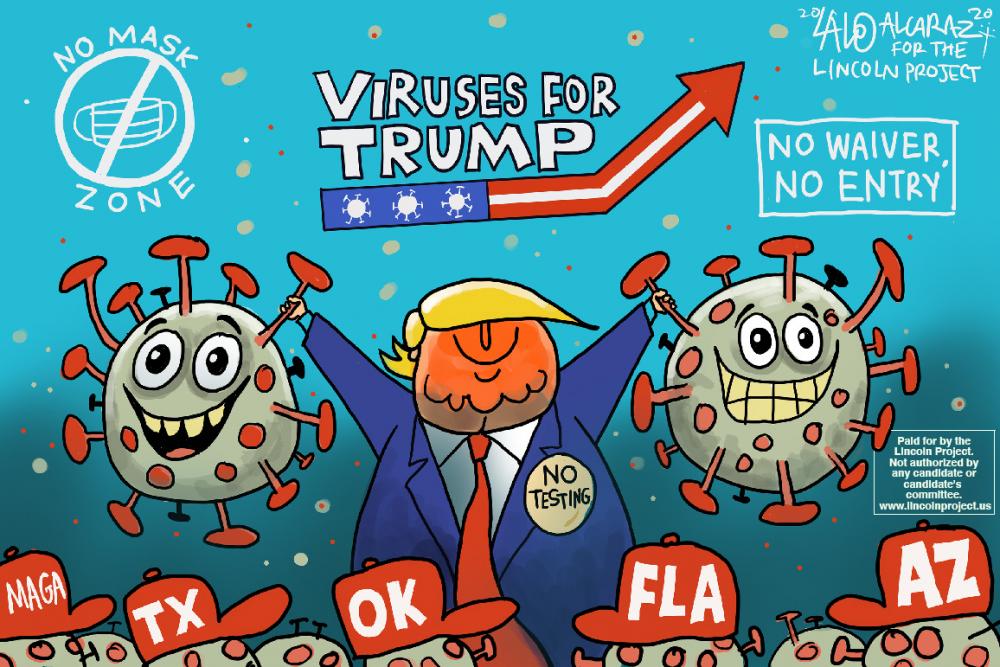 Lalo Alcaraz
October 20, 2020
Paid for by the Lincoln Project
Re: Trump's Base Boos Indigenous Peoples' Day at Campaign Rally in Michigan
 
The name of the city/town is Muskegon is likely a Native American word. We must end this disastrous affair with the Trump dynasty. Trump is ignorant of American history and completely disrespectful of Native peoples. His conduct and his words are despicable, a denigration of the office of the President of the United States!
Velva Spriggs
     =====
In the homelands of the People of the Three Fires, the Ojibwe, Ottawa and Potawatomi, President Donald Trump called those who want to replace Columbus Day with Indigenous Peoples' Day "extremists." Trump held a campaign rally in Muskegon, Mich. on Saturday afternoon. His base of mostly Caucasian supporters loved what the president said and booed the idea of Indigenous Peoples' Day. 
Laura Lynch
Posted on Portside's Facebook page
Future Books by Republican Senators  --  cartoon by Steve Greenberg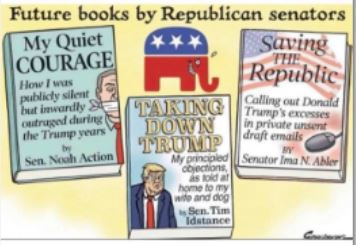 Steve Greenberg
August 8, 2019
Cartoon Movement
Re: Workers Tried to Blow the Whistle on COVID Hazards. Then People Died.
(posting on Portside Labor)
It's no surprise that our government failed us in almost all aspects of the pandemic... politicians, OSHA, CDC, etc. Here we are 10 months later and people in nursing homes and healthcare workers are still getting Covid-19, and PPE is still in short supply in many places.
Denise Barnes Oppermann
Posted on Portside's Facebook page
Re: Will Escaping Americans Test Canada's Capacity for Sympathy?
 
Leo Panitch The Bullet "... We wait, helplessly, to see whether the forces opposed to Trumpism inside the United States will succeed. 
"...Immediately after watching the debate myself, I was impelled to go hunting for my battered old copy of It Can't Happen Here, Sinclair Lewis's Depression-era novel about the coming to power of a fascist president. A passage toward the end, rather foreshadowing Margaret Atwood's ending to The Handmaid's Tale, tells of a dissident journalist who, after escaping a US concentration camp, arrives in Canada supposing…
"that everyone would thrill to his tale of imprisonment, torture, and escape. But he found that ten thousand spirited tellers of woe had come before him, and that the Canadians, however attentive and generous hosts they might be, were actively sick of pumping up new sympathy. They felt that their quota of martyrs was completely filled, and as to the exiles who came in penniless, and that was the majority of them, the Canadians became distinctly wary of depriving their own families on behalf of unknown refugees, and they couldn't even keep up forever a gratification in the presence of celebrated American authors, politicians, scientists, when they became common as mosquitoes." ...."
George Lessard
Posted on Portside's Facebook page
Re: The Hidden Cruelty of Trump's Executions
 
So much for pro-life.
Kathleen Heaphy Patz
Posted on Portside's Facebook page
Re: This Crisis Makes Clear: We Need a Four-Day Work Week, Now
 
I have been screaming that we need a 4 day workweek for many years and am so happy to see that I am not alone in the idea of it.
Judith Ackerman
Re: Nonviolence, Self-Defense and Provocateurs
 
Another absolutely essential point from the article above. Those fighting racist cop brutality and also increasingly facing provocative right wing thugs today should study it:
"We took up his march from the spot where he was gunned down. For 18 days we nonviolently marched without weapons through the heart of Klan territory in Mississippi. We did so in safety because night and day we were guarded by the Deacons for Defense and Justice, a Black organization formed to defend Afro-American communities and nonviolent protesters (both Black and white) from the Ku Klux Klan.
"The Deacons were not provocateurs. They didn't brandish or flaunt their weapons, speak bombastically, or engage in macho posturing. Nor did they push themselves in front of TV cameras or get into shouting-match confrontations with racists. In fact, most of the time they blended in among the onlookers so well that no one knew who they were — and they weren't saying.
"The Deacons were both strategic and disciplined. Their purpose was to deter, and if necessary defend against, white-terrorism. But they did not wage wars they could not possibly win against cops or government. They were very clear, our job was to nonviolently carry forward a political movement for social justice and their job was to see that we lived long enough to achieve success."
More from the rich history of the fight for Black rights, written by a former SNCC field secretary with first hand experience:
This Nonviolent Stuff′ll Get You Killed - How Guns Made the Civil Rights Movement Possible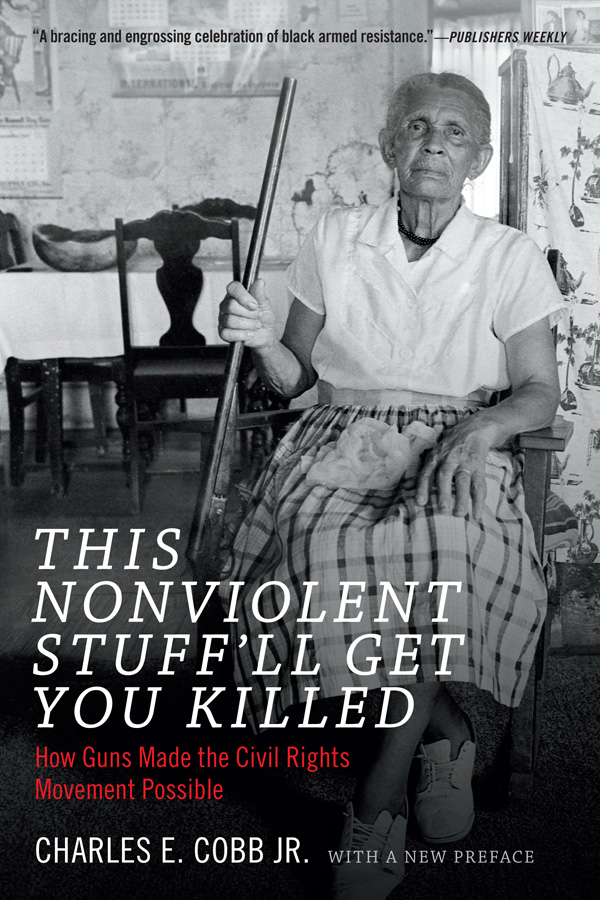 Geoff Mirelowitz
Posted on Portside's Facebook page
     =====
Excellent article -- thanks for posting. A big part of this also is where your orientation is -- inward to small numbers of radicals and leftists, inward to cleansing yourself of racism, or outward to the masses of working class people with whom you share a common enemy. Young rebels could learn from Malcolm X about taking the moral highground and seek to inspire not denigrate.
Bill Scheer
Posted on Portside's Facebook page
Re: The Working-Class Cinematic Legacy of Film Noir
 
TBH, this article headline felt a little misleading. I start this post that way because ultimately, this was maybe the best current political article I've read this week. It was really interesting to me. So thanks for sharing!
Isaac Dye
Posted on Portside's Facebook page
Re: The Good Lord Bird Is a Historical Epic That Speaks of and for the Present
(posting on Portside Culture)
 
Bob Dylan wrote ":I Shall Be Released," not Nina Simone, who performs it on the soundtrack. .
Thank you for an otherwise fine review.
Ross Altman
for FolkWorks
     =====
Brilliant in every way and topical for today this is a classic on arrival with a superlative tour de force performance by Ethan Hawke. Must viewing 👍👍
Mickey Matondi
Posted on Portside's Facebook page
Re: Don't Watch Hillbilly Elegy — Listen to Dolly Parton Instead
(posting on Portside Culture)
The song "Coat of Many Colors" brings tears to my eyes. It's a literal and figurative story of my own childhood. And I love what Dolly says about Black Lives Matter. 
Dolly Parton Talks Black Lives Matter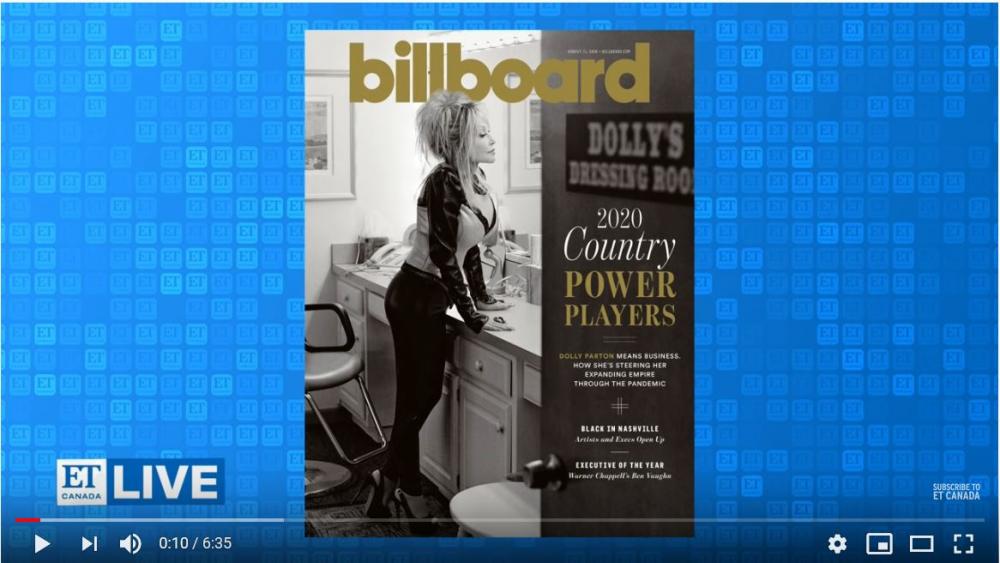 Watch here
Sonia Collins
Posted on Portside's Facebook page
Bolivia: Reclaiming Hope — Poster of the Week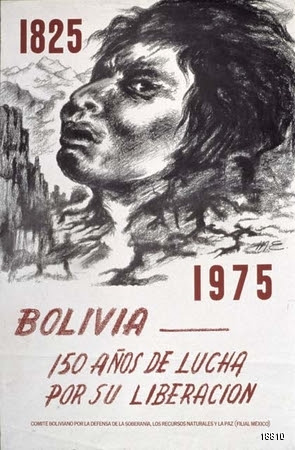 1825: Bolivia became independent from Spain
1975: Elections replaced military rule
Bolivia held their presidential elections over the weekend, resulting in a win for Luis Arce, the candidate for Evo Morales's Movimiento al Socialismo (MAS). This MAS victory overturned the right-wing U.S./OAS golpe de estado (coup d'etat) that ousted Morales in November 2019, and installed Jeanine Áñez as president. Securing more than 50% of the vote, this twice-postponed election is a victory for the Bolivian Socialist movement.
Arce, who was the former finance minister under Morales, said "We have reclaimed democracy and above all we have reclaimed hope."
Sources:
Center for the Study of Political Graphics
3916 Sepulveda Blvd, Suite 103
Culver City, CA 90230
cspg@politicalgraphics.org
New Report! Worker Ownership, COVID-19, and the Future of the Gig Economy (UCLA Labor Center)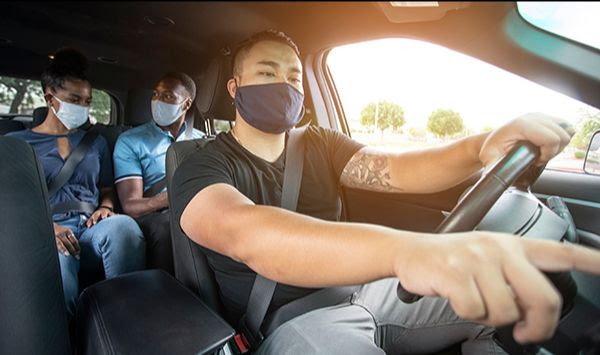 A report just published, showed that 80% of gig workers can't meet household expenses and nearly half received no personal protective equipment (PPE) from gig companies during the pandemic, worsening conditions for already-struggling gig workers. The crisis points to a need for structural change in the industry. The study contributes to the public debate surrounding Assembly Bill (AB)5 and Proposition 22, two contentious political issues that will shape the future of gig work in California.
The report examines the current conditions of gig work in California in the wake of the COVID-19 pandemic and also evaluates a California legislative proposal called the Cooperative Economy Act (CEA) that would introduce worker ownership into the gig economy, fundamentally restructuring the relationship between workers and platforms like Uber, Lyft, and Instacart. Researchers hope this study provides timely data and information at a critical moment for the future of the gig economy in California.
Among other findings, the study finds:
80% of gig workers said their pay was insufficient to meet their household expenses. 
Half of gig workers had to stop working because of COVID-19 and 70% of those who kept working said their hours were reduced during the pandemic.
Three-quarters of gig workers said their companies were doing little to nothing to protect them from COVID-19. 
Only 5% of gig workers received some type of additional hazard pay and nearly half received no PPE from their companies.
Report authors outline the following recommendations for the CEA or any worker-owned models considered for the gig economy:
Provide gig workers with greater income stability and predictability.
Address customer relations issues and lack of recourse to remedy problems.
Center gig worker voices in the building of its institutions.
Develop flexible and democratic organizations that take worker needs into account.
UCLA Labor Center
PO Box 951478, 10945 LeConte Ave Ste 1103,
Los Angeles CA 90095-1478
Phone: 310-794-5983, Fax: 310-794-6410
UCLA Downtown Labor Center
675 S Park View St,
Los Angeles CA 90057-3306
Phone: 213-480-4155 x220, Fax: 213-480-4160
Work & Social Justice: The David Bacon Archive at Stanford opens for in-person and online viewing at Stanford Libraries
 
Acquired by Stanford Libraries' in late 2019, the David Bacon Archive is now one of the largest collections of documentary photography at the Libraries, offering scholars and students stunning perspectives of labor and social justice movements as well as societal impacts of globalization and war. 
From the streets of Oakland and Los Angeles to farmlands and factories across the United States, Mexico, the Philippines and Iraq, the images of photojournalist David Bacon reveal powerful, and often personal, portraits of resilience and courage from communities habitually overlooked or pushed to the margins of society. These stories are now featured in a new exhibition, Work & Social Justice: The David Bacon Archive at Stanford, on display through May 9, 2021 in the Cecil H. Green Library at Stanford. Access to campus libraries is currently limited to Stanford ID cardholders due to COVID-19; however, the online exhibition, which includes additional content not included in the physical show, is accessible to everyone, and is part of an accessible digital spotlight collection that includes significant images from his body of work.    
Stanford Libraries acquired Bacon's extensive archive in winter 2019. Encompassing over 200,000 images, negatives, prints, transparencies and audio files, the David Bacon Archive is now one of Stanford Libraries' largest documentary photography collections and strongly complements current teaching and research at Stanford. 
"The faculty support we received for this acquisition cut across several disciplines," said Roberto Trujillo, associate university librarian and head of Special Collections. "Due to the interest in the collection, we immediately began working to make it accessible, but had no idea how important our initial efforts of processing and digitizing David's work would be until COVID-19 hit and the university pivoted to online learning." 
The realization that the physical exhibit would need to be postponed quickly set in among the curatorial team. With images processed and digitized, and everyone sheltering-in-place, the Special Collections team decided to launch a virtual version of the show using Stanford Libraries' online exhibition platform Spotlight, which currently hosts over one hundred exhibitions from the university libraries' collections. 
A life dedicated to social activism 
Bacon is an award-winning California-based photographer, writer, social activist, and union organizer whose life has been committed to social justice. His father, a printer and head of the Book and Magazine Guild union, was blacklisted during the McCarthy era. Bacon watched both of his parents rally communities behind common causes, then spent two decades as a factory worker and union organizer. In the mid-1980s he began working as an independent photographer and journalist documenting the lives and social movements of migrants, farm workers, and communities impacted by globalization. 
 
"David's photographs capture critically important aspects of movements for civil rights and social justice," said Ben Stone, associate director of Special Collection and curator of American and British History. "His background, coupled with his ability to make those around him feel at ease, is evident in his photography. David provides us a bridge to get close and better understand the lives of those he photographs in ways we might not otherwise experience."  
 
Bacon's photography has been exhibited widely in the United States, Mexico, and Europe. He has published several books and is a frequent radio guest on KPFA-FM, KIQI and other media, speaking about labor, immigration, and the global economy.
 
Six themes across four decades 
Images for the exhibition were selected and grouped into six themes: Farm Workers, Immigrant Workers, Mexico, Migration and the Border, Poverty and Protest, and From Davao to Baghdad.
"I want people who are looking at these photographs to understand what it feels like to do this work," notes Bacon in the exhibit's introduction. "Many of these jobs are physically very demanding and so I want to show that; what the physical requirement is of working…"
Bacon works as a participant in the social movements and communities he documents, which enables him to provide a unique first-hand account of the human stories comprising larger social movements. Thus, according to Stone, his work "allows for those stories to then be shared and studied."
"We had a saying when I was a union organizer--and I think it's still true and a lot of people say it--and that is, 'we're only one paycheck away from living on the streets' which I think is true for an enormous number of people," said Bacon. "The purpose of documenting this is also to show what people do about it. The social struggles and social movements they organize not just to affect their own personal situation, but to change the world for social justice."
Stanford Libraries will host a virtual conversation between Bacon and Los Angeles City Councilmember and former California Senate Leader Kevin de León on October 29 to commemorate the opening of the exhibition. Bacon and de León will discuss the economic transformation of California in the early 1990s and the impact it had on the economy, labor, and politics of the state and how Bacon's photography captures some of these defining moments in California history.
 
When asked about the importance of the photography archive of David Bacon at Stanford, De León said, "Simply put, this body of work is a visual documentation of the fight for social justice in working-class communities. It is "our" history. David's voice comes through in these images, offering a testament to the human dignity and love that goes into providing for one's family, no matter the sacrifice."
An accompanying 95-page catalog has been published to commemorate the exhibition opening. The catalog is available for download, and physical copies of the exhibition catalog can be purchased for $25 through the Stanford Libraries Department of Special Collections.
Before planning to visit the exhibition in Green Library's Peterson Gallery and Munger Rotunda, please consult the Libraries' entry requirements and Green Library's hours as there are university restrictions for public access to campus and reduced library hours due to COVID-19.
 
"This exhibition and catalog are both important presentations of David Bacon's work and the archive of thousands of images are now preserved for a continued critical reception for generations to come," said De León.
 
###
MEDIA CONTACT:   Gabrielle Karampelas, Stanford Libraries
                 650-492-9855 | gkaram@stanford.edu
Webinar on Chicago 7 Trial Film - October 23 (Vietnam Peace Commemoration Committee)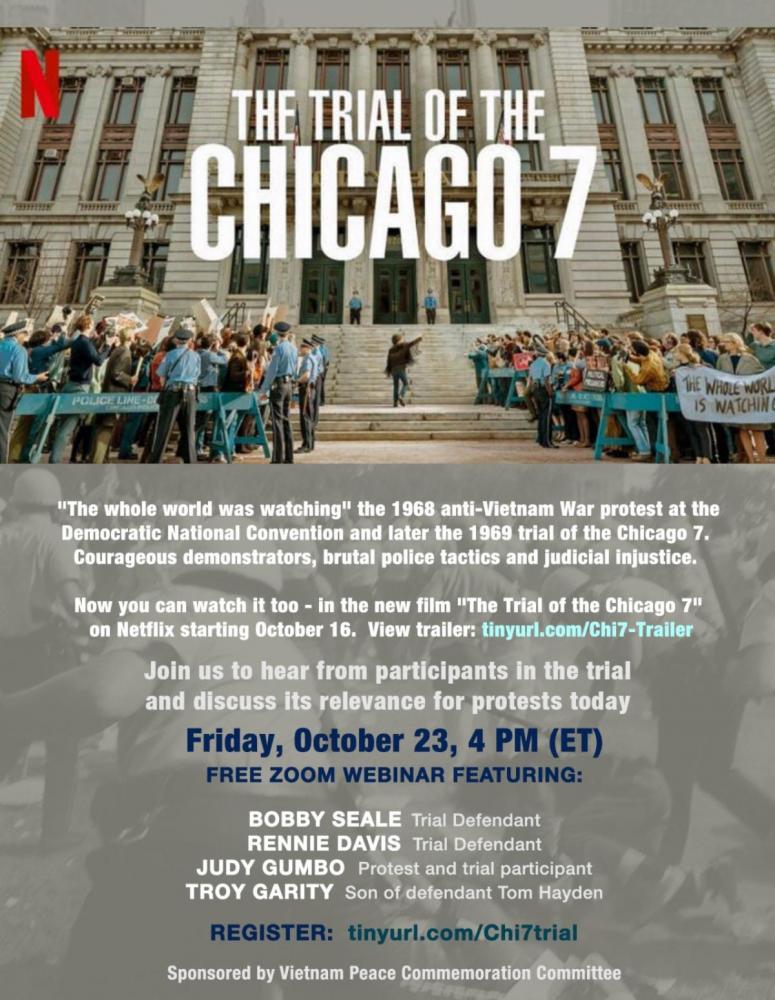 Vietnam Peace Commemoration Committee
* Sally Benson * David Cortright * Susan Hammond * Rick Hind * * Doug Hostetter * Susanne Jackson * Frank Joyce * Steven Ladd * Paul Lauter * * Jack Malinowski * John McAuliff * Terry Provance * Brewster Rhoads * 
Fund for Reconciliation & Development
64 Jean Court
Riverhead, NY 11901
Lecture - From Minimum Wage To General Strike? The Possibilities & Limitations Of Worker Organizing In Anti-Capitalist Movements - Stephanie Luce - October 27 (The Havens Center - University of Wisconsin-Madison)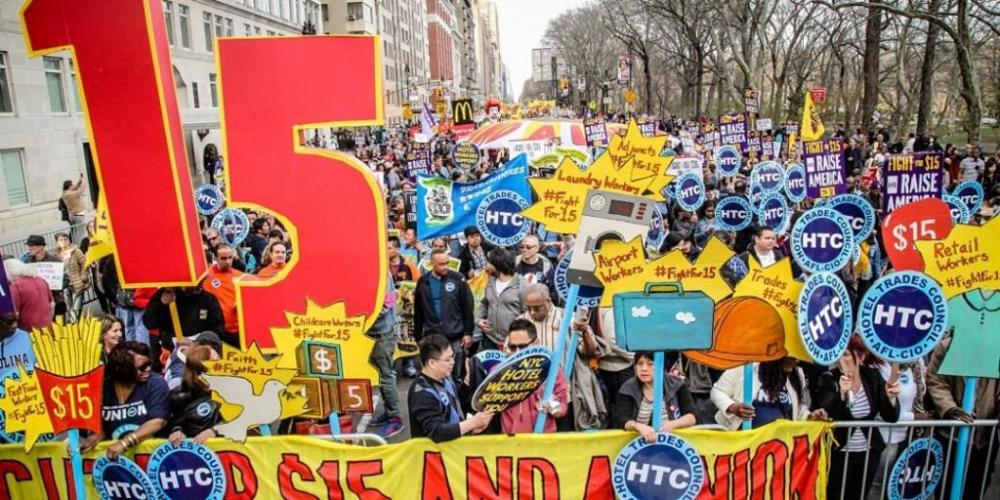 TUESDAY, OCTOBER 27, 3PM (REGISTER HERE)
[Due to COVID-19 all Havens Wright Center events will be hosted online on zoom this semester. To attend an event you must register in advance on Eventbrite (click on the links above). You will be sent a confirmation email after registering, and on the day of the talk you will be sent a link to join the zoom call, along with instructions on how to do this. For any additional information please email ramand@wisc.edu.]
STEPHANIE LUCE is a Professor of Labor Studies at the School of Labor and Urban Studies, and a Professor of Sociology at the Graduate Center, City University of New York (CUNY). She received her BA at the University of California, Davis and both her PhD in sociology and her MA in industrial relations from the University of Wisconsin at Madison. Best known for her research on living wage campaigns and movements, she is the author of Fighting for a Living Wage, and co-author of The Living Wage: Building a Fair Economy, and The Measure of Fairness. She is also author of Labor Movements: Global Perspectives.  Her current research focuses on globalization and labor-community coalitions.
The Havens Center
Department of Sociology
University of Wisconsin-Madison
Room 8117 Social Science
1180 Observatory Drive
Madison WI 53706
Broadway and the Blacklist - October 27 (Tamiment Library)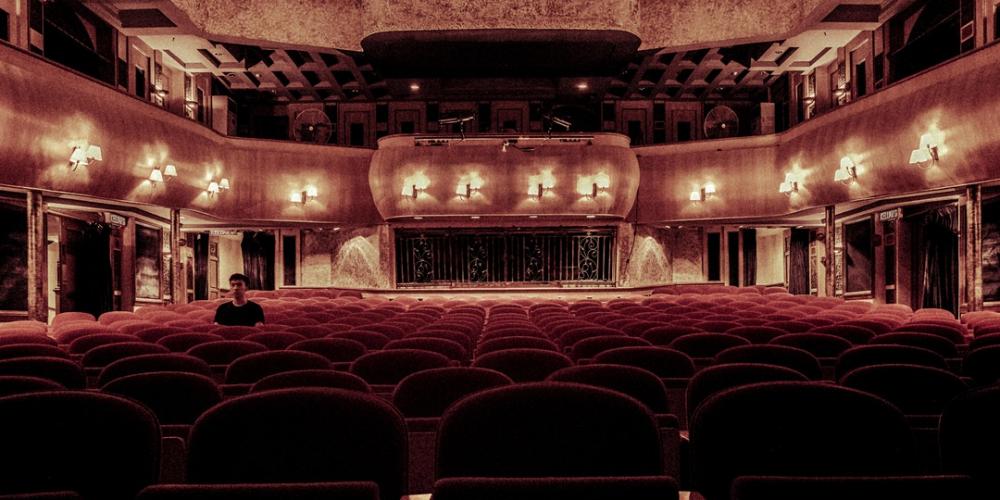 Tuesday, October 27, 2020
5:00 PM – 6:00 PM EDT
During the era often commonly known as McCarthyism, many motion picture and television creators were blacklisted for supposed communist ties. There remained, however, a creative outlet that still welcomed these artists—theatre. K. Kevyne Baar explores the role theatre played during this turbulent period, covering the formation of the Theatre Guild (which birthed the Group Theatre), the short-lived Federal Theatre Project, and the investigations of the motion picture and television industries, and Broadway, by the House Un-American Activities Committee (HUAC).
Activist, actor, archivist, historian and union stage manager K. Kevyne Baar brings a lifetime of professional, personal, and academic experience to Broadway and the Blacklist. She lives in Davis, California.
This event is co-sponsored by the Frederic Ewen Center and the New York Labor History Association.
Tamiment Library & Robert F. Wagner Labor Archives/ NYU Special Collections
Elmer Holmes Bobst Library
70 Washington Square South, 2nd Floor
New York, NY 10012
Tamiment.Events@NYU.edu
Lecture - What Happened to America's Working Class? Race, Gender, Capitalism and Power - Lane Windham - November 17 and 18 (The Havens Center - University of Wisconsin-Madison)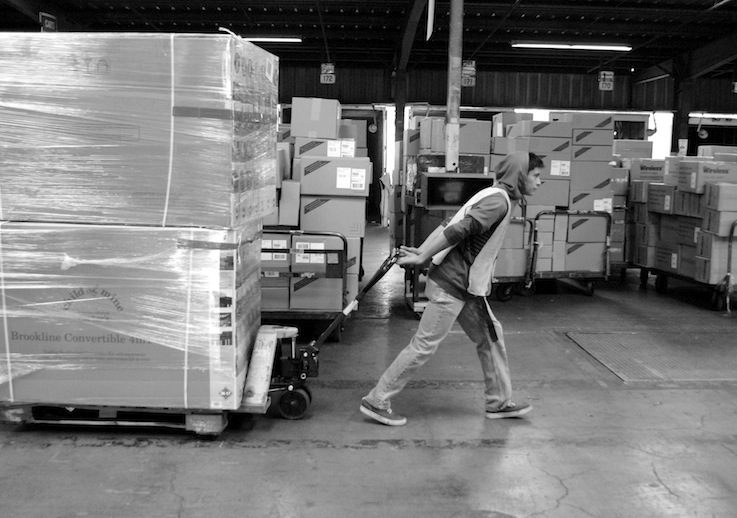 "Blue-Collar Battle: The Untold Story of Working-Class Promise in the Pivotal 1970s,"
Tuesday, November 17, 4pm CDT [REGISTER HERE]
"Workers' Control in Gig America: A Discussion on the 21st-Century Labor Movement,"
Wednesday, November 18, 4pm CDT [REGISTER HERE]
Lane Windham is Associate Director of Georgetown University's Kalmanovitz Initiative for Labor and the Working Poor. She also is co-director of WILL Empower (Women Innovating Labor Leadership), a project designed to identify, develop and train and new generation of women labor leaders. She is author of Knocking on Labor's Door: Union Organizing in the 1970s and the Roots of a New Economic Divide. Windham spent nearly twenty years working in the union movement, including as media outreach director and specialist for the national AFL-CIO from 1998 to 2009. She organized unions among clothing and textile workers throughout the South in the 1990s.
[Due to COVID-19 all Havens Wright Center events will be hosted online on zoom this semester. To attend an event you must register in advance on Eventbrite (click on the links above). You will be sent a confirmation email after registering, and on the day of the talk you will be sent a link to join the zoom call, along with instructions on how to do this. For any additional information please email ramand@wisc.edu.]
The Havens Center
Department of Sociology
University of Wisconsin-Madison
Room 8117 Social Science
1180 Observatory Drive
Madison WI 53706