Dispatches From the Culture Wars - October 27, 2020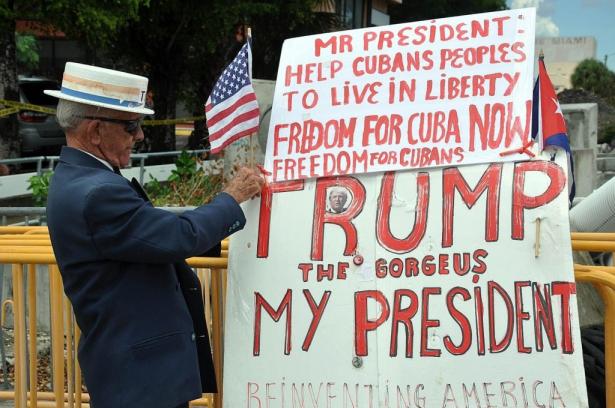 Trump supporter,credit: Jose Caruci/AFP
Miami Cubans, Anticommunism and Trump
Many Cuban Americans oppose steps the White House has taken against Cuba, but they are still backing his hard-line approach.
Brooklyn Ultraorthodox, Culture Wars and Trump
By Joshua Leifer
Jewish Currents
The Trump administration has only made Orthodox identification with the Republicans stronger—and adoration of Trump more fervent. 
Indian Americans, The Hathras Case and Harris
The Wire
Indian Americans have launched an email campaign urging Kamala Harris to speak about the Hathras rape and murder incident and call on the authorities in India to refrain from suppressing the case.
Thomas Frank: Nobody is Sure of Anything Anymore
Both political parties in the US believe the other side is plotting a takeover of the nation that will end American democracy.
Henry Giroux: Hope in the Darkness
With Trump infected and capitalism facing a profound crisis, the world begins to imagine new possibilities.
Minneapolis: Fascists Did the Shooting, Not Antiracist Protesters
By Benjamin Goggin and Rachel E. Greenspan
Insider
A man who shot up a Minneapolis police precinct was associated with the Boogaloo Bois.
Rightist Wine, Leftist Bottles
By Paula Ethans
Canadian Dimension
Many of the anti-mask slogans of the far-right are plucked straight from the lexicon of social justice movements.
By Angela Giuffrida
The Guardian
A group of more than 100 Italian women have asked prosecutors to investigate who is behind the burial for nearly a decade of foetuses in graves marked with the names of their mothers in a cemetery in Rome.
France: Working Without Pay in the Name of Solidarity
By Elsa Sabado
Equal Times
The shock of the pandemic has created the idea that working without being paid could be acceptable, upholding the notion of some forms of 'free' work in the name of solidarity, generosity and one's duty as a citizen.