Tidbits - Oct. 29, 2020 - Reader Comments, 2020 elections, Labor Prepares Calls for Strike; Angela Davis; Bolivia; Supreme Court; Trump Economy; Stock Market; Cuba; Protect the Results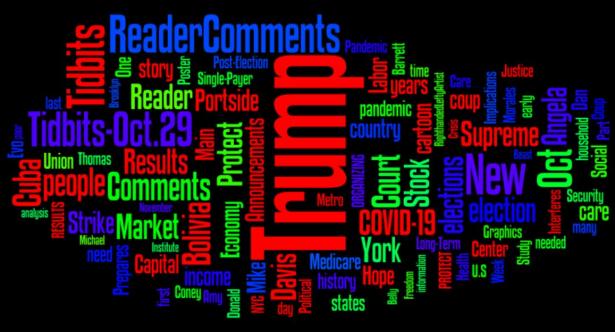 Tidbits - Reader Comments, Resources, Announcements, AND cartoons - Oct. 29, 2020,Portside
Resources:
Announcements:
Re: Union Members in Berkshires Vow to Strike if Trump Interferes with Election Outcome
(posting on Portside Labor)
 
Thank you. It is encouraging to hear that people have a plan to protect our democracy

Zana Faculjak
Posted on Portside's Facebook page
Re: Trump Needs Accomplices At Every Level Of Government To Pull Off A Coup
 
Voting is absolutely critical for democracy. But at the end of the day, stopping a coup attempt will depend on far more than the ballot, and will require creative and courageous acts of civic and political engagement from all of us.
Robin Yeamans
Posted on Portside's Facebook page
     =====
In recent months virtually every act of Congress and every court decision is intended to permit the minority to stay in power. We have a government by and for itself.
Lazlo Toth
Posted on Portside's Facebook page
     =====
10 things you need to know to stop a coup
https://wagingnonviolence.org/2020/09/10-things-you-need-to-know-to-sto…
While keeping people focused on a strong, robust election process is a must, we also need to prepare for a coup.
Matt Frisbee
Posted on Portside's Facebook page
Complete Surrender  --  cartoon by Mike Luckovich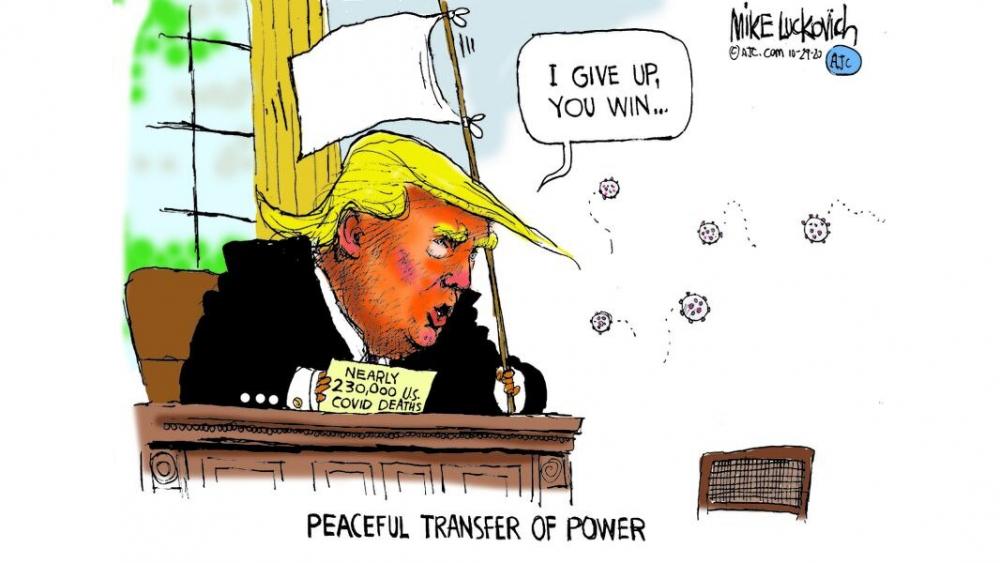 Mike Luckovich
October 29, 2020
Atlanta Journal-Constitution
Re: Machinists Union: President Trump Has Broken His Promises to U.S. Workers
(posting on Portside Labor)
 
Just like he was [going to] bring back coal. Ending ISIS. Will show his taxes. Will show his grades. Will win the tariff war. And on, and on, and on.
25,000 lies and fools still believe him. If his mouth is moving he's lying
Jim Connelly
Posted on Portside's Facebook page
This is Not Justice - Amy Coney Barrett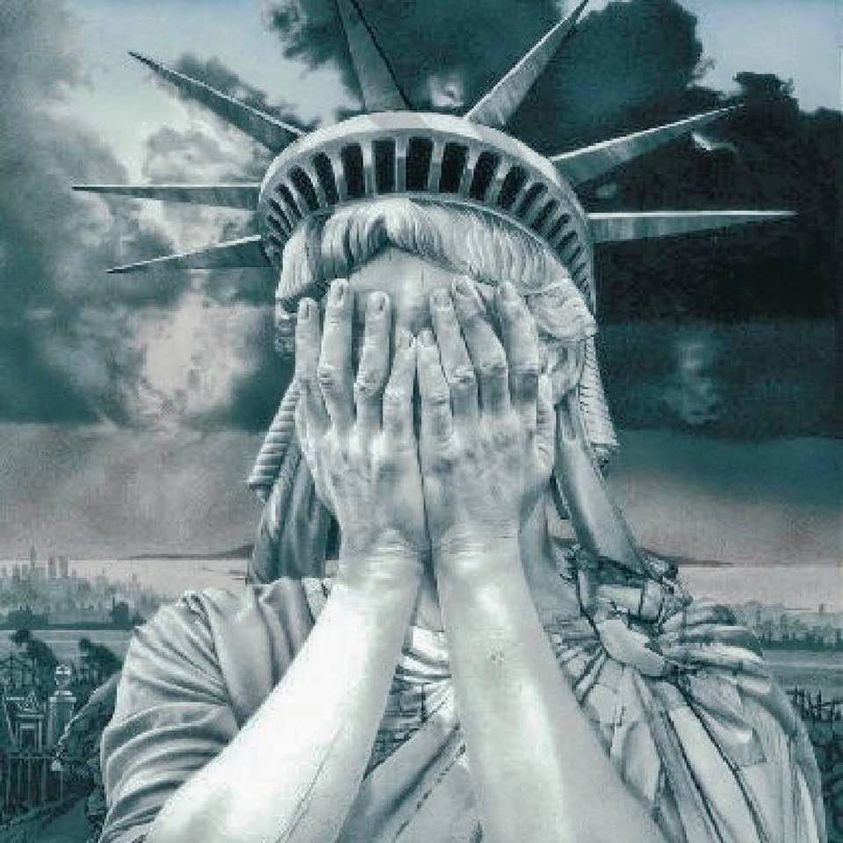 Re: Here's The Case for Impeaching Clarence Thomas — The Most Corrupt Supreme Court Justice
 
They need to impeach Kavanaugh. There is proof he knowingly lied to congress during Dubya's administration. That should of disqualified him from even being considered.
Sandy Grubb
Posted on Portside's Facebook page
     =====
Clarence Thomas, Brett Kavanaugh and Amy Coney Barrett should have never been considered for the Not So-Supreme Court.
Jake Riley
Posted on Portside's Facebook page
     =====
"Thomas failed to report his wife Virginia's earnings on the mandatory annual financial disclosure forms that he signed under penalty of perjury, indicating that his spouse had no non-investment income when in fact she was steadily employed in high-level jobs as a policy analyst and an outspoken conservative activist."
This is the smoking gun needed to get rid of this guy. He's a big part of why corporate money is polluting our elections process the way it is.
Stephen Knapp
Posted on Portside's Facebook page
Re: Angela Davis - One of The New York Times Five Greats
 
Okay, the word "intersectionality" may be new, but the concept is not. Here's how it looked back in the day:
    None of us are free until all of us are free.
Lisa Mischke
Posted on Portside's Facebook page
Least Racist  --  cartoon by Rob Rogers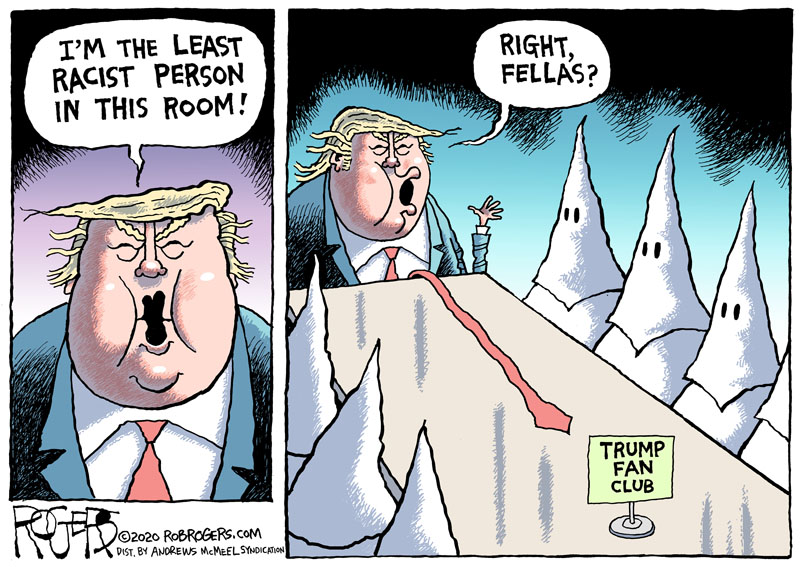 Rob Rogers
October 27, 2020
robrogers.com
Re: Bolivians Return Evo Morales's Party to Power One Year After a U.S.-Applauded Coup
 
It's a long story. Evo Morales had been a very popular leader, presiding over a booming economy with increased production, exports, treasury reserves, social investments, increase in income, housing, education, infrastructure, etc. This, in a country of sharp social, economic, racial and geographic differences where the vast majority of the population is poor and indigenous.
A year ago, Evo won reelection with a 10 point margin over second place Meza. The opposition claimed fraud, then he was overthrown in a coup.
Last Sunday, with over 55% of votes, MAS had a margin of 25 points over the same Meza. Evo Morales and MAS Party have been re-vindicated!
Now, go back and read BBC, CNN or NYT for October, November 2019 and see how they reported, explained and justified the coup, just like the US government, European Union and the OAS did. Then read TeleSur or Prensa Latina for how they reported, explained and opposed the coup.
Jose Rinaldi
Posted on Portside's Facebook page
Re: Bolivia: Reclaiming Hope — Poster of the Week
(posted in Portside Tidbits)
 
In honor of the victory of Bolivia's MAS (Movement Towards Socialism) election victory, the Center for the Study of Political Graphics sent along this via Portside. https://portside.org/2020-10-22/tidbits-oct-22-2020-reader-comments-202…
image - Bolivia_poster
https://portside.org/sites/default/files/inline-images/Bolivia_poster.j…
Daniel Millstone
Posted on Portside's Facebook page
Re: The Reward for Good Pandemic Leadership: Lessons From Jacinda Ardern's New Zealand Reelection
 
Really sad that we have a president who does the opposite and causes harm. Two recent studies show that. One from Cornell University which shows that Trump is the single biggest driver of false information on Covid in the world and the second one from Columbia University saying because of Trump's poor leadership 130,000 people died that shouldn't have. We obviously need a better leader because Trump is definitely not working for the good of the country and many more people will die because of him.
Sue Speir
Posted on Portside's Facebook page
Trump Sez Biden Will Destroy Country  --  cartoon by RighthandedLeftyArtist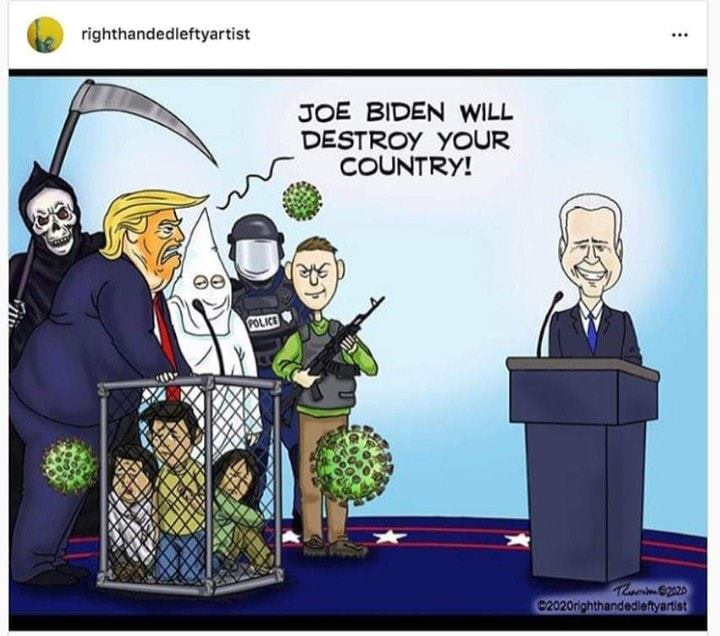 Tom Garrahan
October 26, 2020
RighthandedLeftyArtist
Trump Superspreader  -  poem by Seymour Joseph
 
Donald Trump
went on the stump,
a second term to win.
But at great cost
he ran and lost —
a virus did him in.
Seymour Joseph
October 27, 2020
Re: "No Coloreds:" Racism in Britain has a Long if Contested History
(posting on Portside Culture)
 
Sad to say the British started this whole racist b.s and refined it to a science.
Dawn Cumberbatch
Posted on Portside's Facebook page
     =====
Despite the anti Spanish distorted history we got the British colonizers were MUCH worse than the Spanish. Make no mistake, this is not to say the Spanish were good - they weren't- they were VERY bad. Only the British were even worse!
Gary Bono
Posted on Portside's Facebook page
Under Trump, Incomes Rose More Slowly (Capital & Main and USA Today)
 
A new Capital & Main analysis of the latest U.S. census data shows for the first time that household income growth slowed under Donald Trump in a majority of states – before COVID-19 triggered a major recession.
Our story, co-published by USA Today, undercuts one of Trump's central campaign claims: that he presided over the strongest economy ever prior to the pandemic.
Battleground states Pennsylvania, Wisconsin, Iowa, Georgia, North Carolina, Ohio and New Hampshire all saw slower growth in median household income in Trump's first three years compared to Barack Obama's last three years. Overall, typical household income grew more slowly in 26 states under Trump.
A previous Capital & Main analysis showed that median household income slowed in 48 out of 50 states during Trump's first two years in office compared to Obama's last two years.
Capital & Main's new analysis was conducted with the UC Berkeley Center for Labor Research and Education, and is based on last month's census release.
Danny Feingold
Publisher, Capital & Main
Rising Spending on Social Security Led to Falling Rates of Poverty for the Elderly (Economic Policy Institute)
 
In the midst of a global pandemic, with poverty on the rise, millions of working people and seniors are feeling economic anxiety not seen since at least the great recession.
 
***Social Security-the most successful anti-poverty program in the history of our country. Take a look at the EPI chart below. Over the last 60 years, as Social Security payments rose, we've seen senior poverty decline dramatically.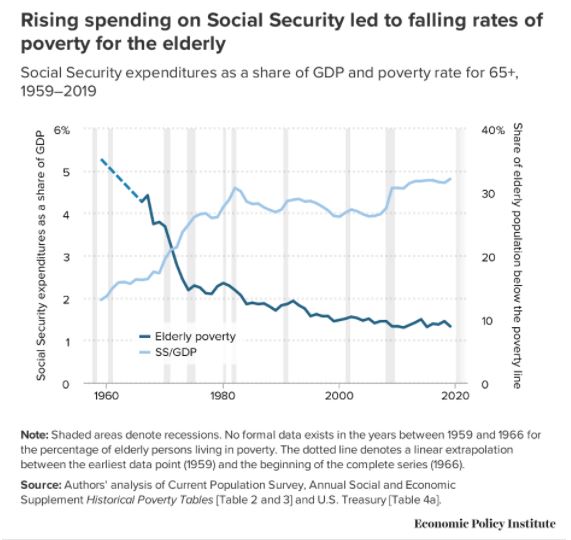 Economic Policy Institute
1225 Eye St. NW, Suite 600
Washington, DC 20005
Phone: 202-775-8810 • epi@epi.org
What's Going On With the Stock Market? (Economixcomix)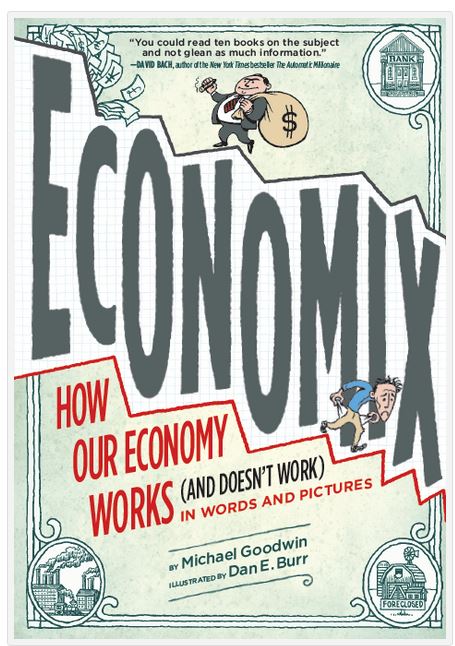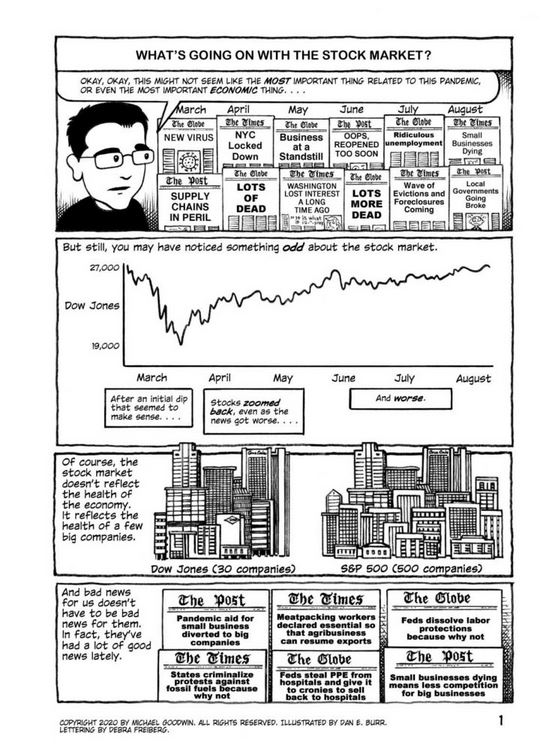 Michael Goodwin
October 24, 2020
Economixcomix
Illustrated by Dan E. Burr; Lettering by Debra Freiberg
About the Author
Michael Goodwin is a freelance writer who has always loved comics and history. His interest in history led him to an interest in the economic forces that underlie much of history, and he eventually started reading up on economics. In his initial reading, Mike thought he caught glimpses of a story, a story nobody seemed to be telling.
That idea was little more than a hunch at first, but as he immersed himself in the subject, Mike realized that there was in fact a story there, and that someone needed to tell the story in an accessible manner. He brought a stack of books to a small town in India, settled in, and started reading, researching, and writing. The result is this book.
Mike has spent several years in China as well as India; his previous efforts include interpreting Chinese, writing comedy, photography, disaster relief, dealing art (ineptly), and writing about medicine. Like many freelance writers, he lives in New York City with cats.
About the Illustrator
It would seem that Dan E. Burr was born to this work, as examples of early attempts at comic strip-like continuity exist from his infancy. (Drawing pictures was "in the family" so the influence to do so was ever present. )
After time spent mainly working in commercial art, Dan began to wade into the comic book field. The breakthrough project was his collaboration with author James Vance on the graphic novel Kings in Disguise and its sequel On the Ropes. Set during the Great Depression, Kings won several Eisner and Harvey awards and garnered praise from American Heritage, Time, Entertainment Weekly, the New York Times Book Review and the Comics Journal, among others.Dan also worked with the author on the sequel, On the Ropes.
Dan has illustrated historical pieces for DC Comics, Kitchen Sink Press and Eureka Productions' Graphic Classics series. He has worked in a variety of fields including newspaper and magazine illustration, editorial cartooning, children's publishing, advertising and product design.
His work in Economix was influenced by the team of artists who worked on Harvey Kurtzman's MAD; by David Levine; and by the work of the late 50's and early 60's Hanna-Barbera staff, as well as other children's book and commercial artists from that period. Listening to music, primarily from the 1920's through the 1970's is also a major inspirational influence. Dan has occasionally written liner notes for CD music reissue and is passionate about compiling, studying, and appreciating the works of other illustrators, cartoonists and painters.
He lives in Milwaukee with his wife and art partner, Debra Freiberg.
Freedom From Choice — Poster of the Week (Center for the Study of Political Graphics)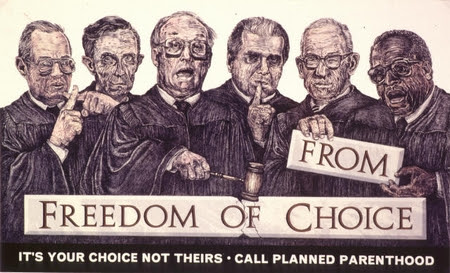 Center for the Study of Political Graphics
3916 Sepulveda Blvd, Suite 103
Culver City, CA 90230
cspg@politicalgraphics.org
New videos  -  The War on Cuba (Belly of the Beast)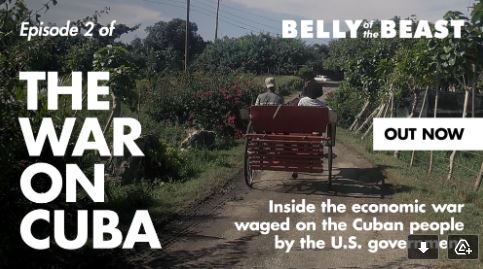 THE WAR ON CUBA — Episode 3 
Belly of the Beast tells Cuba's untold stories. Through hard-hitting journalism and stunning cinematography we inform and inspire, opening eyes and hearts to a country with a unique past and a wide-open future.
There are three episodes of this excellent documentary: you can start watching it here
It's on YouTube and free. Here's information about the documentary
ORGANIZING TO PROTECT THE RESULTS OF THE 2020 ELECTION
 
We are building a coalition of voters ready to mobilize if Donald Trump refuses to accept the results of the 2020 presidential election.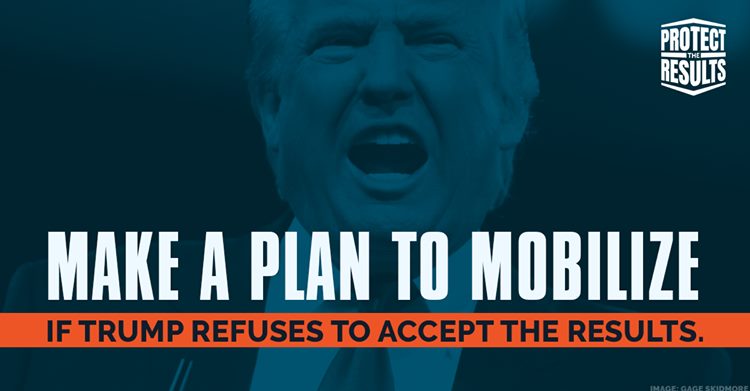 Protect The Results - preparing for a post-election mobilization should it be needed!!
With the election days away it makes sense that people are gearing up their voter turnout and voter protection efforts. At the same time, plans are being put into place to quickly move into public, nonviolent action if Trump interferes with or undermines the vote counting process and the results.
The Protect the Results coalition is organizing a nationwide, decentralized mobilization with a clear demand: all the votes must be counted and there must be a peaceful transition of power.  Almost 350 locations around the country have pledged to convene protests to defend democracy - and this number is sure to rise in the coming days. Planning and organizing is underway so we're ready to have people in the streets as early as Wednesday, Nov. 4 - the day after the election - if necessary. This is a tentative date and mechanisms to quickly get the word out with final dates and times are being developed. What we do in the aftermath of the election can be as important as what we're doing before the election!
☛ If you live anywhere in the U.S., please look at the map with information about actions around the country by clicking here: https://protecttheresults.com
☛ If you live in NYC, register by clicking here: http://bit.ly/protestnyc
NYC Schools: A Double Crisis - November 12 (Brooklyn for Peace)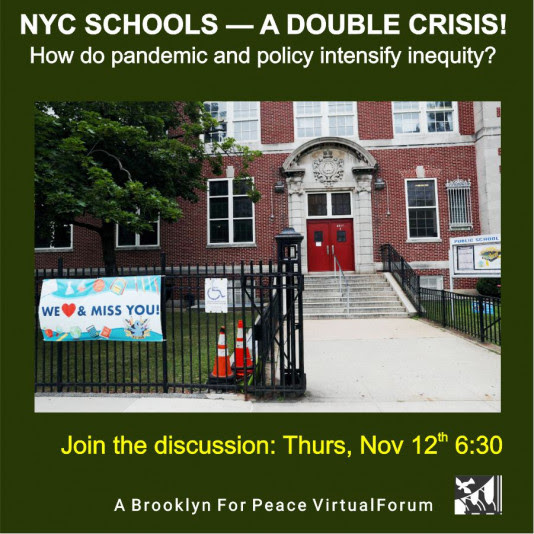 NYC Schools: A Double Crisis!
How have pandemic and policy exacerbated the inequity in NYC public schools? What can be done? Join us at our next virtual event as we discuss these issues with our excellent panelists.
See it on Facebook. Please RSVP and invite your friends!
Forum on Long-Term Care, COVID-19 & Medicare for All; Post-Election Implications for Single-Payer - November 17 (Physicians for a National Health Program-NY Metro Chapter)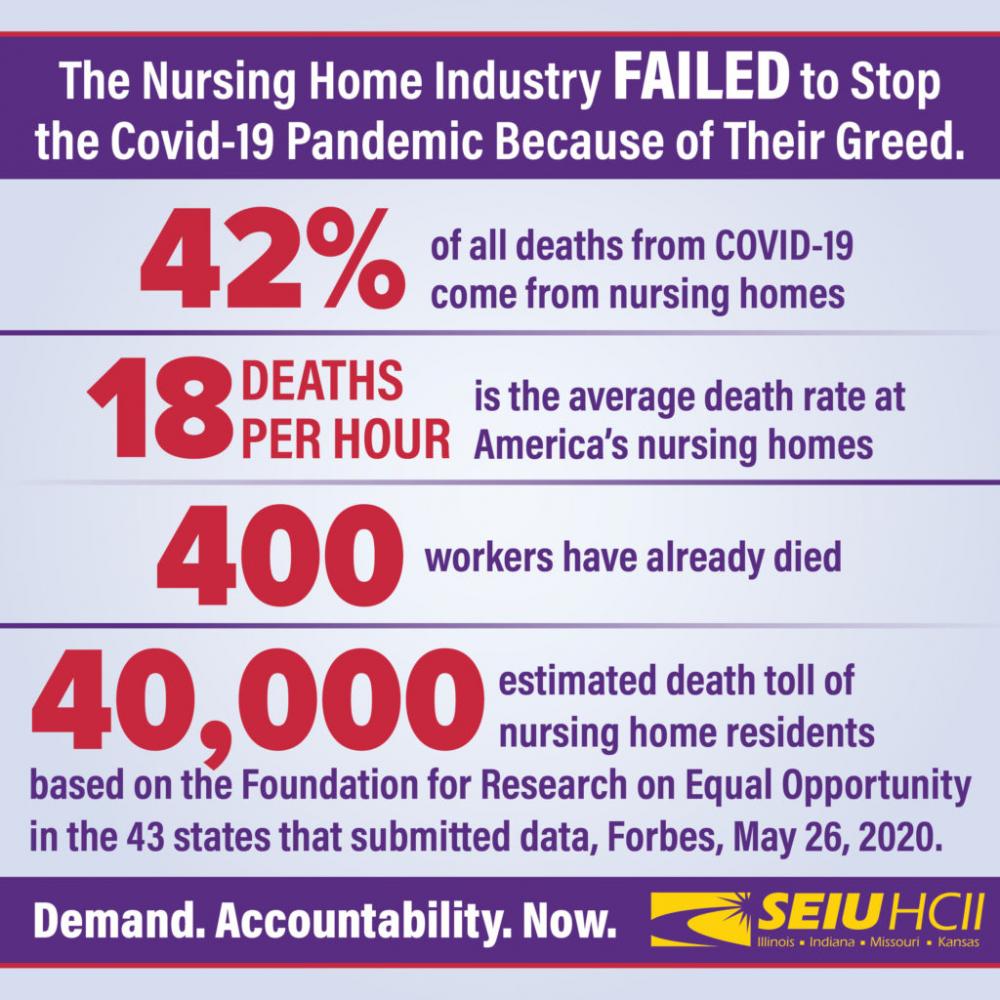 PNHP – NY Metro November Educational Forum
Tuesday, November 17, 7:00-8:30 PM
Part 1: COVID-19, Long-Term Care, and Medicare for All
Part 2: What Are The Post-Election Implications for Single-Payer Healthcare?
Online Forum via Zoom (via computer, smartphone/device or phone line)
Zoom link/number will be sent on Nov. 16th to all who RSVP)
Please RSVP here: https://zoom.us/webinar/register/3616037321509/WN_M0dQf6MVQCO3YXrN6rIISA
Part 1: COVID-19, Long-Term Care, and Medicare for All:
The need to protect the vulnerable and support the workers who care for them (Speakers TBA)
The COVID-19 pandemic has heightened awareness of the poor care provided by many nursing homes and other long-term care congregate facilities – 70% of which nationwide are for-profit. In New York State alone, over 7,000 nursing home residents have died from COVID-19 along with many of the workers who cared for them. These overburdened and poorly-paid workers, mostly women, immigrants, and people of color, were left without protection by negligent facility owners who have fought the unionization efforts that would have improved conditions. State governments, including New York, have been complicit by failing to enforce standards, failing to prepare for pandemics, and setting Medicaid reimbursement rates at far lower than the cost of care.
The New York Health Act and the Medicare for All bills in Congress would transform this situation by including long-term care as a fully-funded guaranteed benefit for all, and by emphasizing care at home and in the community, as opposed to institutions.
Part 2: What Are The Post-Election Implications for Single-Payer Healthcare?
Speaker: Jabari Brisport, Senator-elect (running unopposed) from Brooklyn, New York Health Act supporter, and queer Black member of Democratic Socialists of America (DSA)
A record number of people are voting early and voting by mail as the November election approaches but it is impossible to predict the outcome. By the day of our forum, we hope to have a clear sense of the results of the state elections but it is likely that not enough states will have tallied all their votes to declare a winner in the presidential race. There may in fact be fierce battles, both in the courts and on the streets, over who actually won. Whatever the outcome, our speaker will give his assessment of the landscapes at both the state and national level and will outline what grassroots folks can do in the coming year to push single-payer legislation through to passage.
Please RSVP here
November 17, 2020 at 7pm - 8:30pm
via Zoom virtual video conferencing
PNHP NY Metro
131 W 33rd St., 4th Floor
New York, NY 10001
646-866-7671
info@pnhpnymetro.org