Global Left Midweek - December 2, 2020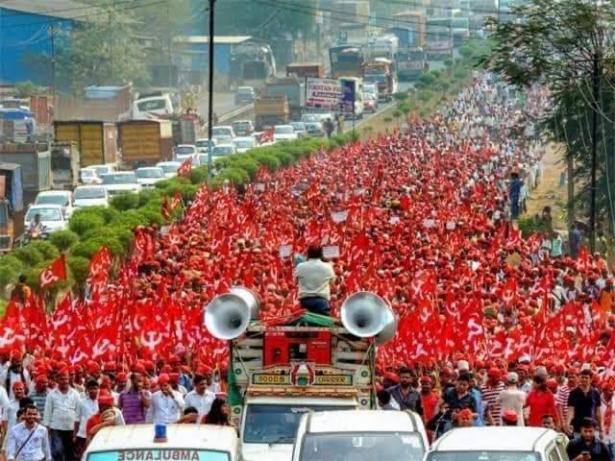 Workers make history in New Delhi, November 26, 2020. Credit,Protests.media
__________
Workers and Farmers Storm Modi's Regime
Largest Strike in History: 250M Workers and Farmers  The Wire (New Delhi)

Background Overview  Thomas Crowley / Jacobin (New York)
Students Too  Prajanma Das / New Indian Express (Chennai)
Farmers Stand Fast: Live Updates  The Indian Express (Mumbai)
__________
International: Amazon Workers Rumble on Black Friday
Isobel Asher Hamilton / Business Insider (New York)
A coalition of Amazon workers, unions, and activism groups protested Amazon on Black Friday. The "Make Amazon Pay" group gave the company a list of demands that included raising workers' pay, putting an end to union-busting, and taking climate action.
__________
Namibia Elections: SWAPO's Sun is Setting
Fall From Grace  Shinovene Immanue and Sakeus Iikela / The Namibian (Windhoek)
Landless People's Movement  Ivan Skrywer / Namibia Institute for Democracy (Windhoek)
Independent Patriots for Change  Sakeus Iikela and Eliaser Ndeyanale / The Namibian
__________
Corbyn's Tragedy is Labour's 
Joshua Leifer / Jewish Currents (New York)
When establishment organizations like the Board of Deputies asserted their authority to speak on behalf of all British Jews in denouncing Corbyn and his party, there were few progressive Jewish voices that could meaningfully challenge them.
__________
Reflections: Bolivia's New Leaders Speak
Sirio López Velasco / Resilience (Santa Rosa CA)
In their inaugural speeches, Luis Arce and David Choquehuanca both wagered that the Right will agree to cooperate with a national project based on indigenous-native thinking/living and on a communal economy for the common good (with renunciation of selfish individualism).
__________
Spain: Center-Left Budget
The Spanish government of Spanish Socialist Workers Party prime minister Pedro Sánchez and Unidas Podemos second deputy prime minister Pablo Iglesias launched their 2021 draft budget with great fanfare.
__________
Thailand: Turning Point
Giles Ji Ungpakorn / Uglytruth-Thailand (London)
The reasons why students have managed to enliven and expand the pro-democracy protests, is that this new generation are fed up with the entrenched conservatism in society, especially in the education system. 
__________
Nigeria: #ENDSARS Stories
Repression  Libby George and Paul Carsten / Reuters (London)
Protests On Hold  Immanuel James Ibe-Anyanwu / Waging Nonviolence (Brooklyn)
Women Lead  Azeezat Olaoluwa / BBC News (London)
Queer Protesters Excluded  Adeniyi Ademoroti / African Arguments (London)
__________
Engels Today
Peter Schadt and Hans Zobel / Jacobin
In his early study of English working-class life, Engels anticipated the central argument in the Marxist critique of capitalism: that wage labor is no means to make a living, even if most of humanity is forced to treat it as such.