Tidbits - Dec. 17, 2020 - Reader Comments: Georgia Runoff Information, How You Can Help; Chanukah Is About Resistance; Community Control of Police; History of Racism in Policing; Chasing the Vaccine; Phil Ochs Song Night; Resources, Announcements; more...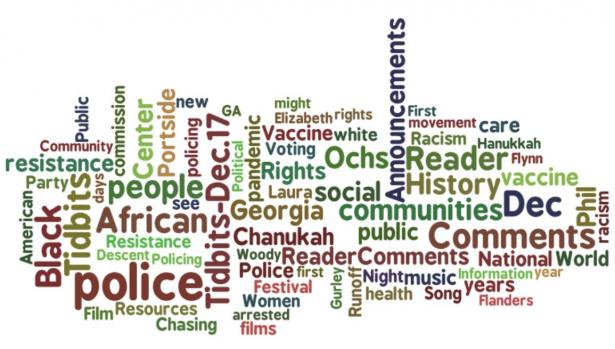 Tidbits - Reader Comments, Resources, Announcements, AND cartoons - Dec. 17, 2020,Portside
Resources:

Announcements:
Georgia Runoff Voting Information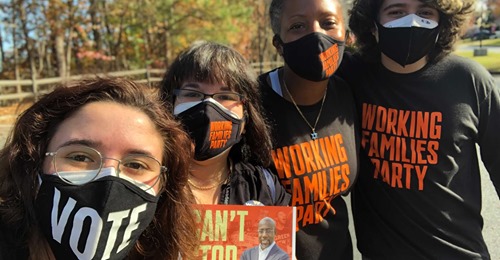 Here's all you need to help WFP-endorsed Rev. Raphael Warnock win his runoff election on January 5th, 2021 in Georgia! Text GEORGIA to 30403 for updates.
Are you in Georgia?
Find Out Where To Vote
• Voting early? Find your early voting location.
• Voting by mail? Find nearby dropbox locations and hand-deliver your ballot.
• Voting in person? Find your polling place.
Enter your home address  - click here
Reach your friends and family in GA
Not in Georgia?
Here's how you can help throw down:
Working Families
81 Prospect St.
Brooklyn, NY 11201
First Shot  --  cartoon by Lalo Alcaraz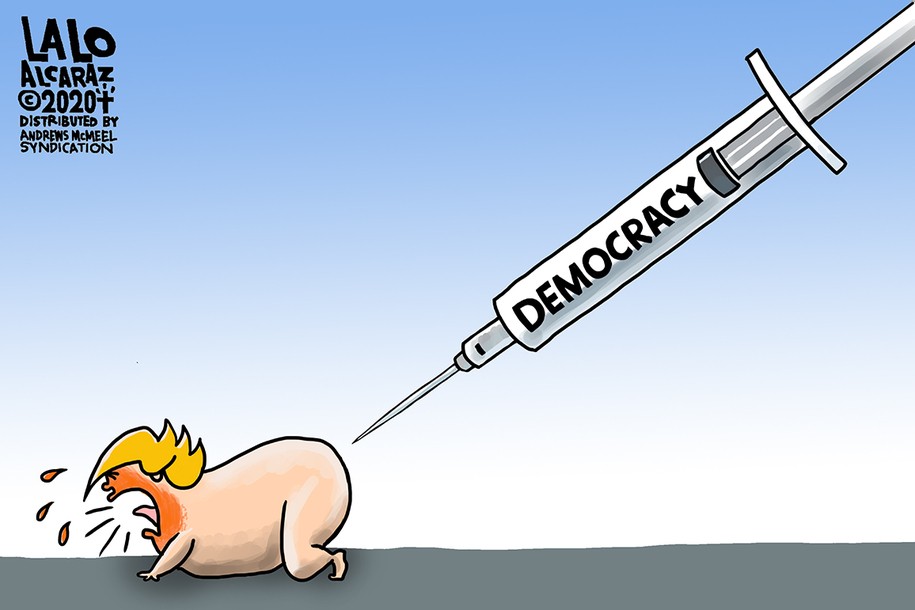 Lalo Alcaraz
December 15, 2020
Essential Workers Make the World Work  --  Pittsburgh mural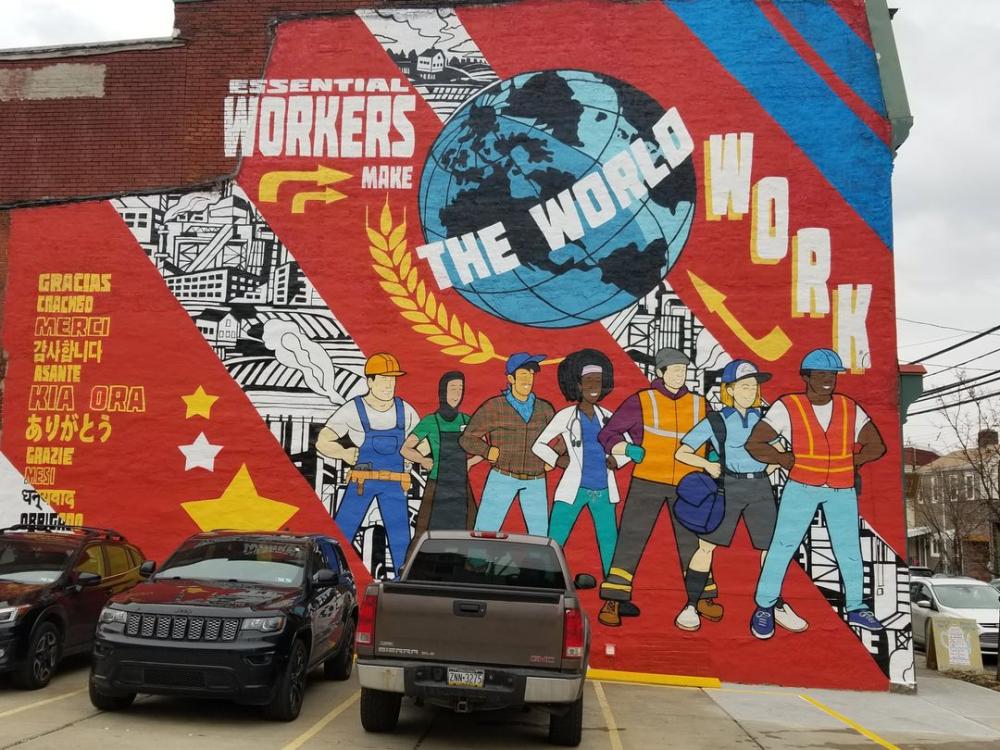 Re: Chanukah Is About Resistance. Let's Resist This COVID Spike Through Mutual Aid
 
Hanukkah, is based upon the story of the Maccabees, the small group of Jews who successfully liberated themselves from the oppressive reign of the Seleucid Empire in 167 BCE. The legacy of this story, however, is a complex one because the Jewish struggle against religious persecution took place within the context of a bloody and destructive Jewish civil war. In contemporary times, the meaning of Hanukkah has become even more complicated given its proximity to Christmas, subjecting it to the uniquely American religion of unmitigated commercialism.
Beyond all these complications, I'd argue that the essence of Hanukkah is the theme of resistance. At its core, the Hanukkah story commemorates the victorious resistance of the people over the power and might of empire. On a deeper level, we might say that the festival celebrates the spiritual strength of our resistance to an often harsh and unyielding world.
Kris Sarabjit
Posted on Portside's Facebook page
     =====
A thoughtful and reflective post on Portside about how at its roots, Chanukah is story of resistance. "We might say that the festival celebrates the spiritual strength of our resistance to an often harsh and unyielding world," says the post's author, Rabbi Brant Rosen.
In the face of a year marked by a devastating, global pandemic, resistance takes on new meaning.
From the post: "In 2020, we find Hanukkah arriving amid a winter that medical experts are calling 'the darkest days of the pandemic' and 'COVID hell."
"Where will we find the strength to meet these challenges?" Rabbi Rosen points to the long history of resistance through mutual aid projects in the US, such as those organized by Black Panther Party the Puerto Rican Young Lords Party in the 60s and 70s. Mutual aid "is rooted in the ideal of solidarity" and based in "genuine and accountable relationships within. . .local communities."
In the face of the pandemic, mutual aid has become a mainstream form of community care and resistance. This Chanukah, "[w]ho can we depend upon to see us through the coming season and beyond?. . . [I]n the end, we have each other."
Posted on Portside's Facebook page
Re: How Sci-Fi Shaped Socialism
 
"Utopian science fiction doesn't just present us with a blueprint for the future: it also offers a new way of thinking about history. "
Posted on Portside's Facebook page
Re: Why You Really Can't Fight City Hall, At Least Over the Police
 
Thurs.a.m. greetings from Joanne Forman in Taos, New Mexico!!
Talk about the movement to separate police/social services.
This is a small town, and the police all live here--and are related to many!! SO FAR, no shootings...
Re: 2020 the Year of the Infodemic, When Disinformation Broke the US
 
What an excellent piece of reporting/research and writing. A valuable public service!
Luis Torres
Re: Right-Wing Embrace of Conspiracy is 'Mass Radicalization,' Experts Warn
 
Q is a religious cult of the most dangerous variety, and it won't go away when Trump does. Social media sowed the wind, and we are now reaping the whirlwind.
Eleanor Roosevelt
Posted on Portside's Facebook page
Re: There Is Something Missing From Tech Worker Organizing
(posting on Portside Labor)
 
As a union organizer, it's bizarre to me that this article doesn't focus on what's really mission from tech worker organizing: UNIONS!
Where is a discussion of unionization here?
And, by the way, i don't think that the IWW and DSA union staffers are the best people to talk to. I would think that the folks at Labor Action or some union organizers, as opposed to generic "staffers" might be more helpful.
In Solidarity,
David Berger
Higher Power  --  cartoon by Rob Rogers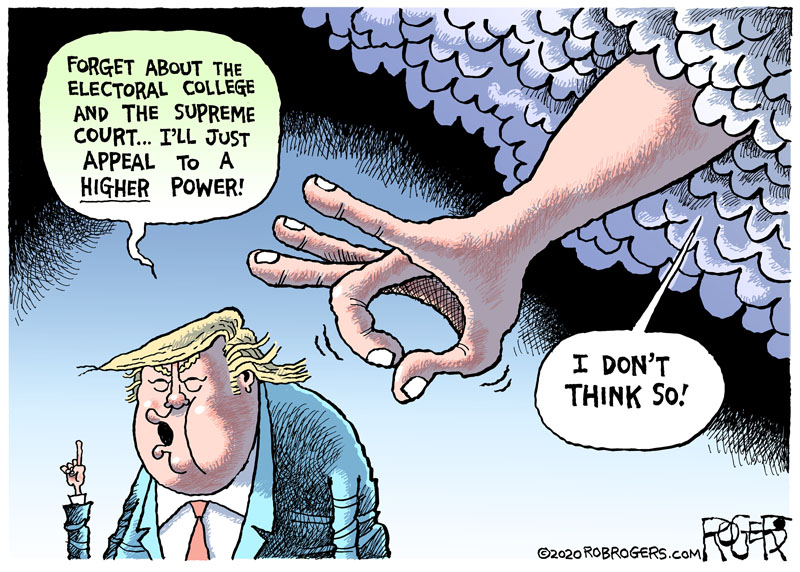 Rob Rogers
December 16, 2020
robrogers.com
Re: A Narrow Definition of "Winner" Shouldn't Hide McGovern's Moral Clarity
 
I worked for McGovern in 1972. In fact, my first date with the woman who became my first wife, was taking the bus from Ithaca to hear him speak in Syracuse.  Years later, toward the end of his life, when I finally met him in person, I recalled to him my favorite campaign slogan of his, which also brought a smile to his eyes in remembrance: "Put another Eleanor in the White House!"
Leonard J. Lehrman 
Re: The Social Dilemma | Trailer
(posted on Friday Nite Videos)
"What are the consequences of our growing dependence on social media? Silicon Valley insiders discuss how social media is reprogramming civilization - and us."
Thank you, Portside.
Kipp Dawson
Posted on Portside's Facebook page
What 100 Years of History Tells Us About Racism in Policing (ACLU)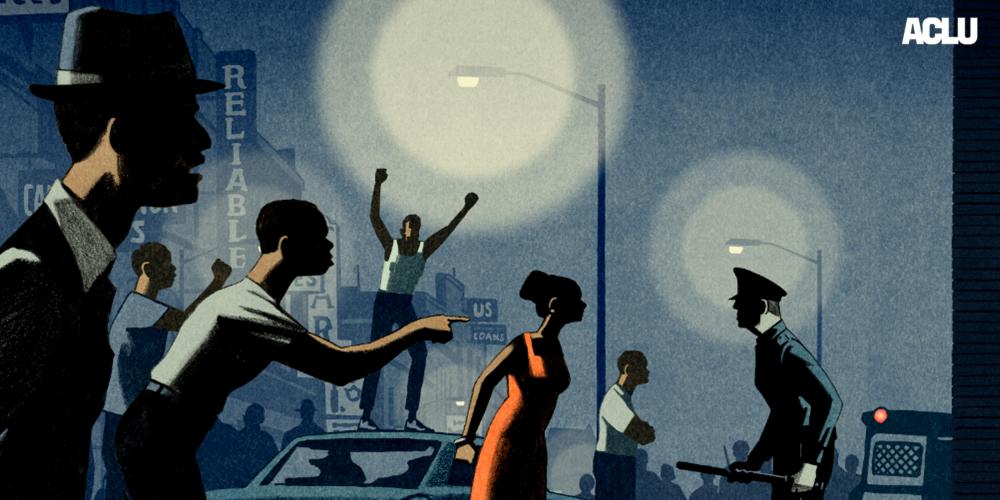 In the middle of the 2020 pandemic, America was shaken by the murders of George Floyd and Breonna Taylor, and the protests that erupted in the aftermath. But the disturbing trends we see today in police violence are the same patterns we've seen over the last 100 years. Again and again, commissions convened to examine why police brutality sparks unrest have come to the same conclusion: We must address the poverty and systemic racism that go hand in hand with policing communities of color. 
This week, we launched a series of four short films taking a critical look at what we've learned from the last 100 years of racism in policing. The solution to healing this long-standing problem is clear: It's time to divest from the police and reinvest in communities of color.
Los Angeles, 1992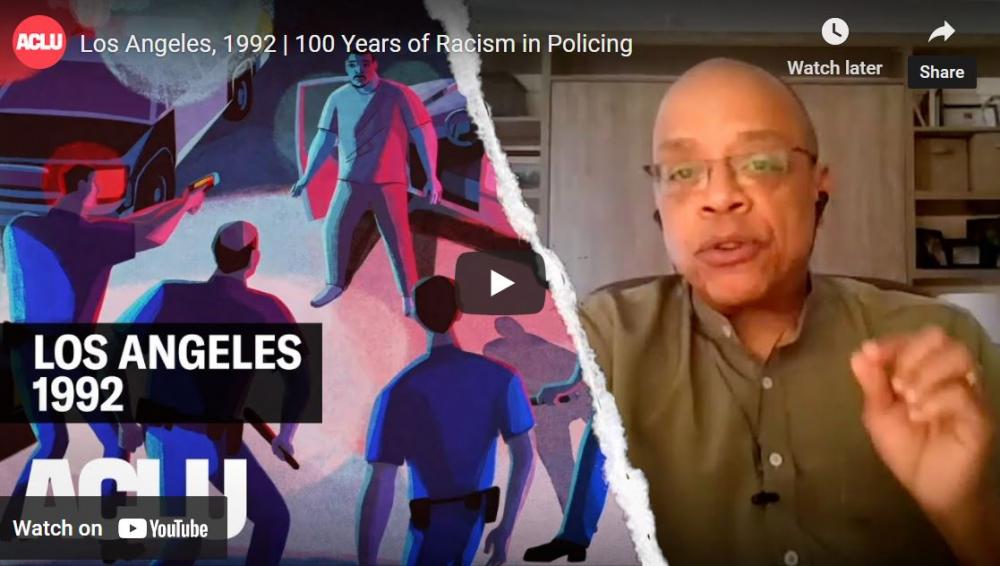 Watch video - click here
In 1991, a video emerged of California Highway Patrol officers brutally beating an unarmed Black man, Rodney King, during a traffic stop. Four officers were charged, but were later acquitted. The verdict sent shockwaves through South Central Los Angeles. The concurrent drug epidemic, gang violence, and systemic racism added fuel to the fire. 
Despite calls for immediate action, including an admission by the post uprising commission that the LAPD could not deal with the root causes of crime, very little changed. More money continued to go to the LAPD while funding for schools, housing, and critical social services came in second. These trends continue today.
Detroit, 1967
Watch video - click here
In the summer of 1967, a wave of protests swept the city of Detroit after the police arrested patrons of a "blind pig," an illegal after-hours bar in a mostly Black neighborhood. The partygoers included two Black Vietnam War veterans who were celebrating their return home. Throughout five days of protests, 43 people were killed, 1,189 were injured, and 7,200 were arrested. 
In response, President Lyndon B. Johnson sent in the National Guard and the U.S. Army, turning Detroit's streets into a combat zone. He also set up a commission to understand the uprising. But when the commission released its findings in the Kerner Report the following year, he ignored most recommendations and set aside its findings that the root causes of the uprisings were disinvestment in Black communities, Black powerlessness and frustrated hopes, and how police "symbolize white power, white racism, and white repression" for significant numbers of Black people.
Harlem, 1935
Watch video - click here
When a Harlem shopkeeper thought he saw a teen pocket a 10-cent penknife, he tackled the boy to the ground and a police officer nearby arrested him. Protests erupted outside the store as neighbors and passersby suspected the officer was abusing the boy. The resulting riots lasted two days. Three people were killed and 75 people — mostly Black — were arrested. 
Amid cries from activists, civil rights leaders, and unions, New York's Mayor Fiorello LaGuardia set up a biracial commission to diagnose the problem and to prescribe a cure. This commission found that the upheaval was due, in large part, to "the nervous strain of years of unemployment and insecurity of black residents in Harlem," in addition to "the deep sense of wrong and discrimination against them in the school system and by the police."
Chicago, 1919
Watch video - click here
On Lake Michigan in 1919, a white man threw rocks at a Black boy whose boat had drifted to the "wrong" side of the lake. The boy drowned. Protests broke out across the city.
Governor Frank Lowden appointed a commission that found that "Negroes are more commonly arrested, subjected to police identification and convicted than white offenders." But policing was just one facet of white supremacy, which touched the lives of Black people in housing, in education and in employment. Almost a century later, the Chicago Police Department's own records from 2000-2015 show that nearly 90 percent of victims of police use of force were people of color.
Today, events virtually identical to those in Chicago, Harlem, Detroit, and Los Angeles are unfolding across the country, and policing still acts as an occupying force in communities of color. The murder of George Floyd in Minneapolis this year shined a bright light on what we keep getting wrong. 
In 2014, Minneapolis was one of the cities piloting the Obama administration's National Initiative for Building Community Trust and Justice — a multimillion-dollar program that was the administration's response to national calls for police accountability. The Minneapolis police department implemented trainings on implicit bias, mindfulness, de-escalation, and crisis intervention; diversified the department's leadership; created tighter use-of-force standards; adopted body cameras; initiated a series of police-community dialogues; and an enhanced early-warning system to identify problem officers. The hope was that these training programs would professionalize policing and reduce abuses that might trigger more protests. This was all before George Floyd was killed. None of it worked.
Calls to invest more money in police departments for training ignore the lessons from Minneapolis and the fact that the racist trends we see today in police violence are not new. How much longer will we continue to pour increasing sums of money into a system of law enforcement that has demonstrated an inability or unwillingness to change after 101 years? 
By looking deeply at the history of racism in policing, we can better understand why it's not just reform, but a full re-allocation of resources that is necessary for us to end violence and injustice in our communities. We've known the problem and we've known the solution for 100 years. It's long past time to act.
DIVEST FROM THE POLICE. INVEST IN BLACK AND BROWN COMMUNITIES.
Add your name - click here
https://action.aclu.org/petition/divest-police-invest-black-and-brown-communities
American Civil Liberties Union (ACLU)
125 Broad Street, 18th Floor
New York NY 10004
212-549-2500
Video Series - Pandemic Nation: Chasing the Vaccine (Capital & Main)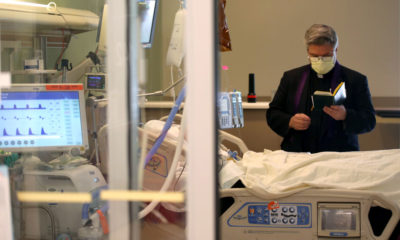 The first COVID-19 vaccine, developed in record-breaking time, begins rolling out in the United States this week. But how that vaccine will be administered to the American people remains unclear. Who gets the vaccine after health care workers and residents of long-term care facilities? What is the timeline for the rest of the population? How do those with little or no access to health care get the vaccine? And who makes those decisions?
Capital & Main reporter Mark Kreidler tackles these questions and more in a special week-long edition of our podcast series, Pandemic Nation: Chasing the Vaccine.
The series begins with a conversation with Anthony Wright, executive director of Health Access California. Wright is part of the California Department of Public Health's Community Vaccine Advisory Committee, formed to help guide the state's decision making about vaccine distribution.
Equitable access to the vaccine, Wright explains, is a priority for the committee. 
"We are advocating to make sure that there is not any barrier based on financial or insurance status or immigration status or geographic or other considerations," Wright says of the committee. A failure to distribute the vaccine thoroughly and equitably "would undermine our overall effort to emerge from this crisis."
Join us each day this week as Mark Kreidler speaks to a cross section of experts, health care executives and essential workers about California's effort to distribute the vaccine, and the obstacles that stand in the way.
1910 W. Sunset Blvd., Suite 740
Los Angeles, CA 90026
Phone: 323-315-7578
Fax: 323-328-1636
info@capitalandmain.com
Check out our Human Rights Vision for the First 100 Days! (Center for Constitutional Rights)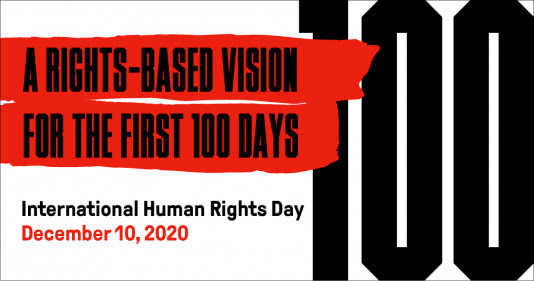 It's International Human Rights Day! We're thrilled to share our Rights-Based Vision for the First 100 Days. Our new policy document outlines necessary steps that President-elect Joe Biden and the 117th Congress must take in their first 100 days. It is rooted in human rights and amplifies the future visions articulated by impacted communities and movements for social justice.
Read here about how decision-makers can immediately begin to address racial disparities of COVID-19; recalibrate national priorities; and commit to structural social change. In the first 100 days, we're calling on Congress and the president to institute policies that remedy historical injustice, upend systemic racism and guarantee human rights for all.
This is a moment of opportunity and opening, and we're excited to work together with movement partners and continue building out a policy agenda that responds to human needs and repairs harm. 
Stay tuned in the coming months for more ways to get involved!
Onward, and Happy Human Rights Day to all!
Nadia Ben-Youssef
Advocacy Director, Center for Constitutional Rights
Center for Constitutional Rights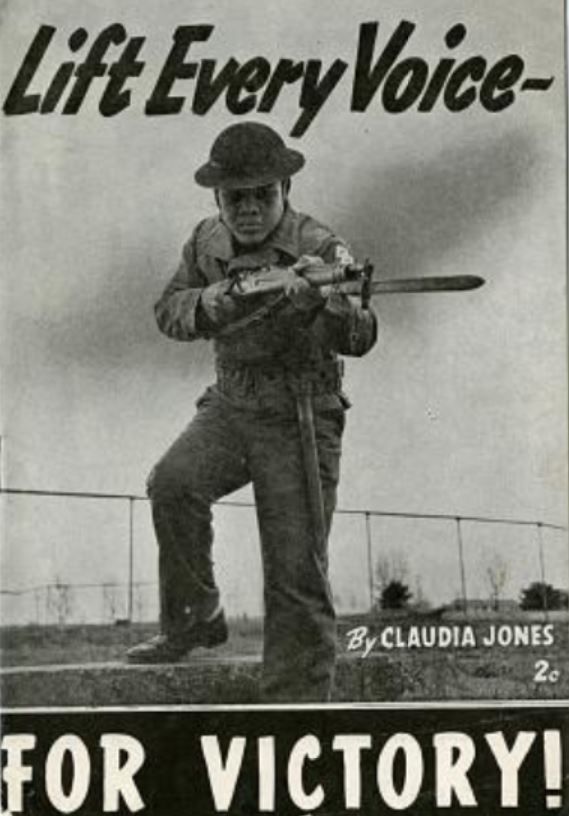 What is so great about pamphlets? Easy to hand out and inexpensive to print and produce, pamphlets allow any group or person, no matter their socio-economic status to share their ideas, thoughts, and opinions with audiences large and small. Pamphlets helped spread the ideas of the founding fathers, as well as the social reform movements in the 1960s. Help us transcribe this object from a collection of pamphlets related to African Americans and their intersections with the Communist Party and radical left groups. This will provide an important window into the longstanding and often overlooked relationships between the political left and African Americans in the 20th century.
The pamphlets in this collection cover a variety of topics and include a biography of Angela Davis, writings by Paul Robeson, and prints discussing labor unions, the Black Power movement, and Communist, Socialist and Nationalist politics.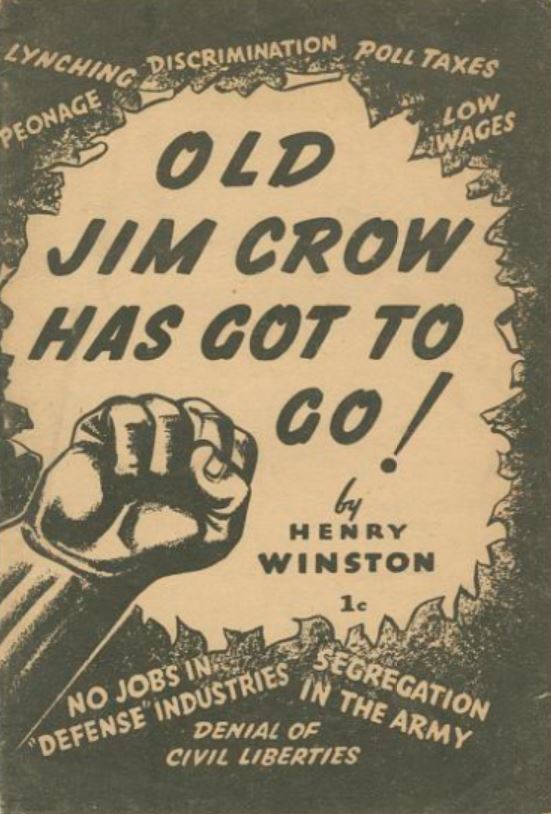 Collection of the Smithsonian National Museum of African American History and Culture, Gift of the family of Dr. Maurice Jackson and Laura Ginsburg.
Palestinians can now see their stolen property in the database we've made public (Middle East Eye)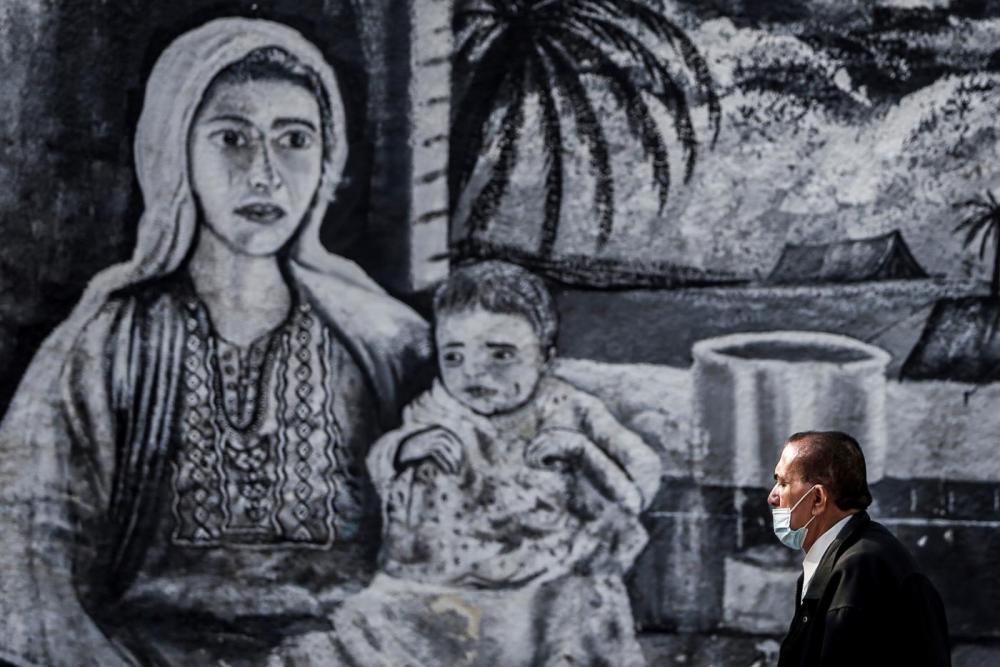 By Nasser Qudwa
December 11, 2020
Middle East Eye
A comprehensive database of private property belonging to Palestinian refugees in the territory occupied by Israel in 1948 has been opened to the public.
In an important development, a database detailing property stolen from Palestinians who were ethnically cleansed during the Nakba has now been made public by the Yasser Arafat Foundation.
Building a Movement for Public Reconstruction - December 17 (The Alliance for a Just Society and the Laura Flanders Show)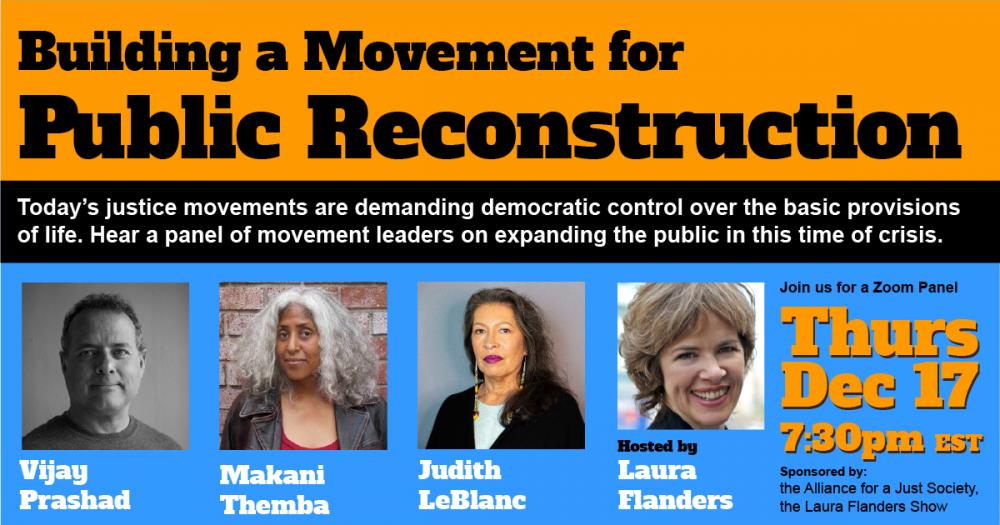 2020 has been a challenging and difficult year. The COVID-19 pandemic continues to ravage our communities. Police killings of Black and Brown people continue despite the unprecedented racial justice movements that spilled into streets around the world.
Trump's defeat in November has opened the possibilities for a new social vision to address the pandemic and the growing social and economic crises we face. Across the country, organizing campaigns demanding democratic control over the basic provisions of life — education, health care, food, jobs, childcare, transportation — have taken root. Movements for a Public Reconstruction.
Join us tomorrow night for a Zoom panel featuring leaders, writers, and organizers engaged in this movement for a public reconstruction and public goods.
REGISTER https://us02web.zoom.us/webinar/register/WN_ueawMzlCTJOHKnprh5NYzQ
Building a Movement for Public Reconstruction
Thursday, December 17
7:30-9:00 pm, EST via Zoom
PANELISTS:
Vijay Prashad, Director, Tricontinental
Vijay Prashad is an Indian historian and journalist. Prashad is the author of thirty books, including Washington Bullets, Red Star Over the Third World, The Darker Nations: A People's History of the Third World and The Poorer Nations: A Possible History of the Global South. He is the Chief Correspondent for Globetrotter and a Columnist for Frontline (India). He is the Chief Editor of LeftWord Books (New Delhi). He has appeared in two films – Shadow World (2016) and Two Meetings (2017).
Makani Themba, Chief Strategist, Higher Ground Change Strategies
A social justice innovator and pioneer in the field of change communications and narrative strategy, Makani has spent more than 20 years supporting organizations, coalitions and philanthropic institutions in developing high impact change initiatives. Previously, Makani served as the founder and executive director of The Praxis Project, a nonprofit organization helping communities use media and policy advocacy to advance health justice. Makani is the co-author of Media Advocacy and Public Health: Power for Prevention, a contributor to the volumes We the Media, State of the Race: Creating Our 21st Century, along with many other edited book projects. She is author of Making Policy, Making Change, and she has also co-authored with Hunter Cutting Talking the Walk: Communications Guide for Racial Justice and Fair Game: A Strategy Guide for Racial Justice Communications in the Obama Era.
Judith LeBlanc, Director, Native Organizers Alliance
Judith provides and facilitates technical support, strategic planning, mentoring, and on the ground campaign development to Native groups. She serves as the United Nations representative for the Indigenous World Association, a Non-Governmental Organization. She served on the 2015 Screening Committee for Native Voices Rising, a project of the Common Counsel Foundation and Native Americans in Philanthropy. From 2002 to 2015, Judith became a nationally recognized organizer and leader in the U.S. peace movement — a central organizer for numerous campaigns and mobilizations as a National Co-chair of the national coalition, United for Peace and Justice and as National Field Director of Peace Action. She was selected as a 2019 Rodenberry Fellow. She is on the boards of IllumiNative and NDN Collective.
Hosted by Laura Flanders, Laura Flanders Show
Sponsored by The Alliance for a Just Society and the Laura Flanders Show, together with Prof. Daniel HoSang, Yale University.
Phil Ochs Song Night - Celebrating Phil's 80th Birthday - December 19 (Woody Guthrie Center)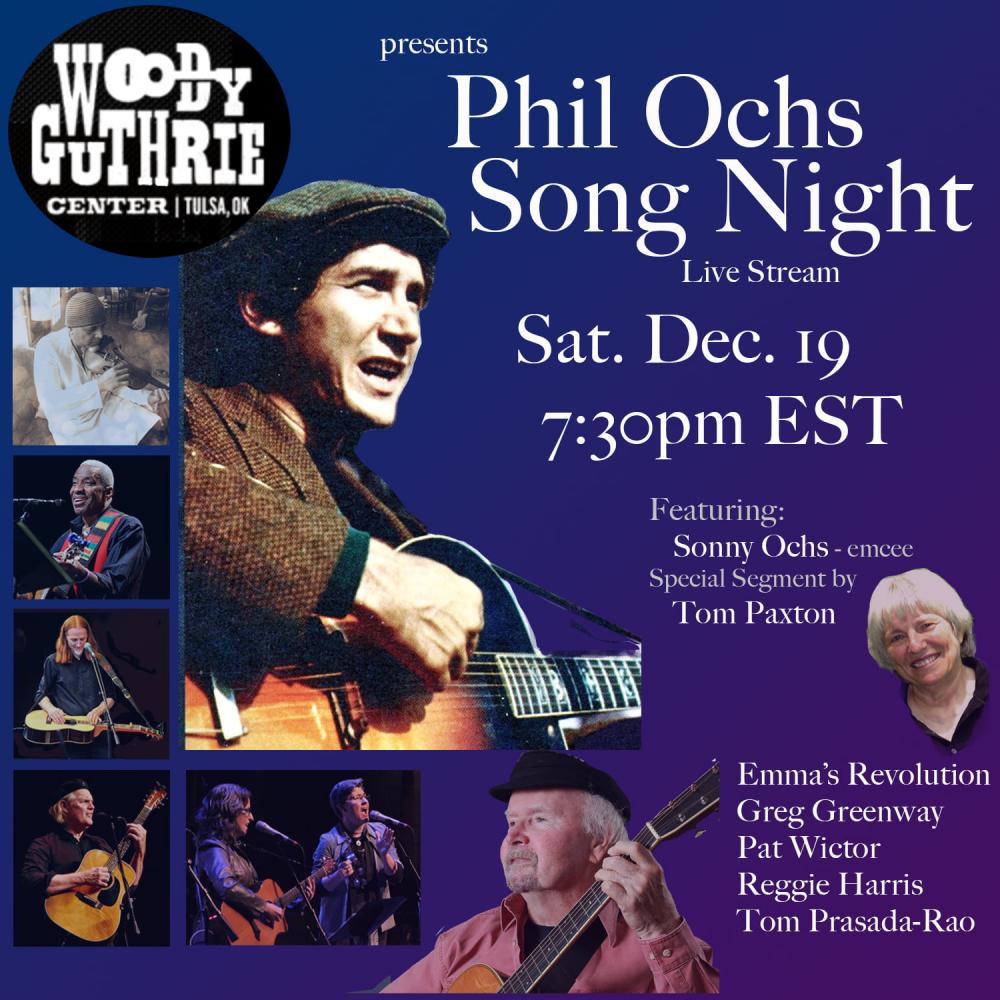 Join us Saturday, Dec. 19, to celebrate the music of musician and activist Phil Ochs, who would have turned 80 that day. To mark the occasion, we will be joined by friends, family, and fans of Ochs and his music for a special Phil Ochs Song Night, starting at 6:30 p.m. CST Dec. 19.
The virtual program is free to attend and will stream live on the Woody Guthrie Center's Facebook page here, so mark your calendar and we'll see you for a special evening of music and memories.
The Woody Guthrie Center is presenting a night of entirely Phil's music, hosted by the legendary, Sonny Ochs. Tom Paxton will talk about knowing Phil and sing "There But for Fortune." Emma's Revolution, Reggie Harris, Pat Wictor, Greg Greenway and Tom Prasada-Rao will join.
Listen on Zoom https://us02web.zoom.us/j/85104702282?pwd=MTBQR1NoZXNKamdFYkVtSXVCdlgyQT09#success
Listen on Facebook https://www.facebook.com/events/239250607605301/
102 E. Reconciliation Way
Tulsa, OK 74103
(918) 574-2710
19th Annual Women of African Descent Film Festival - December 26 & 27
 
Saturday December 26, 12pm - 5pm
Sunday December 27, 12pm - 5pm
Free Admission
Hosted by Women of African Descent Film Festival
For the past nineteen years, the Arts Facet of The Brooklyn Chapter of Links has produced "Linkages: The Women of African Descent Film Festival (WADFF)."
Due to the adherence of COVID-19 protocols for health care and safety, WADFF will take place via Facebook livestream. This year, WADFF will screen 24 films, featuring narrative and documentary films by independent filmmakers and youth filmmakers, selected by a jury of peers and members of The Brooklyn Chapter of The Links, Inc. A new element of the festival will comprise of personal clips from our filmmakers regarding their films and their experiences being an artist during this pandemic.
All WADFF films are written, directed and/or produced by women of African descent, and tell stories of empowerment, sisterhood, leadership, and positive and challenging relationships. Criteria for selection include the filmmaker's ability to depict the positive linkages that women of African descent have to their families, friends and communities.
The 19th Annual Women of African Descent Film Festival and Youth Film Festival is underwritten with Local Arts Support (NYSCA) which is made possible with public funds from the Decentralization Program of the New York State Council of the Arts, administered in Kings County by the Brooklyn Arts Council.
Book Presentation - My Life as a Political Prisoner: Elizabeth Gurley Flynn - January 11 (Vito Marcantonio Forum and the Claudia Jones School for Political Education)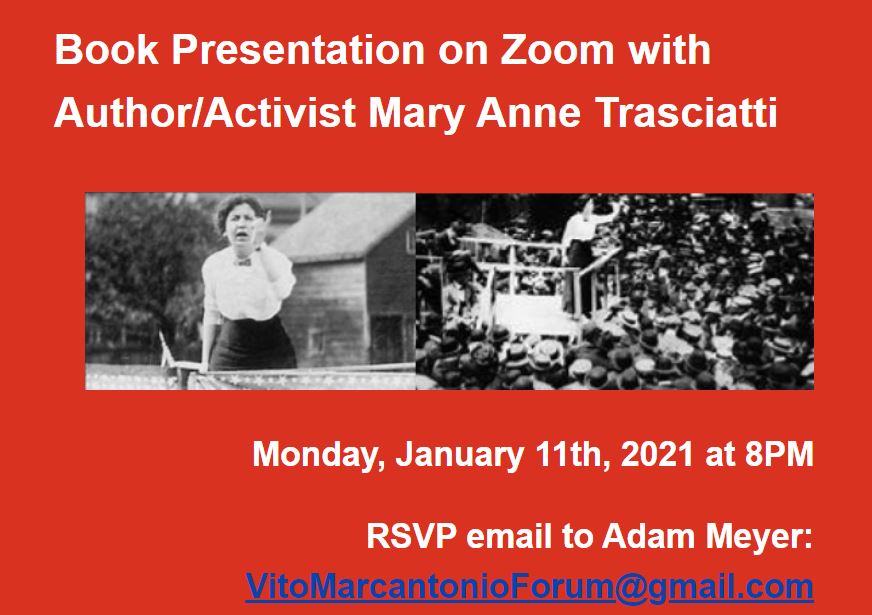 Monday, January 11th 2021 at 8PM 
RSVP email to Adam Meyer: VitoMarcantonioForum@gmail.com
Elizabeth Gurley Flynn (1890-1964)—labor leader, activist, and feminist—played a leading role in the Industrial Workers of the World (IWW). She was a pioneering proponent of women's rights, birth control, and women's suffrage. She joined the Communist Party USA in 1936, and in 1961, became its chairwoman. She was incarcerated from 1955 to 1957 for her political beliefs and activities. Elizabeth Gurley Flynn died during a visit to the Soviet Union. In Red Square more than 25,000 people memorialized this fighter for her lifelong dedication to human rights.
Mary Anne Trasciatti, Ph.D., is a professor at Hofstra University where she teaches courses in Rhetoric, Women's and Labor Studies. She is President of the Board of Directors for "Remember the Triangle Fire Coalition." Most recently she has contributed to My Life as a Political Prisoner: The Rebel Girl Becomes "No. 11710" by Elizabeth Gurley Flynn.