Tidbits - Dec. 24, 2020 - Reader Comments: Trump Pardons; Abolition, Prison Labor; COVID Relief; Space Wars; Georgia; Cultural Jobs; Postal Workers; DSA's Abstentionism; Labor's Untold Story; Nurses; Workers' Education; Resources; Announcements; ....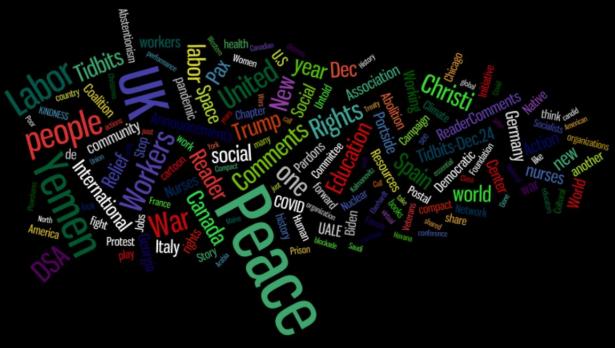 Tidbits - Reader Comments, Resources, Announcements, AND cartoons - Dec. 24, 2020,Portside
Resources:
Announcements:
Re: 'Our Blood is Cheaper than Water': Anger in Iraq Over Trump Pardons
 
Lots of anger over it in the US also.
Bob DeGuire
Posted on Portside's Facebook page

     =====
Anger? In my case I'm furious. This is an unforgivable insult to all of our soldiers and to soldiers everywhere who fight in our useless, unnecessary wars but do so with honor.
If these criminals are ex military, then I believe they can be recalled to active duty and then be dealt with by a military tribunal, and then put into a military prison.
Jon Lubar
Posted on Portside's Facebook page
Re: We Are Not Done With Abolition
 
When you follow Jim Crow with mass incarceration, this is what you get. It is a fairly straight line from slavery 400 years ago to today's mess we find ourselves.
John Aldis
Posted on Portside's Facebook page
Re: The U.S. Needs COVID Relief and Renewable Energy, Not a Space Force
 
Day 1...a EO to terminate the nonsense and waste of a so called Space Force...we have NASA and that is plenty.
Jake Clinton
Posted on Portside's Facebook page
     =====
Space Force: Another revenue stream into trump's pocket.
Jim Irvine
Posted on Portside's Facebook page
GOP's Covid Relief  --  cartoon by Lalo Alcaraz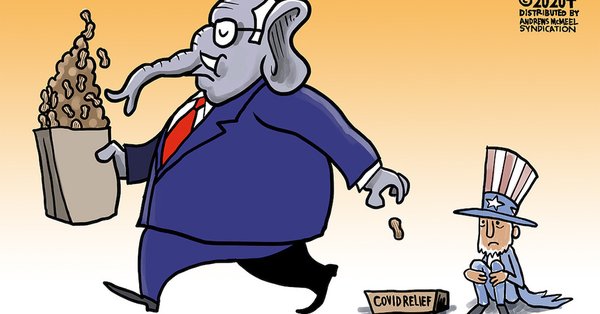 Lalo Alcaraz
December 23, 2020
Pocho.com
Re: Georgia and its Long History of Voter Suppression
 
Republicans have an interest in pretending that there is voter fraud on both sides... they have a need for people to think it's not one sided... they have been cheating for years... they still cheat... so they have shills like Q and Alex Jones and Rush Limbaugh and Faux Spews try to co-op the grassroots truth movements by spinning the truth... Trump is good at getting people to forget how bad Bush was
Love Pop
Posted on Portside's Facebook page
Re: 2.7 Million Jobs in the Arts Have Been Lost Since the Pandemic Began
(posting on Portside Labor)
 
To allow millions of workers in the arts to end up jobless – and permit the breakdown of the institutional infrastructure that makes the performance and showcasing of art possible— would leave this country culturally impoverished for years to come.
George Lessard
Posted on Portside's Facebook page
     =====
Bring back the WPA Arts Program.
Eleanor Roosevelt
Posted on Portside's Facebook page
Re: It's Been a Long Nightmare Before Christmas for UPS and Postal Workers
(posting on Portside Labor)
 
I'm very appreciative of these people!
Kate Smiley
Posted on Portside's Facebook page
Not a Festive Song  --  cartoon by Mike Luckovich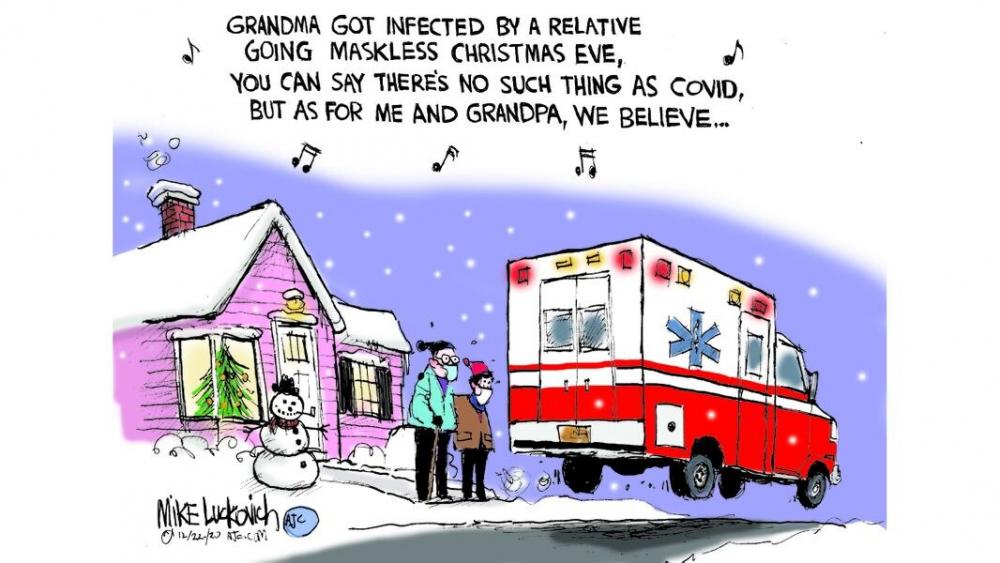 Mike Luckovich
December 22, 2020
Atlanta Journal-Constitution
Re: Tackling the Infrastructure and Unemployment Crises: The "American System" Solution
 
Sounds like Avery doable solution, which could well include "green new deal" type programs. I think this is s program worth exploring.
John B.
Re: Recognition of Native Treaty Rights Could Reshape the Environmental Landscape
 
What I see in this article and others is the ignoring of Native religions. The newly-constituted Supreme Court is putting greater emphasis on "religious rights" vs other rights, like health and life (see recent decision on churches enabled to violate distancing requirements), Native religions will have to be given equal weight with America's other religions. Saving "Sacred Lands" could become a "right" protected by the Constitution. What a fantastic development that would be. ACLU take heed.
Arlene Halfon,
Washington, DC
Re: "In Difficult Times": The Tango of Normalization
 
We know the author well. We had a meeting with him in Havana, March 2018. His journal Temas also published an article we wrote:
"Temas: Cultura, Ideolgoica , Sociedad, Habana, no.8, October-Diciembre de 1996
"Back to the Future: Cuba and African Americans, Temas: Culture, Ideology, Society, Havana, no.8, October-December 1996
Otis Cunningham and Lisa Brock
Re: Trump's Illegal Moroccan Bribe Could Throw North Africa Into Chaos
 
The U.S. political culture, dedicated to NOT facing its the seizure of land and displacement of people upon which its own founding and expansion was based, is vulnerable to abandoning better principles and instead endorsing other powers' overrunning of people's rights and lands when some supposed good (like favors to similarly expansionist "friends" or bragging rights about transactions miscalled peace agreements) can be achieved.
The habits of conquest haunt the empire they built and continue to extract high costs from conqueror and conquered.
Joe Maizlish, 
Los Angeles
Re: On the Sidelines: DSA's Abstentionism on Biden vs. Trump
 
I would have done this differently, starting with the last paragraph -- the importance of being all in for the Georgia Senate races -- because I think we should be forward looking. But as an analysis of what DSA did wrong, I think it is pretty unassailable.
Leo Casey
     =====
Amen brothers, and I say this as a long time member - actually a founding member - of DSA. A terrible chapter in the history of the organization.
Bill Barclay
     =====
How long does this argument need rehashing? Until folks get the point. The members who made this mistake - who proposed it, promoted it, or just let it go without a fight - will hope it's forgotten until they have the chance to make it again.
Ethan Young
     =====
This is a splendid essay. I was one of those that thought there was no reason for DSA to formally endorse the Democratic ticket, but I was coming at it from a more conservative place. I thought the ensuing red baiting would be corrosive and costly. Well, we had the red baiting anyway, and its impact was far different from what I anticipated. That these two people, with these kind of organized labor creds, can make this argument, shows me that I was wrong. Everything that happened during the campaign shows that an endorsement from DSA could have been a mobilizer, and that red baiting wouldn't have stopped that from happening.
Geoffrey Jacques
     =====
While I, too, wish DSA had endorsed Bernie, I think its electoral work for local state and congressional candidates was important and had excellent outcomes. It's not as clear to me as it is to the authors that a DSA endorsement would have given the organization more influence in the incoming Biden administration.
Daniel Millstone
     =====
The idea that most people voted to elect Biden is absurd and arguing that we should have faith in the Democratic Party is suicidal. I voted to defeat Trump, but i have no illusion about Biden and the effect his administration will have on the movement. Hopefully the movement will survive and grow, despite the history of past Dem. administrations
Ronald Reosti
     =====
I supported Biden, but DSA doing so would have made me resign my membership like when DSA supported the Clintons.
Lawrence Rockwood
Posted on Portside's Facebook page
Re: Why Workers Everywhere Should Read Labor's Untold Story
(posting on Portside Labor)
 
Still the best introduction to labor history out there since I first read it in 1975.
Susan Lowry
Posted on Portside's Facebook page
     =====
An oldie, but goldie. Fortunately, the field of labor history has exploded with new detailed histories and case studies, including those from a radical perspective. The work by the late Herb Gutman is a case in point.
Richard Lee Deaton
Posted on Portside's Facebook page
Christmas Miracle  --  cartoon by Rob Rogers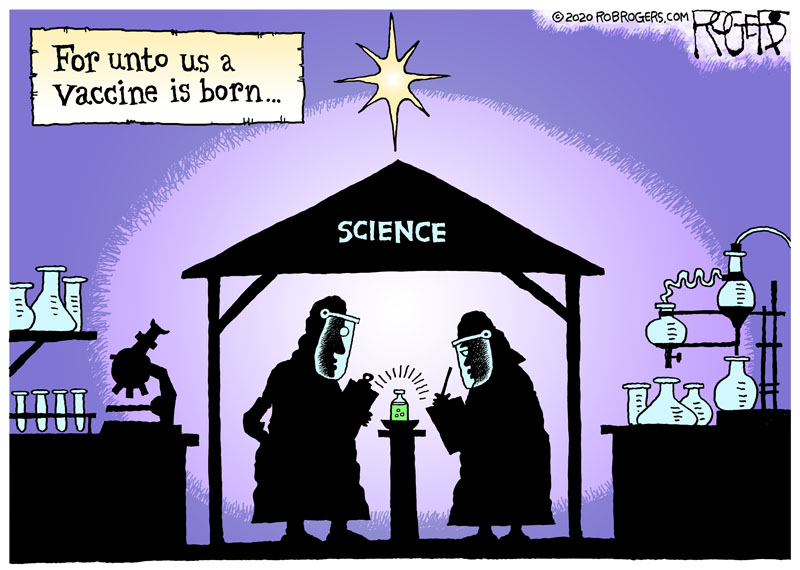 Rob Rogers
December 23, 2020
robrogers.com
Re: COVID-19 Vaccines Breathe Life into Research Done 20 Years Ago
 
Thanks to Barry Cohen and all the other scientists and researchers that have worked on the Covid vaccines. (Nice when one of your long-time friends and co-workers gets this type of recognition. It's been a pleasure working with Barry as a moderator of Portside these past 20+ years).
Jay Schaffner
Posted on Portside's Facebook page
(posting on Portside Culture)
 
BEAIUTIFULLY SAD – MADE ME CRY!
Amy Harlib
New edition - For All the Saints, a Protest Primer by Dave Eberhardt (Baltimore 4) -- about Plowshares actions from 1964-2020
 
Thank Goddess et al for Portside
Just printed 50 of 5th edition of my book "For All the Saints, a Protest Primer" no including a chapter on KingsBay Plowshares 7- each cost me `17$ then another 5 to ship- if interested send 25 $check to 
Dave Eberhardt
4 Hadley Square N
Baltimore, MD
include address- each will be numbered (300-350) and signed- book covers draft and Plowshares actions from 1964-2020-Berrigans/prison life/ reunions to KingsBay- photos black and white and in color-
David Eberhardt
https://www.facebook.com/david.eberhardt.9
THAT KINDNESS: A candid look at nurses' moral injury and distress (National Nurses United)
 
This week, NNU Executive Director, Bonnie Castillo, RN joined Tony Award-winning playwright, V (formerly Eve Ensler), to present THAT KINDNESS: A play in nurses' own words to raise awareness about the attacks on staffing ratios and nurses' emotional health during the pandemic.
This remarkable play, which was The New York Times Critic's "Pick of the Week", opened nationally earlier this year. The play dramatically amplifies nurses' voices in the fight for PPE and other protections during Covid-19. These stories are told through incredible actors Ed Blunt, Rosie O'Donnell, Billy Porter, and Monique Wilson to name a few, who through compelling and honest portrayal, represented a candid look at the struggles we are facing in our hospitals every day.
We're thrilled to be able to share this incredible play with you. Please watch the event and be sure to share this performance on social media to help share the stories of nurses on the frontlines.
NNU has researched and documented the effects of nurses' moral injury and distress due to the heavy weight of the Covid-19 pandemic through our groundbreaking study, Deadly Shame. THAT KINDNESS helps bring this report to life and takes a candid look at this distress of abandonment, fear of dying from Covid-19, and being denied protections to stay safe.
In these unprecedented times, we're offering the play not only to honor nurses' voices and stories, but to reaffirm our solidarity and commitment to our patients and each other. 
In spite of the abandonment by hospital corporations and public officials, nurses are being heard and recognized around the word as pillars of scientific knowledge, exemplary compassion, and patient advocacy.
Together, we'll continue to resist hospitals' attempts to undermine safe staffing and workers' rights, and instead represent a collective voice for caring, compassion, and community.
Please watch THAT KINDNESS and share the performance with your friends, family and colleagues.
Thank you for all that you do,
National Nurses United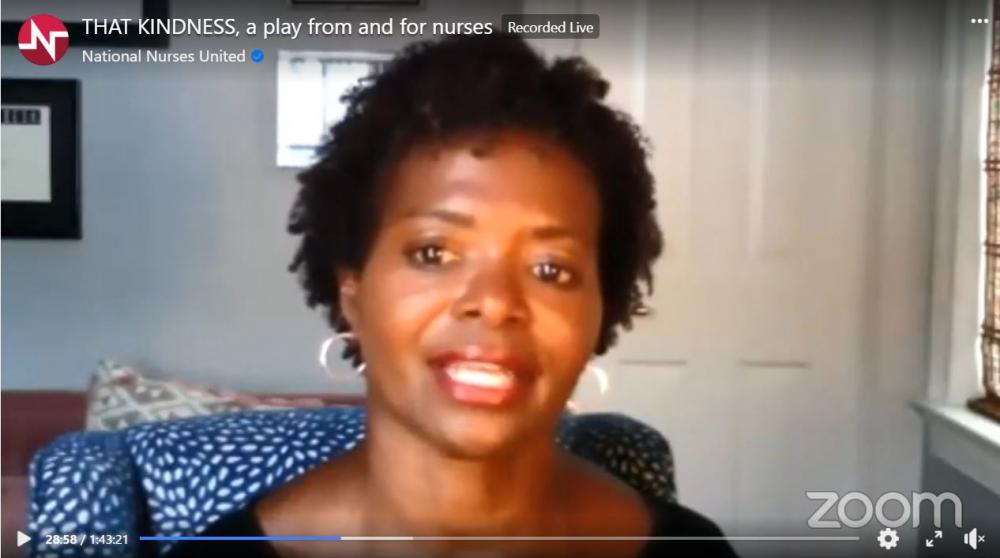 Watch here
 
Top 10 Climate Change Books: Children & Adults 2020 (Climate Mama)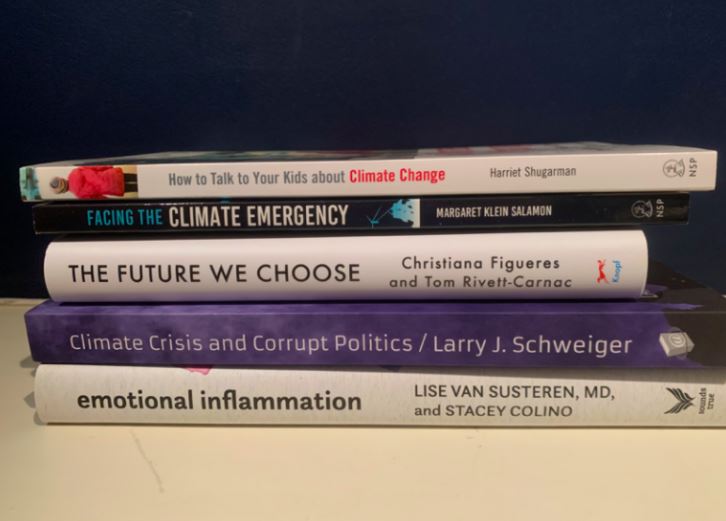 What a year it has been, one with far too many lows, but incredibly, one with some highlights and silver linings too. This post shares some of our newly found and treasured climate and environmental books from the past year.
For the holidays and for the near future, if we are fortunate enough to be surrounded by loved ones, in almost all instances these gatherings are and will be virtual rather than in person. This is a unique holiday season, in a unique year, that we will always remember. 2020 is already infamous; a global experience etched forever in our individual and collective memories. This year too, even our youngest children will carry memories forward, as we retell the stories of how we built resiliency through our shared concern and by our care and caring for one another.  As Climate Mamas and Papas, we can already envision many ways that – from the darkness of this time – there will be takeaways and learning opportunities that will refresh and renew our commitment to address the climate crisis.
As a way of  building and growing our knowledge and finding new paths that move us forward, we have created our: Top 10 list of climate and environment books, for both adults and children. All these books have had releases (or re-releases) in the past year and all of these books have been recommended and shared by our Climate Mama and Papa community across the country and around the world. Consider these books, as you think about thoughtful gifts to share both during the holidays, and in the coming year.
Read more here
Reimagining Workers' Education to Transform the World - 2021 Conference - Paper Submission Deadline - December 30 (United Association for Labor Education - UALE)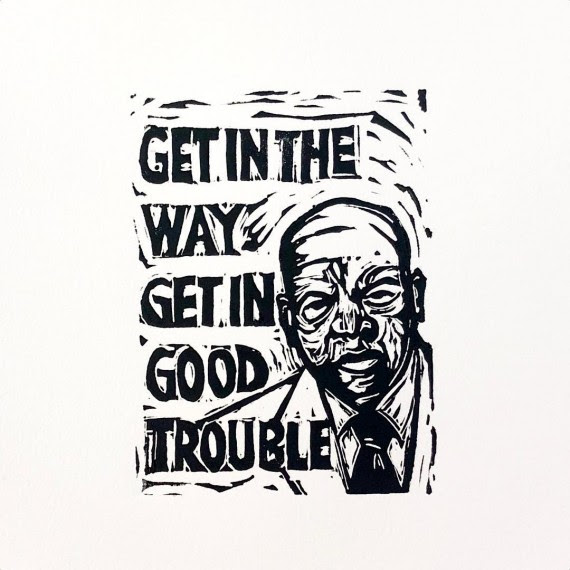 What are we taking with us from 2020 into 2021?
In conversations about 2020, we've probably all expressed our willingness to leave it all behind. But, as I reflect on the year, there is much of 2020 that we should carry with us into 2021, and one thing we should celebrate is our ongoing commitment to this community and the work that we continued to do in the face of a global health pandemic and the extraordinary attacks on our democratic institutions. As the fights for social and economic justice took center stage this year, they pushed us and provided opportunities for our work to play a pivotal role in creating a more just and equitable society.
As virtual training became a necessity, this new reality allowed us to put more tools in our training toolbox, and we were able to broaden our reach to those who might not have had access otherwise. The virtual world provided the opportunity to participate in labor education in ways that geography often prohibits us from doing. One way that UALE responded to this situation was to share those programs on our Facebook page as part of social media outreach #WorkerEdWednesday. We are sincerely grateful for those who opened their programs and shared them with this community. Let's keep this going into 2021. There's so much to learn from one another.
If there was one thing that so many learned about in 2020, it was what it means to be an "essential" worker. As I see signs of gratitude and appreciation for essential workers, I wonder if it's not too far-fetched to believe that people are starting to see that the overall health of our communities is dependent on the well-being of all its members. The ability of labor educators to lift up the voices of the workers who have been most at risk and have faced the greatest losses is not new, but it has been critical in the fight for legislation that puts workers first. What we learned this year will most certainly inform how we organize, negotiate contracts and advocate for pro-worker policies going forward.
And, no one can deny that we saw a rise in activism on issues of social and racial justice. While the fight for justice goes on, the lives of Ahmaud Arbery, Breonna Taylor, and George Floyd, and too many others, will not be forgotten.  Collective efforts for equality and the end to racial violence, whether in the streets or in our individual organizations, have taken on a new sense of urgency. And, as a community, we know that this fight is core to our movement. So, we will continue to create opportunities to learn from one another and stand in solidarity with one another. The only option is to take this and move forward from here in 2021.
Don't get me wrong, there's plenty to say good-bye to from 2020. But, let's take those things that will serve us and our labor community. And, of course, let's do look forward to 2021 with the hope of a new U.S. administration and arrival of the COVID-19 vaccine. And, although we will still be meeting virtually, the UALE Conference is going to be great – so don't miss it. 2021 is our year for getting into some good trouble.
Amanda Pacheco, UALE Vice President, Unions
International Brotherhood of Electrical Workers
 
VIRTUAL UALE 2021 CONFERENCE
"REIMAGINING WORKERS' EDUCATION TO TRANSFORM THE WORLD"
The United Association for Labor Education (UALE), a community of  educators dedicated to promoting education as an essential tool to worker training, leadership development, and equity in the workplace, welcomes your proposals for our 2021 conference at the University of Illinois at Chicago. Our conference will overlap with the Labor and Working Class History Association (LAWCHA) conference, May 26-28, 2021, allowing for shared programming and dialogue. LACHWA is an organization of scholars, teachers, students, labor educators, and activists.
 
This year's theme is "Reimagining Worker Education to Transform the World." The conference planning committee is seeking proposals that will explore the many challenges workers are facing in the midst of massive economic inequality, a global health pandemic, attacks on worker rights and labor organizations and increasing violence against people of color, immigrants, and LGBTQ folks. Is another world possible?  How can labor education help to realize another world? How has the COVID pandemic exposed the unequal distribution of services, resources, and income? What does "essential" mean and how does society value work and workers? How do race, class, gender, and sexuality impact public health needs such as mask wearing, social distancing, and workplace changes? What actions must we take as labor educators to change the balance of power in the workplace and society?  How do we teach and what do we teach?
 
We encourage panels and workshops that go beyond the borders of the United States either entirely or comparatively. We welcome proposals that include:
     -  traditional paper panel (3 people);
     -  curriculum demonstrations/teaching techniques workshop;
     -  roundtable discussion (5-6 people);
     -  performance art;
     -  film showing; &
     -  posters.
All sessions/roundtables MUST designate a chair/commentator or moderator separate from the panelists. While we will consider individual paper submissions, we STRONGLY encourage you to organize a full panel. To assist in finding additional panelists, we recommend submitting a query to the UALE listserv (ualelist@list.uale.org).
 - DEADLINE EXTENDED -
Submissions will be accepted until December 30, 2020
If you have any questions, please email ualeconference@gmail.com.
Exclusive Broadcast of the Havana Jazz Festival - January 21 - 24 (Hot House)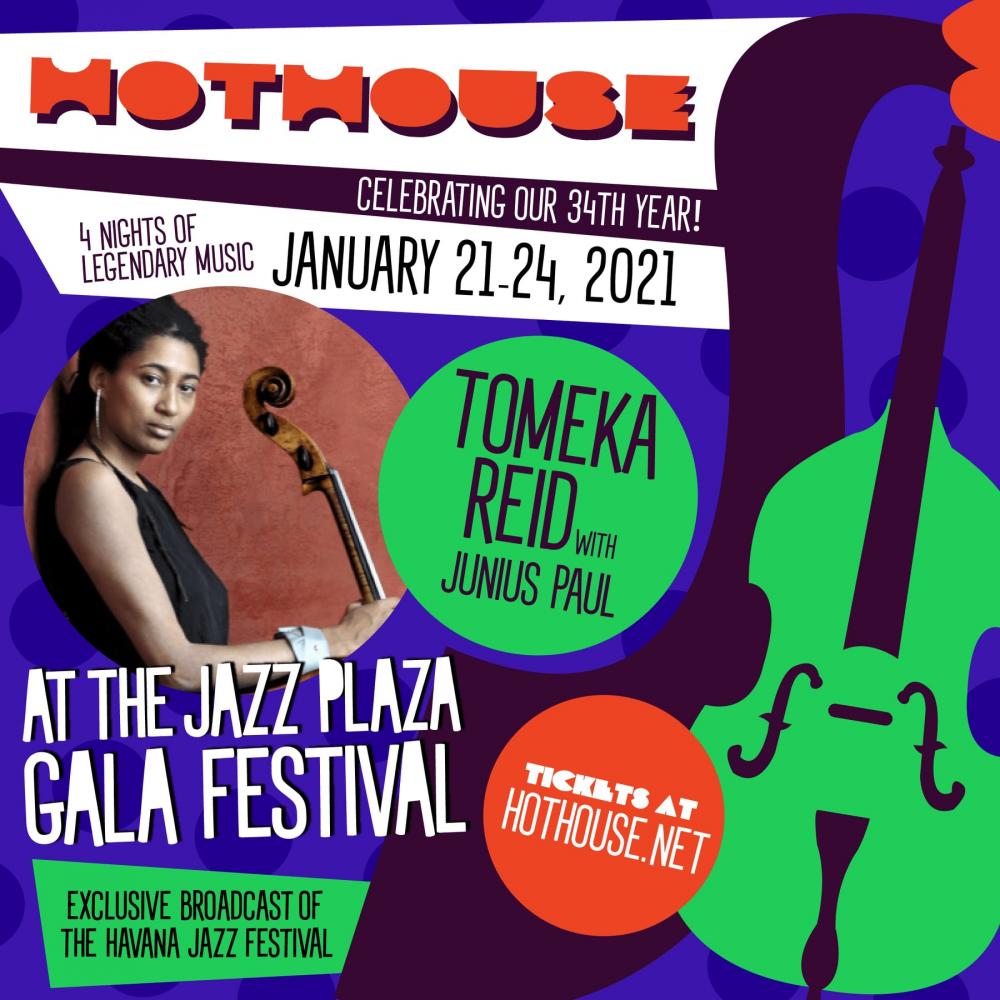 #HotHouseMeetsHavana
Great last minute gift giving idea...https://tinyurl.com/y5vuc7kf or #HotHouse.net for tickets.
Happy Holidays! HotHouse announced that it has been awarded the exclusive rights to stream the 2021 legendary Cuban jazz festival "Jazz Plaza" Jan. 21-24 featuring Chicago and Cuba's best original jazz.
Cellist and composer #TOMEKAREID has emerged as one of the most original, versatile, and curious musicians in Chicago's bustling jazz and improvised music community over the last decade. Her musical career began after moving to Chicago in 2000. Her work with Nicole Mitchell and various Association for the Advancement of Creative Musicians-related groups proved influential. She co-leads the adventurous string trio #HEARINNOW, with violinist Mazz Swift and bassist Silvia Bolognesi.
#JuniusPaul composer, bandleader & acoustic and electric bassist was born and raised in the Chicago area. Junius' debut album, "Ism" was released in November 2019 via International Anthem Recording Company, receiving a 4 star rating from Downbeat Magazine.
Call to Protest: World Says No to War on Yemen – January 25 (Stop the War Coalition)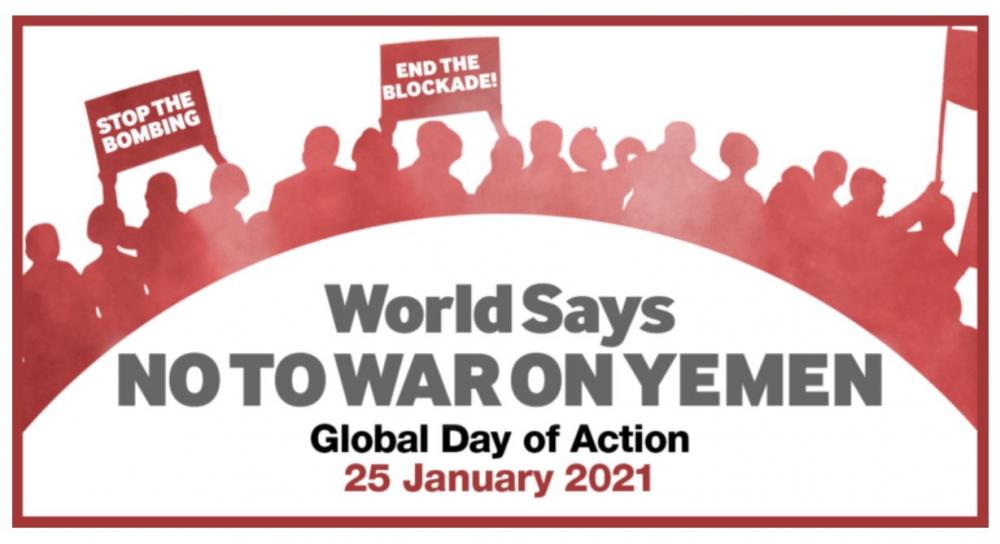 Joint Statement: World Says No to War on Yemen
Call To Protest Internationally on Monday 25 January 2021. Please add your organisation here.
Since 2015, the Saudi-led bombing and blockade of Yemen have killed tens of thousands of people and devastated the country. The U.N. calls this the largest humanitarian crisis on Earth. Half the country's people are on the brink of famine, the country has the world's worst cholera outbreak in modern history, and now Yemen has one of the very worst COVID death rates in the world: It kills 1 in 4 people who test positive. The pandemic, along with withdrawal of aid, is pushing more people into acute hunger.
And yet Saudi Arabia is escalating its war and tightening its blockade.
The war is only possible because Western countries — and the United States and Britain in particular — continue to arm Saudi Arabia and provide military, political and logistical support for the war. The Western powers are active participants and have the power to stop the world's most acute human crisis.
The disaster in Yemen is man-made. It is caused by the war and blockade. It can be ended.
People and organizations from the U.S., Britain, Canada, France, Italy, and across the world, are coming together to call for an end to the war in Yemen and solidarity with the people of Yemen. We demand that right now our governments:
Stop foreign aggression on Yemen.
Stop weapons and war support for Saudi Arabia and the United Arab Emirates.
Lift the blockade on Yemen and open all land and sea ports.
Restore and expand humanitarian aid for the people of Yemen.
We call on people around the world to protest the war on January 25, 2021, just days after the U.S. presidential inauguration and the day before Saudi Arabia's 'Davos in the Desert' Future Investment Initiative.
We ask individuals and organisations everywhere to call for protests — with masks and other safety precautions — in their towns and cities on that day and make clear that the WORLD SAYS NO TO WAR ON YEMEN.
Please add the name of your organisation by clicking here. For more information, please contact national@actioncorps.org.
1. Stop the War Coalition (UK)
2. Action Corps (US)
3. Yemeni Alliance Committee (US)
4. Yemen Relief and Reconstruction Foundation (US)
5. CODEPINK (US)
6. Just Foreign Policy (US)
7. Peace Action (US)
8. Voices for Creative Nonviolence (UK and US)
9. Freedom Forward (US)
10. Massachusetts Peace Action (US)
11. Peace Action New York State (US)
12. London Students for Yemen (UK)
13. Arab Organisation for Human Rights in the UK
14. Nonviolence International (Global)
15. Mobilization Against War and Occupation (Canada)
16. Rete No War Roma (Italy)
17. The Lady Fatemah Charitable Trust (UK)
18. Union of Arab American Women (US)
19. RootsAction.org (US)
20. Labour Against the Arms Trade (Canada)
21. Yemeni Community in Canada
22. Iraqi Democrats (UK)
23. Raytheon Anti-War Campaign, Mass. (US)
24. World BEYOND War
25. Campaign Against Arms Trade (UK)
26. Western New York Peace Center (US)
27. Campaign for Nuclear Disarmament (UK)
28. White Rabbit Grove RDNA (US)
29. New Jersey Peace Action (US)
30. Students for Yemen (US)
31. Islamophobia Studies Center (US)
32. Arabian Rights Watch Association (US)
33. Veterans For Peace – Santa Fe Chapter (US)
34. Baltimore, MD Phil Berrigan Memorial Chapter Veterans For Peace (US)
35. Veterans For Peace – NYC Chapter 34 (US)
36. Global Network Against Weapons & Nuclear Power in Space (US)
37. Granny Peace Brigade (US)
38. Australian Anti-Bases Campaign Coalition
39. NYC Metro Raging Grannies (US)
40. The New York Catholic Worker (US)
41. United National Antiwar Coalition (US)
42. Pax Christi USA
43. Maine WTR Resource Center (US)
44. Banyan Tree (India)
45. No to War – No to NATO (International)
46. Dwight Hall Peace Initiative (US)
47. Demilitarise Education Ltd. (UK)
48. Stop the WAR in Yemen (Germany)
49. Veterans For Peace (US)
50. Insan for Human Rights and Peace (Germany)
51. Grup Antimilitarista Tortuga (Spain)
52. Pax Christi Whatcom (US)
53. Pax Christi Illinois (US)
54. St. Camillus/Pax Christi Los Angeles (US)
55. Pax Christi Lansing (US)
56. Pax Christi Dallas (US)
57. Holy Spirit Catholic Community (US)
58. Pax Christi Little Rock (US)
59. Marymount-Pax Christi (US)
60. American Friends Service Committee (US)
61. Pax Christi El Paso (US)
62. Colectivo Noviolencia (Spain)
63. Human Rights for Yemen Charity (UK: England & Wales)
64. Frente Antiimperialista Internacionalista (Spain)
65. Catholics for Peace and Justice (US)
66. Peace Action of WI (US)
67. Laughton Greenwood (UK)
68. Rodmell Food Forest (UK)
69. Center for International Policy
70. Pax Christi Northern CA (US)
71. Albert and Amelia Ferst Interfaith Center (US)
72. Canadian Defenders For Human Rights
73. United for Peace and Justice (US)
74. The United Methodist Church – General Board of Church and Society (US)
75. Social and Cultural Association of Polish Palestinians (Poland)
76. University Network for Human Rights (US)
77. New Internationalism Project, Institute for Policy Studies (US)
78. Peace by Peace (US)
79. La France insoumise (France)
80. Ain Sohaota Kendra Foundation (Bangladesh)
81. Just Peace Advocates (Canada)
82. Peace in Kurdistan (UK)
83. Movimiento por un mundo sin guerras y sin violencia (Chile)
84. Veterans For Peace Chapter 61-St Louis MO (US)
85. NW/1400/5 Branch Unite the Union (UK)
86. East Lancashire CND (UK)
87. Nasmo Foundation for Rights & Freedom Supporting the Social Peace (Yemen)
88. Entesaf for Woman and Child Rights (Yemen)
89. CAPA DePaul (US)
90. Collectif Échec à la guerre (Canada)
91. Tower Hamlets CND (UK)
92. Amnesty Thetford (UK)
93. Campaign for Nuclear Disarmament Cymru (UK)
94. London Campaign Against Arms Trade (UK)
95. Midland PeaceWorks (Canada)
96. Cymdeithas y Cymod, the Fellowship of Reconciliation in Wales
97. Canadian Foreign Policy Institute
98. Vancouver Peace Poppies (Canada)
99. Aktion Aufschrei – Stoppt den Waffenhandel! (Germany)
100. Peace & Neutrality Alliance Ireland
101. Human Rights Sentinel (Ireland)
102. War Resisters League (US)
103. Canadian Peace Congress
104. Lebenshaus Schwäbische Alb e.V. (Germany)
105. Migrant Solidarity Network (Switzerland)
106. The Nuclear Resister (US)
107. Women's International League for Peace and Freedom US
108. Canadian BDS Coalition
109. Forum Peace Ethics within the Evangelical Church of Baden, Germany
110. Chicago Area Peace Action (US)
111. Chicago Committee Against War and Racism (US)
112. Black Lives Matter (UK)
113. Pax Christi Western Massachusetts (US)
114. Madison-Rafah Sister City Project (US)
115. Science for Peace Canada
116. Disarm Oxford (UK)
117. Bund fuer Soziale Verteidigung (Federation for Social Defence) (Germany)
118. Kooperation für den Frieden / Cooperation for Peace (Germany)
119. Revolutionary United Front (US)
120. East lancashire CND (UK)
121. Centre for the Study of Gender, Culture and Social Processes (India)
122. UK Democratic Socialists of America
123. Nación Andaluza (Spain)
124. Health Alliance International (US)
125. North Country Peace Group, Setauket, NY (US)
126. Peace Pledge Union (UK)
127. United Against Inhumanity
128. Salam For Yemen (France)
129. Asociación de Militares y Reservistas de Especial Disponibilidad 45+ (Spain)
130. Association Coopérative d'Économie familiale de Québec (Canada)
131. Solidarios sin Fronteras (Spain and Yemen)
132. La Guerra Empieza Aquí (Spain)
133. GERNIKA GOGORATUZ Peace Research Center (Spain)
134. Alternativa antimilitarista. Moc Las Palmas (Spain)
135. Karabana Mugak Zabaldu (Spain)
136. Gernikatik Mundura ONGD (Spain)
137. rete antirazzista catanese e Comitato NoMuos//NoSigonella-Ct (Italy)
138. Information Centre on Militarisation (IMI) (Germany)
139. Jungsozialist*innen Kanton Zürich (Switzerland)
140. Réseau du Forum Social de Québec-Chaudière-Appalaches (Canada)
141. Le Mouvement de la Paix – France
142. Maine War Tax Resistance Resource Center (US)
143. KRA VISIONARY PROJECT PARTNERS (Ireland)
144. Rehumanize International (US)
145. Environmentalists Against War (US)
146. Positive Moon (UK)
147. Peace Action Maine (US)
148. Global Network Against Weapons & Nuclear Power in Space (US)
149. Women in Black – Augusta, Maine (US)
150. Civilized Humanity (US)
151. Behind Enemy Lines Anti-Imperialist Resistance (US)
152. WILPF-ITALIA (Italy)
153. Greater Brunswick PeaceWorks (US)
154. Comitato pace convivenza "Danilo Dolci" – Trieste (Italy)
155. Pax Christi (Italy)
156. LEPOCO Peace Center (Lehigh-Pocono Committee of Concern) (US)
157. Democratic Socialists of America, SF Chapter, International Solidarity Committee (US)
158. FORUM CONTRO LA GUERRA (Italy)
159. Abbasso la Guerra OdV (Italy)
160. Bien Vivre Ensemble (Canada)
161. Charter for compassion Yemen (Yemen)
162. Merrimack Valley People for Peace (US)
163. Frauennetzwerk für Frieden e.V. (Women's Network for Peace, Germany)
164. Centro Studi Sereno Regis (Italy)
165. Democratic Socialists of America – International Committee (US)
166. Voices for Creative Nonviolence (US)
167. Yemen Relief and Reconstruction Foundation (US)
168. Al-Hayah (Yemen)
169. Palestinian Youth Movement (North America)
170. Women Against Nuclear Power – Finland
171. Shadow World Investigations (UK)
172. Justice Movement-Yemen
173. Palestine Aid Belfast (UK)
174. Spin Film (US)
175. Xaverian Missionaries UK Region
176. Pax Christi Scotland
177. Political Discussions for Peace (Cyprus)
178. Tid Til Fred – aktiv mod krig (Time for Peace – active against war) (Denmark)
179. Bwana Foundation (US)
180. Peace Action Bay Ridge (US)
181. Doctors in Unite branch of Unite the Union (UK)
182. Samidoun Palestinian Prisoner Solidarity Network (International)
183. Northeast Tennessee Democratic Socialists of America (US)
184. NYC War Resisters League (US)
185. CodePink EastBay Chapter, SF Bay Area, California (US)
186. MENA Rights Group     (Switzerland)
187. Revista La Mar de Onuba (Spain)
(Signatory list updated weekly. Last updated 11 December 2020.)
Please add the name of your organization by clicking here.
Constructing the New Social Compact: A Public Forum on Empowering the Post-Pandemic Working Class. - -April 28 - May 1, 2021 (Kalmanovitz Initiative for Labor and the Working Poor)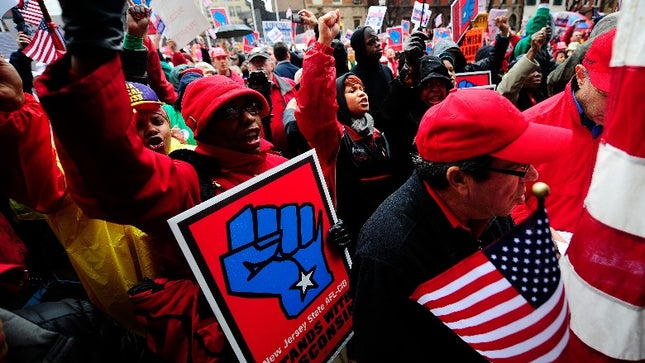 The Kalmanovitz Initiative for Labor and the Working Poor at Georgetown University is convening a major public virtual gathering April 28 - May 1, 2021 to envision, define, and lay the groundwork for a new social compact, Constructing the New Social Compact: A Public Forum on Empowering the Post-Pandemic Working Class.
The New Social Compact project's advisory / organizing committee invites participants who can contribute to the exploration of ideas about the social compact, through scholarship and / or activism.
As the United States embarks on a transition in presidential leadership, the coronavirus pandemic has upended the world's economy, and thrown into sharp relief the systemic racial, gender and class inequalities that were embedded in the New Deal-based social compact. That social compact is now fast eroding.  Now is the moment to envision and advance a bold new social compact for the 21st century that centers working people's security and needs over calls for austerity
We call on activists, academics, faith leaders, policy experts, global labor activists, workers, philanthropists, labor organizations, elected leaders and others, in the U.S. and internationally, to join the dialogue on a new social compact and building a more just and inclusive world. 
Please see the Call for Participation here. The deadline for proposal submissions is January 31. For more information please contact: kilwp@georgetown.edu
Kalmanovitz Initiative for Labor and the Working Poor
209 Maguire Hall
Georgetown University 37th and O Streets NW
Washington, DC 20057
Phone: (202) 687-2293
Email: kilwp@georgetown.edu