Global Left Midweek - February 3, 2021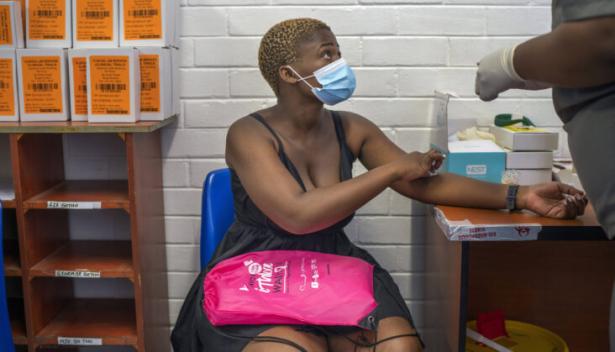 Thabisle Khlatshwayo gives a blood sample before receiving her second shot at a vaccine trial facility set at Soweto's Chris Sani Baragwanath Hospital outside Johannesburg. Credit,AP Photo/Jerome Delay
__________
Russia
Navalny and Left Strategy  Ilya Budraitskis, Ilya Matveev and Kirill Medvedev / LeftEast (Bucharest)

How Moscow Protested  Dmitry Sidorov / Open Democracy (London)
__________
China
Prospects for Improved Relations  Andrew Sheng and Xiao Geng / Project Syndicate (Prague)
An Activist's Ordeal  Li Qiaochu / Made in China (Canberra)
__________
Cuba
Changes Ahead  Luis De Jesus / Peoples Dispatch (New Delhi)
View from the Left Outside the Party  Comunistas / Europe Solidaire Sans Frontières (Paris)
__________
Vietnam: 13th Party Congress
Chris Humphrey and Bac Pham / South China Morning Post (Hong Kong)
Nguyen Phu Trong's reappointment means his reign as general secretary is now the longest since Le Duan took control following the death of revolutionary leader Ho Chi Minh in 1969, making him arguably one of Vietnam's most powerful politicians in decades.
__________
Mexico: AMLO and Austerity
Tony Wood / New Left Review (London)
Long decried by the Western establishment press as a dangerous 'populist', the Mexican president has now earned the rare distinction of being taken to task in the same circles for not spending enough money.
Leftward Shift?   Sarantis Michalopoulos / EURACTIV (Brussels)
Protest Ban  The National Herald (Long Island City, Queens)
__________
South Africa: Vaccine Apartheid or Equality?
Rehad Desai / Socialist Project (Toronto)
We cannot leave this fight for access and genuine participation in the vaccine rollout to the health NGOs, social justice organisations and the likes of Oxfam or MSF alone. All our trade unions, democratically run civic organisations, churches and political parties have a huge responsibility.
__________
Philippines: A Year of Activism
Kiko Mendoza / Rappler (Pasig City)
No lockdown could stem the wave of activism in 2020, as students and young Filipinos acted on their rage – whether to expose sexual harassment in schools, call out red-tagging government officials, or unmask the flaws of distance learning.
__________
Poland: Abortion Rights Becomes a Mass Demand
Agnieszka Mrozik / Transform! Europe (Vienna)
Ewa Dąbrowska-Szulc, President of Pro Femina Association, speaks on current and past protests against abortion laws, feminist organisation and on the history of women's right to self-determination in Poland.
__________
The Life and Work of Maxime Rodinson
Jean Batou / Jacobin (New York)
The French historian's chosen subjects ranged from seventh-century Arabia all the way to the states and movements of the modern Middle East. Rodinson sought to explain the key political and social developments in Arab societies with the help of Marxist concepts.