Dispatches From the Culture Wars - March 2, 2021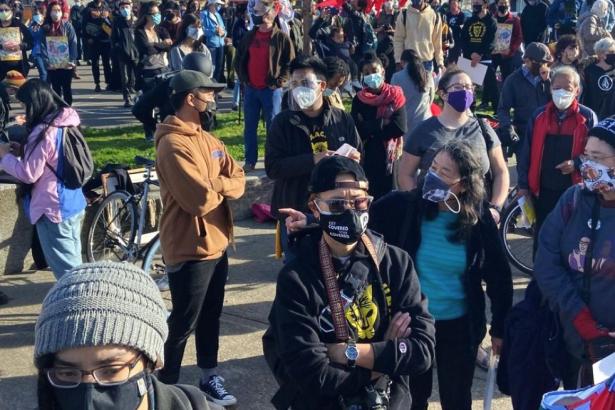 In Oakland, California, Black and Asian Americans held a rally of solidarity to push back on the narrative of one community targeting another. Credit,Good Good Eatz via Instagram
Asian Americans, Violence and the Pandemic
By Sam Cabral
BBC News

From being spat on and verbally harassed to incidents of physical assault, there have been thousands of reported cases in recent months. Advocates say these are hate crimes, and often linked to rhetoric that blames Asian people for the spread of Covid-19.
By Andrew R. Chow
Time
This history traces back to the 19th century, when mobs committed mass murder on Chinese immigrants on the West Coast. Since then, Asian Americans have often been violently scapegoated for larger societal issues.
By Hua Hsu
The New Yorker
Between 2,000 and 3,000 racist incidents were recorded in nationwide 2020. Verbal confrontations and fights, knifings, even an acid attack, much of it seemingly attributable to Trump's anti-Asian rhetoric, particularly to his sneers about the "China flu."
Can Biden Reverse Trump Era AA Xenophobia?
The categorization of immigrants into worthy/unworthy has been baked into American history for over a century.
By Sydney Page
The Washington Post
"After hearing about the situation, my fear for humanity was at all-time high. But after the response of the community, I feel my faith in humanity has returned."
By Marian Liu and Rachel Hatzipanagos
The Washington Post
Some volunteers drive more than an hour to walk these blocks — largely deserted by a combination of fear and pandemic lockdown — to hand out bilingual fliers that explain how to report a crime to police. 
By Nicole Chavez and Stella Chan
CNN
Lawmakers in California this week allocated $1.4 million in state funds to help Asian Americans report hate incidents after a string of recent violent attacks in the state.
Coalescing With African Americans
By Deepa Shivaram
NBC News
"If addressing violence against Asian Americans entails furthering stereotypes about Black criminality and the policies associated with those stereotypes … we've misdiagnosed the problem."
By Kathleen Hou
New York Magazine
There's a pattern with these attacks on Asian American elders: they are perceived as weak, as outlets for rage and entitlement. This often means women. It can only end when people change the power dynamic by speaking out and not backing down.