Tidbits - Mar. 4, 2021 - Reader Comments: Biden Amazon Union Support; Trump's Return Strategy; Kill Voting Rights; Life on Mars?; Amazon Virtual Picket Line; International Women's Day; lots of announcements, Zoom opportunities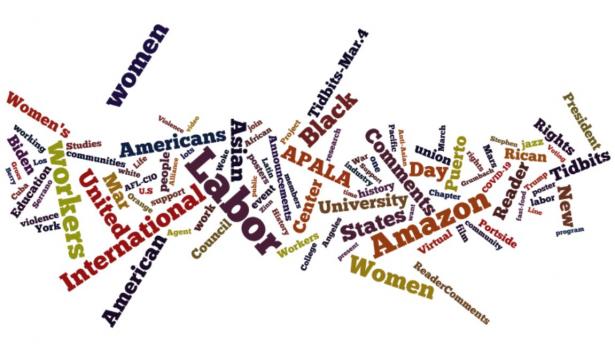 Tidbits - Reader Comments, Resources, Announcements, AND cartoons - Mar. 4, 2021,Portside
Re: Biden's Support for Unionizing Amazon Is a BFD (Walt Hollander)
Re: Trump's Strategy for Returning to Power Is Already Clear (Ted Pearson; Jennifer Nouri; David O. Knuttunen; Davis Quentin)
Quiet Insurrection  --  cartoon by Rob Rogers
Re: Republicans Are Trying to Kill What's Left of the Voting Rights Act (Judyth Hollub)
Re: Could Biden's Climate Policy Invite More Militarism? (Rabbi Arthur Waskow)
Re: Whose Rights Matter in Pandemic America? Not Those of Poor Americans, That's For Sure (Donald Anderson)
Andrew Cuomo - Problem Solved  --  cartoon by Mike Luckovich
Re: More Policing Is Not the Solution to Anti-Asian Violence (Mike Arney)
Re: Is There Life on Mars? (Jay Jurie; B. Fearn)
Remember Capitalism Is Working Perfectly...  --  meme
Re: Woke Me When It's Over (Mark Solomon)
Take Action:
Don't Cross this Virtual Picket Line - March 7 - 13
 

Resources:
Announcements:
Re: Biden's Support for Unionizing Amazon Is a BFD
 
WOW! The USA finally has a president who has guts and all for the rights of its workers! May he be president for a LONG time!
Walt Hollander
Re: Trump's Strategy for Returning to Power Is Already Clear
 
I could never understand the Republicans' visceral hatred for the Clintons, for whom I had no particular love. But now it all makes sense. It was part of their plan from the beginning, and Trump is just the latest iteration. Watch out for Don Jr.!
Ted Pearson
     =====
Trump is following Orban's formula. Democrats better rise to the challenge.
Jennifer Nouri
Posted on Portside's Facebook page
     =====
Masha Gessen is a smart woman, and really knows this stuff. She should be taken seriously. Unfortunately, we have too much "it can't happen here" sentiment, in this country.
David O. Knuttunen
Posted on Portside's Facebook page
     =====
It is hard to fathom, but as the song says, Turn and face the strange.
Davis Quentin
Posted on Portside's Facebook page
Quiet Insurrection  --  cartoon by Rob Rogers
 
Rob Rogers
February 26, 2021
robrogers.com
Re: Republicans Are Trying to Kill What's Left of the Voting Rights Act
 
In pursuit of power, the GOP is just an angry, democracy-killing cult.
Judyth Hollub
Posted on Portside's Facebook page
Re: Could Biden's Climate Policy Invite More Militarism?
 
If Biden really took Climate as a national security question he would not be kowtowing to murderer MBS for the Sake of Saudi oil. Natl security would mean dumping the Saudis and pursuing Solar
Rabbi Arthur Waskow
The Shalom Center
Re: Whose Rights Matter in Pandemic America? Not Those of Poor Americans, That's For Sure
 
Oh, yeah ...
That's not what Amerika's founders thought or designed.
And that attitude remains today, as best I can tell.
I've been fighting for people for decades (I'm 84) tho' not as a leader, and can't say I see much change.   Some ... but damned little for a country with all the natural resources of this continent.
Donald Anderson
Andrew Cuomo - Problem Solved  --  cartoon by Mike Luckovich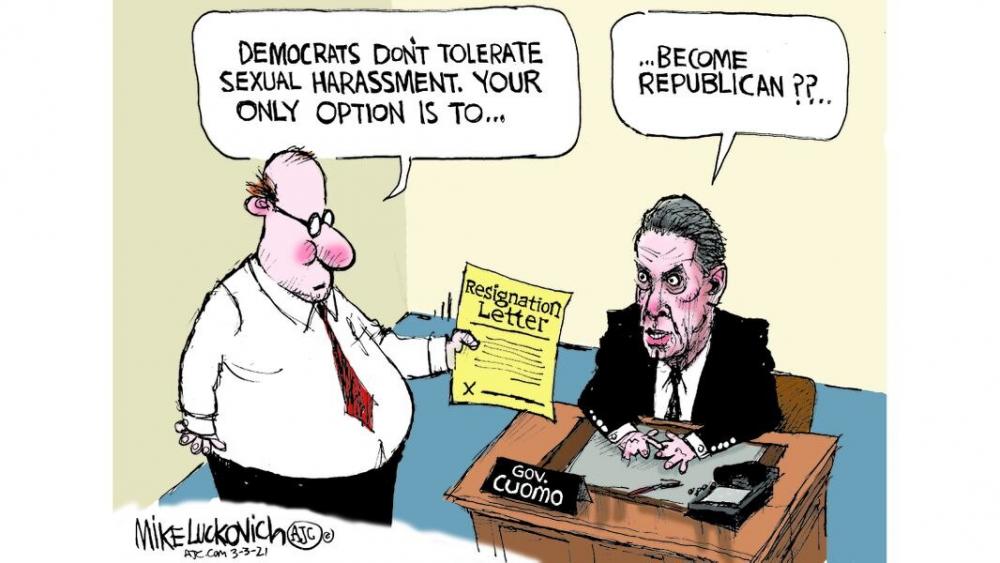 Mike Luckovich
March 3, 2021
The Atlanta Journal-Constitution
Re: More Policing Is Not the Solution to Anti-Asian Violence
 
This article is more about police violence against Asian Americans than it is about the recent upsurge of violence against Asian Americans by other Americans. Are there connections? Sure. Are the recent attacks against Asian Americans *by other civilians* the same as attacks/killings of Asian Americans by police? No. Do Asian Americans have a democratic right to not be attacked by civilians? Yes. If they are, who will arrest the racists who do the attacks? The police, unless you want vigilante justice. If the racists are arrested, who will prosecute the racist attackers according to the laws violated? The existing public prosecutors who are part of the system that we want to transform.
Do I want "the transformation of systems of violence, death and white supremacy"? Yes. Will that happen before racists who attack Asian Americans can be arrested and prosecuted to the full extent of the law? No. Should I oppose the latter process because it doesn't fulfill the former process? No, unless I am insane. Can't we do both? Why is wanting the latter somehow opposed to the former? Why would wanting the latter somehow preclude the former? Only from some stupid ultra-left position!
Mike Arney
Bronx
This is comment is about the "Is There Life on Mars?" Perseverance Rover article.  An unreported aspect of this story is that the Rover is fueled by 10.6 pounds of plutonium 238 (plutonium dioxide), among the most hazardous substances known.  Important questions need to be asked, not only about the lack of transparency in the coverage of this topic, but the dangers posed by potential accidents during lift-off and the ethics of exporting such materials into the solar system.  Other major considerations the article doesn't explore include whether this is a worthwhile expenditure of substantial taxpayer funding at the expense of so many unmet needs on Planet Earth.
Jay Jurie
     =====
Very disappointing to find a video of the $3 billion + lander when we live on a planet where 30,000 children die each DAY because they do not have the very basics of life. Something wrong with you guys!!
B. Fearn
Remember Capitalism Is Working Perfectly...  --  meme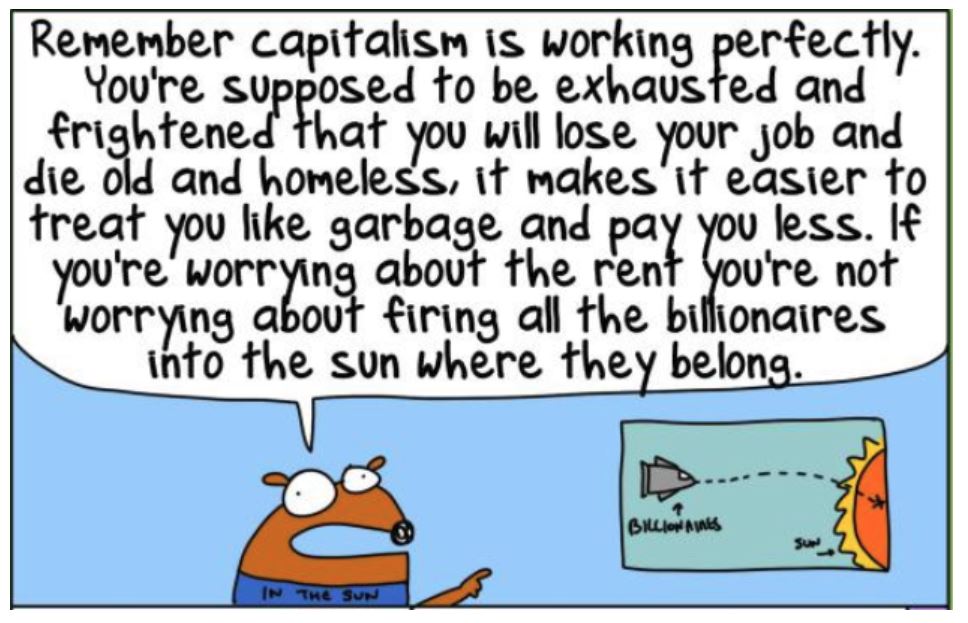 (posting on Portside Culture)
Why did Portside Culture bother to pick up from the NY Times yet another whiny complaint about "Woke" by Bret Stephens who has become a world class protagonist in the holy war against "cancel culture" (or "Woke" if one prefers)? This time it's about a dispute over hamentschen the Jewish Purim cookie -- an easy target for those wishing to obliterate the just battle against white supremacy and flat out bigotry that afflicts US society. 
For every overdrawn or questionable complaint about "Woke," there are literally thousands of examples of material assaults upon the democratic rights of African Americans and other communities of color, women, LGBTQ communities, etc. Stephens' incessant, remorseless attacks on "Woke," ensnare all those who speak out against injustice who march in defense of Black lives and who challenge hurtful and harmful manifestations of white supremacy, misogyny, etc. wherever they emerge.  It's bad enough that Stephens afflicts the op-ed pages of the New York Times. There's no need for him on Portside. 
Mark Solomon
Don't Cross this Virtual Picket Line - March 7 - 13
Simple weeklong Boycott of Amazon starts Sunday March 7th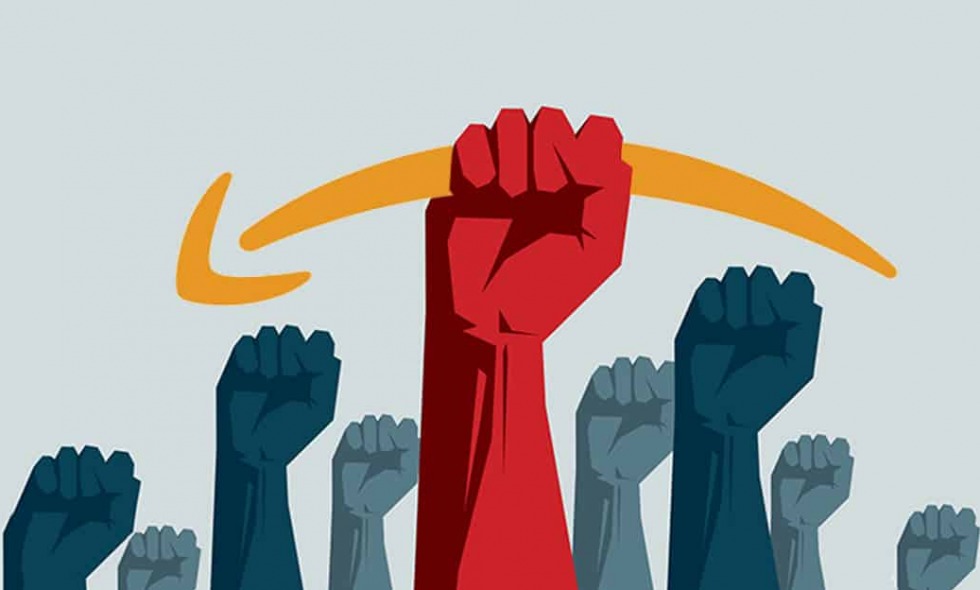 Workers at an Amazon warehouse in Bessemer, Alabama have been voting on joining RWDSU for the last month. If they are successful, they would be the first Amazon employees in the United States to join a union.
Their campaign has garnered support from across the country. UCOMM previously reported on Teamsters driving from Boston to support the effort. The NFLPA has released a video supporting the organizing effort, actor Danny Glover came down to Bessemer to meet with the workers, and even President Joe Biden has weighed in. Josh Brewer, the lead organizer on the campaign, told the Prospect that many people in the community are extremely supportive of the organizing effort.
"Everyone in the community is cheering us on. It's been that way since we got here. We've had local people bring food and chocolate and coffee to the organizers. When I look at the notes that organizers send me, they tell me that workers are telling them, 'It's my grandfather I'm hearing from. It's my uncle. It's my neighbors. They're saying to us, 'You better sign the union card. It's the way you assure your future and make sure Amazon pays you well.'"
Rank and file members can also support the Amazon workers by recording a short video message here.
At the same time, workers at the warehouse have faced an unrelenting anti-union campaign. They have received numerous anti-union texts a day and they can't even go to the bathroom without seeing Amazon's anti-union propaganda. Amazon is even working with local officials to change the time that lights outside the warehouse stay red so that organizers can't speak to the workers while they wait at red lights.
To support Amazon workers and let the company know that we do not approve of their union-busting tactics, a one-week boycott of the company has been planned. From March 7th- March 13th, everyone is being asked to not use Amazon or Amazon Prime and do not stream videos using the Amazon Prime video service.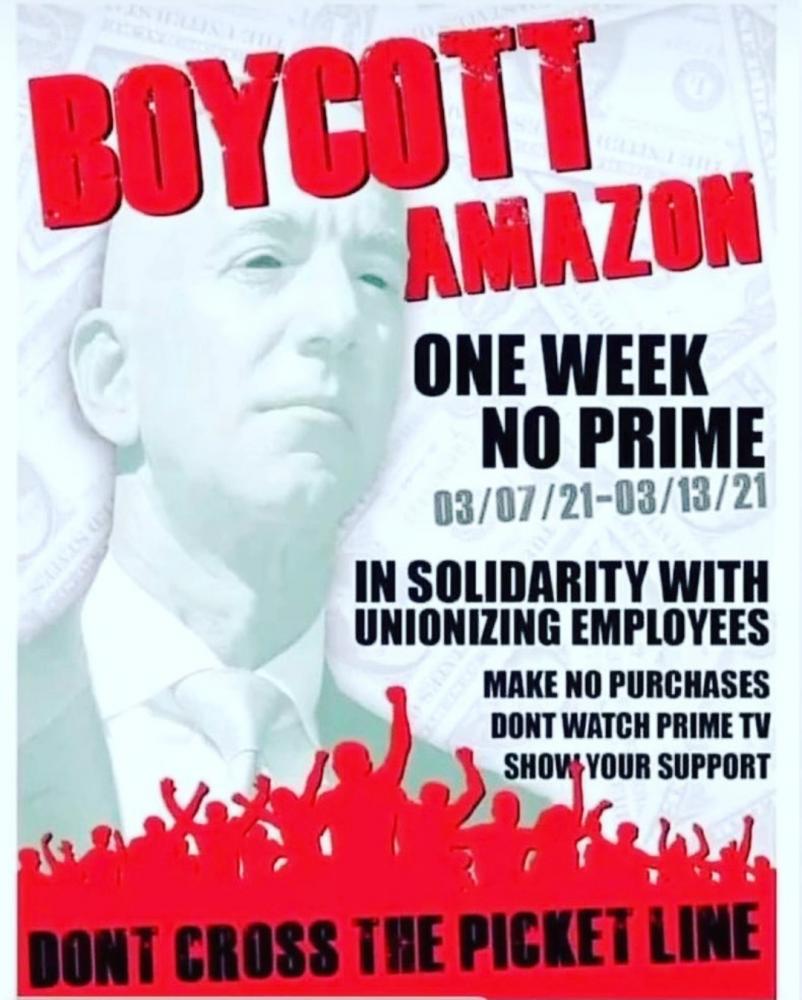 For this to work it needs to be big, so share out the image below and use the hashtag #boycottamazon to let the company know that union members will not stand for this type of behavior.
UCOMM also wants to hear from you about how you are supporting the organizing drive at Amazon by boycotting the company next week. Send us your thoughts by email to desk@ucommblog.com.
You can also submit a video supporting the Amazon Workers by clicking here.
International Women's Day Posters (Stephen Lewis poster collection)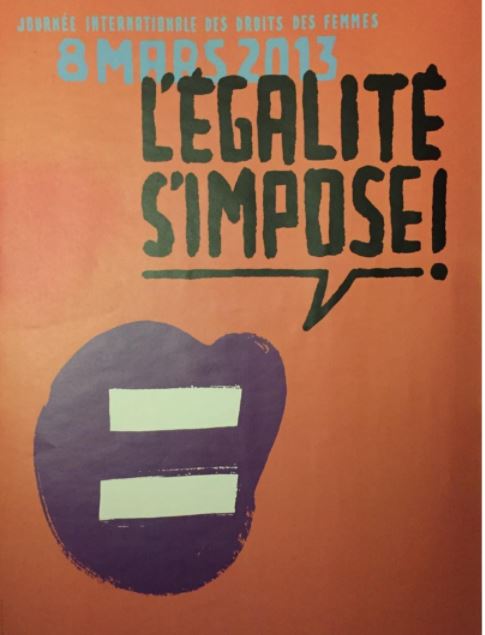 March 8 is the dedicated date of International Women's Day. When women gained suffrage in Russia with the 1917 revolution, it was proposed that March 8 be celebrated as an international day for the rights of women. The United Nations began celebrating the date in 1977, but posters celebrating March 8, date back to the early 1900s. When I was visiting places in Vienna, I accidentally stumbled into the offices for the archives of former Prime Minister of Austria, Bruno Kreisky. The man working there showed me through files of International Women's Day and May Day posters going back to the early 1900s. Not only were they old, but they were beautiful. I almost cried because they were so great and I
couldn't have any because there were no duplicates.
What better way to start than with one of many posters for March 8, created by my friend Vanessa Verillon who lives in Paris. I obtained a beautiful poster years ago from the International Musicians union. It was promoting the conference they were holding in Havana Cuba. That poster hung in my office for several years without my ever knowing who created it. Then visiting Paris, a friend introduced me to Vanessa at her studio. She gave me a portfolio of her posters to see which I would like to have. Suddenly, there was the poster I had in my office. Mystery solved. Vanessa preceded to give me several more of her other work.
Stephen Lewis <lewisposters@gmail.com>
University Archives and Special Collections (UASC) in the Joseph P. Healey Library at the University of Massachusetts Boston is pleased to announce that more than 500 activist posters from the Stephen Lewis poster collection, circa 1921-2017 are digitized and available online. UASC has been working with Stephen Lewis to digitize more than 3,000 posters through the Boston Public Library and make them available through our digital collections portal. We will add new posters on a regular basis.
New Report! The Fast-Food Industry and COVID-19 in Los Angeles (UCLA Labor Center)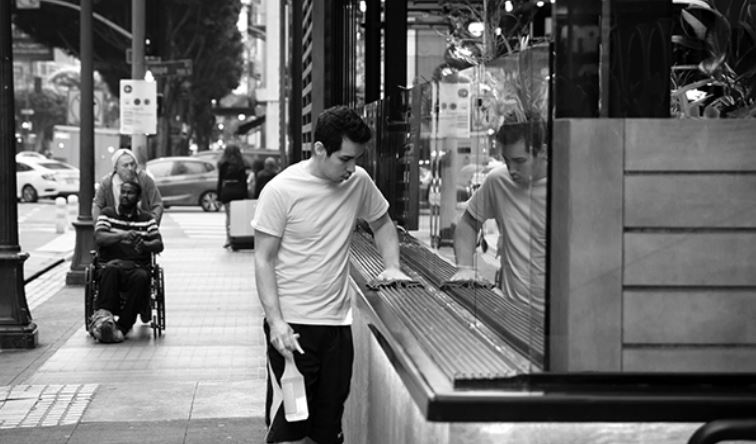 The UCLA Labor Center is pleased to announce the release of its new report, The Fast-Food Industry and COVID-19 in Los Angeles, in partnership with the UC Berkeley Labor Center, UCLA Labor Occupational Health and Safety Program, and UC Berkeley Labor Occupational Health Program.
The report finds that working conditions in the Los Angeles fast-food industry lead to an increased risk of COVID-19 transmission in communities of color, and $1.2 billion in public costs as a result of low wages that have plagued the industry for years. Fast-food is an integral part of the food sector in Los Angeles, comprising nearly 150,000 restaurant workers, the vast majority of whom are women and workers of color.
Among other findings, the report notes:
Black, Latinx, and Asian communities have disproportionately higher rates of infection, hospitalization, and death compared to their White counterparts. The interplay between essential workers, household size, race, and income is nowhere more obvious than in Los Angeles, where nine in ten fast-food workers are workers of color, and nearly three-quarters are Latinx.  
Workplace spread impacts households and communities. Over two-thirds of fast-food workers live in households with four or more people, which makes social distancing difficult or impossible.  
Because of low wages, more than two-thirds of the families of fast-food workers in LA County are enrolled in a safety net program at a cost of $1.2 billion to the public.
This report is based on demographic and government data and will be followed by a second report on the working conditions and experiences of fast-food workers in summer 2021. Click here to watch our press briefing.
675 S. Park View Ave
Los Angeles, CA 90057
The true story behind Agent Orange - Virtual Screenings Begin March 5 (World BEYOND War)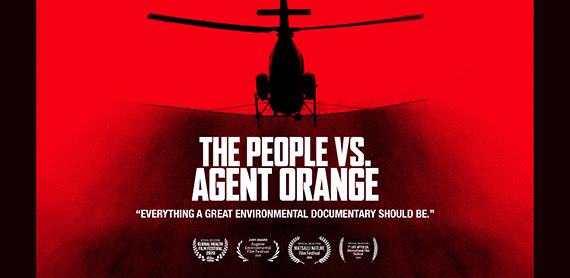 Starting March 5, the powerful documentary The People Vs. Agent Orange will premiere at virtual cinemas across the U.S. The film tells the story of two women, one American and one Vietnamese, who fight to hold the chemical industry accountable for the devastation caused by Agent Orange - the defoliant used in the Vietnam War. Watch the film trailer here to get a sneak peek of this excellent exposé.
The dioxins present in Agent Orange continue to leave a legacy of death, deformity, and disability for generations. This investigative documentary includes painstaking historical research and interviews with whistleblowers, researchers, and the people who have lived through contact with the poison in both Vietnam and the United States.
The film follows Vietnamese activist Tran To Nga, who, in a French court, is suing the American chemical industry for poisoning her and her family in Vietnam. And in Oregon, Carol Van Strum battles to stop the ongoing spraying of toxins by the timber industry. Both women, joined in their mutual pain, resist intimidation and threats, bringing to light the ongoing, intergenerational catastrophe of chemical warfare and toxic herbicides.
Get tickets for the virtual screening here. When you visit the ticketing page, you can pick whichever virtual cinema you would like to support, whether or not you are located in that city (available to U.S. residents only at this time)
World BEYOND War is a global network of volunteers, chapters, and affiliated organizations advocating for the abolition of the institution of war.
513 E Main St #1484
Charlottesville, VA 22902 USA
The Killing Floor: Panel + Screening - March 6 ( DSA AfroSocialist and Socialists of Color Caucus)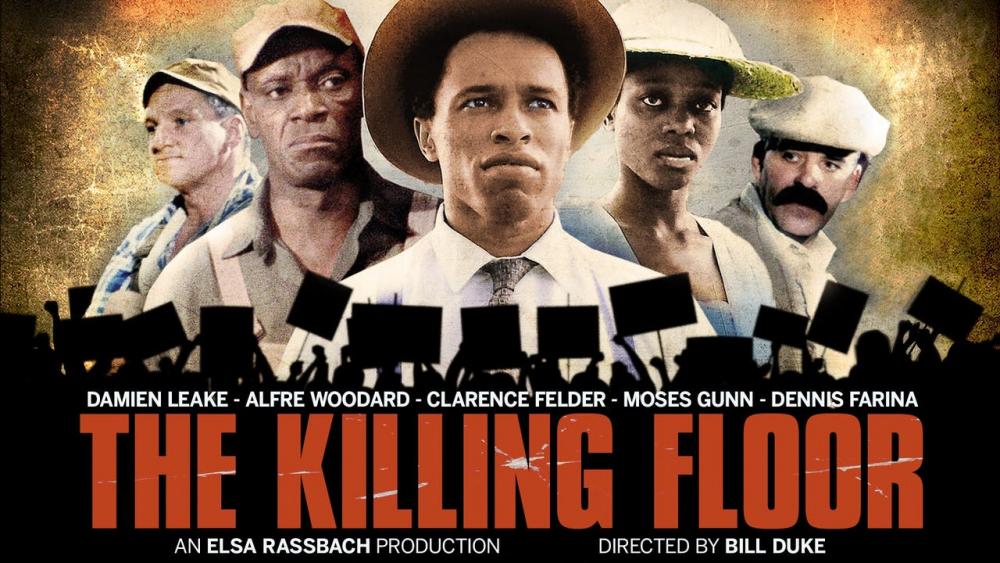 Saturday, March 6 at 6:30 PM EST – 9 PM EST
Price: Free · Duration: 2 hr 30 min
What is the history of interracial unionism in the meatpacking industry? What lessons can labor activists learn today from black workers—and the unions they led—during the rise and heydey of the U.S. labor movement?
Join us for a screening of The Killing Floor, a film released in 1984 that has recently been restored to 4K. The film is about a black sharecropper in the post-WWI period who migrates to Chicago and finds work in the stockyards, where he attempts to build a meatpacking union in a racially hostile climate.
The screening will be introduced by:
Ronnie Almonte, high school teacher and member of the Movement of Rank and File Educators (MORE)
Toni Gilpin, historian and author of The Long Deep Grudge: A Story of Big Capital, Radical Labor, and Class War in the American Heartland
Rick Halpern, historian and author of Down on the Killing Floor: Black and White Workers in Chicago's Packinghouses, 1904-54.
Labor Against Hate: The Role of Workers in Standing against White Supremacy and Fascism - March 6 (Vermont Labor Council, the Alameda Labor Council and APALA Maryland)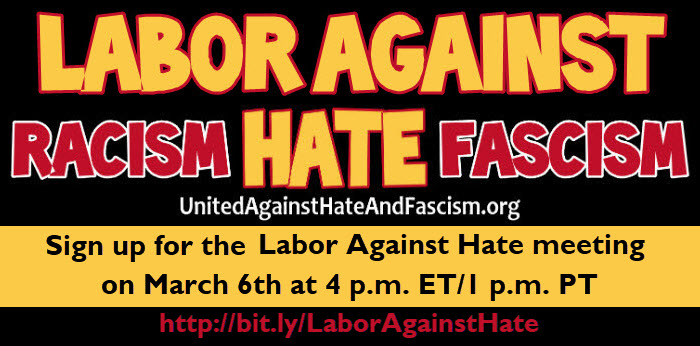 The Vermont Labor Council, the Alameda Labor Council and APALA Maryland warmly invite you to an exciting event next Saturday, March 6 at 4 p.m. ET/1 p.m. PT:
Labor Against Hate: The Role of Workers in Standing against White Supremacy and Fascism
WHAT: Join with other union activists and labor leaders who have been integrating anti-racist and anti-fascist programming in their unions to discuss best practices, potential collaborations, and simply to make connections with like-minded unionists who recognize the centrality of anti-racist organizing in our work.
WHEN: Saturday, March 6, 4-6 p.m ET/1-3 p.m PT
Union membership reduces racism. We knew this to be true through our organizing victories, and now we have the science to back it up. We are thrilled to have two outstanding professors of politics and labor join us: Drs. Paul Frymer and Jacob Grumbach.
In recently published research, Frymer and Grumbach used national survey data in the United States to show that union membership is associated with reduced negative racial attitudes among white workers toward African Americans. They then used longitudinal data to show that gaining union membership predicts reductions in negative racial attitudes. Compared with non-unionized workers, unionized workers also support more policies that would benefit African Americans. These data have implications for understanding the interplay of declining union membership and racism in the United States.
Paul Frymer is a Professor of Politics at Princeton University. His writings on labor politics and civil rights include, Black and Blue: African Americans, the Labor Movement, and the Decline of the Democratic Party (2008 with Princeton University Press).
Jacob M. Grumbach is an Assistant Professor of Political Science at the University of Washington and a Faculty Associate with the Harry Bridges Center for Labor Studies. Previously, Grumbach was a Postdoctoral Fellow at the Center for the Study of Democratic Politics at Princeton University, and received his PhD from UC Berkeley in 2018. Grumbach's research focuses broadly on the political economy of the United States, with an emphasis on public policy, racial and economic inequality, and statistical methods.
Join Us!
Please sign up here to join in this important discussion, and please share this invitation with others in the Labor Movement who are doing or would like to learn more about the role of workers in the fight against racism, white supremacy and fascism!
Hosted by United Against Hate
Excluded Women's March: March for COVID Relief & Domestic Worker Rights - March 7 (Make the Road New Jersey; New Jersey Citizen Action; Wind of the Spirit - WotS; Laundry Workers Center)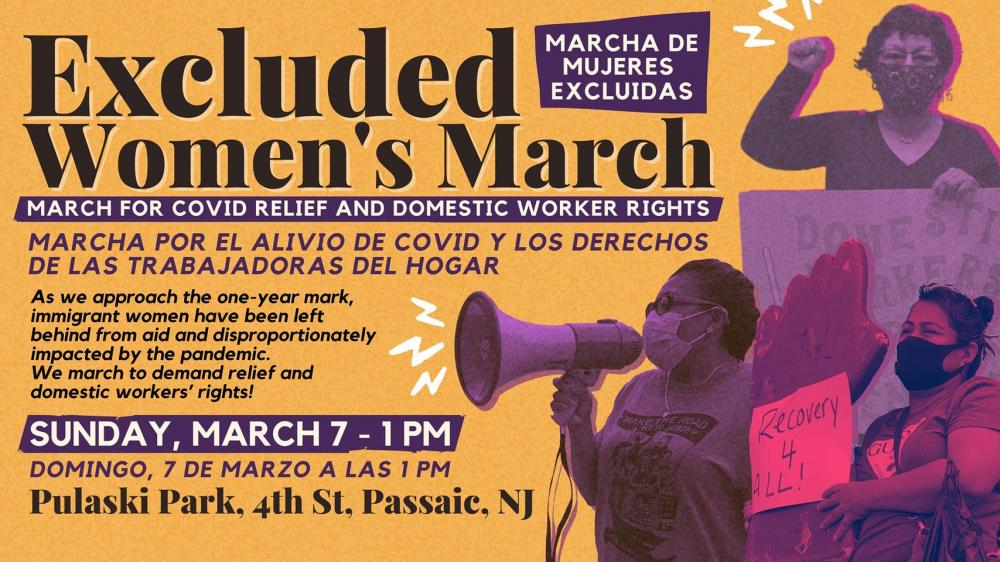 Sunday, March 6 at 1 PM EST – 2 PM EST
4th Street, Passaic, NJ 07055
¡ACTIVISTA! An International Women's Day Concert and Roundtable - March 7 (Hot House)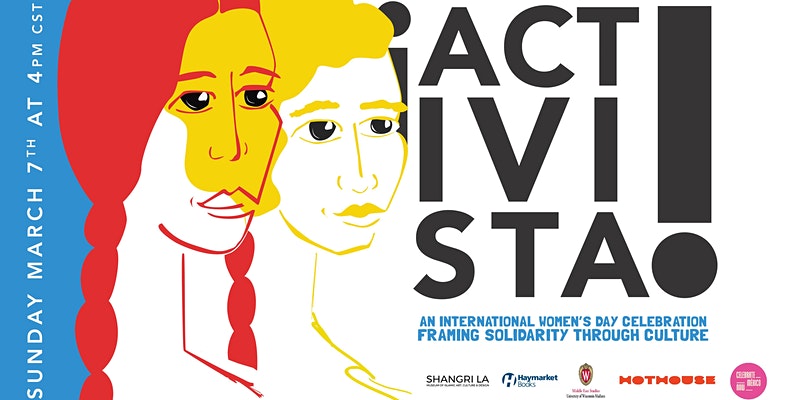 An ad-hoc group of women hailing from various sectors in the arts and activism communities today announced that they have joined forces with the award-winning Chicago-based nonprofit arts presenter HotHouse and publisher Haymarket Books to curate and present an online cultural event to mark International Women's Day. The program will be broadcast over the HotHouseGlobal streaming platforms on March 7, 2021 at 4pm CST.
The program includes performances from women-identified artists, speakers, and messages from places located throughout the world. The two–hour free event is focused on concerns that impact the lives of women and reflect issues that represent the overarching values of the producers - climate change, access to health care (clean water, housing, childcare), immigration, safe provisions for family life, economic mobility and self-determination.
Curated and Produced by Marguerite Horberg, Esty Dinur, Karima Daoudi, Claudia Norman, Viviana Benitez, Jin Won, and Haymarket Books, the program is additionally supported by HotHouse, Haymarket Books, The Mexico Now Festival, Middle East Studies, University of Wisconsin-Madison, and the Shangri La Museum of Islamic Art, Culture & Design.
" We came together over several months to collectively present the voices we feel are often overlooked or altogether missing in commodified appropriations of women's issues" says one of the event organizers, Esty Dinur.
The event will be streamed for free without paywalls (although registration is requested and donations are encouraged). Registration is via EventBrite.
The event will be streamed on Twitch.tv/HotHouseGlobal, Facebook, the HotHouse website, www.hothouse.net; and on both the HotHouseGlobal and Haymarket Books YouTube channels.
THE PROGRAM
Musical and spoken word. Full program details here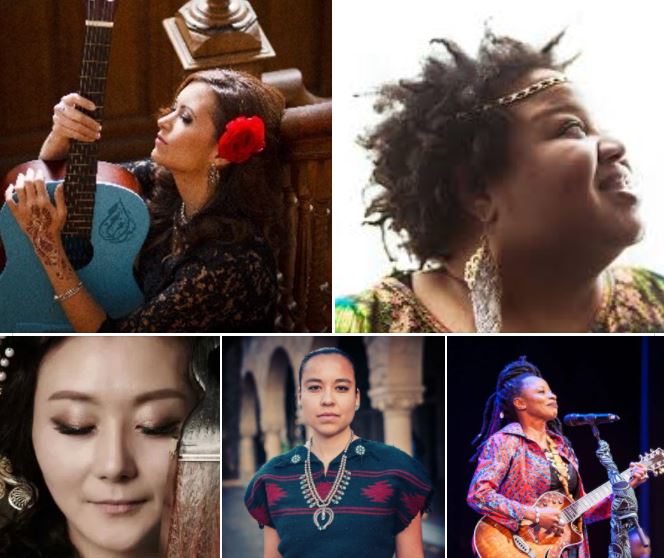 Hot House
Mailing address only:
5555 N. Sheridan Rd
Apartment 1107
Chicago, Il 60640
Tel. +01 312 752 5316
March 8, 2021: A Black Women's History of the United States Online Class (Zinn Education Project)
You are invited to join the Zinn Education Project on Monday, March 8, 2021 (International Women's Day) for a free online class with historians Daina Ramey Berry and Kali Nicole Gross. In a conversation with Cierra Kaler-Jones of Teaching for Change, Berry and Gross will share stories and insights from their book, A Black Women's History of the United States.
A Black Women's History of the United States frames U.S. history as the lives, joys, and struggles of Black women. Organizer Charlene A. Carruthers explains,
By starting the history about Black women on this land with us as free people and as people agitating for our freedom, by prioritizing all Black women's voices and coming up to the present day, Dr. Gross and Dr. Berry illuminate greater possibilities for our collective freedom dreams and struggles for collective liberation.
This event is one in a series of online classes that are part of the Zinn Education Project's Teach the Black Freedom Struggle campaign.
The class begins at 4:00 pm PT / 7:00 pm ET and runs for 90 minutes. Kaler-Jones will interview Berry and Gross, with a short interlude for breakout rooms that allow participants (in small groups) to meet each other, discuss the content, and share teaching ideas. We designed the sessions for teachers and other school staff, however, parents, students, and others are welcome to participate. ASL is provided. Please register to receive the Zoom link ahead of the class.
Presenters
Daina Ramey Berry is an award-winning history professor at the University of Texas at Austin. As "a scholar of the enslaved" and a specialist on gender and slavery as well as Black women's history in the United States, she is the associate editor for The Journal of African American History.
Kali Nicole Gross is a professor of African American Studies at Emory University and the Martin Luther King Jr. Professor of History at Rutgers University. Her primary historical research explores Black women's experiences in the U.S. criminal justice system.
Cierra Kaler-Jones is the Education Anew Fellow at Teaching for Change through the Communities for Just Schools Fund. As a Ph.D. student, her work examines how Black girls use arts-based practices (such as movement and music) as forms of expression, resistance, and identity development.  
Zinn Education Project  - A collaboration between Rethinking Schools and Teaching for Change
PO Box 73038
Washington, D.C. 20056
Phone: 202-588-7205 | Email: zep@zinnedproject.org
Two Ways to Address Anti-Asian Violence: APALA's All Member Call and Political Education Program - March 9 (Asian Pacific American Labor Alliance, AFL-CIO)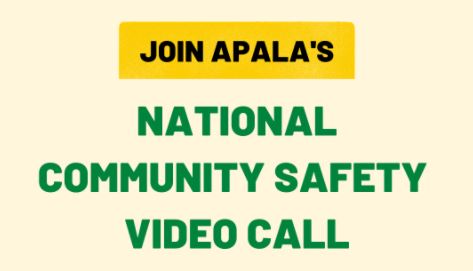 Tuesday, March 9th at 6pm PT / 9pm ET
 

It is not right that our elders are afraid to be in public alone, especially for our elders who live in subpar housing and depend on community services. We hope you have been taking care and checking in with your loved ones. It is tough work to support each other in the face of anti-Asian violence and that's why we want to create space for APALA members to come together and check-in with each other.  
Join us for APALA's National Community Call next week on Tuesday, March 9th at 6pm PT / 9pm ET. 
While the media is focused on these instances of interpersonal violences, we know that violence against Asian Americans has been happening for decades and on an even larger scale when we talk about state violence. We know that the United States and white supremacy incarcerated Japanese Americans during WWII, started the deportation pipeline for Southeast Asian refugees, criminalized South Asians and Muslims post-9/11, and more. The Asian American identity has always been about resisting these forms of violence and transforming our conditions. 
It is our responsibility to keep each other safe by reimagining what community safety looks like. What we learned from last year's June uprisings for Black Lives Matter is that the one of the keys to community safety - the ability for people to be able to move around or stay where they are safely - is working together to ensure that everyone has adequate access to housing, food, healthcare, and other basic necessities to live. 
We hope to discuss some of these issues with you during the APALA National Community Call on Tuesday, March 9th at 5:30 PT / 8:30 ET. RSVP today! 
It will be an opportunity to dig deeper on these issues, connect with APALA members across the country, and discuss how we mobilize together in the face of so much hardship. Chapter leaders in APALA Alameda Chapter will be sharing how folks are mobilizing in Oakland's Chinatown as well. 
In the meantime, we wanted to share some resources and opportunities to learn more. 
APALA created the Protesting Tip Sheet last summer that in addition to information on how to stay safe at protests, includes tools on how we build safer communities without increasing policing. 
We are launching a bi-weekly political education and mobilization series on March 20 for APALA members that want to deepen their knowledge and activation around Racial and Immigrant Justice issues in a cohort of other AAPI working people. For more information on that program including how to sign up, email kristina@apalanet.org. 
We hope you will join us next week! Please take care. 
The Asian Pacific American Labor Alliance (APALA), AFL-CIO was founded in 1992 as the first and only national organization for Asian American and Pacific Islander (AAPI) union members to advance worker, immigrant and civil rights. Learn more at www.apalanet.org. Renew or become a member here.
Labor & Civil Rights Panel Discussion - March 10 (New York City Central Labor Council - AFL-CIO)
Please join us on Wednesday, March 10, 6:00PM for an important panel discussion and an opportunity to highlight the role of Constituency Groups and the Labor Movement in the fight for racial, social, and economic justice:
Labor & Civil Rights
Moderated by:
Janella T. Hinds, Secretary-Treasurer, New York City Central Labor Council, AFL-CIO & Vice President for Academic High Schools, United Federation of Teachers
Featuring panelists:
Clayola Brown, President, A. Philip Randolph Institute (APRI)
Michael Yee, 2nd Vice President, Asian Pacific American Labor Alliance (APALA)
Rev. Terrence L. Melvin, President, Coalition of Black Trade Unionists (CBTU)
Yanira Merino, President, Labor Council for Latin American Advancement (LCLAA)
Jerame Davis, Executive Director, Pride at Work
Kim Frost, National Treasurer, President, NYC/LI Chapter, Pride at Work
Charles Jenkins, President, NYC Chapter, Coalition of Black Trade Unionists (CBTU)
Steven Moy, President, NYC Chapter, Asian Pacific American Labor Alliance (APALA)
Anthony Reid, President, NYC Chapter, A. Philip Randolph Institute (APRI)
Please RSVP for updates & more information on our panel discussion.
Thanks!
New York City Central Labor Council, AFL-CIO
Meet the Author: Basilio Serrano-"Puerto Rican Women from the Jazz Age: Stories of Success" - March 10 (Center for Puerto Rican Studies | Hunter College)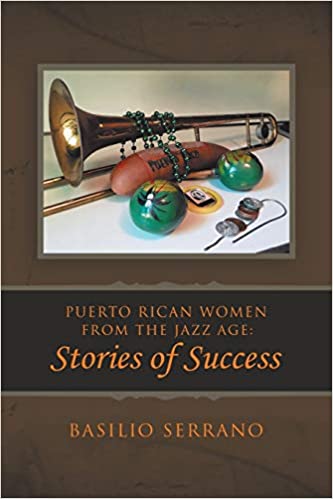 Wednesday, March 10, 2021
6:00 PM EST
Virtual Event: Link will be provided upon registration
The topic of this book may seem unusual to some since there may be those who believe that Puerto Rican women may not have entered the jazz milieu during its early history. Nevertheless, an aim of the book is to dispel this and other false generalizations. The contents of this volume documents how Puerto Rican women were not only present in early jazz but how they played trailblazing and innovative roles and contributed to the emergence of the genre in the States and abroad. This work presents information that is confirmable through a variety of sources.
The book may not be the definitive work on the subject but serves as a starting point to:
document the success and achievement of several Puerto Rican women from the jazz age
consider the different strategies used for success in jazz and film by women
illustrate the evolution of various careers
consider the different personal circumstances under which success was achieved
consider how women in contemporary jazz and film can learn from their predecessors
provide women: older, young, and youthful, examples of success with documentary evidence on how to achieve Book Organization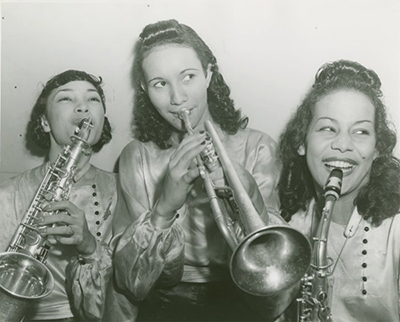 Author: Basilio Serrano, Prof. Emeritus of SUNY College at Old Westbury
Commentator: Tomas Peña,  Editor-in-Chief, Jazzdelapena.com; Journalist and Contributor
About the Author
Basilio Serrano was born in San Sebastián, Puerto Rico. He moved to Brooklyn, New York as a child, where he began attending school and subsequently relocated to the Lower East Side of Manhattan with his family (where he spent most of his youth). He attended City College (CCNY – City University of New York) where he completed his bachelor's and master's degrees and went on to receive a PhD from New York University. Dr. Serrano is a professor emeritus and former chair of the Childhood Education Department of the State University of New York – College at Old Westbury.
In addition to educating teachers, Professor Serrano has served as a curriculum writer specializing in Latin American Studies (LAS). His extensive work in the LAS field has led him to research many facets of the Latin American experience in the United States, in particular, the Puerto Rican Diaspora and the Boricuas' wide range of experiences in the States.
In recent years, Dr. Serrano has conducted in-depth investigations into the role of the Puerto Rican in the development of popular music and jazz. The result of this research has been documented in his seminal book on Juan Tizol, and an assortment of other related articles and writings. Moreover, he has written articles on the history of the Puerto Rican community in the United States as well as biographical essays on musicians in the world of jazz. His publications appear in academic journals and magazines published in the United States and Puerto Rico.
About the Commentator
Tomas Peña will serve as commentator for this event. Tomas is Editor-in-Chief, journalist, and contributing writer at Jazzdelapena.com. A graduate of Empire State College with a dual major in journalism and Latin American studies, Tomas has spent years applying his knowledge and writing skills to the promotion of great musicians. A specialist in the crossroads between jazz and Latin music, Peña has written extensively on the subject. His writing appears on the Latin Jazz Network; Chamber Music America magazine and numerous other publications.
6 PM Eastern Time
Questions for the author?
You may submit questions for the author by emailing, Lili Santiago-Silva at lsilvamanager@gmail.com
Center for Puerto Rican Studies | Hunter College
695 Park Avenue
New York, NY 10065
Feminist Solidarity! Celebrating International Womens Day and the Advancement of Cuban Women - March 14 (US Women and Cuba Collaboration; WILPF - Women's International League for Peace and Freedom; US-Cuba-Canada Normalization Conference Coalition)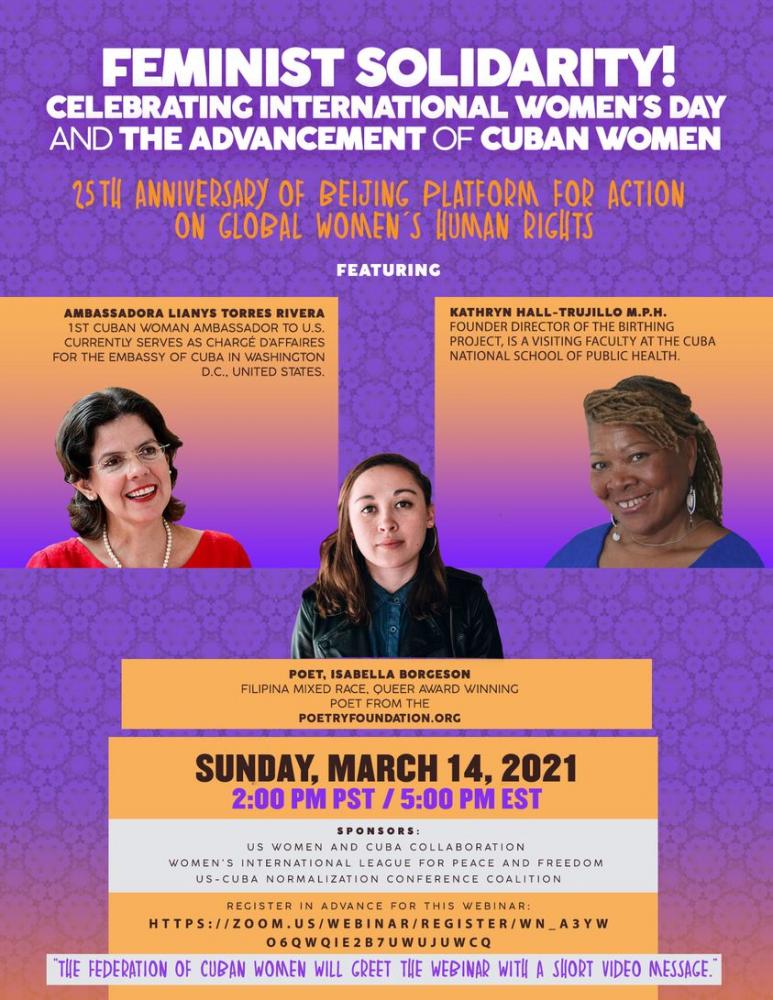 Sponsors:
US Women and Cuba Collaboration
WILPF - Women's International League for Peace and Freedom
US-Cuba-Canada Normalization Conference Coalition
NOW's Global Feminism National Committee
Code Pink
A Legacy of Equality and Organizing (LELO)
Gallatin Valley Friends of Cuba
Birthing Project USA
Cubamistad
International Committee for Peace, Justice and Dignity
 
U.S. Women and Cuba Collaboration - Building A Progressive Global Women's Movement
6508 27th Ave NW
Seattle WA 98117