Media Bits and Bytes - March 23, 2021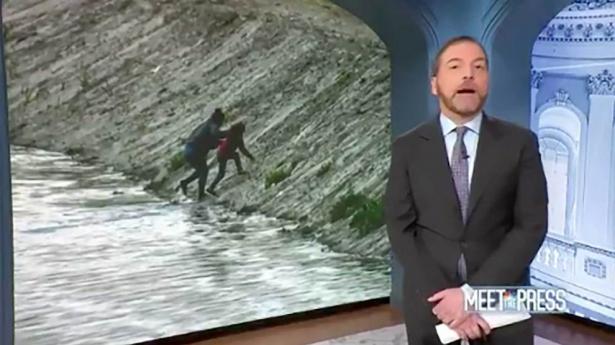 Credit,Meet the Press/Mother Jones
Media and the Culture Wars
Doxxed By Rush Limbaugh  By Ash Marinaccio, The Indypendent

Free Speech and Fake News  By Thomas Frank, The Guardian
1619 and Rightist Media  By Brandi Collins-Dexter and Joan Donovan, Columbia Journalism Review
Anti-Woke News Network  By Thomas Colson, Insider
By Mathew Ingram
Columbia Journalism Review
Facebook is offering a direct copy of what Substack provides to independent writers and journalists: a platform for their posts and newsletters, which pays a select group of writers in order to convince them to try out the platform. 
Climate Crisis and Social Media
By Robin McKie
The Guardian
Fake news on social media about climate change and biodiversity loss is having a worrying impact in the battle to halt the growing environmental threats to the planet, a group of scientists and analysts have warned.
Biden and Coverage of Immigrant Camps
By Gustaf Kilander
The Independent
Despite promises to be more transparent, Biden administration has blocked media access to border facilities where at least 14,000 children are detained.
NYT Covers for Brazil Corruption
By Brian Mier
FAIR
The fact that a judge was allowed to oversee an investigation against an ex-president, authorize wiretaps, rule on admissibility of evidence, then preside over the same investigation in a trial with no jury, was beneath the notice of The New York Times.
A massive round of layoffs at the Huffington Post confirms that the media industry stands at the edge of a precipice.
By Shannon Bond
NPR
Even as Facebook has tightened its policies over the past year to address the proliferation of misleading content about the pandemic and the 2020 presidential election, this enforcement gap has left Latino communities more vulnerable to disinformation.
By Dave Maass, Aaron Mackey, Naomi Gilens and Caitlyn Crites
Electronic Frontier Foundation
Here are the awards for the most outrageous and ridiculous stories from journalists, activists, academics, and everyday folk who have filed public records and experienced retaliation, over-redactions, exorbitant fees, and other transparency malpractice. 
Late Night Hijinks Cross a Line
By Edward Ongweso Jr
Vice
"Alexa, what is union busting?" Jimmy Fallon frantically jumped in when John Oliver asked an Alexa device how bad Amazon's working conditions were. The Alexa app is an Amazon product.
By Alexandra Del Rosario
Deadline
As frontline workers and medical personnel worked tirelessly to care for coronavirus victims and stop the spread, showrunners and executive producers behind TV's most popular medical dramas thrust the pandemic into primetime.