Dispatches From the Culture Wars - March 30, 2021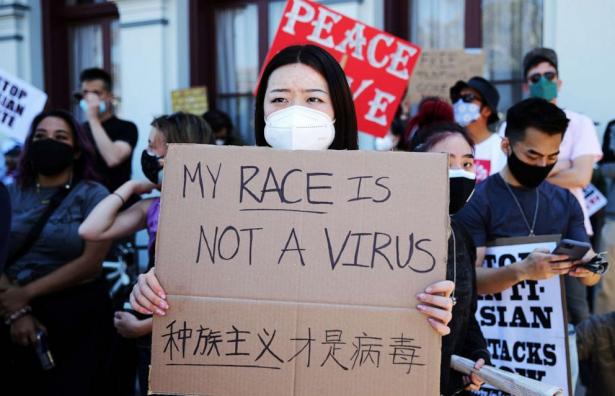 Demonstration against anti-Asian violence and racism on March 27, 2021 in Los Angeles. Credit,Mario Tama/Getty Images
By Kelli Kennedy and Cody Jackson
Associated Press
Spring breakers and pandemic-weary tourists drawn by Florida's loose virus-control rules gathered bythe thousands along famed Ocean Drive, at times breaking into street fights, destroying restaurant property and causing several dangerous stampedes. 
By Douglas Hanks, C. Isaiah Smalls II, and Martin Vassolo
Miami Herald
The city's treatment of large groups of Black vacationers in town for spring break led to criticism from some of Miami's Black social-justice leaders. Last weekend, police enforcing the curfew fired pepperballs at a crowd. Cops carrying assault-style rifles stood outside a SWAT truck stationed nearby.
Photos: Standing Up to Anti-Asian Hate
Beyond Atlanta, rallies protesting anti-Asian hate were held in cities including New York, Washington, D.C., Philadelphia, Seattle, Chicago, Milwaukee, Dallas, Los Angeles and Honolulu.
Racially biased policing was already a concern. Now, charges against officers in the Capitol riot inflame fears of extremists infiltrating law enforcement.
By Dr. Amanda E. Rogers
The Century Foundation
Active-duty military and members of law enforcement participated in the attempted coup. To those who have long tracked white supremacist groups in the United States, however, this news came as no surprise.
By Jay A. Irwin
The Conversation
Trans Day of Visibility – celebrated annually on March 31 – is an important day that allows community members to come together and find support and solidarity by knowing they are not alone.
A Housing Activist's Fight in Philadelphia
By Robin Kaiser-Schatzlein
The New Republic
Over five years, Jennifer Bennetch uncovered how power works in one American city and, to a degree, manipulated it. And instead of making her jaded, the experience has given her something like righteous clarity. 
By Jonathan Chait
New York Magazine
A timely new paper by a University of Washington political scientist finds that the states that backslid on democratization over the past 16 years shared a single characteristic: Republicans gained full control of their state government.
Florida's Governor vs Critical Race Theory
By Michael Moline and Danielle J. Brown
Florida Phoenix
Gov. Ron DeSantis vowed to expel from Florida's public schools any study of "critical race theory," which examines the way race has shaped American society and institutions. Conservatives are moving to delegitimize research into the extent to which racism in America is a result of laws and cultural mores.