Global Left Midweek - May Day 2021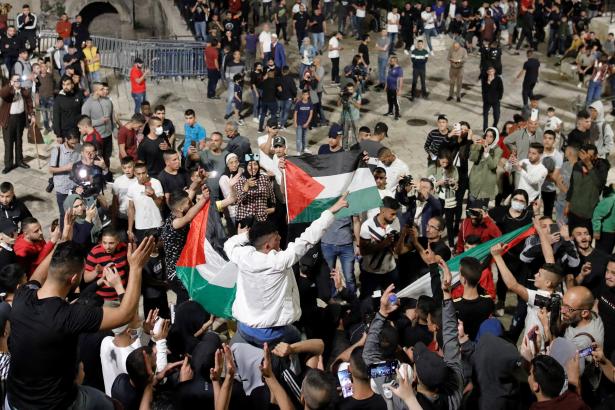 Palestinian protesters raise national flags as they gather near the Damascus Gate in Jerusalem's Old City, on 25 April, 2021. Credit,AFP
__________
Palestine Ready to Explode
Hanadi Qawasmi / Middle East Eye (London)

Amid enduring Israeli repression, a new generation of Palestinians targeted by a complex colonial system has emerged to lead the way. The latest wave of confrontations started with hundreds of Palestinian youths spontaneously gathering in the vicinity of the closed Damascus Gate, in defiance of Israeli restrictions.
__________
India Assembly Elections
Left Wins Again in Kerala  Shaju Philip / The Indian Express (Mumbai)
West Bengal: Trinamool Congress Upsets Modi  Himadri Ghosh / The Wire (New Delhi)
Will the Vote Boost Farmers' Fight?  Vishwa Mohan / Times of India (Mumbai)
Bloody Tax Protests  / BBC News (London)
The Frontrunner  Adriaan Alsema / Colombia Reports (Medellín)
__________
India/Tanzania: Women's Solidarity
Tina Mfanga / Peoples Dispatch (New Delhi)
In the tradition of proletarian internationalism, working women and farmers from Tanzania express their solidarity with the women farmers of India who have been engaged in struggle for the last several months against pre-corporate farming bills from the Modi-led government
__________
Ferment in Chad
Peoples Dispatch
Pro-democracy protesters in Chad remain skeptical of French President Emmanuel Macron's recent call for a "civilian national unity government" after security forces killed several protesters while cracking down on demonstrations by civil society and opposition leaders, against the recent military coup.
__________
May Day Messages
Even the Designation 'Workers' is Under Threat  SP Labour Committee / Socialist Project (Toronto)
Joint Statement of the Southeast Asian Left  / Links (Sydney)
Video: COSATU South Africa  / SABC News (Johannesburg)
__________
May Day Reports
Al Jazeera (Doha)
Philippines  Lian Buan / Rappler (Manila)
Indonesia Niniek Karmini And Andi Jatmiko / KSAT (San Antonio)
India  Ravi Kaushal / NewsClick (New Delhi)
__________
Now Uzbekistan
Radmir Khajbakhteev / openDemocracy (London)
The much heralded privatisation of the Central Asian state's cotton sector has led to claims of exploitation. A single woman, Roza Agaydarova, managed to bring the plight of her fellow workers to international attention by forming a union.
__________
Europe: How To Fight the Neofascist Right
Walter Baier / transform! Europe (Vienna)
We must find a right combination between modern class politics and the readiness to enter into the broadest possible political alliances. There exists no reason to suggest that uniting, on the basis of humanist values, could hamper class consciousness. 
__________
50 Years of il manifesto
The Paper  Norma Rangeri / il manifesto Global (Rome)
The Purpose  Luciana Castellina / il manifesto Global