Global Left Midweek - Focus on China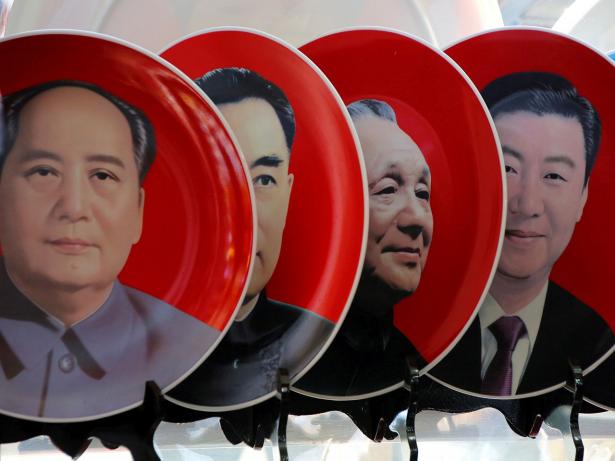 Souvenir plates featuring portraits of current and late Chinese leaders (R-L) Xi Jinping, Deng Xiaoping, Zhou Enlai and Mao Zedong are displayed for sale at a shop next to Tiananmen Square. Credit,REUTERS/Scanpix
__________
Cold War or Alliance For Survival?

Michael Klare / Foreign Policy in Focus (Washington DC)
The leaders of China and the United States certainly don't seek a war with each another. But they are determined that their countries will defend what it defines as its strategic interests in contested areas. Short of war, each seems intent on seeing how far it can provoke the other, diplomatically and militarily, without triggering a disaster.
__________
Co-existence, Class and Greater China: Taking Sides
Tim Pringle / Positions (Houston)
China's emergence as a global player has generated important debates on the left. There are those who defend China as a challenger to the US-led hegemony over a capitalist world order. Then there are those who see the strikes and struggle pursued by the Chinese working class as class struggles in a capitalist economy. All in the setting of a new Cold War.
__________
What Are the Chinese People Saying About Xinjiang?
Shannon Tiezzi / The Diplomat (Washington DC)
In China, the blurred redlines of what is acceptable discourse and what is not, combined with the imprisonment of people on the wrong side of that line, whatever their ethnicity, leads to a constant process of self-censorship.
__________
The CP of China and Political Economy, 2021
Xi's New Frontiers  Xi Jinping / China Daily (Beijing) '
White Collar Party  Tsukasa Hadano / Nikkei Asia (Tokyo)
__________
Hong Kong Opposition: Hollowed Out
Candice Chau / Hong Kong Free Press
Hong Kong's pro-democracy opposition camp is in ruins, with its key members either in jail, in exile or out of politics. Should anyone decide to run, the police can provide background check results to the vetting committee, and officers can prosecute potential candidates if they find any violations against the national security law.
__________
Pen Name Xianzi: #MeToo in China
Joseph Brouwer / China Digital Times (Berkeley)
To remove sexual assault victims' voices from mainstream narratives actually reinforces the value judgement that women should be ashamed of sexual assault—it even binds women's chastity to the nation, affirming that a woman's defilement is the nation's shame and is thus a reality that should not be spoken of.
__________
Debate: China and Myanmar
Cold War Battleground  Kenny Coyle / Morning Star (London) 
Walking a Tightrope  / Frontier (Yangon)
__________
Tensions on the South Sea
Giancarlo Elia Valori / Modern Diplomacy
The sovereignty of the South China Sea islands has become a serious issue that challenges bilateral relations between China and Japan, as well as the bilateral relations between China and Vietnam.
__________
Elections in Peru and Mexico
Castillo By a Hair  Marco Aquino and Marcelo Rochabrun / Reuters (London)
AMLO's Tight Squeeze  David Agren / The Guardian (London)
__________
Labor Struggles All Over
Lethoso  Pavan Kulkarni / Peoples Dispatch (New Delhi)
France  Harrison Stetler / Jacobin (New York)
South Korea  / Yonhap (Seoul)
Norway  Nina Berglund / Views and News from Norway (Oslo)
New Zealand  / Stuff (Wellington)