'We're Not Going Away!' Nonviolent Protest Over Voting Rights Ends With Arrests in DC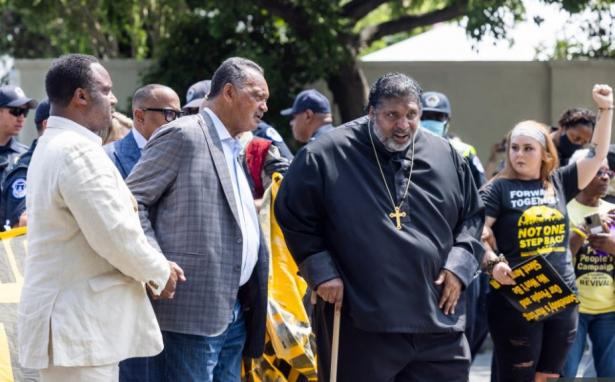 Rev. William Barber II, co-chair of the Poor People's Campaign, and Rev.. Jesse Jackson, arrested by U.S. Capitol Police after taking part in a non-violent protest in Washington, D.C. on June 23, 2021.,The U.S. Sun
Activists with the national Poor People's Campaign were arrested Wednesday after blocking a street in front of the Hart Senate building in Washington, D.C. to demand passage of the For the People Act, a popular voting rights expansion bill that Republicans successfully filibustered just 24 hours earlier.
After rallying in front of the U.S. Supreme Court, hundreds of low-wage workers, faith leaders, and advocates—including residents of West Virginia, Kentucky, and several other states—marched to the nearby Senate building to demand meetings with Democratic Sen. Joe Manchin (W.Va.) and Republican Minority Leader Mitch McConnell (Ky.), two key opponents of the For the People Act.
When their requests were denied, activists gathered in the street in front of the building and locked arms, briefly obstructing traffic before the U.S. Capitol Police dispersed the protest and arrested demonstrators.

"They would not respond to the people from their own state," said Poor People's Campaign co-chair Rev. William Barber II, who was arrested during the protest along with Rev. Jesse Jackson and others. "We decided that we had to take nonviolent, civil disobedient action. We're not violent. We're willing to take our penalty. And, we're saying across this country, it's time for people—especially poor and low-wealth people, and religious and moral leaders—to march on these Senate offices."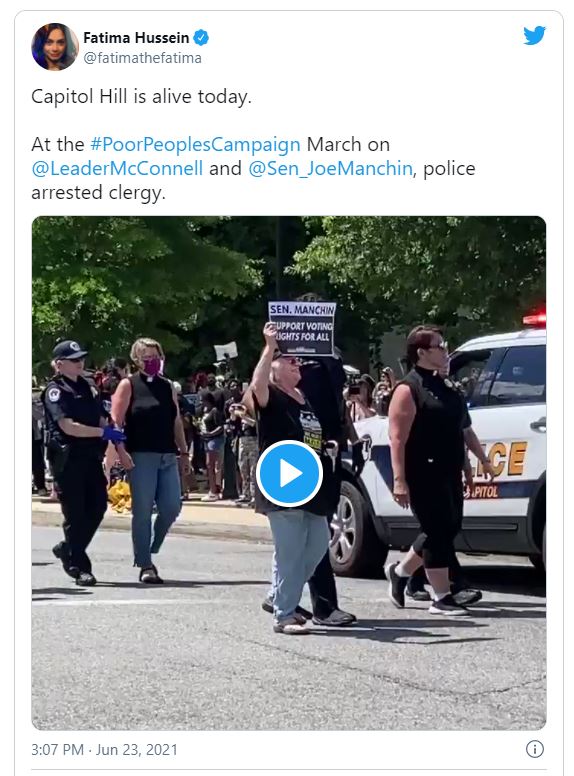 Watch here
Before the march on the Hart Senate Building, rally attendees blasted Manchin and Republican senators for opposing legislation that would shield the franchise from hundreds of GOP-authored voter suppression bills that have been introduced and advanced in states across the country.
"We're not going away!" declared one West Virginia resident who traveled to the nation's capital to take part in Wednesday's demonstrations, which came a week after West Virginians marched on Manchin's state office to demand that the senator support the original For the People Act.
In front of the U.S. Supreme Court, Barber delivered a characteristically fiery speech accusing Republican lawmakers of launching a "political insurrection" against voting rights and warned, "The same people that suppress the vote will suppress your living wages."
"There is nothing moderate about using a non-constitutional filibuster to block protecting and expanding the constitutional right to vote," Barber said, referring to the 60-vote rule that McConnell has repeatedly wielded to block Democratic priorities and that Manchin has defended.
"Not one Democrat ran last year and said if you elect me, I'm gonna join the Republicans in their interposition and nullification," Barber continued. "The Republicans have demonstrated that they don't believe there's a problem. So how can you compromise with people who don't believe they have a problem?"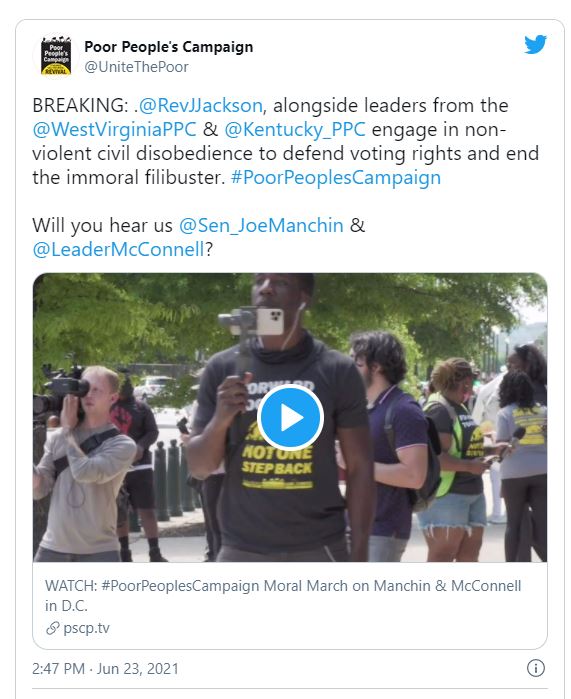 Watch here
The Poor People's Campaign's latest actions came after all 50 Senate Republicans—led by McConnell—voted against a motion to begin debate on the For the People Act, a sweeping and popular election reform bill that would establish national automatic voter registration, bar states from purging voter roles, strengthen campaign finance disclosure requirements, and institute federal standards for absentee voting.
Manchin joined every other member of the Senate Democratic caucus in voting for the procedural motion, but the West Virginia senator remains the only Democrat in the upper chamber who has not co-sponsored the For the People Act.
Last week, Manchin released a memo outlining a compromise version of the legislation that would strip out several of its major provisions and add a voter ID requirement.
As prominent Democrats such as former Georgia gubernatorial candidate Stacey Abrams and former President Barack Obama expressed support for Manchin's counteroffer—an abrupt shift away from years of Democratic opposition to voter ID mandates—Barber asked during Wednesday's rally, "Why would we nationalize voter ID while civil rights lawyers are in court trying to stop voter ID?"
"We've come here today to say there are some things that are non-negotiable," Barber said. "We don't need an insurrection, we just need a nonviolent, moral mobilization and direct action."
"We need to fight until hell freezes over and then fight on the ice," Barber continued. "We don't need compromise and capitulation. Pass the bill! Break the filibuster! Pass voting rights, pass living wages, pass healthcare. Do what's right for the American people, and do it for poor and low-wealth people, and do it now!"