Senate Approves $3.5T Budget Plan That Would Expand Health Care, Education and Climate Initiatives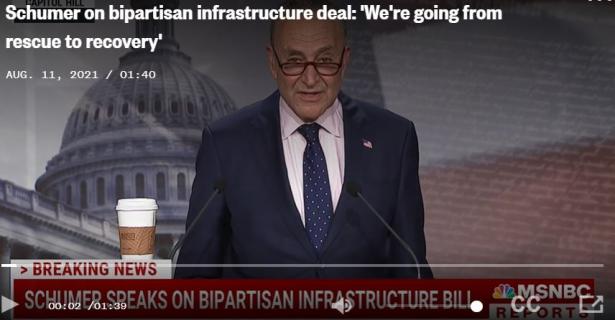 NBC News,
The Senate passed a sweeping Democratic budget resolution along party lines early Wednesday that would make it possible to expand Medicare, education and environmental measures largely through higher taxes on the wealthy and corporations.
The $3.5 trillion blueprint to pave the way for the massive social safety net expansion was adopted in a 50-49 vote after more than 14 hours of debate on a myriad of amendments.
Leaving the Capitol after the marathon "vote-a-rama," Senate Majority Leader Chuck Schumer, D-N.Y., said, "Well it's been quite a night. Look, we still have a ways to go, and we've taken a giant step forward toward transforming America."

Under special rules for considering budget measures, the Senate was able to adopt the plan with a simple majority vote, circumventing a filibuster, advancing a blueprint for various committees to follow in writing their parts of the funding legislation.
Senators voted on 47 nonbinding amendments during the process, adopting some sponsored by Republicans. Among them were an amendment offered by freshman Sen. Tommy Tuberville, R-Ala., adopted in a 99-0 vote, that would block federal funds for any jurisdictions that defund the police. Another, by Sen. Rick Scott, R-Fla., also adopted in a 99-0 vote, would ensure tax money doesn't go to groups like Hamas, which the United States considers a terrorist organization. An amendment from Sen. Tom Carper, D-Del., meanwhile, called for a fund to address climate change.
Because the budget measures are nonbinding, lawmakers typically use them to pitch messaging proposals, which many then use in campaign ads during later election cycles.
Senate Budget Committee Chairman Bernie Sanders, I-Vt., said Tuesday as debate proceeded on the Senate floor that many of his Republican colleagues were "in a bit of shock now. They are finding it hard to believe that the president and the Democratic caucus are prepared to go forward in addressing the long-neglected needs of working families and not just the one percent and wealthy campaign contributors."
Democrats said earlier this week that the legislative package they plan to write would fund programs to provide aid to families, combat climate change and expand health care and education programs. Democrats are planning to include language that would establish universal Pre-K for 3- and 4-year-olds, make community college tuition-free for two years, provide green cards to millions of immigrant workers and families, and reduce prescription drug costs, among other things.
Republicans claimed the Democrats' proposals would waste money, harm the economy by raising taxes, fuel inflation and codify far-left dictates that would hurt Americans. They were happy to use Sanders, a self-avowed democratic socialist, to try tarring all Democrats backing the measure.
If Biden and the Senate Democrats want to "outsource domestic policy to Chairman Sanders" with a "historically reckless taxing and spending spree," Republicans lack the votes to stop them, Senate Minority Leader Mitch McConnell, R-Ky., said. "But we will debate. We will vote."
Rep. Steny Hoyer of Maryland, the No. 2 Democratic leader in the House, announced Tuesday that the chamber would return from recess Aug. 23 to vote on that blueprint and perhaps other measures. Speaker Nancy Pelosi, D-Calif., has praised the budget resolution.
After the Senate adopted the resolution, Schumer set up a path for the chamber to take up voting rights legislation when the Senate returns from recess in September.
"Yesterday morning, we saw what it looks like when the Senate comes together," he said. "This is what it looks like when it doesn't. Voting rights, voting rights will be the first matter of legislative business when the Senate returns to session in September. Our democracy demands no less."
The Senate turned to the budget minutes after it approved the other big piece of Biden's objectives, a compromise $1 trillion bundle of transportation, water, broadband and other infrastructure projects. That measure, which passed 69-30 with McConnell among the 19 Republicans backing it, also needs House approval.