Media Bits and Bytes - September 7, 2021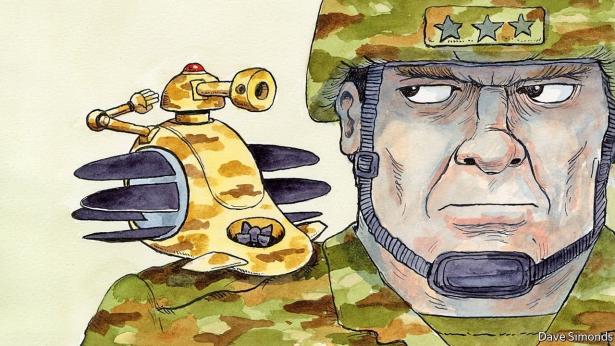 War tech. Credit,David Simonds/The Economist
Afghanistan: Female Journalists in Jeopardy 
Reporters Without Borders

Fewer than 100 women journalists are still formally working in privately-owned radio and TV stations in the Afghan capital.
Public media can, to some degree, be more free than commercial media. The measure of their freedom largely depends on the level of democracy in the broader society.
A new study finds that small groups of laypeople can match or surpass the work of professional fact checkers—and they can do it at scale.
By Arjun Kharpal and Evelyn Cheng
CNBC
Chinese authorities are planning to restrict how companies use algorithms to sell products to consumers, a move analysts said likely runs counter to business interests and sets a precedent for other countries.
By Spencer Snyder
FAIR
MSNBC isn't commemorating its 25th anniversary with any looks back to its founding, or to its history as an outlet for journalism. For much of its history, MSNBC wasn't the liberal answer to Fox News, but a superfluous product of two mega corporations seeking to expand their news operations.
Covid and the Soul of Popular Media
By Dennis Broe
Culture Matters
Cinemas now may function much like major television events, like the Superbowl and (sometimes) the Academy Awards, opening films that then go quickly to streaming or that play off earlier theatrical openings for prestige.
Militarized Tech and the New Communalists
By Will Meyer
The Baffler
The "frontier dynamic" is at play in Silicon Valley's present-day political economy. From Google's artificial intelligence, which trains weaponized drones, to the Amazon Web servers that power the CIA and Immigration and Customs Enforcement, the empire's territorial mission remains.
FCC Takes On Rightist Robocallers
By Jon Brodkin
Ars Technica
Recorded messages sent before the 2020 election "told potential voters that if they voted by mail, their 'personal information will be part of a public database that will be used by police departments to track down old warrants and be used by credit card companies to collect outstanding debts,'" the FCC said.
Anti-Abortion Site Gets the Boot
Hosting provider GoDaddy gave Texas Right to Life 24 hours to find another home for their website, which publicized the names of people accused of helping women get abortions. Under the new Texas law, those people were liable for fines and prison.
By Karl Bode
Vice
Once again a lack of industry oversight and meaningful rules means the cellular industry wasn't fully prepared for disaster.