Why US Lawmakers Should Witness the Israeli Occupation Firsthand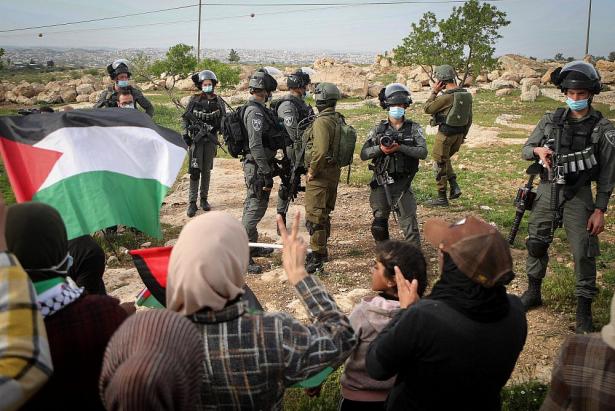 Palestinians protest the visit of Israeli Prime Minister Benjamin Netanyahu to the heritage site of ancient Susya, in Yatta, near the West Bank city of Hebron, March 14, 2021.,photo: Wisam Hashlamoun/Flash90 // +972 Magazine
When U.S. Congressman Andy Levin visited my village of Susiya in 2019, he witnessed a live illustration of the unjust reality that Palestinians in the occupied West Bank experience daily.
As we stood at the entrance of the village, looking toward the illegal Israeli settlement of the same name that has turned Susiya's ancient ruins into an archeological park, Mekorot, Israel's water utility company, was busy laying down pipes. The water, of course, would not be accessible to us or the other Palestinian communities in the area; it is meant to serve the outposts and settlements on the hilltops that surround us.
The congressman saw firsthand how water, a basic service which should be guaranteed as a human right, is in fact a precious commodity here in the South Hebron Hills. Do you know how much a cubic meter of water costs in your neighborhood? In Susiya, it costs NIS 35, approximately $11. For Israeli Jews — including those who live just hundreds of meters from us in the Israeli Susiya — the average price is just NIS 7, about $2.

Currently, most of our water cisterns are located in a "security buffer zone" that we cannot access. We are thus forced to buy water at five times the price, while Israelis living in settlements enjoy the same privileges as if they were living in the heart of Tel Aviv.
Last month, U.S. Congressmen Jamaal Bowman and Mark Pocan, together with their colleagues, visited Susiya and witnessed these injustices, too. I stood with them in our playground, which on the previous Shabbat had been invaded by settlers who were escorted and protected by the Israeli army.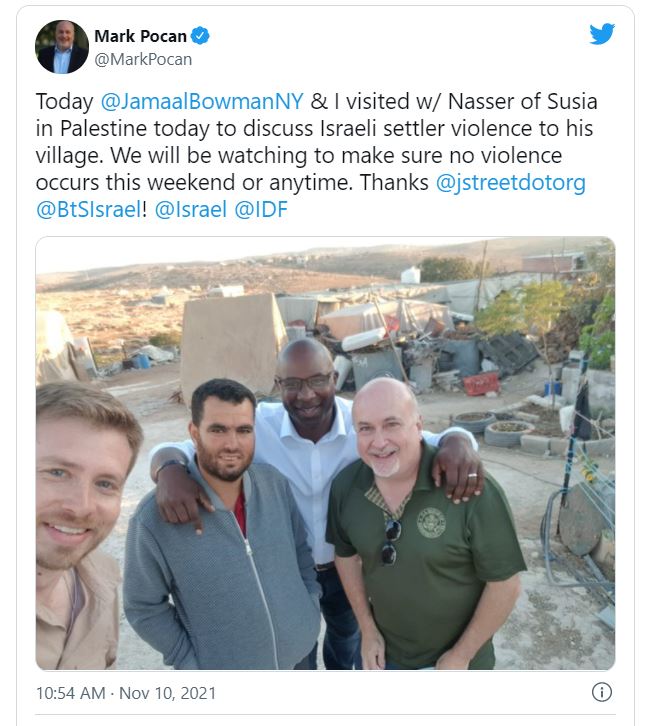 For us Palestinians, such settler violence is commonplace. It would be easy to condemn these attacks as the actions of a few radicals on the fringes of Israeli society, but it is clear that the Israeli government benefits from their violence. Why else would it expect soldiers to accompany and protect them while they terrorize our communities on a near-daily basis?
My village is one of close to 30 communities in the South Hebron Hills that are unrecognized by Israeli authorities. The daily hardships and indignities that derive from this condition are part of the Israeli government's policy of clearing Area C in the West Bank, which is under full Israeli military control, of its Palestinian populations. The government hopes to push us into urban enclaves that are surrounded and fragmented by Israeli settlements. This is the same policy that has led to my community being displaced five times since the occupation began in 1967.
Furthermore, we are subjected to a discriminatory planning system that was designed by Israel to prevent the development of Palestinian presence in Area C. Because of this, every home and structure in my village has a demolition order. The threat of the army arriving early in the morning and razing our entire village is a permanent feature of our lives.
Faced with this reality, it is not the Israeli legal system that we look to for protection. While we have indeed taken our struggle to remain in our village to the courts, we do not expect to find justice there; after all, the judge presiding over our case is a West Bank settler who lives in the Gush Etzion settlement bloc. For Palestinians, this is not a High Court of Justice, but a High Court of Racism.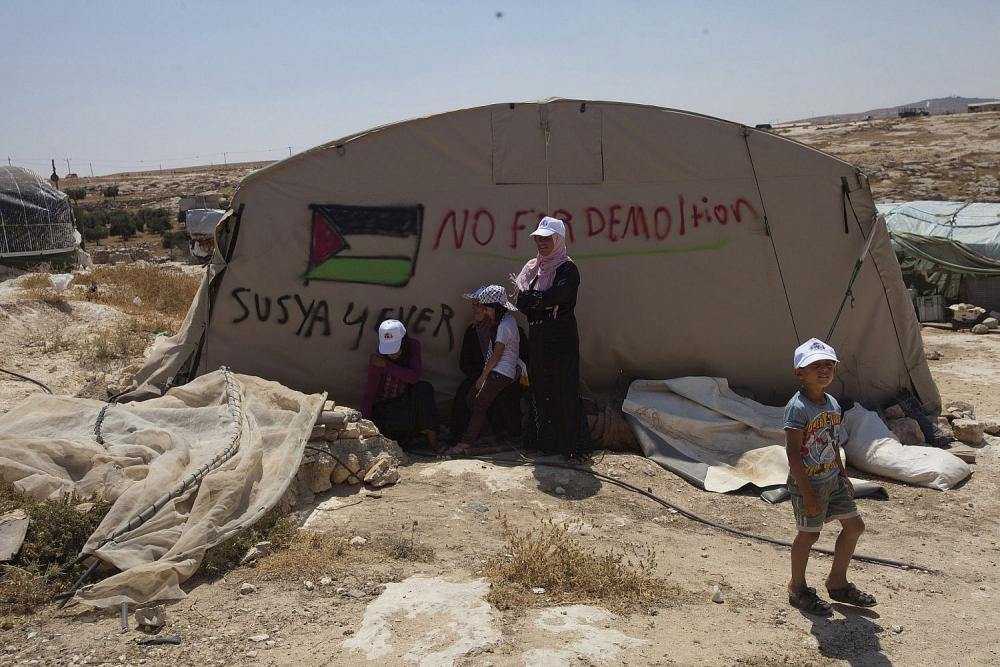 At this present moment, the main factor protecting Susiya from erasure is international political pressure. When my grandfather was expelled from our ancestral village of Qaryatayn during the Nakba in 1948, and when my father was expelled from Susiya in 1986, there was no one listening when they told their stories. I, like many other Palestinians today, now have a voice with an audience to hear me. I will not let Israel turn my children into refugees in their own land.
This is why we were so encouraged when Congressmen Bowman and Pocan and their colleagues visited our village. Speaking to them affirmed the value and necessity of international lawmakers and activists to witness the occupation on the ground, and for them to speak out and promote legislation that will hold Israel's actions accountable. We are grateful for their support in our ongoing struggle to remain on our land.
We hope that other political representatives will follow their lead in the coming months and years, and invite anyone who is able to visit Susiya and witness what is taking place here in the occupied territories.
Israel relies on the silence and ignorance of the international community and the Jewish-Israeli public to enable this injustice. And so, it is vital to ensure that those in power know our story. We need more members of Congress and other politicians visiting Area C and acting to prevent another round of expulsions. They must show Israel that its actions against Palestinians, against villages like mine, have consequences.
[Nasser Nawaja is a resident of the Palestinian village Susiya, and a community organizer and field researcher for the Israeli human rights organization B'Tselem.]
A lot of work goes into creating articles like the one you just read. +972 Magazine is nonprofit journalism based on the ground in Israel-Palestine. In order to safeguard our independent voice, we are proud to count you, our readers, as our most important supporters.
Become a member of +972 Magazine with a monthly contribution, so that we can keep our journalism as a strong, independent, and sustainable force changing the global discourse on Israel-Palestine.