Tidbits - Jan. 13, 2022 - Reader Comments: COVID Vaccines; Hospitals in Trouble; Solidarity and Internationalism in Today's World; Sidney Poitier; Thomas Piketty Turns to Socialism; Rosa Luxemburg; Martin Luther King; Anne and Carl Braden;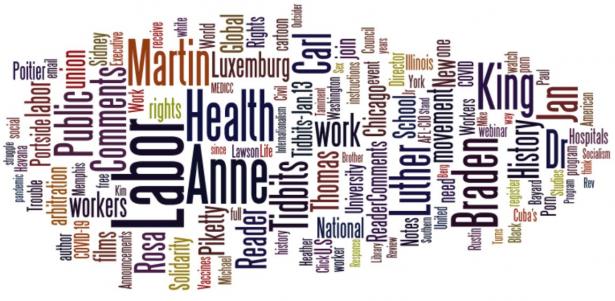 Tidbits - Reader Comments, Resources, Announcements, AND cartoons - Jan. 13, 2022,Portside
Resources:
Announcements:
Re: A Texas Team Comes Up With a Covid Vaccine that Could Be a Global Game Changer
There's already several "global game changer" vaccines out there right now: particularly China's Sinovac and Sinopharm, and Cuba's Abdala and Soberana vaccines, which these nations have shared in the billions with cash-poor nations in Asia, Africa, and Latin America. No dynamic duo in the US is gonna undo the vaccine apartheid regime that was imposed by the West upon the world at the start of this pandemic.
Josh DB
Posted on Portside's Facebook page
      =====
I sure hope this pans out. There is so much need globally! Josh DB is also absolutely right re other game changers out there, including the actual sharing of vaccines with those who need them, options the global north refuses to recognize.
Linda Belgrave
Posted on Portside's Facebook page
      =====
That's exactly what they said about insulin 100 years ago. The patent was sold for a dollar so all diabetics would have access- 
The absurdly high cost of insulin, explained
https://www.vox.com/.../18293950/why-is-insulin-so-expensive
Carl Anderson
Posted on Portside's Facebook page
      =====
Pandemic means global and solutions must be worldwide.
Jerry Neal
Posted on Portside's Facebook page
Whack scene hesitancy ...  --  cartoon by Jack Ohman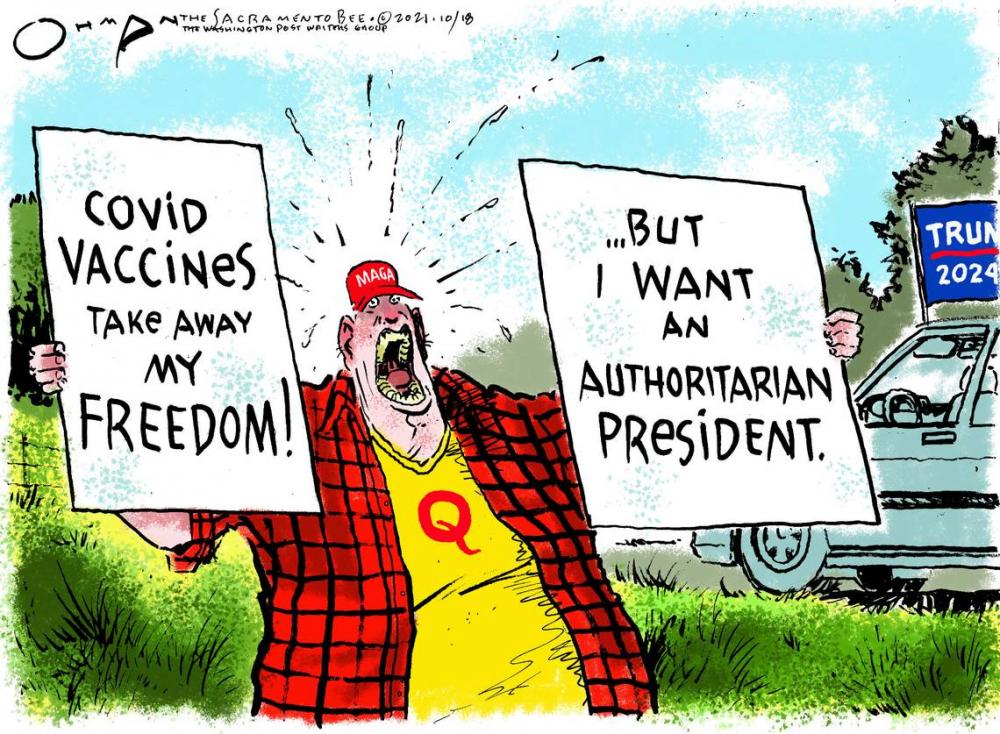 Jack Ohman
October 18, 2021
Sacramento Bee
Re: Hospitals Are in Serious Trouble
My neurologist has also warned me that a slow crumbling of the medical system is underway and it will soon collapse in ways that we would not think possible. The article says "Medicine runs on an unspoken social contract in which medical professionals expect themselves to sacrifice their own well-being for their patients." 
This is true for those who do the actual work and whose numbers have been "rightsized" aka cut to the bone even before the pandemic and whose salaries are stagnant or declining, but not true of the layers of hospital administrators, pharma CEOs and reps, insurance company gatekeepers and other suits, extortionists, profiteers and bean counters. The privatized, for-profit medical system has become a giant expensive top-heavy Byzantine structure. We need to stop eroding Medicare, and focus on expanding and improving it. We need Medicare for all, and very soon.
Sonia Cobbins
Posted on Portside's Facebook page
      =====
Our health care system is privatized….hmmmm
Kathe Karlson
Posted on Portside's Facebook page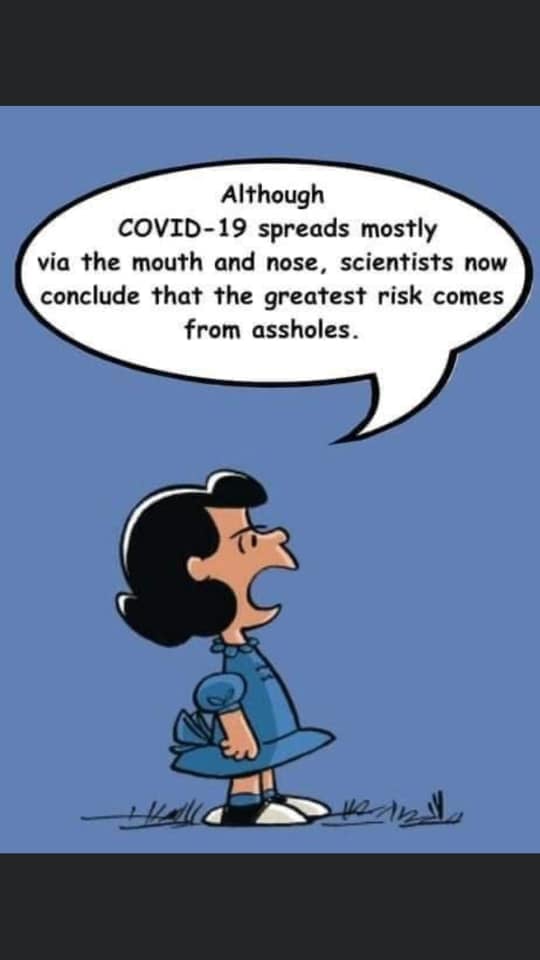 Re: Global Left Midweek - Facing 2022
Folks. As you know I'm the moderator of Global Left Midweek which you can get for free at Portside.org.  I wrote a special New Year's editorial (moderatorial?) that comments on some themes in the left and the peace movement that need to be examined and discussed. Take a gander and have at it.
Ethan Young
Posted on Portside's Facebook page
Re: Lack of Left-Wing Culture, Weakness of Progressivism in Latin America
This portion of an interview with Alvaro Garcia Linera is relevant -- as is pretty much any comment by Linera -- possibly the most profound left thinker since Jose Carlos Mariategui (late 19202, early 1930s).
Paul Pugh
Re: Putin and Xi Show United Front Amid Rising Tensions With U.S.
There's plenty of articles that can give us real insight into Russian/Chinese relations. Why on earth would Portside give screen time to the New York Slimes?
Mike Liston
Re: Sidney Poitier – Hollywood's First Black Leading Man Reflected the Civil Rights Movement on Screen
that and more...it was a glimmer of hope for those minorities enslaved in the injustice of racial inequality...to see a black man in the big screen was a sign of the times changing..i have two minority bloods in me..I'm "boricua"black and taíno indian..
to see him on the screen was to see me.
Sandy Ruiz
Posted on Portside's Facebook page
The Super Patriot  --  cartoon Mad Magazine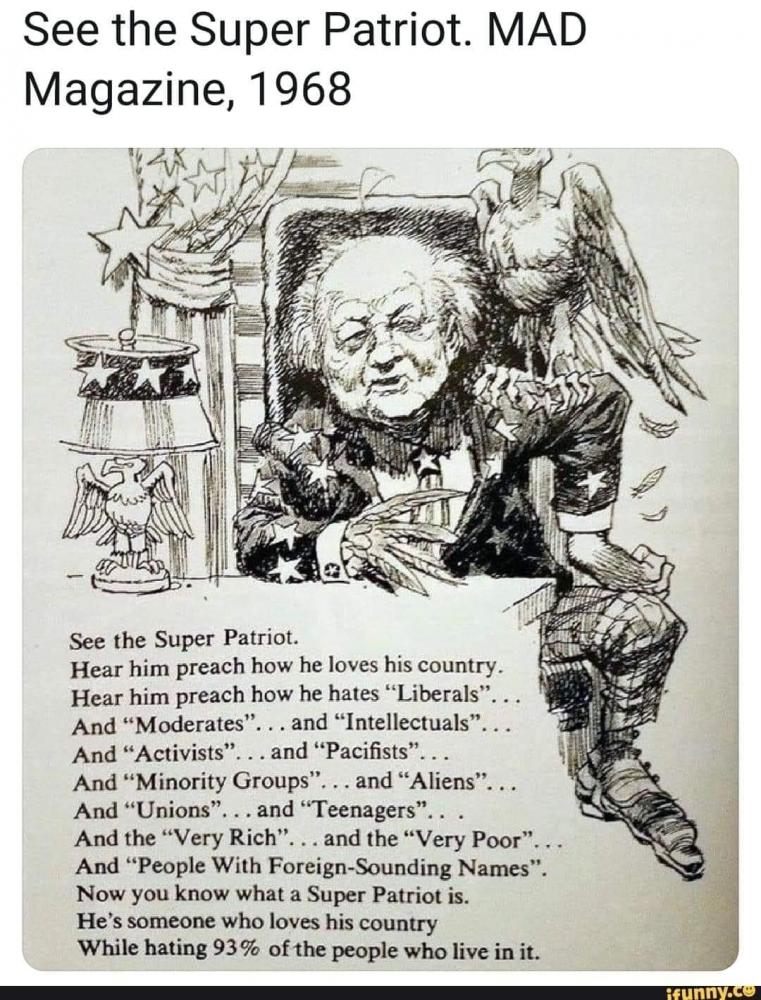 Mad Magazine #129
September 1969
Re: Ron Kim Targets a New York Progressive Heavyweight in Allegations of Wage Theft
(posting on Portside Labor)
I think that both Kim and the author of this piece have a flawed understanding of the issues here. This stems from their conflation of compulsory arbitration of individual cases in a business setting with binding arbitration that almost all union contracts have. The former is structured to have many inherent imbalances between the rights of workers and the economic power of employers. In compulsory arbitration, for example, the company hires and pays the arbitrators, who then of course are beholden to the company. 
Under union contracts' arbitration provisions, the employer and the union jointly select and compensate arbitrators. In that setup, the arbitrators are not tied to the employer in any way more than they are tied to the union. In addition, the article creates a misleading impression of the essence of labor arbitration in stating that 
"The process of forced arbitration moves complaints out of court and into a separate mediation process..." The bottom line in union arbitration is that the arbitrator issues an award that is "final and binding", and is enforceable in court should the employer not comply. It's also not a reflection of real life circumstances to state, "Kim's office and workers' advocates expressed concerns that such a large settlement would limit the possibility for recourse, as it would spread any monetary compensation payments over a vast number of workers." 
It's true that a victory in a large class action may result in modest payments to individuals, since the money is spread thin. But in the real world, it is not the case that thousands of workers who have their rights violated litigate so that they can win what they are owed. The institutional barriers -- the cost of hiring an attorney, even understanding where to go for relief -- are high enough so that very few workers use the courts to enforce their rights. 
In contrast, what unions offer is a way for workers, who may not understand the legal maze they need to navigate nor have the resources to do so, can have their rights fought for by their union. None of this is to be taken as a defense of how SEIU has handled any of this. I don't know nearly enough about the specifics to opine on that. But the point is that having final and binding arbitration in a collective bargaining agreement is often the only realistic way for workers' rights to be defended.
Mike Mauer
Posted on Portside's Facebook page
Re: The Treaty on the Prohibition of Nuclear Weapons and the World's Future
superb piece. i remember years back at Vassar when the author was initiating quality written and oral materials and we were in awe. don't stop now or ever!
Sondra Farganis
Re: Thomas Piketty: The Making of a Socialist
(posting on Portside Culture)
For all the liberals who praised this book as "revolutionary work".
Dorothy Payne
Posted on Portside's Facebook page
      =====
Kuttner review is good & brief. Unfortunately NATO umbrella Euro left is more than a bit fractured. ...& RSF is a long way from brief glimmering light of Gorbachev & his attempts to redeem the USSR... more Bukharin than Trotsky.
Tom Edminster
Posted on Portside's Facebook page
      =====
I asked the library to buy this one.  Hopeful
John Dietzel
Posted on Portside's Facebook page
      =====
Are you suggesting that Thomas Piketty is a socialist? 
Martin Giannini
Posted on Portside's Facebook page
      =====
"What makes this manifesto noteworthy is that it comes from an economist who gained his reputation as a researcher with vaguely left-of-center sensibilities but was far from a radical. Yet the times are such that even honest moderates are driven to radical remedies."
Ann Louise Jones
Posted on Portside's Facebook page
      =====
so - he was already going in that direction - and crisis pushed him further on his preferred path ... 
 - no news here
Thomas Reed
Posted on Portside's Facebook page
      =====
This guy did the research and came to some what I think are inescapable conclusions unless we really want to return  to feudalism and ruin the planet too.
David Lambkin
Posted on Portside's Facebook page
      =====
Mostly I follow the work of Thomas Piketty, the French economist. (and that of Robert Kuttner) but I missed Kuttner's NYT review of Piketty completely. Perhaps you did as well. Thanks, therefore to Portside, for sending this review (from October) around again.
Daniel Millstone
Posted on Portside's Facebook page
      =====
"Throughout the West, especially in the United States, instruments of wealth creation for the middle class, like debt-free higher education, affordable owner-occupied housing and worker pensions, have been weakened since the years of the great egalitarian postwar boom." ; 
There's an understatement.
Eda DiBiccari
Posted on Portside's Facebook page
Re: We Obtained New FBI Documents on How and Why Fred Hampton Was Murdered
From Arthur Eckstein, author of Bad Moon Rising: How the Weather Underground Beat the FBI and Lost the Revolution (Yale, 2016): where did Chairman Fred use the term Narodnik? I'm familiar with his condemnation of the Weatherman Days of Rage action as "anarchistic, Custeristic, muddleheaded.". .But Narodnik is not in that speech of his, as far as I know. 
AE
Judy Gumbo Albert
Posted on Portside's Facebook page
Re: A Film Captures Jewish Life in a Polish Town Before the Nazis Arrived
Absolutely beautiful, short but it shows a tremendous amount of information.
Amiel Summers
Posted on Portside's Facebook page
NEW RELEASE: 'Post Rosa: Letters Against Barbarism' (Rosa Luxemburg Stiftung)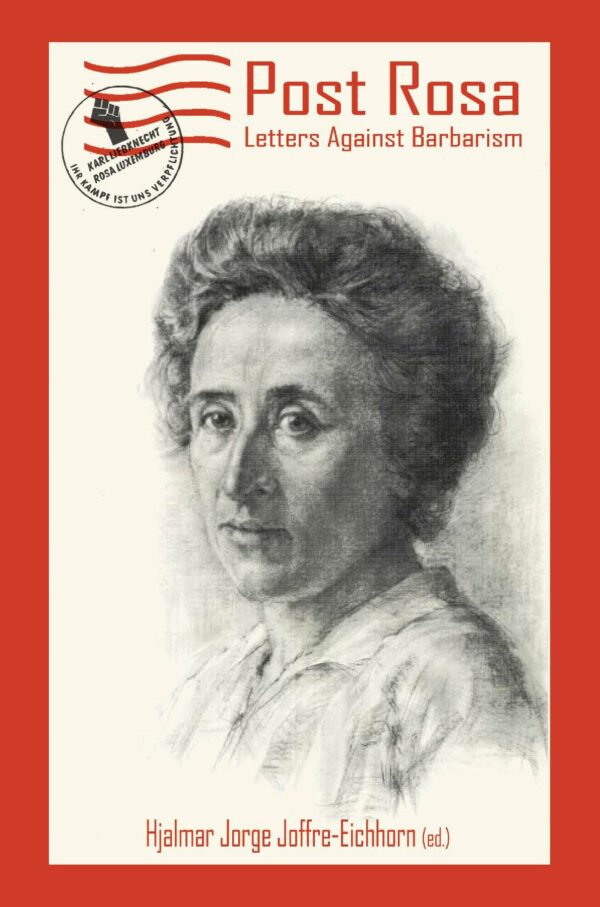 Post Rosa: Letters Against Barbarism is a collection of letter exchanges in conversation with Rosa Luxemburg, in the year of her 150th anniversary. Twenty "Luxemburgians" from across the globe engage in vivid correspondence, with reference to and reflections about Luxemburg and the times we live in, as understood through their own bodies and geopolitical locations, and informed by an epistemology of both head and heart.
With exchanges between:
Paul Le Blanc & Helen C. Scott • Michael Löwy & Małgorzata Kulbaczewska-Figat • Rebecca Selberg & Maureen (Mo) Kasuku • Sevgi Doğan & Paul Mason • alejandra ciriza & Haydeé García Bravo • Jane Anna Gordon & Xiong Min • Julia Killet & Nguyen Hong Duc • Peter Hudis & Hjalmar Jorge Joffre-Eichhorn • Asma Abbas & Jigisha Bhattacharya
Conceived in the midst of a barbarous(ly handled) pandemic, this life-affirming book aims to be a source of affective-intellectual inspiration and encouragement to commit our words and lives to the struggle against barbarism and for socialism.
Order a complimentary copy here.
Rosa Luxemburg Stiftung
275 Madison Avenue,
Suite 2114
New York, NY 10016
DC LaborFest PLUS: Martin Luther King documentary festival features labor films - January 15 and 16 (Metropolitan Washington Council AFL-CIO)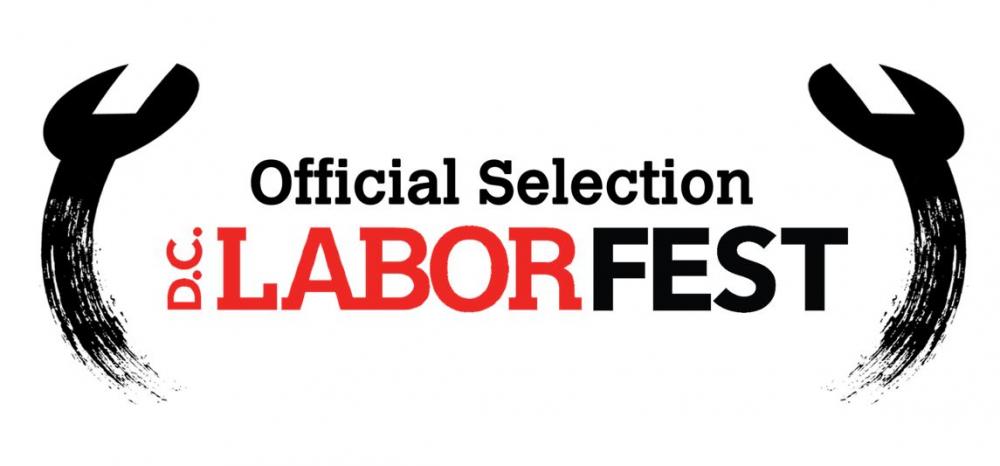 FILMS: At the River I Stand; Brother Outsider; Love and Solidarity; Reparations
Four excellent labor-related films are in the line-up for this weekend's online World House Documentary Film Festival: At the River I Stand: The 1968 Memphis Sanitation Workers Strike and the Assassination of Dr. Martin Luther King; Brother Outsider: The Life of Bayard Rustin; Love and Solidarity: Rev. James Lawson & Nonviolence in the Search for Workers' Rights; Reparations.
All are free and online; see below for details and trailers. Click here to register to receive an email with the full program and instructions on how to watch the films and join the webinar.
For the 2022 King Holiday, the World House Project at the Center on Democracy, Development and the Rule of Law within Stanford University's Freeman Spogli Institute for International Studies is hosting the free, four-day virtual film festival/webinar from the evening of Jan. 14 through Jan. 17. This virtual event will feature over 30 documentaries, musical performances, interviews and panel discussions that speak to Dr. King's still unanswered question: Where Do We Go From Here: Chaos or Community?
At the River I Stand: The 1968 Memphis Sanitation Workers Strike and the Assassination of Dr. Martin Luther King
Memphis, Spring 1968 marked the dramatic climax of the Civil Rights movement. At the River I Stand skillfully reconstructs the two eventful months that transformed a strike by Memphis sanitation worker into a national conflagration, and disentangles the complex historical forces that came together with the inevitability of tragedy at the death of Dr. Martin Luther King, Jr.
Saturday, Jan. 15: Click here to register to receive an email with the full program and instructions on how to watch the films and join the webinar.
Brother Outsider: The Life of Bayard Rustin
On November 20, 2013, Bayard Rustin was posthumously awarded the prestigious Presidential Medal of Freedom by President Barack Obama. Who was this man? He was there at most of the important events of the Civil Rights Movement - but always in the background. Brother Outsider: The Life of Bayard Rustin asks "Why?" It presents a vivid drama, intermingling the personal and the political, about one of the most enigmatic figures in 20th-century American history. One of the first "freedom riders," an adviser to Dr. Martin Luther King, Jr. and A. Philip Randolph, organizer of the March on Washington, intelligent, gregarious and charismatic, Bayard Rustin was denied his place in the limelight for one reason – he was gay.
Saturday, Jan. 15: Click here to register to receive an email with the full program and instructions on how to watch the films and join the webinar.
Love and Solidarity: Rev. James Lawson & Nonviolence in the Search for Workers' Rights
Love & Solidarity is an exploration of nonviolence and organizing through the life and teachings of Rev. James Lawson. Lawson provided crucial strategic guidance while working with Martin Luther King, Jr., in southern freedom struggles and the Memphis sanitation strike of 1968. Moving to Los Angeles in 1974, Lawson continued his nonviolence organizing in multi-racial community and worker coalitions that have helped to remake the LA labor movement.
Sunday, Jan. 16: Click here to register to receive an email with the full program and instructions on how to watch the films and join the webinar.
Reparations
Reparations explores the four-century struggle to seek repair and atonement for slavery in the United States. Black and Asian Americans reflect on the legacy of slavery, the inequities that persists, and the critical role that solidarity between communities has in acknowledging and addressing systemic racism in America.
Sunday, Jan. 16: Click here to register to receive an email with the full program and instructions on how to watch the films and join the webinar.
Metropolitan Washington Council, an AFL-CIO "Union City" Central Labor Council whose 200 affiliated union locals represent 150,000 area union members. DYANA FORESTER, PRESIDENT.
Martin Luther King, Jr. - An Exploration by Historian Dr. Michael Honey - January 17 (National Park Service)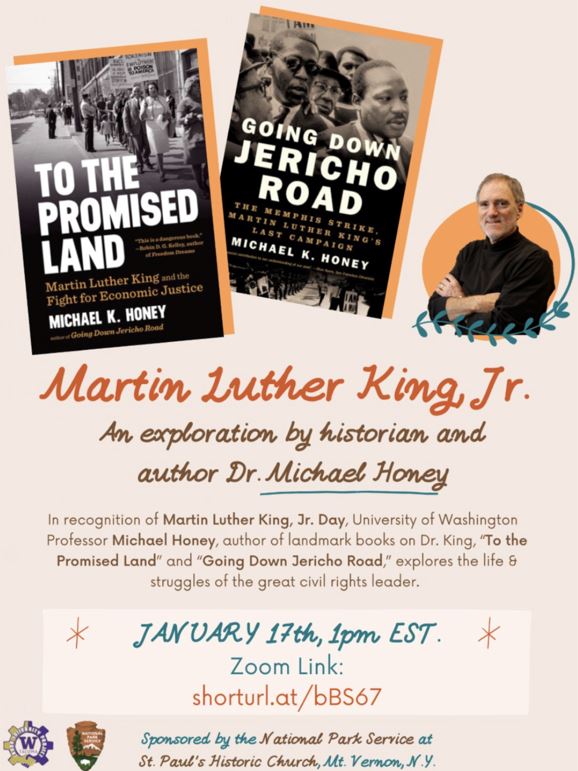 Join us in honoring Martin Luther King Jr's legacy next Monday with UWT's Dr. Michael Honey, who will be sharing his work on King, the civil rights movement, and the ongoing fight for economic justice. This virtual event is free and open to the public.
January 17 - 1:00 pm EST
Zoom Link: shorturl.at/bBS67
Labor On the Move in 2022: A Labor Notes & Haymarket Books Webinar - January 19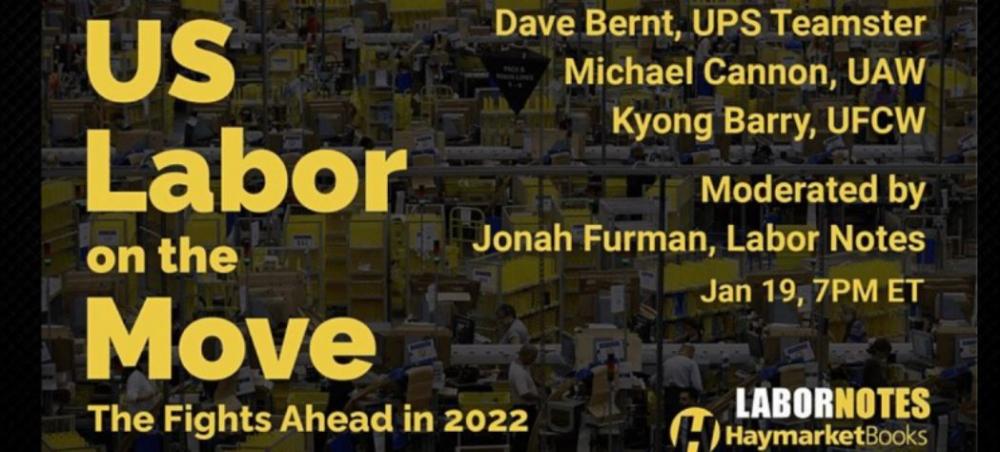 In 2022, the United Auto Workers will hold their first direct elections for top leadership after years of corruption and concessions, in advance of negotiations with the Big Three automakers in 2023. The Teamsters will inaugurate new reform leadership and launch their contract campaign at UPS, the largest private-sector union contract in the country. And UFCW members on the West Coast will begin a coordinated contract campaign covering 100,000 grocery workers.
Hear from leaders from each of these fights on how union members are fighting back across the country, and learn more about the next potential flashpoints in the U.S. labor movement.
U.S. Labor on the Move: The Fights Ahead in 2022
Co-sponsored by Labor Notes and Haymarket Books
Wednesday, January 19
7:00 PM Eastern (6 PM CT, 5 PM MT, 4 PM PT)
Confirmed panelists include:
Dave Bernt, UPS Teamster, Local 705; Co-chair, Teamsters for a Democratic Union
Michael Cannon, UAW; Steering Committee, Unite All Workers for Democracy
Kyong Barry, Albertson's grocery worker; Executive Board member, UFCW Local 21
Moderator: Jonah Furman, Labor Notes
Organizations listed for identification purposes only.
This event is free, but registration is required and donations are welcome. To make a donation larger than $20 or to become a Labor Notes monthly donor, visit labornotes.org/donate.
Your support helps Labor Notes offer more events like this one and continue our coverage of efforts to put the movement back in the labor movement.
Questions? Contact jonah@labornotes.org.
Labor Notes
7435 Michigan Ave
Detroit, MI 48210
Honoring Anne and Carl Braden and their stand against white supremacy. - January 24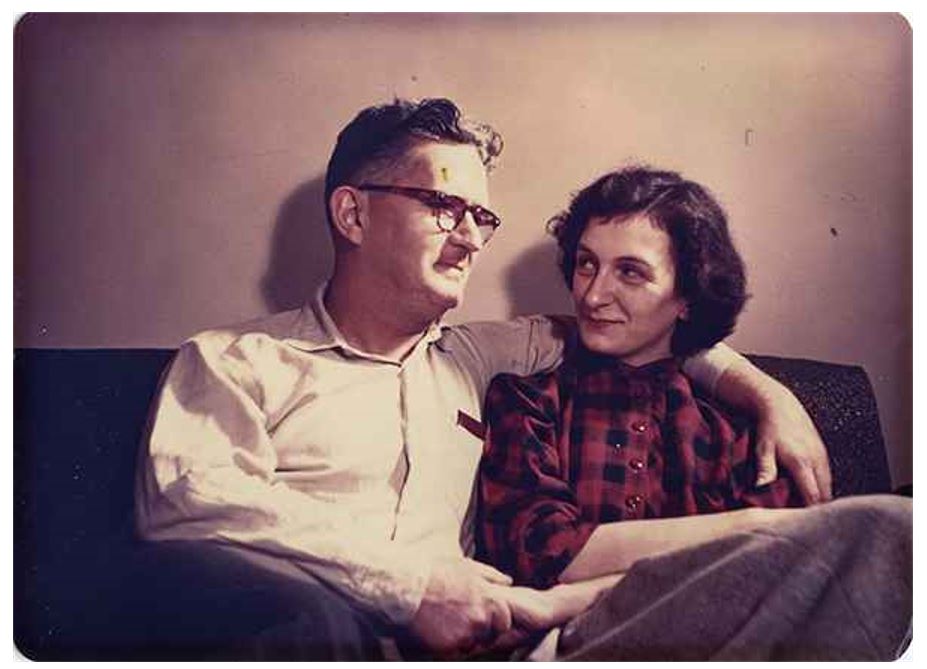 January 24th, 9pm ET, 8pm CT, 7pm MT, and 6pm PT
We are honoring Anne and Carl Braden,  lifetime fighters for racial and social justice.  In the 1950's, in the height if the cold war, Anne and Carl Braden bought a house for a Black family in a white neighborhood. This is just one example from two lifetimes of fighting for equality and against white supremacy.
We will take this time to remember and learn from people who new them personally. . This fittingly happens on week after the Martin Luther King holiday and just preceding Black History Month. Please join us. (Zoom below)
Panelists:
Anne Lewis:  Anne comes out of a movement to make media that helps create opportunity for social change. She has made documentary films since the 1970¹s and was associate director and assistant camerawoman for HARLAN COUNTY, USA.  Other work includes: Fast Food Women, Morristown: in the air and sun, and A Strike and an Uprising in Texas. Anne partnered with Mimi Pickering and Appalshop to make Anne Braden: Southern Patriot. For more information about Anne go to www.annelewis.org
Catherine Fosl:  "I'm a historian and a professor of Women's, Gender, and Sexuality Studies at the University of Louisville, where I was also founding director of the Anne Braden Institute for Social Justice Research.  I'm the author of three books on social movement history, including an award winning biography of Anne Braden entitled Subversive Southerner: Anne Braden and the Struggle for Racial Justice in the Cold War South (Univ. of Kentucky Press, 2006)."
Jim Williams:  a native Louisvillian, met Carl and Anne Braden in 1962.  He was soon writing for The Southern Patriot and working closely with Carl and Anne, who assisted the formation of the Southern Student Organizing Committee (SSOC). He frequently accompanied Carl on his organizing trips. "Anne never forgave me for leaving Louisville," he says
Ira Grupper:  Civil Rights worker in 1960's:  NYC, Georgia and Mississippi (SNCC—Student Nonviolent Coordinating Committee; COFO—Council of Federated Orgs.; MFDP—Mississippi Freedom Democratic Party).  His distinguished civil rights jail record in the 1960's spans both sides of the Mason-Dixon Line. Moved to Louisville, Kentucky in 1969 to join the staff of SCEF, the Southern Conference Educational Fund (at the request of its Executive Directors, Carl and Anne Braden).
When the civil rights struggle engulfed the South, Anne Braden was one of the courageous few who crossed the color line to fight for racial justice.  Her history is a proud and fascinating one…Anne Braden is indeed a 'subversive southerner'—a label she can wear with pride because she spent her life fighting to build a New South, where all our people could live together in freedom and equality."
~ Rev. Jesse L. Jackson, Sr.
Meeting ID: 875 2937 1906
Passcode: 529491
COVID-19 Response in Chicago and Havana - January 26 (University of Illinois Chicago School of Public Health Global Health Program, Cuba's National School of Public Health, and MEDICC Review)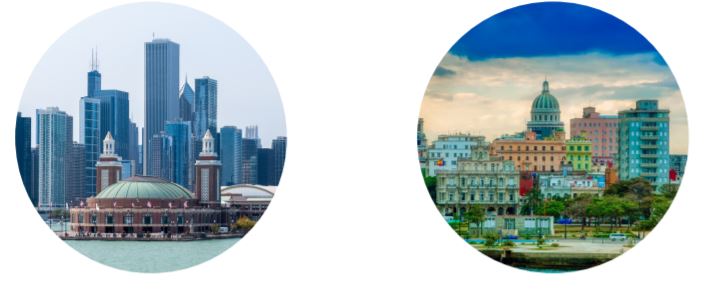 COVID-19 Response in Chicago and Havana
Schedule:
Opening Remarks
Dr. Wayne Giles, Dean, University of Illinois Chicago School of Public Health
Dr. Pastor Castell-Florit, Director, Cuba's National School of Public Health (ENSAP), Ministry of Public Health
Ms. Gail Reed, Executive Editor, MEDICC Review
COVID-19 Response of the Medical/Public Health Systems in Cuba and Illinois
Dr. Pedro Más Bermejo, Coordinator of Epidemiology & Modeling, National COVID-19 Group, Ministry of Public Health, Cuba
Dr. Ngozi Ezike, Director, Illinois Department of Public Health
Epidemiologic History of the Pandemic and Effectiveness of Public Health Tools for Intervention in Havana and Chicago
Dr. Emilio Delgado, Director of Public Health, Havana Province, Cuba
Dr. Allison Arwady, Commissioner, Chicago Department of Public Health
Questions and Answers Moderated by:
Dr. Peter Orris, Global Health Program, UIC School of Public Health
JANUARY 26, 2022
12:00 - 1:30 PM CST, 1:00 - 2:30 PM EST
This event will be held virtually via Zoom
The event will take place via Zoom. Simultaneous translation between English and Spanish will be available. All participants will need to select a language channel at the beginning of the event, To select a language channel, click interpretation in your meeting/webinar controls and select the language channel you would like to join.

Cosponsored by the University of Illinois Chicago School of Public Health Global Health Program, Cuba's National School of Public Health, and MEDICC Review
Book Talk: Heather Berg, Author of Porn Work: Sex, Labor, and Late Capitalism - January 27 (NYU Tamiment Library)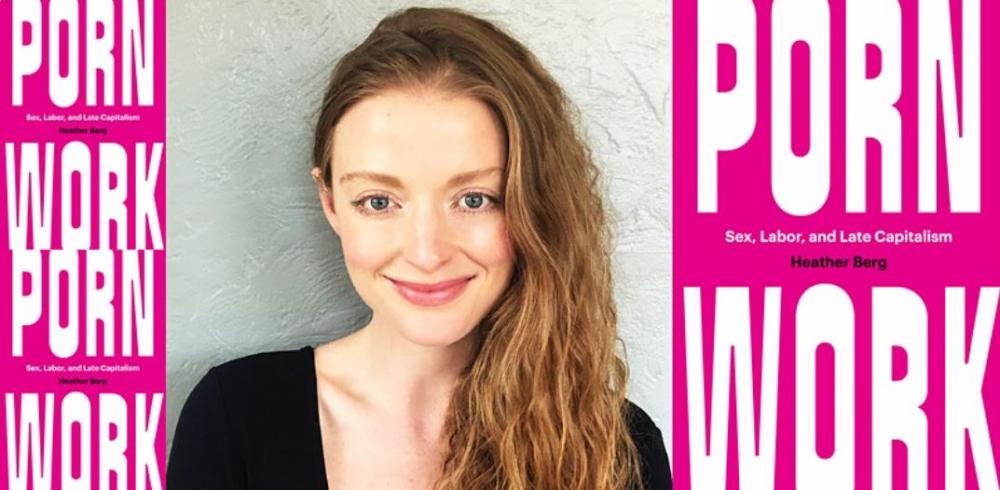 Join us for a conversation with Heather Berg, author of Porn Work, and Professor Lisa Duggan.
January 27 (5:00 PM ET)
 
About the Book
Every porn scene is a record of people at work. But on-camera labor is only the beginning of the story. Porn Work takes readers behind the scenes to explore what porn performers think of their work and how they intervene to hack it. Blending extensive fieldwork with feminist and antiwork theorizing, Porn Work details entrepreneurial labor on the boundaries between pleasure and tedium. Rejecting any notion that sex work is an aberration from straight work, it reveals porn workers' creative strategies as prophetic of a working landscape in crisis. In the end, it looks to what porn has to tell us about what's wrong with work, and what it might look like to build something better.
About the Speakers
Heather Berg writes about sex, work, and social struggle. Her first book, Porn Work (UNC Press, 2021), explores workers' strategies for navigating--and subverting--precarity. Her writing appears in the journals Feminist Studies, Signs, South Atlantic Quarterly, and others. Heather is assistant professor of Women, Gender, and Sexuality Studies at Washington University in St. Louis.
Lisa Duggan is a journalist, activist, and Professor of Social & Cultural Analysis at New York University. She is author most recently of Mean Girl: Ayn Rand and Neoliberal Greed as well of Sapphic Slashers: Sex, Sensationalism and American Modernity, and Twilight of Equality? Neoliberalism, Cultural Politics and the Attack on Democracy. She is co-author with Nan Hunter of Sex Wars: Sexual Dissent and Political Culture, and co-editor with Lauren Berlant of Our Monica, Ourselves: The Clinton Affair and National Interest.
This event is co-sponsored by the Tamiment Library & Robert F. Wagner Labor Archives and LaborArts.
This event is presented in zoom. Live closed captioning will be available.
Tamiment Library & Robert F. Wagner Labor Archives/ NYU Special Collections
Elmer Holmes Bobst Library
70 Washington Square South, 2nd Floor
New York, NY 10012
Tamiment.Events@NYU.edu
Teaching Our Kids About Labor History – January 27 (The U.S. - Canada Labor History Network)
A Forum: Why it's vital to teach labor history in schools, and how U.S. and Canadian groups are doing it
"Teaching Our Kids About Labor History: Challenges, Opportunities and Strategies"
6:30 p.m. CST, Thursday, January 27, 2022. To be virtual by Zoom
PROGRAM
Opening Comments:
Paul Cole, Executive Director, American Labor Studies Center. Retired Secretary-treasurer, New York State AFL-CIO.
Experiences from Labor History Groups
American Labor Museum –Evelyn Hershey, Education Director, American Labor Museum (Botto House)
Outreach in British Columbia: To be announced
Wisconsin Labor History Society: Legislative Action and School-based programming: Ken Germanson, Executive Director, Wisconsin Labor History Society, and Joanne Ricca, retired staff representative, Wisconsin State AFL-CIO.
Open Discussion.

for information email:  Ken Germanson advoken@sbcglobal.net