Global Left Midweek - Ukraine and Russia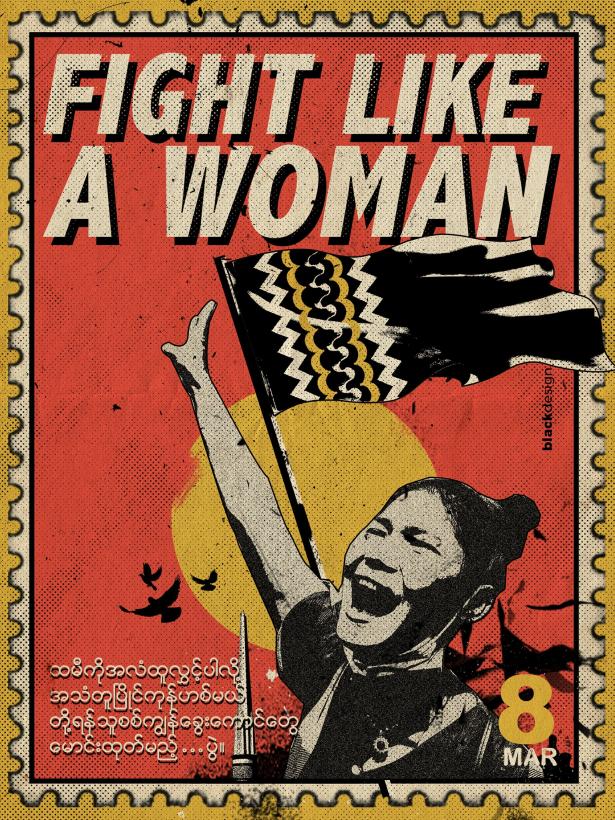 Artists are using their skills to share the message of Myanmar's Civil Disobedience Movement with the world. Credit,Artist Aung Soe Moe, Courtesy yangon.design
__________
World March of Women
Yildiz Temürtürkan / Capire
The WMW was a collective response to the neoliberalism that was strongly hegemonic in 2000. That was when we raised our voices, decided to go beyond the possible and imaginable, and gave birth to our platform of international demands. The democratic life and the decision-making process have been very collective from the beginning until now.
__________
Ukraine and Russia
Overview and Prospects  Tom Mutch, Polina Aronson and Thomas Rowley / openDemocracy (London)
Ukraine's Sovereignty  Ellen Ioanes / Vox (New York)
Russians Want Peace  Katya Bohdan / Al Jazeera (Doha)
But Where is Russia's Peace Movement?  Natalia Shkurenok / openDemocracy
From the Russian Left  Radhika Desai / The Real News (Baltimore)
Achcar: Putin Wants War and US Accommodates   Gilbert Achcar / Europe Solidaire Sans Frontières (Paris)
__________
Philippines Election News
Makabayan Backs Moderates  Janess Ann J. Ellao / Bulatlat (Quezon City) 
Laban ng Masa Objects  Lian Buan / Rappler (Pasig City)
__________
France's Popular Primary
Voters Rate Left Candidates  Théophile Larcher / The Connexion (Monaco)
Meet Christiane Taubira  Benjamin Dodman / France 24 (Paris)
__________
Turkey, ISIS Arrayed Against Rojava
Meredith Tax / Emergency Committee for Rojava (New York)
Turkey's President Recep Tayyip Erdoğan considers all activist Kurds "terrorists" and crosses national borders to kill them whenever he thinks he can get away with it. Forty years have demonstrated that stability and peace will not come about through war, fear, and ethnic oppression but require justice, democracy, and pluralism.
__________
Views on China/US Tensions
From Hong Kong Au Loong-yu / International Viewpoint (Paris)
From Beijing Mu Lu / Global Times (Beijing)
From Canada John Price / Canadian Dimension (Winnipeg)
__________
In the Year of Mass Resistance, Myanmar Women Lead
Rodion Ebbighausen / Deutsche Welle (Berlin)
The issue of gender equality in Myanmar is in the spotlight again. Women are on the frontlines of the anti-coup protests taking place since the junta ousted the civilian government a year ago.
__________
Australia's Indigenous: 50 Years of the Aboriginal Tent Embassy
Kim Bullimore / Red Flag (Sydney)
The longest protest for Indigenous land rights, sovereignty and self-determination in the world is the Aboriginal Tent Embassy, located on Ngunnawal land in Canberra. The Embassy has been a key site for the struggle for Indigenous rights since 1972.
__________
COSATU: The Movement is Dying, Only Bold Action Can Save It
Zingiswa Losi / Daily Maverick (Johannesburg)
The president of South Africa's largest labor federation spoke bitterness to the leaders of the ANC.
__________
Book Review: When Social Democracy Was Revolutionary
Daniel Gaido / Marx and Philosophy Review of Books (Canterbury)
The betrayal of internationalism by most of its leaders at the outbreak of WWI has given rise to a view of the Second International as an opportunist organization, which ignores the fact that Friedrich Engels was heavily involved in the organization of its first congress held in Paris in 1889.