Global Left Midweek – March 30, 2022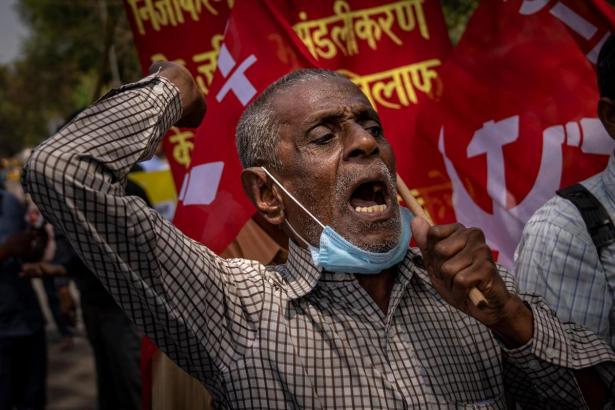 India: A two-day strike was felt nationwide, and essential services related to banking, transportation, railways and electricity were affected in several states. Credit,AP Photo/Altaf Qadri
__________
Organizing Workers in Oligarchic Belarus
Lizaveta Merliak / Global Labour Column (Johannesburg)
Right in the beginning of peaceful protests that involved workers and union members who were confronted by violence in August, 2020, there was a general solidarity online campaign launched to send a clear signal to the authorities that the global labour movement would not tolerate repressions going on in Belarus. 
__________
Video: India General Strike
NewsClick (New Delhi)
India's industrial workers, employees, farmers and agricultural labourers observed a two-day general strike on March 28-29, 2022 under the slogan 'Save People, Nation'. There is a 12-point demand charter for which workers and peasants have been fighting for several years. 
__________
More Discussion and Reports As Putin's War Spreads Destruction
Has Ukraine Won? Anatol Lieven / Common Dreams (Portland ME)
A New Eastern Europe? Volodymyr Ishchenko / The Parliament (Brussels)
China's Intricate Responses   / Committee for a Sane US-China Policy (Cambridge MA)
Feminists Against the War   Ella Rossman / openDemocracy (London)
Palestine in Light of Ukraine   Ilan Pappé / Palestine Chronicle (Mountlake Terrace WA)
The War and Africa   Tamas Gerőcs / Africa is a Country (New York)
Democratic Socialists in Ukraine   Charles R. Davis / Insider (New York)
UK Antiwar Movement Debate   Dave Kellaway and Geoff Ryan, et al. / Links (Sydney)
The NATO Question   Phil Hearse / Anti*Capitalist Resistance (London)
Zapatistas Weigh In   / International Development Economics Associates (New Delhi)
__________
Russian Protest Music
Ivan Loginov / Europe Solidaire Sans Frontières (Paris)
Russian-language protest music includes some classics from the Soviet period, as well as songs from all the genres that have found a local audience in the last 30 years. Today's war in Ukraine and crackdown on peace demonstrators is already adding new mustic and lyrics to Russian musical and political culture.
__________
PFLP-Hamas Electoral Bloc in West Bank
Ahmad Melhem / Al-Monitor (Washington DC)
Palestinians headed to the polls March 26 to cast their votes in the second round of the local council elections held in the West Bank. Under the name of independent lists, several alliances were forged, most notably between Hamas and the Popular Front for the Liberation of Palestine (PFLP).
__________
Left Parties Seek Convergence
Perú   / Prensa Latina (Havana): Thirteen left parties and organizations met in Lima on March 29, to unify efforts against the Peruvian right's permanent coup offensive against President Pedro Castillo's government.
The parties included the Comunista Peruano (PCP) y Comunista Patria Roja (PC-PR) parties, Movimiento Nuevo Perú (NP), Frente Amplio por Justicia y Libertad, Movimiento de Liberación – 19 de julio, Movimiento por el Socialismo, Comité Ana Tallada, Partido Convergencia Socialista, Fuerza Ciudadana, Frente Popular de Lucha de la región de La Libertad, Tierra y Libertad por el Buen Vivir, and Unidad Popular del puerto del Callao. 
Read the original story in Spanish here.
India   S Sundar / The Hindu (Mumbai)
__________
ANC's Segregation From the People
Anna Majavu / New Frame (Johannesburg)
The governing party has been criticised for abandoning the impoverished in favour of naked greed and avarice judging by their presidential candidates ahead of the elective conference.
__________
Cuba's Economic Losses
OnCuba (Miami)
Reform measures will be associated "above all with the reduction of indirect expenses, the reduction of costs and the search for greater efficiency, avoiding attempts to solve the problem of losses by transferring all costs to prices, which would have an inflationary impact."
__________
Long Read: Rosa on Russia
Michael Brie / Academia.edu (San Francisco)
Rosa Luxemburg tried to unite the concepts of socialism and democracy, which throughout the history of the 20th century seemed wholly incompatible. This attempt of hers, I believe, makes it necessary to radically revisit both socialism and democracy. 
__________
When Walter Rodney Arrived
Chinedu Chukwudinma / The Elephant (Johannesburg)
In 1963 Walter Rodney moved to London. He had received a scholarship to undertake a PhD in the UK. In the UK, Rodney confronted racism, a sectarian left and studied Marxism alongside CLR James.