Global Left Midweek – April 13, 2022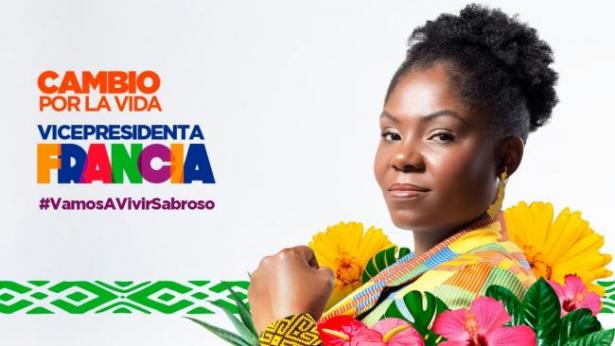 Above,a campaign image from Francia Márquez's official Facebook page.
__________
Sri Lanka Uprising As Economy Crumbles

Hannah Ellis-Petersen / The Guardian (London)
In recent weeks, protests unlike anything seen in Sri Lanka's history have taken place across the country, driven not by an organised movement but fuelled instead by a collective rage at the politicians they blame for driving their country into the ground, leading many to describe it as "Sri Lanka's Arab spring".
__________
Meet Francia Márquez
Nadia Mosquera Muriel / NACLA Report (New York)
Márquez may become Colombia's first Black woman vice president in May. Her work so far has already blazed a path for future Black feminist politicians and created new space for people who have been historically excluded from Colombia's highest political institutions.
__________
Ukraine and Russia
__________
Western Sahara Under Fire
Daniel Hilton / Middle East Eye (London)
The Sahrawi liberation movement is determined to beat the army of Morocco – but risks being outpaced by the kingdom's technology.
__________
Chile's New Constitution
__________
India: CPI(M) Congress Calls For United Action
Jeemon Jacob / India Today (Noida)
The CPI(M) believes that massive protests organised or joined by the party can create an ideal ground to widen its base. The party says it had gained the support of Muslims during the protests against the Citizenship (Amendment) Act (CAA) but the onset of the pandemic prevented it from building on the support. 
__________
Palestinian Women and Land Day
Khitam Saafin / Capire
Palestinian women's struggle for land is a struggle for liberation from colonialism and the occupation. They are at the forefront of resistance [Sumud] on the land, as they persist, growing and reaping the benefits of their harvests while facing attacks by the settlers. Women in the countryside shoulder the hardest work in agricultural activities.
__________
Dossier: France's Month of Decision
Rosa Luxemburg Stiftung (Berlin)
In the midst of an unexpected war and a moderate economic recovery, the French electorate will decide whether Macron gets five more years to continue down his centrist, pro-European path, or the country tacks hard to the right or left.
__________
Remembering Two And a Half Internationals
Loren Balhorn / Jacobin
On April 2, 1922, reformists and revolutionaries from three rival internationals met in Berlin in a bid to agree to a common program. Ending in failure, it was the last time for decades that Communists and Social Democrats would meet as ostensible comrades.
__________
On Collective Emancipatory Hopes
Editor / New Frame (Johannesburg)
Moving from the political failures that have dragged South Africa lower and lower over the past quarter of a century requires a decisive break from the capture of the language of a once emancipatory form of nationalism by opportunists and nascent fascists who place the migrant – largely impoverished and working-class migrants – as the enemy.