labor
Why Health Concerns Are at the Heart of the New Amazon and Starbucks Unions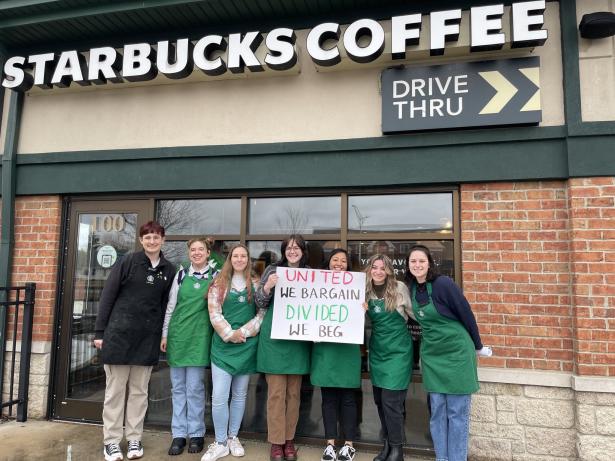 Common Dreams
When news broke on Friday, April 1, 2022 that Amazon workers in Staten Island, N.Y. had managed to organize the first union in the notoriously anti-union company's 27-year history, a common refrain across social media went something like this: This is not an April Fool's Day joke.
The news was so noteworthy that the name of Christian Smalls, a 33-year-old Black former Amazon employee and the interim president of the Amazon Labor Union (ALU) who led the walk-out, even trended on Twitter. 
Did Smalls and the other employees want better pay and benefits? Absolutely. But what many people may not realize is that the drive to unionize at Amazon and elsewhere is being driven by employee concerns about health and safety at work. 

Despite employees at companies like Amazon being called "essential workers" due to the COVID-19 pandemic, Smalls says he saw people getting sick and the company wasn't enforcing health and safety measures.
"Every day I noticed somebody in my department was becoming ill, whether it was dizziness, fatigue, vomiting," Smalls told Democracy Now.
"Something was wrong. It was a very eerie situation in the building. We didn't have any PPE. We didn't have any cleaning supplies. We didn't have any social distancing. Amazon wasn't really enforcing any guidelines. Everything was just hearsay."
As a result, an employee protest started in March 2020 at the "JFK8" warehouse when workers held a walk-out due to concerns about lacking COVID-19 safety precautions. 
Smalls said before the walk-out, he and other workers voiced their grievances to the general manager daily, but nothing was done. After one week of this and without a positive COVID-19 diagnosis, he was told to quarantine by management — but no one else was told to do the same.
Smalls took this as a sign that they were attempting to prevent him from organizing workers. But he didn't stop. He led the walk-out and was fired a few hours later. 
That walk-out led to the formation of the ALU, which triumphed over Amazon on April 1, when employees at the warehouse voted to form a union; with 2,654 for the union and 2,131 against it.
Amazon filed objections against the election on April 8.
"We've always said that we want our employees to have their voices heard, and in this case, that didn't happen — fewer than a third of the employees at the site voted for the union, and overall turnout was unusually low," an Amazon spokesperson said in a statement.
"Based on the evidence we've seen so far, as set out in our objections, we believe that the actions of the NLRB and the ALU improperly suppressed and influenced the vote, and we think the election should be conducted again so that a fair and broadly representative vote can be had." 
Records filed by Amazon, the second largest private employer behind Walmart, with the U.S. Department of Labor show the company spent $4.3 million on union-busting efforts at its warehouses. 
While coronavirus sparked the ongoing protests at JFK8, workers at the facility had pre-existing safety and health concerns. 
In 2019, the New York Committee for Occupational Safety and Health (NYCOSH) published a report detailing the notoriously unsafe work conditions at JFK8 and other Amazon facilities. 
After speaking with 145 workers, NYCOSH found 80% of workers were pressured to work harder or faster; 66% expressed experiencing physical pain while performing work duties, and 42% continued to experience pain after work. 
"Workers'  safety  and  health  can  be  seriously  affected  by  pressure  to  perform strenuous  activities  faster," NYCOSH said in the report. "Muscles,  joints,  and  bones  can  be  severely  impacted  by  physical  demand  and  postural  stress  from  performing  tasks  in  an  Amazon  distribution  center."
Repetitive back-bending while lifting objects, picking, selecting, storing and packing are stressful and awkward positions make workers more likely to suffer from musculoskeletal disorders than workers who are less exposed to these tasks. 
Derrick Palmer, 33, who is vice president of organizing at ALU and a current Amazon employee, dedicated himself to organizing workers on the inside after his best friend, Smalls, was fired. 
Now that workers have a say in the conditions at JFK8, he told Democracy Now he's advocating for "better benefits, better pay, you know, like sick time."
"Those are the basic things," Palmer said. "Also job security. You know, Amazon has a 150% turnover ratio at JFK alone. So, people that come and commute from all these different boroughs, their jobs should be secure. It shouldn't take them three hours to get to work, and then, when they get there, they could possibly be fired."
According to the American Federation of State, County and Municipal Employees — the largest trade union of public employees in the United States — workers who are part of a union are more likely to receive higher pay than workers who aren't involved.
Union members earn 26.2% more than non-union workers. For women and Black people, they're likely to earn between 29.7% and 33.1% more than non-union workers. 
Union members are also more likely to access health insurance and pension benefits. 95% of union members have health insurance and a pension plan compared to 68% of non-union workers having health insurance and 63% having a pension. 
Data released by Amazon showed Black employees made up the second largest demographic in the company's workforce in 2020, totaling 26.5%; right behind white employees who account for 32.1%. 
Amazon workers aren't alone in their efforts to organize. Around the nation, 17 Starbucks locations have also voted to form a union. Over the coming months, an estimated 170 locations are expected to vote; according to recode. 
For three years, Laila Dalton, 19, says she worked up against challenges with management, poor training, and being overworked at Starbucks locations in Scottsdale, Arizona. 
At her first location, she was thrown onto a register with little training. She eventually transferred to a new store, which she helped open, but started to feel that it was going in the wrong direction. So, she and co-workers started to organize a union.
"It's the only thing that I thought could actually make a difference," Dalton tells Word In Black. 
After a change in managers, Dalton says she and other employees were having a hard time getting time off requests approved. This affected her because she was having health issues and needed to work less. 
Ultimately, after requesting to work three days a week instead of four, she said she was told she'd need to be demoted from her supervisor position to work less hours.
Dalton was fired from Starbucks on April 4. The company and Dalton dispute the reason for her termination. 
Meanwhile, Dalton is trying to move on with her life. "It's sad I got fired right now, but it's a blessing in disguise, is how I see it," she says. "I was struggling with school majorly. It's really hard, but I now can really focus on school more."
While at Starbucks, she was enrolled in the company's College Achievement Plan that allowed her to attend Arizona State University online for free. Now that the mass media and communications student is unemployed, she's raising funds to pay for her education.
Dalton says she was wrongfully terminated due as retaliation for her union efforts. She believes the store also targeted her because she's a woman of color. 
According to data released by Starbucks, 7.7% of its workforce is Black, 28.5% is Hispanic or Latinx, and 51.8% is white. 
"While they're after union people, it feels like they're really also after minorities," she said. 
In an email,  a spokesperson from Starbucks told Word In Black that "any claims of anti-union activity are categorically false." 
"From the beginning, we've been clear in our belief that we are better together as partners, without a union between us, and that conviction has not changed," the spokesperson said.
Even though Dalton no longer works at Starbucks, she said she's continuing to support the unionization of her former store.
"They want this union and they're ready, not just to get me back but to get their old workplace back," Dalton says about her former co-workers. "And to also feel like they could actually have a voice and they're not just looked at as a body."
The store is in the process of sending in their ballots.
"By the end of day, April 19, that's when ballots are due," Dalton explains. "And it's sad because we still haven't gotten a ballot count day. It feels like they're missing with it because we don't even know the day that they're going to count the ballots."
Dalton says their union efforts are not just for their personal health and safety — there are necessary ripple effects.
"We're risking so much just to give our all, not just to have a better workplace for my workers, but for future generations and for the rest of the food industry," Dalton said.
Since she started organizing, Dalton has connected with Smalls.
"This feels like an awakening right now," Dalton says. "You can't just do this on your own."
Smalls offered a word of encouragement to workers around the world. 
"I think we proved that it's possible, no matter what industry you work in, what corporation you work for," he told Democracy Now. "We just unionized Amazon. And if we can do that, you can unionize anywhere."
Support for this Sacramento OBSERVER article was provided to Word In Black (WIB) by the Chan Zuckerberg Initiative. WIB is a collaborative of 10 Black-owned media that includes print and digital partners.