Global Left Midweek – June 1, 2022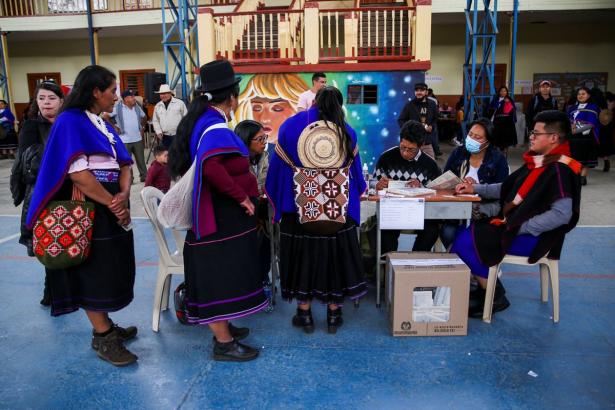 Misak indigenous people cast their votes during the first round of the presidential election in Silvia, Colombia May 29, 2022. Credit,REUTERS/Luisa Gonzalez
__________
A History-Making Runoff in Colombia
W.T. Whitney / CounterPunch (Doha)
Gustavo Petro and Francia Marquez, presidential and vice-presidential candidates of the Pacto Histórico coalition, scored a first-round victory in elections held on May 29. They face an uphill battle against right populist candidate Rodolfo Hernández.
__________
The War and the World
Anuradha M. Chenoy / Asia Europe People's Forum
The Russian illegal war in Ukraine has accelerated a shift in the world order forcing a renewed balance of power. Countries and analysts are calculating the implications of re-balancing and positioning for significant changes. So what are these shifts, the implications and consequences? 
__________
Oxfam Targets Billionaires
Jon Queally / Common Dreams (Portland ME)
With the world's billionaire class and national leaders meeting in Davos as they pretend to meet as stewards of international leadership, Oxfam said there is one clear thing they should do if they want to be taken seriously: support a tax on billionaire wealth.
__________
Russia's Anti-Warriors
__________
Video: Meet Munesa Mubarez
Ahmad Hakimi / Deutsche Welle (Berlin)
Mubarez is fighting for women's rights, organizing demonstrations on the streets of Kabul. She continues her activism even as the Taliban introduces ever-stricter regulations controlling the lives of women.
__________
Africa is Churning
__________
Continent-Wide Inventories
Europe   Barbara Steiner / transform! Europe (Vienna)
 
Latin America   Steve Ellner / NACLA Report (New York)
__________
Sri Lanka in Revolt
__________
International Support for Palestine Solidarity at McGill University
Just Peace Advocates (Toronto)
The Palestine Solidarity Policy was approved by the undergraduate student body of McGill University, with 71% of the vote! However, the McGill administration has threatened to terminate an agreement with the undergraduate student union that would withhold its funding after the student union adopted the Palestine Solidarity Policy in its campus referendum.
__________
The Socialist Victor of Hamlet Towers
Lutfur Rahman / Jacobin (New York)
In London's poorest borough, I ran as an open socialist against the Labour Party to become mayor — and I won. Despite Labour's conservative turn, the Left can win like I did: by going on the offensive.