Tidbits – June 2, 2022 – Reader Comments: Uvalde Murders; Democracy, Judiciary, Abortion, Voting Rights, Gun Control, Supreme Court Expansion; Ameericas Summit; Ukraine War; Socialism in Our Time – International Conference
Tidbits - Reader Comments, Announcement, AND cartoons - June 2, 2022,Portside
Announcements: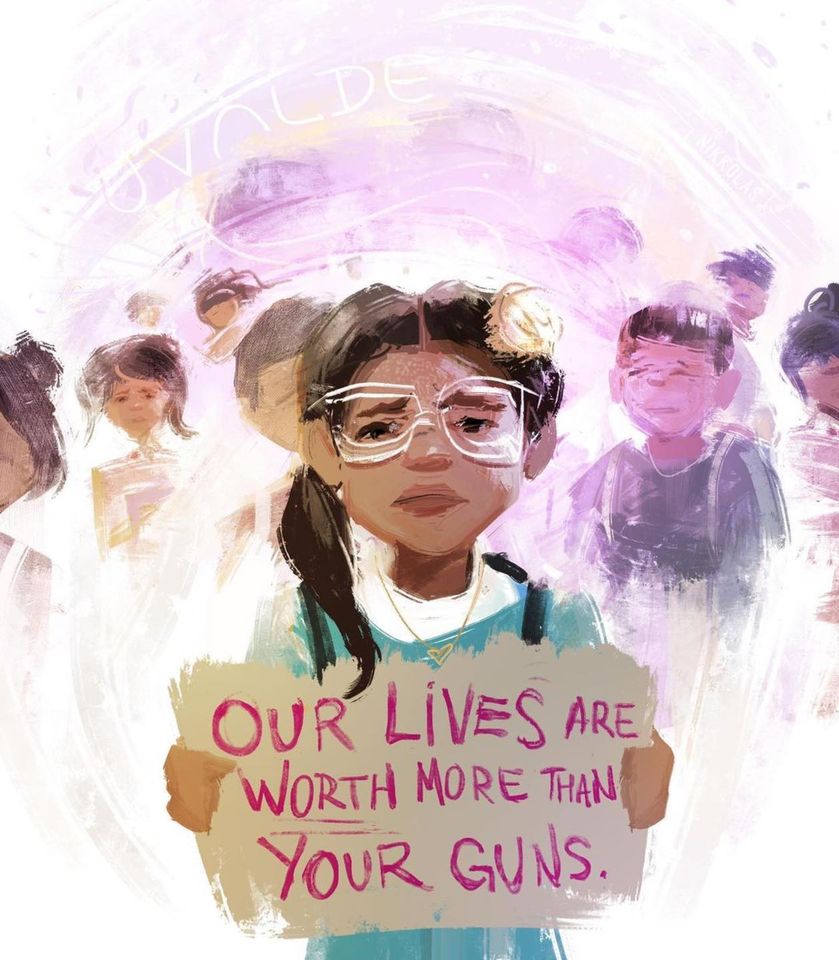 Actions Speak Louder  --  cartoon by Walt Handelsman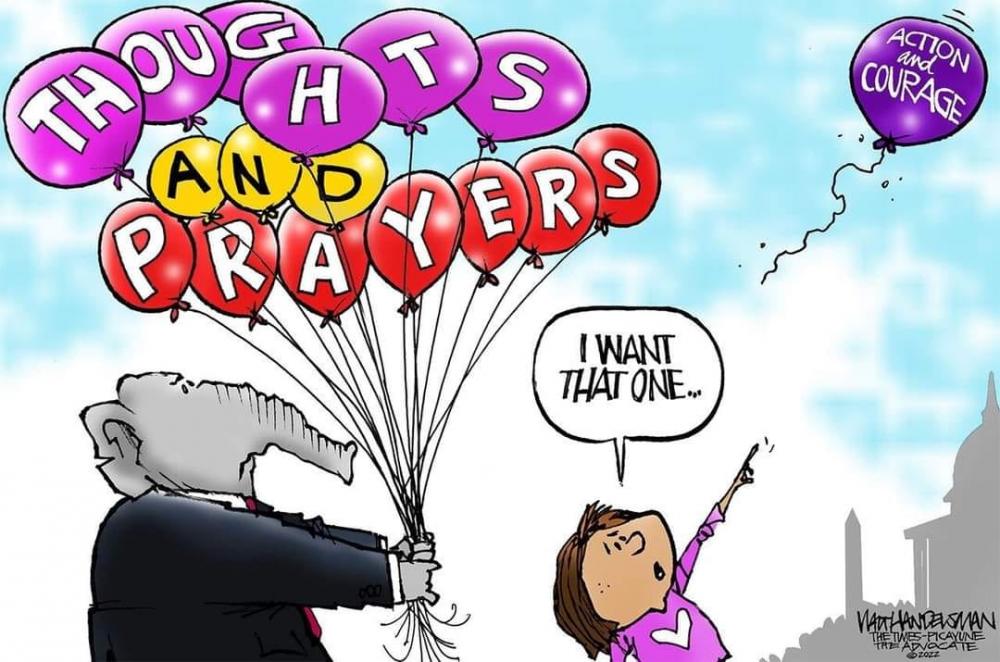 Walt Handelsman
May 25, 2022
Baton Rouge The Advocate
Statement from the American Pediatric Surgical Association Board of Governors
 
As pediatric trauma surgeons, when a call goes out about an injured child, we are ready. We gather our teams and we plan, prepare and wait in our trauma bays for the victim to arrive. We have trained for this, practiced it, and, unfortunately, lived these resuscitations over and over and over in emergency rooms across the United States. When the weapon used to perpetrate harm is an assault rifle, often the victim does not even make it alive to our doors. The injury inflicted by an assault rifle is so massive and widespread the victim dies at the scene.
In the massacre that happened in Uvalde, TX, the victims were 9 and 10 year old children, averaging about 60 pounds in weight. The damage and injuries that these children sustained were so extreme and widespread that their own parents could not recognize them. DNA samples from their parents were required to identify the children.
The American Pediatric Surgical Association (APSA) calls for a new federal Assault Weapons Ban on military-style firearms. During the decade of the previous ban, public mass shootings and deaths decreased. Although these mass shootings are a small percentage of overall gun deaths each year, they have been used to perpetrate mass shootings of children and adults in public places that should be safe such as schools, grocery stores, theaters and churches. These weapons have the capacity for rapid fire and large numbers of rounds between reloads which increases their lethality and the number of victims. They have been used in many locations including Newtown, San Bernadino, Las Vegas, Sutherland Springs, Parkland, and most recently in Uvalde, each incident killing more than a dozen people.
APSA acknowledges the Second Amendment and the right to responsible gun ownership. However, assault weapons have no place in the civilian arena. Therefore, we call for a new federal Assault Weapons Ban. We support H.R.1808 / S.746, the Assault Weapons Ban of 2021. We strongly urge Congress to move forward in adopting these bills and reinstating a ban on Assault Weapons. Too many children and adults have been killed in the hands of civilians using these weapons. As pediatric surgeons, we are committed to saving lives of children to allow them to live their lifetimes.  We need the help of our legislators to remove ready access to these dangerous weapons that have been used, time and again, to commit mass murders in peaceful communities in our country.
American Pediatric Surgical Association
1061 East Main Street, Suite 300
East Dundee, IL 60118
309-733-7874
© 2022 American Pediatric Surgical Association. All rights reserved.
Re: The Supreme Court Is on the Verge of Expanding Second Amendment Gun Rights
 
The Roberts court will be defined by judges ignoring legal precedent and embracing right wing extremism.
Jim Coughlin
Posted on Portside's Facebook page
      =====
No, they are not on the verge of "extending Second Amendment Gun Rights"; they are on the verge of adding even more layers to the "Original" Second Amendment.
A reading of the Second Amendment says that State Militia (now members of National Guard) have a right to "bear arms." Given all the "originalists" on the Court, that would mean that members of a State National Guard could carry one-shot muskets that have to be reloaded continuously. They probably couldn't even envision the multi-shot weapons we have today or weapons that could be shot from the skies.
Let's hear it for the "Originalists"!!!
Arlene Halfon
Smoking Guns  --  cartoon by Rob Rogers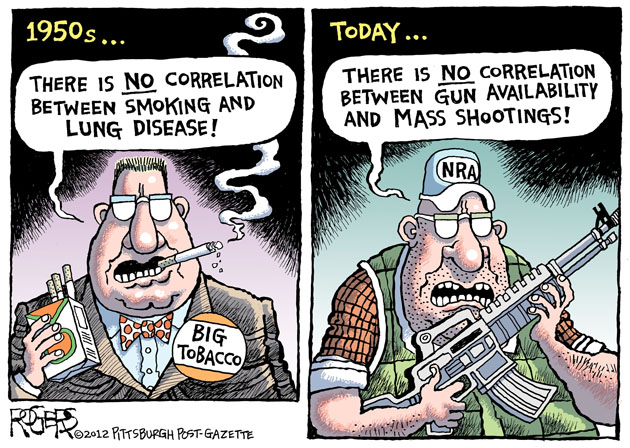 Rob Rogers
December 28, 2012
Pittsburgh Post-Gazette
robrogers.com
Re: Democrats Need To Start Talking About Repealing the Second Amendment
 
No they do not. Whatever it's racist origins, it would be a self-isolating waste of time. What we do need is a broad front to defeat the GOP neoconfederates, until we can dominate federal and state government. Then we can enhance the 'well regulated' aspect of the 2nd Amendment with decent gun laws that even today unite a large majority. And keep future dangers in mind. At some point, we will need the means ourselves to defend against paramilitaries, KKK, and the like.
Carl Davidson
Posted on Portside's Facebook page
      =====
With a standing army and national guard, no need for 2nd amendment now
"It is time for gun control advocates to start talking about life without a Second Amendment. Maybe the long-term solution to the pandemic of gun violence might be confiscation of assault weapons or tight regulations on the sale of bullets. The idea is to paint a portrait of an America of the future with sane gun laws and no need for active-shooter drills in elementary schools. Unless voters can aspire to a different America, gun control will never be a compelling single-issue cause."
Van Caldwell
Posted on Portside's Facebook page
      =====
I disagree. It is too great a concession. Expand the supreme court.
Blair Goodman
Posted on Portside's Facebook page
Lesson Learned  --  cartoon by Clay Bennett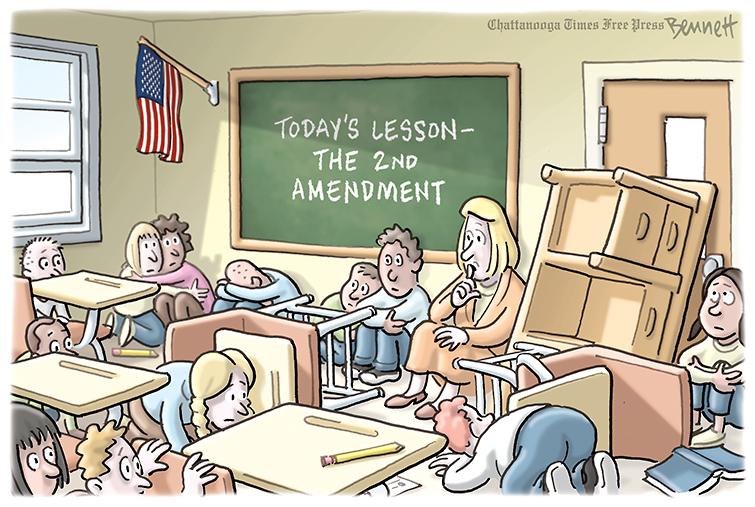 Clay Bennett
May 28, 2022
Chattanooga Times Free Press
Need for I.D.  --  cartoon by Paul Noth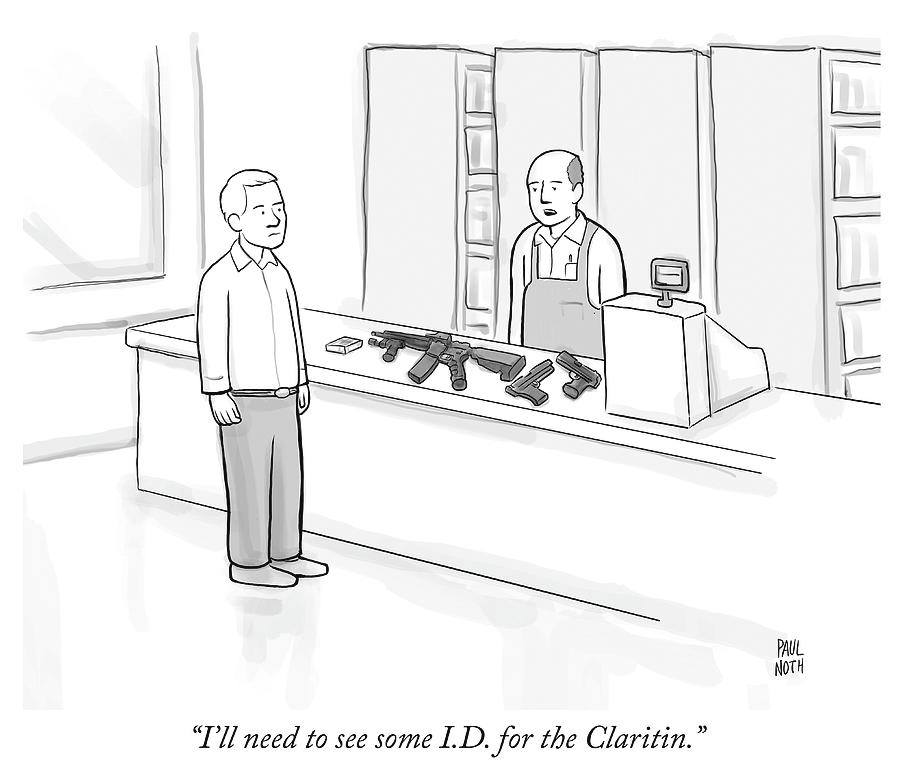 Paul Noth
The New Yorker
March 12, 2018
Re: Supreme Court's Latest Decision Devastating for Death Row Inmates
 
this Supreme Court appears to be on a rampage against every constitutional right except it's own contorted version of the 2d Amendment.
Judith Halprin
Posted on Portside's Facebook page
Re: The Most Important Recent Labor Victory You Never Read About
 
Unions are why America once had the largest middleclass in Human history! It's time to bring them back.
Michael Olijar
Posted on Portside's Facebook page
      =====
Give them hell, friends!
Anne Murray
Posted on Portside's Facebook page
Re: The Case for Taxing the Rich Gets an Unexpected Boost
 
Imagine if the rich simply paid the same percentage of income tax as a middle class worker? No loopholes, just pay the same percentage. We would have pharmacare, properly funded mental health and addiction services, affordable housing, we could repair the crumbling infrastructure under our cities, build viable public transportation...... the list of stuff we could achieve by closing tax loopholes foe the rich is mind boggling.
Robert Laite
Posted on Portside's Facebook page
Re: One of the Earliest Memorial Day Ceremonies Was Held by Freed African Americans
 
It's great to see another chapter in the real American history coming out. It's things like this, added on to the real story of the Civil War, that the people denouncing "critical race theory" don't want taught in our schools and colleges.
Paul Becker
Posted on Portside's Facebook page
Welcome to Texas: We ban books, not guns!  --  cartoon by Lalo Alcaraz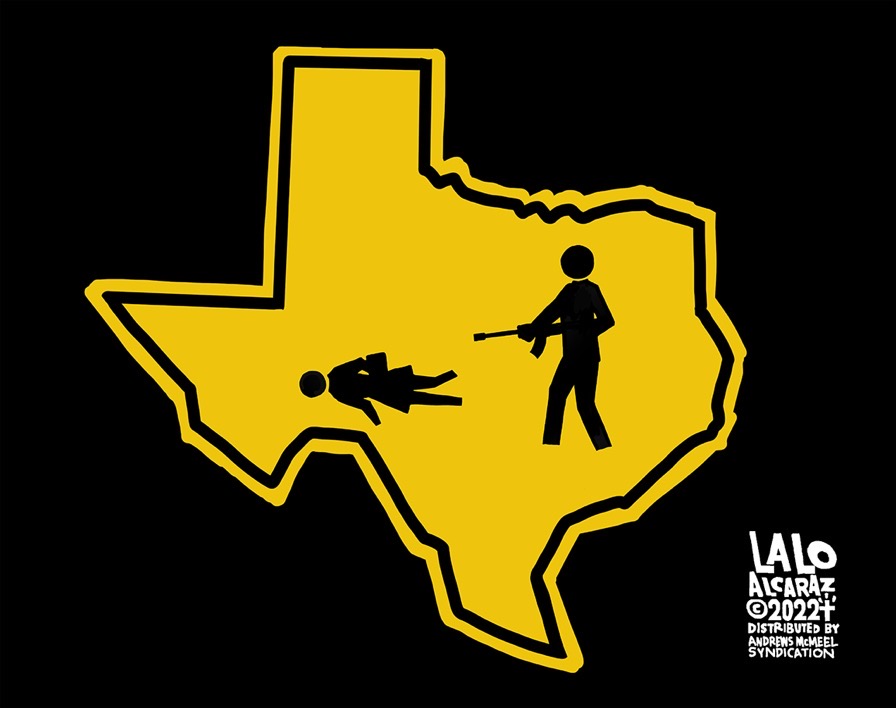 Lalo Alcaraz
May 27, 2022
Lalo Alcaraz
Re: Summit of the Americas in L.A. Next Month
 
I was surprised and disappointed in the portside's article on the Summit of the Americas (especially in its references to Nicaragua, Venezuela and Cuba as authoritarian, without using even quotation marks or modifiers such as "which the US considers to be 'authoritarian' ") and its dismissive negative attitude towards Mexican President Lopez Obrador, whom it describes in the same way. The article was sufficiently "unleftist" in a publication such as yours which describes itself as being "of interest to people on the Left" that after reading it, I went back to the beginning to find out more about the author(s). That's when I saw you were re-posting this from the LA Times. Since LAT is decidedly unleftist, the article would not be unusual in that publication.
But I do think when you are going to re-circulate such biased articles you would give your readers more of a warning of what's coming than an easy-to-miss indication that this is from another, less progressive (in-progressive) media. Ideally, with some comment of your own indicating possible disagreement.
I was on the point of unsubscribing to PORTSIDE, assuming you had undergone some change in editorial policy, until I was able to detect that this wasn't actually a PORTSIDE article per se.
When I want to know what LAT, NYT or Wall Street Journal have to say I read them directly. I don't want to find their slant in a publication I read for a progressive viewpoint, except when it is to counter their slant.
Karen Lee Wald
Why this myth of Zelensky as a defender of  democracy? He got overwhelming support in the election for his campaign to seek peace and understanding with Russia through the Minsk Accords. It was not long after his election that the Azov Battalion members and those of their ilk already in important government positions "persuaded" him to dump the Minsk 2 agreements or else "he'll be hanging from a tree branch". With zest he outlawed the Russian language (I wonder what would happen here in Canada if we did that to the French language especially in Quebec), banned about eleven political parties and put the  leader of the main opposition party in jail not to speak of he death squads and terror unleashed against anyone suspected of not following his political course including the thousands who have perished in the Donbas. Why  is someone not investigating these abuses since 2014--or possibly before and exposing him? .
Lisa Makarchuk
Socialism in Our Time - International Conference - June 10 & 11 (Jacobin Magazine and Transform! Europe)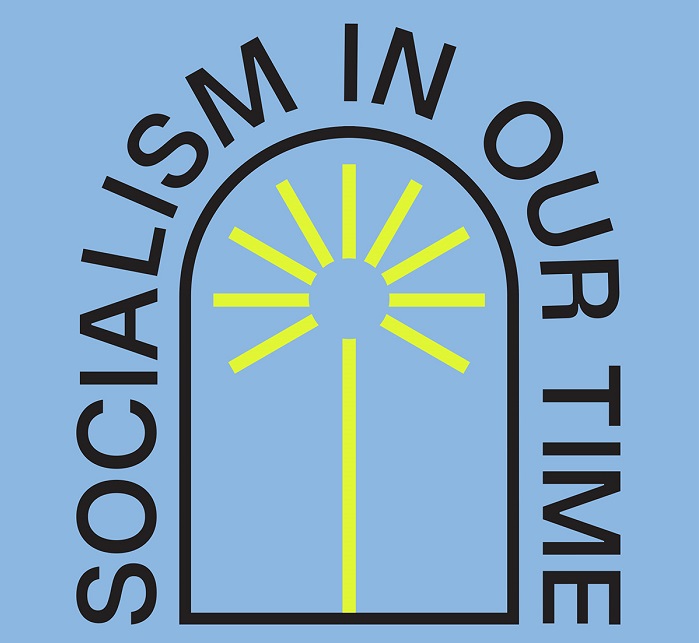 Join Jacobin magazine and transform! europe in summery Berlin for two days of stimulating debates and conversations. Leading thinkers from Europe and North America will speak in English and German on what it means to be a socialist today.

Bernie Sanders' first presidential campaign inspired millions and put socialism back on the map. Seven years later, Trump, Covid-19 and the Ukraine War helped the powers that be regain the upper hand. How can the Left break out of its impasse, organize the broad majority and inspire a vision for social transformation?

Co-hosted by Jacobin Magazine and transform! europe, the two-day event will feature a number of prominent left-wing voices from across North America and Europe, taking stock of democratic socialism's successes and failures over the last decade – an eventful one, to say the least.

Language
The conference will include panels in English (English track) and in German (German track).

When?

Friday, 10 June, 18.00 - 21.30

Saturday, 11 June, 10.00 - 21.30

Where?

Kulturzentrum (Neukölln)

Lucy-Lameck-Straße 32

12049 Berlin

Registration
To register, please click here.
Programme - Click here for detailed information
10 and 11 June 2022
Topics:
Socialism in Europe and the US in the 21st Century · The Shape of Capitalism · Class Struggle for the Climate · Peace, Neocolonialism and War · Strategy for the Purgatory Left · Housing · Markets and Planning · Class, Democracy, Subjectivity · Fascism and Capitalism · The Road to Socialism
Speakers:
Nancy Fraser · Volodymyr Ishchenko · Meagan Day · Bhaskar Sunkara · Grace Blakeley · Ursula Huws · Cedric Johnson · Klaus Dörre · Gala Kabbaj · Gabriele Michalitsch · Gerassimos Kouzelis · Beatriz Casas Gonzáles · Ines Schwerdtner · Andrej Holm · Sabrina Fernandes · Walter Baier · Katalin Gennburg · Max Zirngast · Michael Brie · Marga Ferré · Lutz Brangsch · Nadia Garbellini · & many more