Dispatches From the Culture Wars – June 21, 2022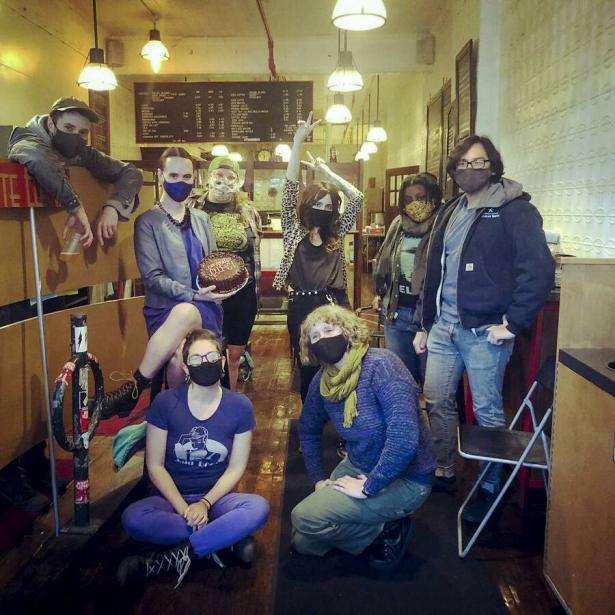 Workers celebrate the purchase of White Electric Coffee, which reopened May 1, making it one of only a few dozen worker-owned restaurant or café cooperatives in the country. Credit,Mindy Stock
Starbucks Workers Teach the Meaning of Democracy
By Kelly Candaele
Capital and Main
Dozens of local Starbucks employees in the Los Angeles area who have joined a national movement to unionize Starbucks stores. the day after Starbucks workers in Anaheim voted to unionize, Starbucks CEO Howard Schultz told a New York Times reporter at a live event that he would never embrace the union as a trusted partner. 
Making Juneteenth Pay
By Jameelah Nasheed
TeenVogue
This year marks one year since Juneteenth was declared a federal holiday, and we're already being bombarded with insincere displays of solidarity from corporations seeking to capitalize on the day.
How Anti-Abortion Crusaders Raised the MAGA Banner
By Sandra Hinson
Convergence
The Right used the anti-abortion crusade in its push towards minority rule. The Left has a lot to learn from how they did it.
Buzz Lightyear's Homosexual Agenda
By Arwa Mahdawi 
The Guardian
Lesbian lip-locking in Pixar's "Lightyear" has produced a spate of pearls-clutching but it's one of the least weird clinches in the Disney canon.
CRT Lynching
By Nicole Carr
ProPublica
Inside a gabled white clubhouse overlooking the hills of a Cherokee County golf course, dozens of parents from across the county had assembled on a Sunday afternoon for a lesson in an emerging form of warfare. School board meetings would be their battlefield. Their enemy was CRT.
Lizzo's Apology
Relevant
Online, many fans expressed hurt and frustration at Lizzo's use of the word "sp-z," describing it as an ableist slur. She could have gotten defensive, or defiant, or she could have gone the normal celebrity route with a non-apology. Instead, she took the high road and offered a thoughtful, sincere apology worth quoting in full.
Denied a Union, The Workers Bought the Joint
By Harry August
In These Times
In 10 months, baristas at White Electric, a coffee shop in Providence, went from unionizing their workplace to starting one of only a few dozen worker-owned cafes in the country.
North Idaho, Incubator of the Fascist Movement
By Shaun Goodwin
Idaho Statesman
Thirty-one members of a white nationalist group were arrested in Coeur d'Alene. Members of the Patriot Front were arrested downtown near a Pride in the Park event. Mayor Jim Hammond referenced the city's history with hate groups and extremism, particularly a neo-Nazi compound that existed in Hayden Lake, a suburb just north of Coeur d'Alene.
The "Good Guys With Guns" Scam
By Lucian K. Truscott IV
Salon
Even the good guys with guns wearing police uniforms took almost an hour before they stormed the classroom where the shooter was, and 19 of them waited until they could be backed up by a SWAT team from the Border Patrol before they finally used their guns to kill the murderer of 19 children and two teachers.