Global Left Midweek – September 28, 2022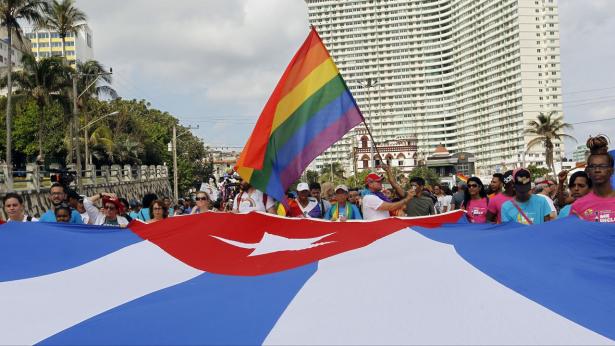 Credit, Ernesto Mastrascusa/LatinContent/Getty Images/File
__________
People of Cuba Strike a Blow for Freedom

Maggie Baska / PinkNews (London)
Millions of Cubans turned out to vote on a major overhaul of the island country's over four-decade-old family code. The package included the historic step of legalising same-sex marriage, allowing LGBTQ+ couples to adopt children and other progressive measures. Preliminary results indicated that the new code will be approved after millions voted in favor of the referendum.
__________
The Courage of Russia's Peace Movement
__________
Rojava Transformation
Christopher Wimmer / Rosa Luxemburg Stiftung (Berlin)
Rojava — or, as the region is officially called, the Autonomous Administration of North and East Syria (AANES) — is a multi-ethnic society that has had its own autonomous government since the Rojava Revolution in July 2012. The aim of AANES is not to found a nation-state, but rather to achieve autonomy within a federal, democratic Syria.
__________
Italy: Facing Fascism
__________
Brazil: The World Holds Its Breath
Jörg Nowak / Socialist Project (Toronto)
Lula leads Bolsonaro by a margin of 15 percent. While many observers consider the election already decided, others are expecting surprises. The question remains whether Bolsonaro will accept defeat at the ballot box. 
__________
Video: Rage and Repression in Iran
Ali Arouzi / NBC News (New York)
Clashes between protestors and security forces in Iran turned violent over the weekend leaving dozens dead and hundreds of demonstrators under arrest following the death of 22-year-old Mahsa Amini in police custody. The country's president warns against protests while the military intensifies its crackdown.
__________
Ecuador: Femicide Brings Women Into the Streets
Peoples Dispatch (New Delhi)
María Belén Bernal was found murdered five kilometers from the Police Training School. The nationwide feminist movement and social organizations, which had been demonstrating since September 12 demanding Bernal's safe return, denounced the police, demanding Interior Minister Carrillo's resignation over irregularities in the investigation of the case.
__________
Left Alliance Formed in Turkey
Müzeyyen Yüce / Duvar English (Istanbul)
The Labour and Freedom Alliance, formed by the Peoples' Democratic Party, the Labour Party, the Workers' Party of Turkey, the Social Freedom Party, the Federation of Socialist Assemblies and the Labourist Movement Party, announced its foundation last week.
__________
Africans Rising
Souad Anouar / Morocco World News  (Astoria NY)
African social movements will gather on August 29-31st in Arusha, Tanzania, to address pressing issues facing the continent such as climate change. 
__________
Towards an Internationalist Foreign Policy
Meredith Tax / Progressive International
The socialist-feminist US social critic and novelist died on September 25. Global Left Midweek posts this still timely essay from July 2020 in her honor.