Tidbits – Oct. 6, 2022 – Reader Comments: Women Protest Iran and US; Labor Organizing-Now Geico; Antisemitism; Unfinished Business of the New Deal; World Digital Library; Working Class Resurgence; Tell the Stories, Teach the History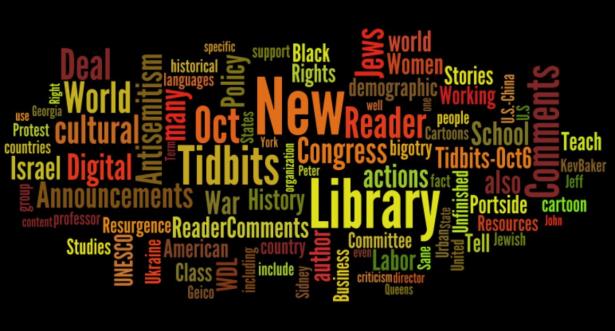 Tidbits - Reader Comments, Resources, Announcements, AND cartoons - Oct. 6, 2022,Portside
Resources:
Announcements:
Morality Police  --  cartoon by Rob Rogers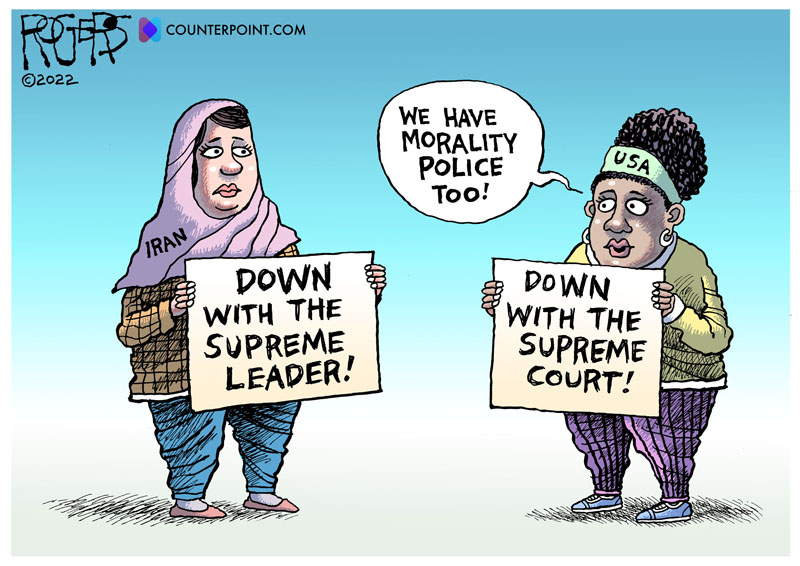 Rob Rogers
October 5, 2022
robrogers.com
Re: GEICO Workers Launch Union Effort, Management Says Call the Cops
(posting on Portside Labor)
 
This should be interesting
Peter DeJesus, Jr
      =====
YAY!!  
Maggie Cohen
Iranian Women Protest  --  cartoon by Morten Morland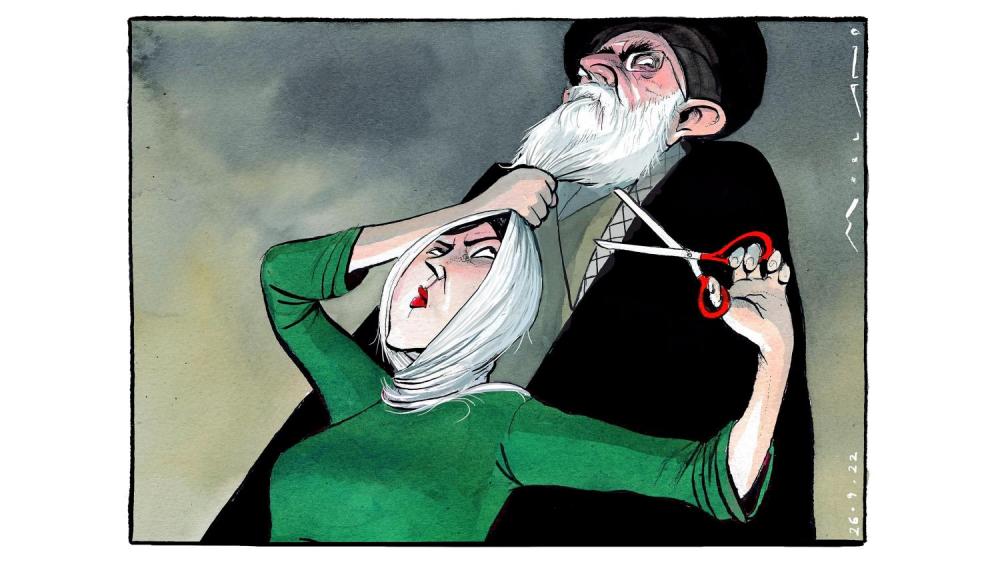 Morten Morland
September 26, 2022
The Times (London)
Re: Last Term: Reproductive Rights. This Term: Voting Rights.
 
"... When the lawmakers [in Alabama] drew new congressional maps in 2021, they included only one district likely to elect a Black member of Congress, despite the fact that Black voters are more than a quarter of the electorate. Three federal judges, two of them named by Donald Trump, ruled that the map was racially discriminatory.
"Through its shadow docket, however, the Supreme Court stayed the lower court ruling and reinstated the map — thus the 2022 election will be held using a map already declared discriminatory...."
Norm Littlejohn
Posted on Portside's Facebook page
Re: Modeling the New USPS Delivery Network
 
If this does not result in greater TOTAL cost efficiency or improve environmental impacts, what is the reason for these revisions? In fact, according to this article, the changes seem to increase total costs and negatively impact the environment. Can these changes be STOPPED?
Gina Klein
Posted on Portside's Facebook page
Re: Grassroots Voices: How We Won Georgia
 
Thanks to Portside for posting an excerpt from the chapter "Change a State and Shock a Nation: Georgia in the 2020 Election" in the book "Power Concedes Nothing." Very timely with the 2022 contests in Georgia again both bitterly fought and very high stakes:
https://portside.org/2022-10-03/grassroots-voices-how-we-won-georgia
Max Elbaum
Posted on Portside's Facebook page
Re: 1-2-3-4; We Don't Want Your F—Ing War!
 
Why aren't we hearing the other side. The Ukrainians that have fled the country or deserted the NATO proxy war? 
Leonard Ramirez
      =====
You should have returned the article to its author asked the author not to use F-word. There are so many words, the author should have used. The fact that you published the author's article with this word is not acceptable. So many people around the world do not use this word among themselves particularly in the presence of children
Ngaka Sehlare
Re: What Antisemitism Is, What It Is Not, and Why It Matters
 
But when "criticism of Israel" is formulated with the same themes and memes as classical Antisemitism, just substituting "Israel" or "Zionists" for "Jews", then it is Antisemitism. Unfortunately too many leftists are so ignorant about the themes and memes of Antisemitism that they fail to recognize when they are crossing the line between legitimate criticism and Antisemitism.
Stan Nadel
      =====
Antisemitism is one category of belief and behavior under the larger heading of bigotry. It refers specifically to bigotry against Jews. *
As a form of bigotry, antisemitism shares characteristics with bigotry against other, and possibly overlapping, demographic groups. As with other demographic groups, however, there are features unique to antisemitism.
Definition of a demographic group. "Jews and "Jewish" are one example but this discussion applies to all demographic groups, whether racial, religious, ethnic, educational level, income level, place of residence, immigration status, occupation, employment status, sex, gender, etc.
"Jewish" and "Judaism" are self-defined by individuals for a variety of rationale that they feel apply to themselves, while not necessarily accepting the rationale other "Jews" may use for themselves. These rationales include, but are not limited to: religion, ethnicity, family background (recent or distant), certain non-religious beliefs. The rationales may overlap in the same person.
The rationales are also frequently "defined" by others, Jewish and non-Jewish, because of appearance, actions, non-religious beliefs, nation of origin or current residence, names, clothing, and other means.
While there may be statistical correlations between any human biological or personal trait and a specific demographic category, it is corollary only. It says nothing about any specific person or group of people, including residents of, or immigrants from, the same country.
Bigotry: This is any action or thought, ranging from violent to passive, that stereotypes people in a demographic group. The stereotypes could be positive or negative. What is generally most recognized is discrimination in housing, jobs, friendships, legal systems, as well as violent acts.
"Feelings" can also be bigoted, even if not expressed. Thinking that your own group is inferior or superior to another group is also bigotry.
No organization, country, or other entity is representative of all persons in that group or even most. Jews, just like members of all other demographic groups are individuals. There is no country or larger organization that speaks for all Jews. If an organization or country commits negative actions, that says nothing about its individual members unless membership in the organization is totally voluntary and the negative activity is its reason for being.
One can oppose specific actions of an entity (whether a specific country, religion, denomination, homeless encampment, employer) without assuming all members or residents have the same characteristics.
You can disagree with many American actions, including American wars, but you can't blame ALL AMERICANS for the country's actions. Similarly, you can't blame all Saudis for attacks on women's rights. Not all Jews are responsible for Israeli actions. Criticism of Israeli actions are not "antisemitic." Not only do many Israelis not agree with Israeli actions, but many Jews dissociate themselves from these actions, and certainly do not express an identity with Israel. In fact, many are certain that there is not even an historical connection between European Judaism and the Middle East.
NO DEFINITION OF ANTISEMITISM should include criticism of Israel.
There is even some support for Israel by antisemites. These are people who support Israel as a path to ethnically cleansing all Jews out of the United States and elsewhere and having them migrate to Israel. In addition, much of the American Jewish support for Israel as "the Jewish State" is, in itself, bigoted and by extension antisemitic. And, of course, some of the criticism of Israel, when it is assumed that it represents all Jews, is inherently antisemitic.
*While "Arabs" are also Semites, the term is being used here and is generally used to speak about bigotry against Jews, specifically
Arlene Halfon
I Support Your Right to Choose  -- cartoon by Mike Luckovich
Mike Luckovich
October 3, 2022
Atlanta Journal-Constitution
Re: Lula's Lead Over Bolsonaro Widens Days Before Brazil Election
 
These people are like Trump. They don't want to accept the results of a fair election.
Anne Murray
Posted on Portside's Facebook page
Made me sad that we never met!
EJ Bader
Posted on Portside's Facebook page
      =====
Gene, What a wonderful tribute! I took some classes with Jeff at the Marxist School in NYC, about Ted Allen and Hubert Harrison. He was knowledgeable, passionate and engaging.!
Joy Schulman
Posted on Portside's Facebook page
      =====
Beautiful, Gene. Wish I'd known him. I learned new stuff about you too.
Kathy Black
Posted on Portside's Facebook page
      =====
A wonderful tribute and thanks for the info on my friend Jeff that I did not know.
Joe Berry
Re: Sidney Poitier Was an Icon. But Oprah Winfrey's Documentary Sidney Is Too Worshipful a Tribute.
(posting on Portside Culture)
 
It has been a very long time since I have seen "Guess Who's Coming to Dinner," but I recall being bothered by the fact that while both the Black father and the White father were opposed to the engagement, the film ends with the White father finally being persuaded to support it and nothing is shown about whether the Black father was persuaded.
Peter Ruark
Posted on Portside's Facebook page
The Unfinished Business of the New Deal - A Roundtable Discussion led by Kevin Baker (The Living New Deal)
The New Deal transformed America, putting in place policies, programs, and massive building projects that endure to this day. From Social Security to bank deposit insurance and from the TVA to your local school and post office—all of these and more came into being during this period of spectacular growth and innovation. But what was left undone? Consider the Four Freedoms and FDR's Economic Bill of Rights speech, and you begin to get a sense of the world the New Dealers envisioned and hoped to realize. This evening's discussion will identify both the actual and aspirational gaps between what was done and what wasn't—what has endured and what has fallen by the wayside—and suggest what progressives can do today to fulfill the New Deal's promise and vision.
Panel:
Kevin Baker, Teresa Ghilarducci, Darrick Hamilton, Philip Harvey, Touré F. Reed, Margaret Crane
Kevin Baker is a speaker and moderator Kevin Baker is a novelist, historian, and journalist. He has recently completed a book on the history of New York City baseball and is currently completing a cultural and political history of the United States between the wars, for which he received a Guggenheim Fellowship in 2017. He has written for many major periodicals and is a contributing editor to Harper's Magazine.
Teresa Ghilarducci is a labor economist, Teresa Ghilarducci has spent her career working to ensure retirement security for all American workers. She joined The New School for Social Research as a professor of economics in 2008 after teaching at Notre Dame for 25 years. At The New School, she also directs the Schwartz Center for Economic Policy Analysis (SCEPA), which focuses on economic policy research and outreach.
Darrick Hamilton is a university professor, the Henry Cohen Professor of Economics and Urban Policy, and the founding director of the Institute on Race, Power and Political Economy at The New School. Considered one of the nation's foremost scholars, economists and public intellectuals, Hamilton has been involved in crafting policy proposals, such as Baby Bonds and a Federal Job Guarantee, that have inspired legislative proposals at the federal, state and local levels. 
Philip Harvey is professor of law and economics at Rutgers Law School and counsel to the board of the National Jobs for All Network. He is an internationally recognized expert on the right to work promoted by President Franklin D. Roosevelt and recognized as a fundamental human right in the Universal Declaration of Human Rights. He is the author of Securing the Right to Employment, along with several dozen scholarly articles on the subject. He was also the principal architect and drafter of legislation introduced in the 113th thru 115th Congress by Rep. John Conyers and in the 117th Congress by Rep. Frederika Wilson. 
Touré F. Reed is a professor of 20th century U.S. and African American history and co-director of the African American studies program at Illinois State University. Reed's research focuses on the impact of race and class ideologies on African American civil rights politics and U.S. public policy from the progressive era through the presidency of Barack Obama. He is the author of Not Alms But Opportunity: The Urban League and the Politics of Racial Uplift, 1910-1950, and Toward Freedom: The Case Against Race Reductionism. 
World Digital Library Collection (Library of Congress)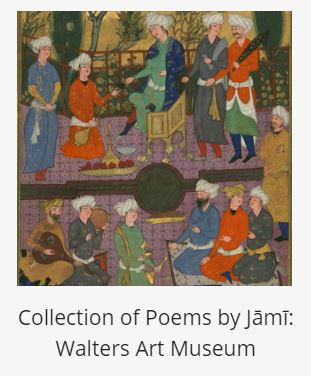 This collection contains cultural heritage materials gathered during the World Digital Library (WDL) project, including thousands of items contributed by partner organizations worldwide as well as content from Library of Congress collections. The original World Digital Library site (preserved in LC's Web Archives here) and all descriptive metadata were translated from English and made available in six additional languages: Spanish, Portuguese, French, Arabic, Russian, and Chinese. All item records include narrative descriptions submitted by the contributing partners and enhanced by WDL researchers to contextualize the item and its cultural and historical importance. Books, manuscripts, maps, and other primary materials in the WDL collection are presented in their original languages; more than 100 languages are represented, including many lesser known and endangered languages. Additionally, all World Digital Library metadata in each of the seven languages is available as a downloadable dataset.
Launched in 2009, the World Digital Library was a project of the U.S. Library of Congress, with the support of UNESCO, and contributions from libraries, archives, museums, educational institutions, and international organizations around the world. The WDL sought to preserve and share some of the world's most important cultural objects, increasing access to cultural treasures and significant historical documents to enable discovery, scholarship, and use.
WDL partner institutions selected content in accordance with guidelines set by the WDL Content Selection Committee. They chose content for its cultural and historical importance, with due regard to recognition of the achievements of all countries and cultures over a wide range of time periods. The materials collected by the WDL include cultural treasures and significant historical documents including books, manuscripts, maps, newspapers, journals, prints, photographs, sound recordings, and films.
Librarian of Congress James H. Billington proposed the establishment of the WDL in a speech to the U.S. National Commission for UNESCO in June 2005. The basic idea was to create an Internet-based, easily-accessible collection of the world's cultural riches that would tell the stories and highlight the achievements of all countries and cultures, thereby promoting cross-cultural awareness and understanding. UNESCO welcomed the idea as a contribution toward fulfilling its strategic objectives, which include promoting knowledge societies, building capacity in developing countries, and promoting cultural diversity on the web. UNESCO Director-General Koichiro Matsuura designated UNESCO's Directorate for Communication and Information, then led by Dr. Abdul Waheed Khan, to work with the Library of Congress to develop the project.
In December 2006, UNESCO and the Library of Congress convened an Experts Meeting at UNESCO headquarters in Paris to discuss the project. Experts from all parts of the world identified a number of challenges that the project would need to overcome to be successful. They noted that little cultural content was being digitized in many countries, and that developing countries in particular lacked the capacity to digitize and display their cultural treasures. Existing websites often had poorly developed search and display functions. Multilingual access was not well developed.
Webinar: Ukraine War - Russia, China & the United States  -  October 11 (Committee for a Sane U.S.-China Policy)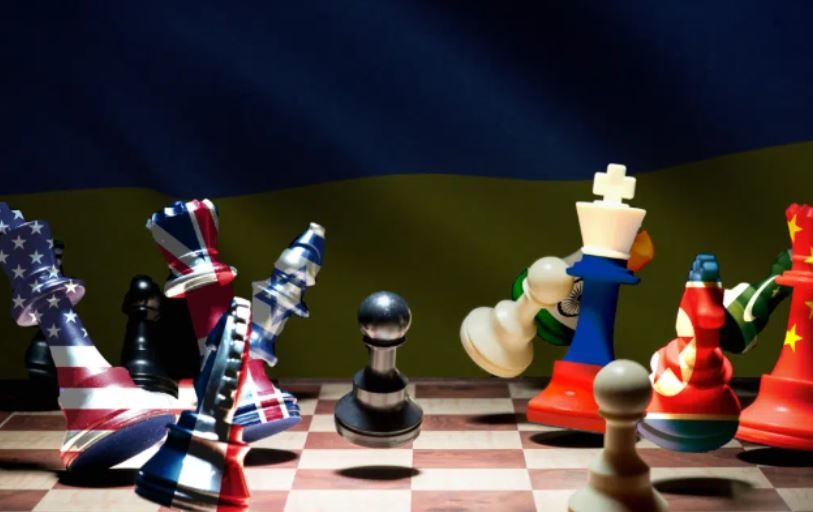 Webinar: Ukraine War - Russia, China & the United States
Moderator: Prof Avi Chomsky – Professor of History at Salem State University and steering committee member of the Committee for a Sane U.S.-China Policy.
Tuesday, October 11, 8-9:30 P.M.(EDT)
Speakers: Rajan Menon, John Feffer & Michael Klare
The Ukraine War has become increasingly dangerous with nuclear threats and the commitments being made for a long war. It has also deepened and accelerated the Russian-Chinese military and economic "partnership" with enormous consequences for the world, not least the increasingly confrontational U.S.-Chinese competition for Asia-Pacific hegemony.
Rajan Menon, Michael Klare and John Feffer will explore these developments, their implications, and how peace and justice advocates can best respond.
Rajan Menon is recently returned from Ukraine. He is the director of the Grand Strategy Program at Defense Priorities and the Anne and Bernard Spitzer Chair (Emeritus) in International Relations at the Powell School, City College of New York, a Senior Research Scholar at the Saltzman Institute of War and Peace Studies, Columbia University, and a Non-Resident Scholar at the Carnegie Endowment for International Peace.
John Feffer is the director of Foreign Policy in Focus at the Institute for Policy Studies. He has served as an Open Society Fellow studying the transformations that have taken place in Eastern Europe since 1989. He is the author of several books and numerous articles. His latest non-fiction book is Right Across the World. He is also the author of the dystopian trilogy of Splinterlands, Frostlands, and Songlands.
Michael Klare is professor emeritus of peace and world security studies and director of the Five College Program in Peace and World Security Studies. He is the Disarmament Correspondent and serves on the board of The Nation magazine, as well as the board of the Arms Control Association. He also serves as the Co-Chair of the Committee for a Sane U.S.-China Policy.
Co-sponsored by the Campaign for Peace, Disarmament and Common Security
Committee for a Sane U.S.-China Policy
4 Washburn Street
Watertown, MA 02472
A Working Class Resurgence? - New York - October 21 (CUNY School of Labor and Urban Studies)
Friday, October 21, 2022, 2:00 PM - 5:30 PM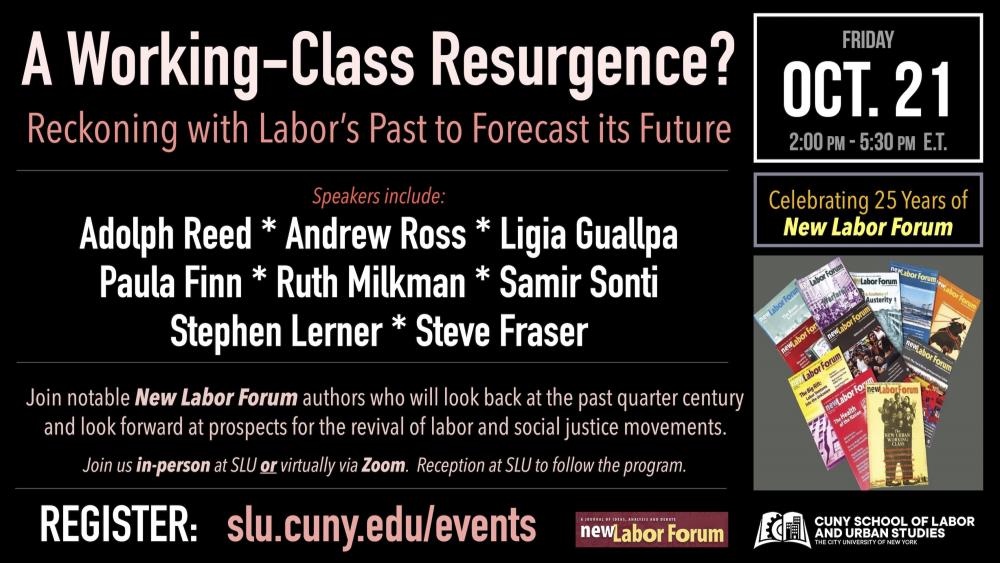 Join us in-person at SLU or virtually via Zoom.  Reception to follow program.
PLEASE NOTE:  in-person attendees must bring proof of vaccination and be masked during event.
CUNY School of Labor and Urban Studies
25 West 43rd Street, 19th Floor
New York, NY 10036
(646) 313-8300
14th Annual Langston Hughes Literary Arts Festival: "Tell the Stories, Teach the History." - Queens, NY - October 22 (Queens Public Library)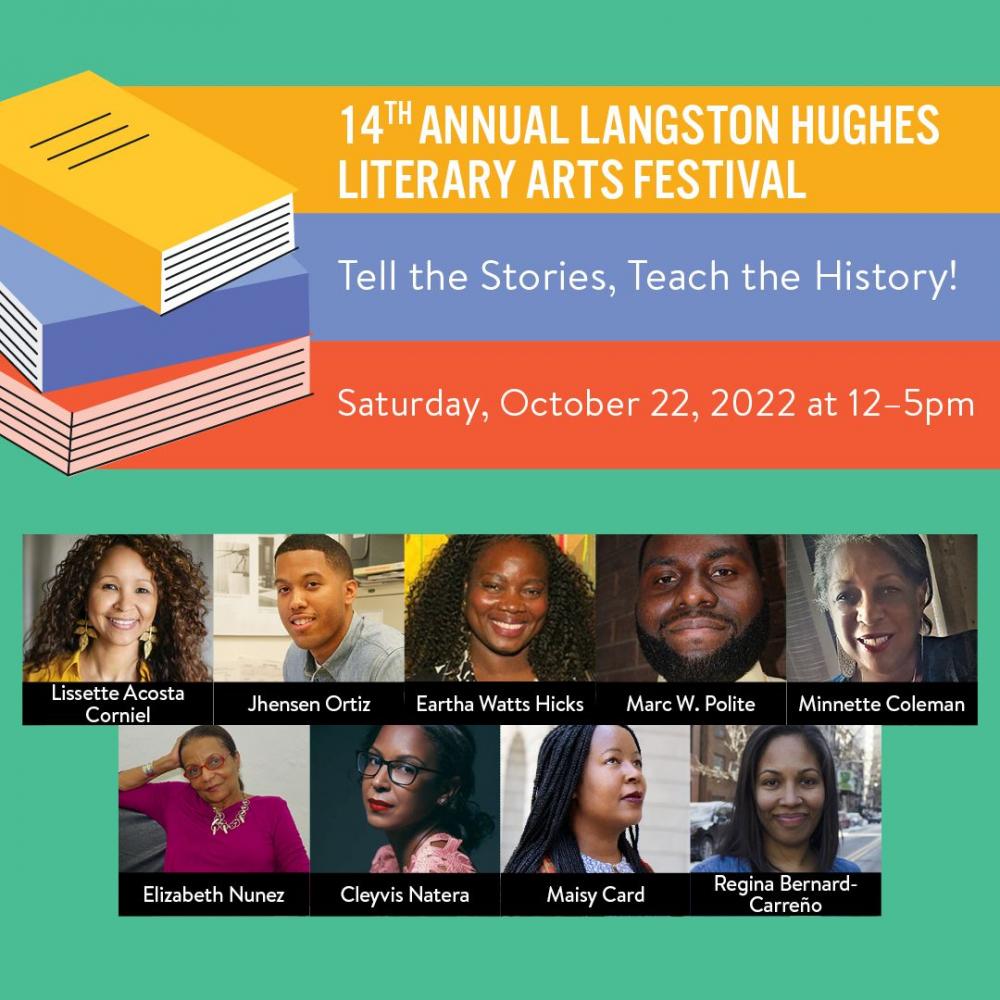 Celebrate and learn about Black literary arts with an afternoon of author talks, readings, and performances at #LangstonHughesLibrary. Don't miss the 14th Annual Langston Hughes Literary Arts Festival on Saturday, October 22! Learn More and Register Today. This year's theme is Tell the Stories, Teach the History!
12pm: Author Talk with Lissette Acosta Corniel: "Elena: Running to Dance and Other Defects in Colonial Santo Domingo" (Moderated by Jhensen Ortiz)
1pm: Open Mic - Presented by the Harlem Writers Guild
2pm: A Panel of Contemporary Caribbean Novelists: Presented by The Center for Fiction (Moderated by Regina Bernard-Carreño)
3:30pm: Richard Wright's Black Boy: A Literature to Life Adaptation for the Stage