How Democrats Can Build a John Fetterman 2.0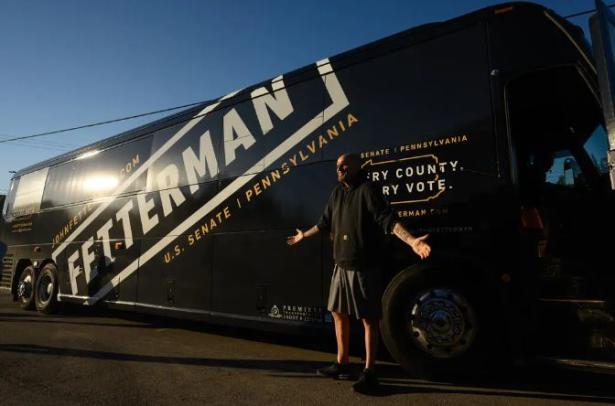 photo: Justin Merriman for The New York Times,
When John Fetterman announced his candidacy for the U.S. Senate early in 2021, he vowed to compete everywhere, including areas of Pennsylvania that "feel left behind" and not "part of the conversation." His campaign mantra was, "Every county, every vote."
To many political professionals, this sounded like a promise that would give way to the unforgiving arithmetic of a statewide campaign. Rural voters in Pennsylvania, as elsewhere in America, have been increasingly beyond the reach of Democrats. So why bother when you can just mine the deep trove of Democratic votes in the cities and close-in suburbs?
But Mr. Fetterman, the state's lieutenant governor and an unconventional politician in almost every way, did not waver. And the results showed that he had substantially cut into the huge margins that Donald Trump ran up in Pennsylvania's deep-red communities in defeating Hillary Clinton in 2016 — and again four years later in losing the state, just barely, to Joe Biden.

Mr. Biden won Pennsylvania by a razor-thin 1.2 percentage points. Mr. Fetterman's margin over Mehmet Oz was over four percentage points — a comfortable quarter million votes. He outpaced Mr. Biden and Mrs. Clinton in some of the metropolitan areas, most notably Pittsburgh and its suburbs — but much of the difference was in the votes from across a landscape of small towns and rural communities.
Mr. Fetterman's victory represented the only Senate seat that either Democrats or Republicans flipped last week. Exactly how Mr. Fetterman was able to beat Dr. Oz — in a swing state and even after suffering a near-fatal stroke that kept him off the campaign trail for weeks — is worthy of close study by Democrats. Voters' willingness to send a still-recovering candidate to Washington implies a strong emotional investment in Mr. Fetterman.
No candidate can be replicated, and that is especially true of Mr. Fetterman. He is 6-foot-8 with a shaved head, multiple tattoos and a sartorial style that leans to hipster rustic. There are not a lot of other inked-up giants Democrats can put up for office — but Democrats can take these lessons from his winning campaign.
One lesson from Mr. Fetterman is that he showed up, repeatedly, in places that Democrats rarely visited. He began during his run for Senate in 2016, when he lost in the primary. After he was elected lieutenant governor in 2018, a job with few official duties, he traveled the state constantly.
"He has physically spent more time in rural Pennsylvania than any candidate I've ever seen," Jeff Eggleston, the chairman of the state's Democratic Rural Caucus, told me. "He got to know people. He spent time in our backyards. He made real, meaningful relationships, so people were willing to make a huge sacrifice in order to get him over the finish line."
Mr. Eggleston is from Warren County, in the far northwest corner of Pennsylvania. If you looked at the results of last week's Senate race in only that county — 63 percent for Dr. Oz to 34 percent for Mr. Fetterman — you might think it was a bad night for the Democrat. But Mr. Trump twice won the county with nearly 70 percent of the vote. The same pattern repeated in rural areas across the state and, in combination with a solid performance with Democratic voters in the cities and close-in suburbs, allowed Mr. Fetterman to claim victory.
Mr. Fetterman's style and appearance are the first things that set him apart. Neil Oxman, a Philadelphia consultant who has run more than a dozen statewide races, including those of the two-term governor Ed Rendell, said that "you can't discount the look" — his signature outfit is a Carhartt hoodie and cargo shorts. Mr. Oxman noted: "It's an entry. He can talk to blue-collar people in a way that other Democrats have been failing at."
Another lesson in Mr. Fetterman's success is that the issues that animate him have stayed consistent. They amount to an idiosyncratic basket of concerns that, critically, do not come off as poll-driven. As lieutenant governor, he headed the Board of Pardons and strongly advocated granting clemency to inmates who had served long terms and posed no threat. Dr. Oz spent millions on TV ads hammering him as lenient on crime, but Mr. Fetterman did not back down on the issue.
Mr. Fetterman has long supported the legalization of marijuana and flew a flag displaying cannabis leaves from his office in Harrisburg. "The advocacy for legal marijuana is a big thing," said Christopher Borick, a pollster and the director of the Muhlenberg College Institute of Public Opinion in Pennsylvania. "If you look at polling, it resonates with groups that Democrats struggle with — a lot of the white working class and young men — white, non-college-educated men."
"The aspects that he put together will be looked at. We may see some Fetterman 2.0s in the next cycle," Mr. Borick added.
Though Mr. Fetterman is a "prototypical white working-class male," said Anat Shenker-Osorio, a Bay Area-based strategist for progressive candidates and organizations — "a dude's dude," if you will — she notes that he played against that type after his stroke. "He demonstrated vulnerability. Stereotypically, his kind of male is not supposed to be weak or fall down. He admitted he was not in control and lifted up vulnerability as a strength."
Pennsylvania has never elected a female governor or senator, and its Legislature has been dominated by men. The Supreme Court's decision to overturn Roe v. Wade played a critical role — most likely the critical role — in the much better than expected midterm performance by Democrats generally and by Mr. Fetterman in particular. He had already been an unyielding advocate of abortion rights; he talked about the issue more frequently after the Dobbs v. Jackson Women's Health Organization decision. "Would he have won without Dobbs?" Mr. Borick said. "I'm not so sure."
One thing that others might take from Mr. Fetterman is that while he hit hard at Dr. Oz, it was often with a sense of fun that stood out in an otherwise grim political atmosphere. To remind voters that his opponent was a longtime New Jerseyan who had only recently moved across state lines, his campaign (including the social media producer Annie Wu) trolled Dr. Oz with social media videos from Nicole LaValle, née Polizzi, a cast member of the "Jersey Shore" franchise better known as Snooki, and Steven Van Zandt of Bruce Springsteen's E Street Band.
Both Mr. Fetterman and his wife, Gisele, are witty users of social media. Even their dog has a Twitter account. On the morning after the election, I talked to Mr. Fetterman's campaign manager, Brendan McPhillips, about what lessons can be drawn from the campaign. "It's about embracing candidates for who they are and not trying to nominate the same cookie-cutter people or mold them into something they're not," he said. "And you can't try to slice off entire demographic categories and ignore them. It's a recipe for failure."
Ms. Shenker-Osorio told me that the Democratic establishment in Pennsylvania lined up in the spring primary behind Mr. Fetterman's opponent, Conor Lamb, a moderate congressman from a family with a deep history in Democratic politics.
Mr. Fetterman "was deemed too lefty," she said. "They desperately wanted Lamb. So, as Step 1, how about we put an ax through 'electability' and recall that the middle of the road is where you get run over."
[Michael Sokolove, an author and contributing writer for The New York Times Magazine, writes frequently about Pennsylvania politics and culture.]