music
Jazz Musician Esperanza Spalding To Depart Harvard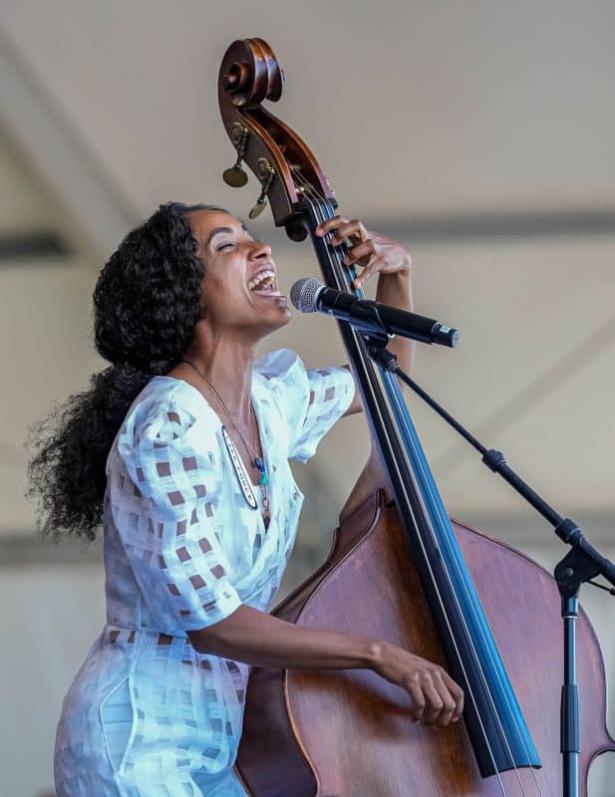 Esperanza Spalding at the 2022 Newport Jazz Festival, (JazzTimes)
Prominent jazz musician Esperanza E. Spalding, a professor of the practice in Harvard's Music Department, will depart the University, she announced in an email to department affiliates this week that was obtained by The Crimson.
Spalding wrote in the email that she has communicated with Harvard over "many months" about a proposal for a "decolonial education" curriculum she would like to implement as a course or initiative, but said what she aspires "to cultivate and activate in organized learning spaces is not (yet) aligned with Harvard's priorities."
A five-time Grammy award winner, Spalding joined the Music Department as a part-time professor of the practice in 2017 and has taught courses on songwriting, performance, and musical activism. Harvard typically appoints professors of the practice on five-year renewable contracts.

In an attachment to her email, Spalding included a description of her proposal for an educational initiative called "Black Artist-Educators Decolonizing and Placemaking." She wrote that she believes the program would help institutions and instructors "move beyond metaphorical commitments to decolonial education, Black and Native solidarity (respectively), and reparations."
Under the BAEDAP model, the University would "rematriate" some of its land and properties, offering the spaces to Black and Native artists, scholars, students, and activists. In the proposal attached to her email, Spalding described Harvard's history as "inextricably linked to Black and Native subjugation," adding that in order to maintain her relationship with the University, she would need to be involved in redressing the school's "historical and lingering colonial impacts."
"I am no longer willing to endorse a cultural norm whereby artists & artist-educators passively participate-in, and benefit-from institutions born and bolstered through the justification, and/or ongoing practice of exploiting and destroying Black and Native life," the BAEDAP proposal reads.
Spalding was unavailable to comment on her email or departure.
In an emailed statement, Dean of Arts and Humanities Robin E. Kelsey praised Spalding's artistry and wrote that he hopes there are "possibilities for future collaboration" between Spalding and Harvard.
"Having Esperanza Spalding at Harvard these past five years has been fantastic," he wrote. "My admiration for her work is immense. She is a beacon in a turbulent world."
Spalding wrote in her email that she intends to continue work on "an iteration of BAEDAP" in her hometown of Portland, Oregon.
In a 2021 interview with Oregon Public Broadcasting, Spalding said she hoped to create a "sanctuary space" for artists of color in Portland's St. John's neighborhood. In May and June 2021, Spalding raised $361,604 through a GoFundMe campaign to purchase a property for the space.
Though she plans to leave Harvard, Spalding wrote in her email Tuesday that she is grateful for her experiences in the Music Department.
"These past 5 years have been so fun, so generative, so challenging, so full of new sounds and stories, new friends," she wrote. "I'm gonna miss y'all!"
[Paton D. Roberts can be reached at paton.roberts@thecrimson.com. Follow her on Twitter at @paton_dr.
Eric Yan can be reached at eric.yan@thecrimson.com. Follow him on Twitter @ericyan0.]