Tidbits – Dec. 8, 2022 – Reader Comments: Georgia Victory, Electoral Politics, Electoral Strategy; Rail Workers; Doctors and Unions; After Dobbs; Ending the 'American War': Promises, Realities, Impact of U.S. Peace Movement; Cartoons, More …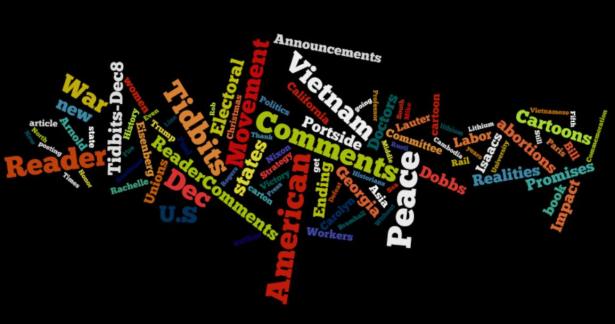 Tidbits - Reader Comments, Announcements AND cartoons - Dec. 8, 2022,Portside
Announcements:
Re: Movements Have a Long History of Playing the Inside-Outside Game Effectively
 
The state is one thing; government is another. The latter is more readily at hand as a terrain of battle, both wars of position and movement. Study our own history to draw lessons. Where would the First Reconstruction have been without Thaddeus Stevens and the Radical Republicans? They helped considerably in making the post-War US experiment with a multiracial, worker-led dictatorship against the defeated armed enslavers possible for five years, our 'Paris Commune'. And when the Radical Republicans lost their grip as some died off and others lost heart, and labor stood aside or worse, (limiting membership to 'whites') we have suffered a counter-revolution that still makes waves in our politics today. The lessons help shape our battles within out 'Third Reconstruction' today.
Carl Davidson
Posted on Portside's Facebook page
Thank You for Changing the Political Landscape in Georgia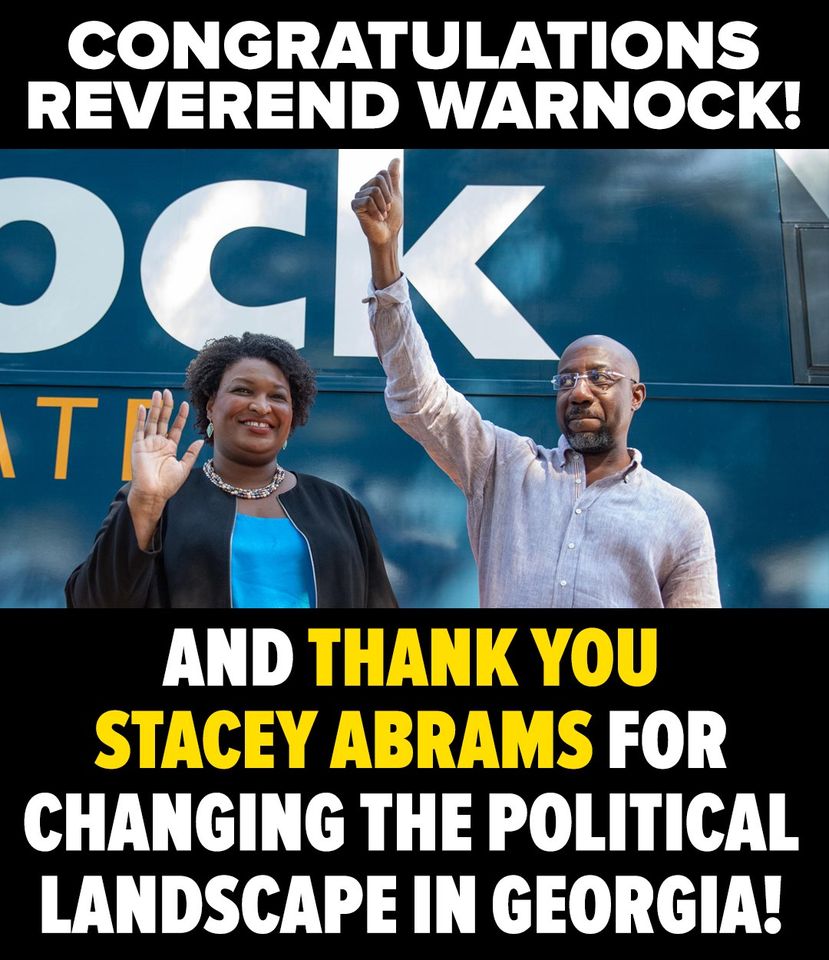 Donald Trump: In The Middle of Fifth Avenue  --  cartoon by Bill Bramhall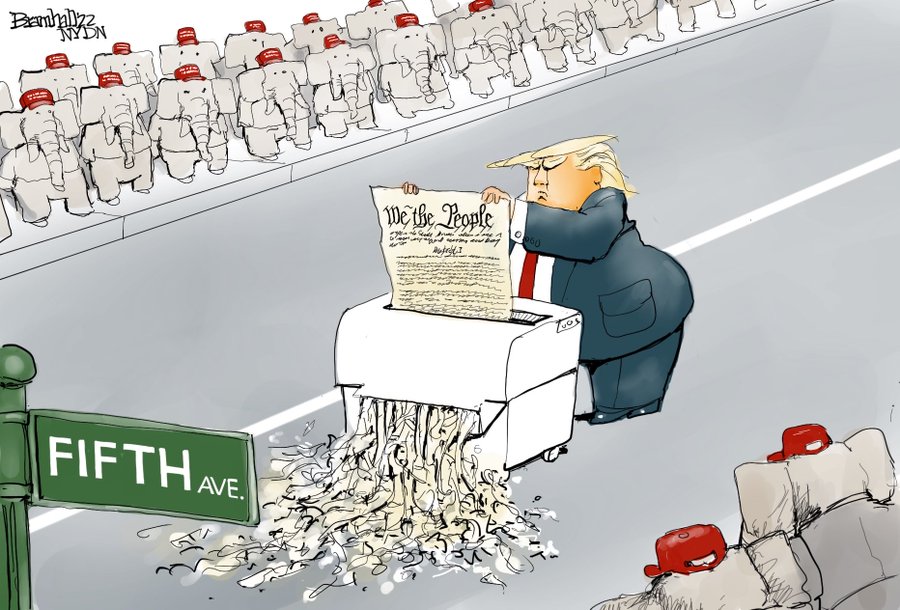 Bill Bramhall's editorial cartoon for Tuesday, Dec. 6, 2022, shows Trump shredding the U.S. Constitution in the middle of Fifth Ave. (Bill Bramhall/New York Daily News)
Bill Bramhall
December 6, 2022
New York Daily News
Re: 500 Labor Historians Condemn Biden on Railroads
 
Did the workers gain anything they were proposing?
Jeffrey Bollen,
President Emeritus UFCW Local 1445 Boston
Re: DeSantis-Backed School Boards Begin Ousting Florida Educators
 
That has already happened here (Yancey County) [North Carolina].  Ditto Board of Health.
Deb Louis
Posted on Portside's Facebook page
The GOP Christmas List  --  cartoon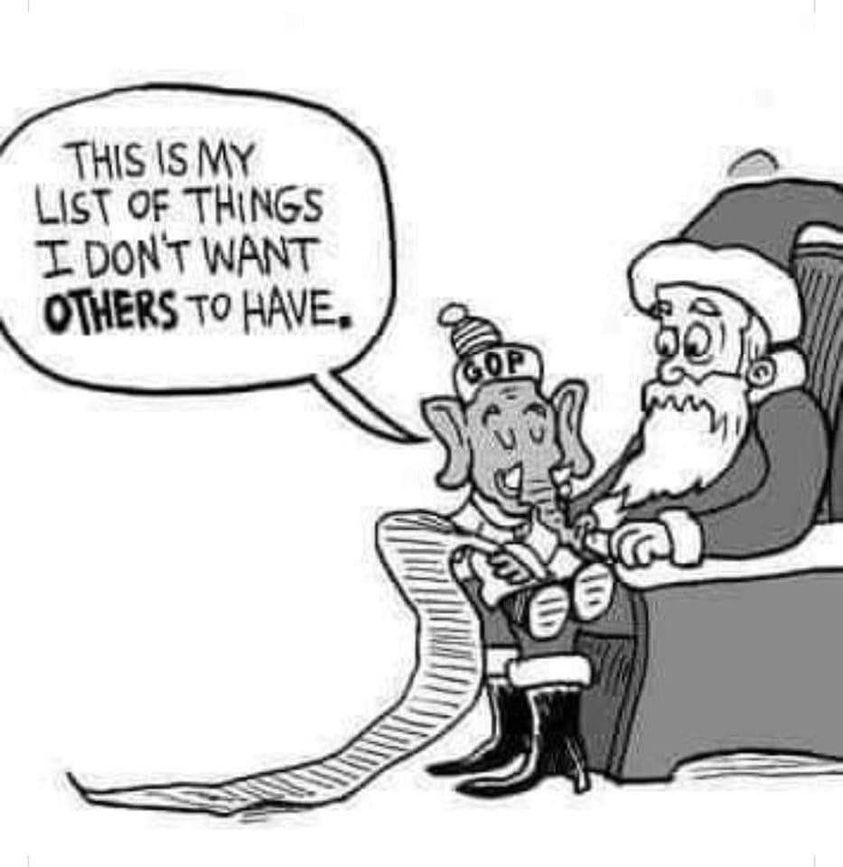 November 27, 2022
Little Helper  --  cartoon by Mike Luckovich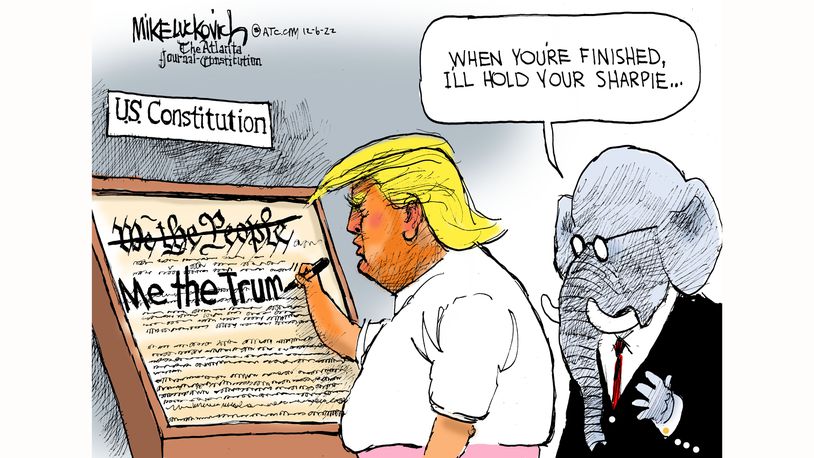 Mike Luckovich
December 6, 2022
Atlanta Journal-Constitution
Re: Doctors Finally Join the Labor Movement
(posting on Portside Labor)
 
I really don't like the title of this article .... although they are not many, some doctors unionized and did so a long time ago. More and more they realize they are workers....
Marilyn Albert
Posted on Portside's Facebook page
      =====
That's true and the Committee of Interns (CIR) has been organizing since the late 50's and won some significant victories
Rachelle Kivanoski
Posted on Portside's Facebook page
Re: Louisiana Launches Tip Line To Accuse Librarians of 'Sexualizing Children' 
(posting on Portside Labor)
 
When you can't show affection to your kids in public anymore, keep in mind who started the book burning.
Jennifer Watson
Posted on Portside's Facebook page
Re: The Autoworker Who Transformed California
 
(posting on Portside Labor)
 
Cheers to intergenerational solidarity!
Elizabeth Kelly
Posted on Portside's Facebook page
Re: A New Union Rises in the South
 
I would have liked to better understand why these new independent unions are not joining with existing unions like the RWDSU. I can speculate but…
Rachelle
      =====
great question. This is a very exciting development and it will be interesting to see the responses of the traditional-and more progressive-unions 
Joanna Zelda Levine
Posted on Portside's Facebook page
Re: Even After Dobbs, Abortions Still Haven't Plummeted
 
Matt Bruenig's JACOBIN article "Even After Dobbs, Abortions Still Haven't Plummeted" (December 4, 2022) was a very strange article. First, it is written as if the total number of abortions performed in the country is in itself a Good Thing, so that the fact that most bans are happening in states with lower population is not much of a problem, because it doesn't have a super-big impact on the national total. 
But it *is* kind of a problem to women who live in those states. Second, since numbers of legal abortions in non-ban states have been going up while numbers in ban states have been going down, we can assume "most abortion seekers who are affected by bans or restrictions in their own states still get an abortion by traveling to another state". But the non-ban state numbers go up by only about 7000, while the ban states go down by over 12,000, so I'd say almost half of those abortion seekers COULDN'T do that. 
Then, those who failed to get abortions may only be 6% of the pre-Dobbs NATIONAL total, but the author has already said that those people are in lower population states, so it's a bigger percentage of the women in their own states. 
Third, we are told it's all okay because many of those women are ASSUMED to get abortions by "informal" methods - but one of the whole points of legalizing abortions was to reduce the number of women who were forced to seek "informal", aka illegal, i.e. UNSAFE abortions. Also, we can make some assumptions about the class status of those women who are NOT able to leave their states to get safe, legal abortions, can't we?
IMHO, the optimism projected by this article is pretty much entirely unfounded.
David Knuttunen
Re: White Nationalists Give Mar-a-Lago Restaurant Disappointing One-Star Reviews on Tripadvisor
 
Trump finally abandoned by his fans 
Salvador Ochoa
Posted on Portside's Facebook page
Dinner Guest From Hell  --  cartoon by Rob Rogers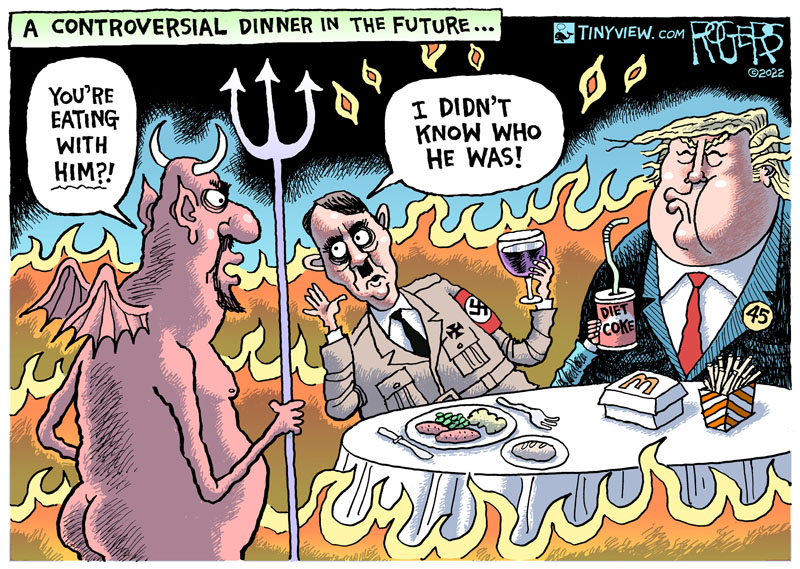 Rob Rogers
December 7, 2022
robrogers.com
Re: Julia Reichert, Oscar-Winning Godmother of Documentaries, Dies
Thank you, Portside! I didn't know about her, but I'm going to look around for her work. The Midwest is a very special place.
Linda Gillison
Posted on Portside's Facebook page
Re: Lithium Mining in California's Salton Sea
 
A classic conundrum.  Lithium is absolutely essential for electric vehicles, but the "Inflation Reduction Act", which partially subsidizes electric vehicles for new owners, can only be applied if it uses US based materials.  The Salton Sea area can certainly benefit from the new lithium operation, if it actually happens . . . which is still fraught with complexities.  But of course, now there's a new lithium tax, which makes mining lithium from California even less likely.
This is so typical . . .the classic conundrum
Charles
Sebastopol  CA
Re: "Their Wealth, Your Misery": Art and Propaganda in Pandemic Times
 
Saw this a couple of weeks ago. Fantastic!
Tom Ellett
Posted on Portside's Facebook page
Ending the 'American War': Promises, Realities and Impact of the U.S. Peace Movement - Sunday, December 11 (Vietnam Peace Commemoration Committee)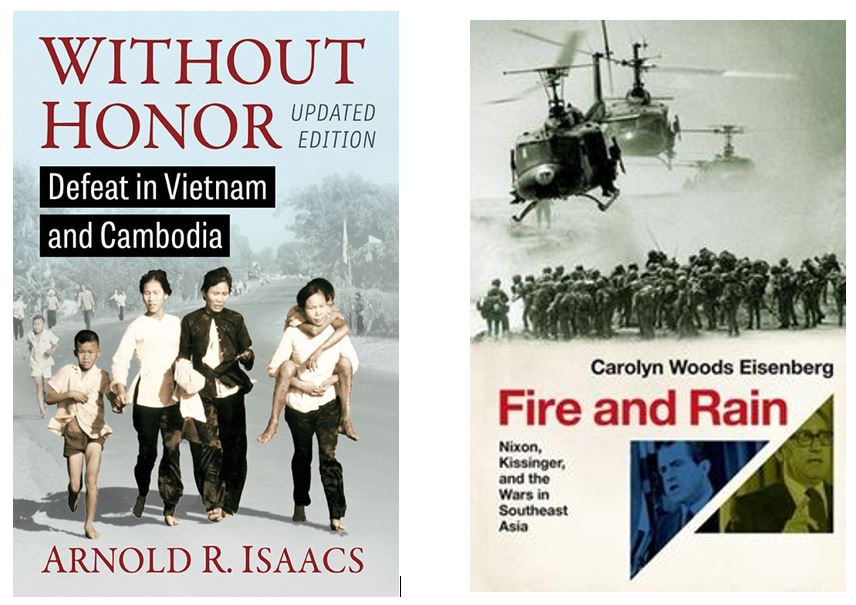 In preparation for the 50th anniversaries of the Christmas Bombing of Hanoi and the Paris Peace Agreement. A discussion of Carolyn Rusti Eisenberg's new book, "Fire and Rain: Nixon Kissinger and the Wars in Southeast Asia" and of Arnold Skip Isaacs updated and republished "Without Honor: Defeat in Vietnam and Cambodia". Moderated by Paul Lauter, author of "Our Sixties"
Register by clicking here
Carolyn (Rusti) Eisenberg and Arnold (Skip) Isaacs
 
A discussion of their books moderated by Paul Lauter
"Ending the 'American War' in Vietnam: Promises, Realities and Impact of the U.S. Peace Movement"
Books by Carolyn Eisenberg, Arnold Isaacs moderated by Paul Lauter 
December 18 marks the Fiftieth Anniversary of the "Christmas bombings" of Hanoi and Haiphong, the starting date of eleven nights of devastating B-52 attacks on North Vietnamese cities as well as other American daylight raids on the North. These formed a prelude to the signing of the Paris Peace Agreement (Jan. 27, 1973), which ostensibly ended the "American" phase of the Vietnam War but failed to stop the continuing war between the two Vietnamese sides. This webinar casts fresh light on these events and addresses some of the myths surrounding the accord and its aftermath. What role did the peace movement play in the evolution of U.S. policy? How did Nixon's victory in the recent Presidential election play out in his policies? And how does this history bear on the present crises of expanding conflict and stymied peace-making that confront us? 
Our speakers' knowledge comes from two quite different experiences. For her forthcoming book Fire and Rain: Nixon, Kissinger and the Wars in Southeast Asia, Carolyn Eisenberg examined thousands of pages of previously classified documents and tapes that provide a mass of gripping new details about Nixon's and Kissinger's policymaking and the social forces shaping their decisions. Arnold Isaacs, as a journalist in Vietnam from 1972 to 1975, had a close-up view of events on the ground before and after the Paris agreement was signed. His book, Without Honor: Defeat in Vietnam and Cambodia, amplified that eyewitness reporting with extensive material from U.S. government field reports and other contemporary accounts from Vietnamese on both sides. A new updated edition has just been released. 
Carolyn Rusti Eisenberg is a Professor of US History and American Foreign Policy. at Hofstra University. Her new book Fire and Rain: Nixon, Kissinger and the Wars in Southeast Asia ( Oxford University Press) will become available in January 2023.  Carolyn's prize-winning book, Drawing the Line: the American Decision to Divide Germany, 1944-49 (Cambridge University Press) traces the origins of the Cold War in Europe. Professor Eisenberg is a co-founder of Brooklyn for Peace, and a Legislative Coordinator for Historians for Peace and Democracy.
Arnold R. Isaacs is the author of Without Honor: Defeat in Vietnam and Cambodia, named a Notable Book of the Year by both the New York Times and the American Library Association. He also wrote Vietnam Shadows: The War, Its Ghosts, and Its Legacy and an online report, From Troubled Lands: Listening to Pakistani and Afghan Americans in Post-9/11 America, available at www.fromtroubledlands.net. Isaacs was formerly a reporter, foreign and national correspondent, and editor for the Baltimore Sun. During six years as the Sun's correspondent in Asia, among other major stories he covered the closing years and final days of the Vietnam war. Since leaving daily journalism he has taught or conducted training programs for journalists and journalism students in more than 20 countries in Eastern Europe, Africa, Asia, and the Middle East. His website is www.arnoldisaacs.net
Moderator Paul Lauter is A. K. and G. M. Smith Professor of Literature Emeritus at Trinity College.  He is the author, most recently, of Our Sixties: An Activist's History.  Lauter served as president of the American Studies Association (USA) and has spoken and consulted at universities in almost every state and in 25 countries.  Earlier in his career, he worked for the American Friends Service Committee, ran a community school in Washington,  DC, helped found The Feminist Press, directed the US Servicemen's Fund, and was active in a variety of Movement
Our webinars are free to watch, but not to produce.   Tax deductible contributions to cover costs gratefully accepted by clicking here.