Global Left Midweek – January 11, 2023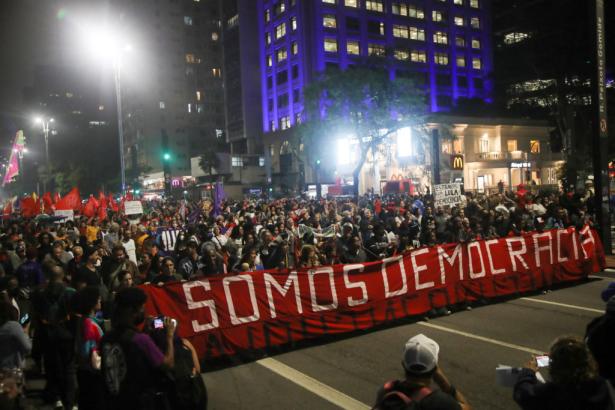 Demonstrators protest against anti-democratic riots and in support of Brazil's President Luiz Inácio Lula da Silva, in Sao Paulo, Brazil, January 9, 2023. Credit, REUTERS/Carla Carniel
__________
Millions Resist Fascism in Brazil
Forrest Hylton / London Review of Books
In a textbook case of the unintended consequences of perverse behaviour, the failed coup has rallied and unified the disparate, even incompatible elements in Lula's impossibly broad democratic coalition as perhaps nothing else could have, and opened the door to reforming the police and military sooner rather than later.
__________
Video: Thousands Protest Netanyahu in Tel Aviv
WION (New Delhi)
The crowd blocked streets in central Tel Aviv as participants chanted in protest of leading far-right members of the government and to demand equal rights for Jewish and Arab Israelis. According to the organizers, at least 20,000 people participated at the demonstration.
__________
Small Rebellions: Haiti and Dominican Republic
Saudi Garcia / Africa is a Country (New York)
While the Dominican Republic is experiencing a racial and civil rights awakening, Haiti is experiencing a massive popular uprising against imperialism and white supremacy. With Haiti on the eve of being invaded by the US and supra-national forces like the UN Security Council, there is a deep sense of uncertainty and even hopelessness among the people.
__________
UK: Time for United Action
Jeff Slee / Labour Hub (London)
The best way to win pay rises and push back the attack on jobs and conditions across all sectors is for trade unions to co-ordinate our actions. You don't have to follow the calls from some for a 'general strike' to realise that if all unions in a fight were to stage a strike together, with rallies in towns and cities across the country, we would land a heavy blow. In unity, as we all know, is strength.
__________
Chile: The New Cannot Be Born
Marian Schlotterbeck and Mario Garcés Durán / NACLA Report (New York)
A longtime analyst of Chilean social movements reflects on the country's multiple lefts and power relations within the ongoing "process of change."
__________
German Protesters Occupy for Energy Sanity
France 24 (Paris)
Police are arresting Last Generation activists in the western German village of Luetzerath, which has been slated for demolition to enable the expansion of the neighbouring Garzweiler coal mine. Once numbering as many as 2,000, around 200 anti-coal activists remain as of Wednesday morning.
__________
Sri Lanka: Trade Union Leader Speaks
Kalyani Badola / IndutriALL Global Union (Geneva)
Swasthika Arulingam, recently elected president of Sri Lanka's Commercial and Industrial Workers Union (CIWU), talks about conditions facing workers — in particular, women workers inside and outside the union.
__________
The Ukraine War and the International Left
__________
Youth and Politics in Australia
Matt Grudnoff / The Guardian (London)
The silent generation and the boomers, on average, vote right and gen X voting habits don't appear to have changed much over their lifetime. As they age, however, millennials appear to be going in entirely the opposite direction. Moving more to the left.
__________
The Great Contributions of Ousmane Sembène
David Murphy / The Conversation (Waltham MA)
1 January 2023 marked the centenary of the birth of Ousmane Sembène, the Senegalese novelist and filmmaker hailed as the "father of African cinema". Over the course of five decades Sembène published 10 books and directed 12 films across three distinct periods. He has been celebrated for his beautifully crafted political works.