Tidbits – Feb. 9, 2023 – Reader Comments: MAGA Threat; China Balloon – Is This Justification for a New Cold War; DeSantis Attack on Black Studies As Alternative to Trump; You Thought Facebook Couldn't Get Worse – Think Again; Cartoons;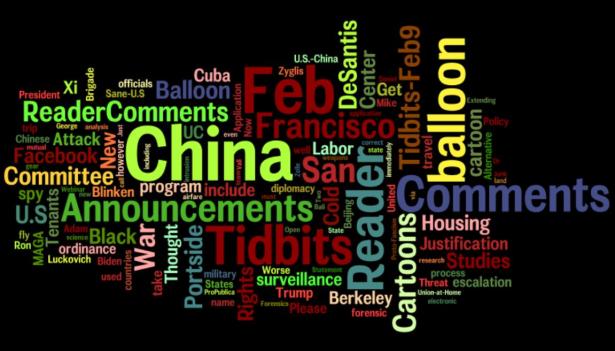 Tidbits - Reader Comments, Announcements AND cartoons - Feb 9, 2023,Portside
Announcements:
Inflated and Dangerous  --  cartoon by Mike Luckovich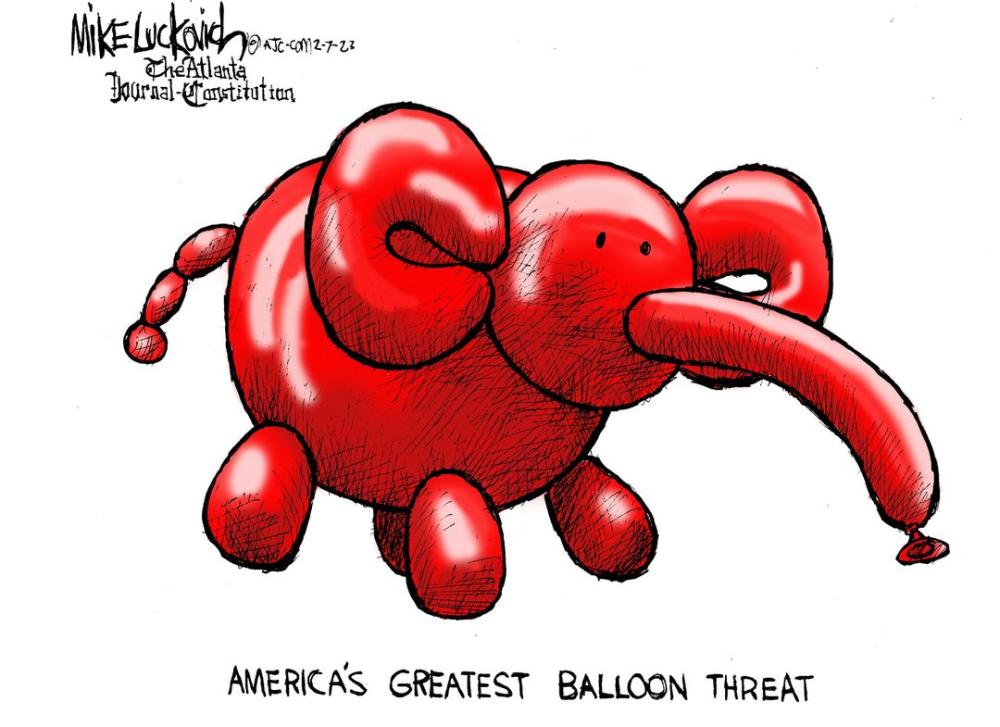 Mike Luckovich
February 7, 2023
Atlanta Journal-Constitution
The China Balloon - Two Views -  Is This Justification for a New Cold War
Statement of the Committee for a Sane-U.S. China Policy Statement on Chinese Balloon Incident of Jan. 31-Feb. 5, 2023
China's dispatch of a high-altitude surveillance balloon over the Continental United States was a reckless provocation and should never have been approved by senior Chinese officials, including President Xi Jinping. Even if the surveillance was of a low-technology character and posed no serious threat to U.S. national security – as affirmed by senior U.S. military officials – it represented a violation of U.S. sovereignty and a brazen affront to U.S.-China relations. China's response that the balloon was intended largely for meteorological purposes and was blown off course by strong winds is wholly unacceptable. President Xi should take personal responsibility for the blunder, apologize to President Biden, and pledge to disallow any further such intrusions.
That said, the balloon incident should not be allowed to derail diplomacy between the U.S. and China aimed at reducing bilateral tensions and establishing "guardrails" against the escalation of future crises. Presidents Biden and Xi had agreed at their Bali summit on Nov. 14 to seek such measures, and Secretary of State Antony Blinken was scheduled to travel to Beijing on Feb. 5-6 to meet with Chinese officials – including Xi – to carry this process further.
Blinken's Feb. 3 decision to call off the trip, saying China's decision "to take this action on the eve of my planned visit is detrimental to the substantive discussions that we were prepared to have," is understandable given the extraordinary furor in Washington caused by the balloon's intrusion into U.S. airspace, but must not be permitted to impede the diplomatic process altogether. After a suitable cooling off period – and, hopefully, expressions of regret from Beijing – Blinken should set a new date for his trip and resume the process initiated by Presidents Biden and Xi in Bali.
Dispatching a surveillance balloon over the United States was an unfriendly act, and should never have occurred. It is true, however, that both China and the United States conduct surveillance operations on each other's military capabilities all the time by other means. Both sides, for example, deploy spy satellites capable of examining air and missile bases located on the other's territory. Accordingly, whatever data might have been collected by the spy balloon would not have contributed much of substance to the data already possessed by China's military.
What all this does tell us, however, is that both the U.S. and China are treating each other as potential adversaries and view such surveillance as a necessary prelude to actual combat, should that occur. It is this dynamic that should worry us the most, as history suggests that mutual distrust and bellicosity of this sort often leads to the dangerous escalation of even minor crises and incidents.
Given this danger, and the likelihood that any war between the U.S. and China would cause immeasurable damage to both countries, even if nuclear weapons were not used (and there's no assurance that this would prove to be the case). Under these circumstances, robust U.S.-China diplomacy is in the best interest of both countries, and the two sides should do whatever they can to repair the damage caused by China's reprehensible balloon intrusion and allow for Secretary Blinken to set a new date for his visit to Beijing.
Written by Michael Klare on behalf of the Committee for a Sane-U.S. China Policy, a non-partisan advocacy organization dedicated to reducing the risk of a U.S.-China conflict through enhanced diplomacy and cooperation on issues of mutual interest, especially climate change
      =====
I miss things, can someone help me out?
Is there ANY evidence that the now-downed balloon had any "spy gear" aboard?Any?
 
Am I correct that the prevailing winds in the world revolve west to east?
 
Am I correct that the USA, Russia, China, and probably other countries have satellites that fly over everywhere on the planet, taking photos, electronic recordings, infrared pix, and anything else they care to, that in 1973 were capable of finding every snake in Sinai?  
 
If I recall correctly, the US used to fly U-2 jets over the USSR and China, and then SR-71 Blackbirds... well, we don't know where, or if they still fly?  As to drones, who knows?
 
If this balloon is a "spy" balloon, several questions immediately come up.  Why?  When there are other platforms that can do the same job?  And when you can drive to the areas the balloon covered and take photos yourself, or listen to electronic emissions...
 
And how was the intelligence gained by the balloon to be recovered?  And since balloons are neither small nor fast, nor maneuverable, why wouldn't you expect such a balloon to be spotted, intercepted, downed, and the gear taken?
 
So wouldn't it make sense that it is in fact not a spy satellite, but rather a balloon blown off course?
Jack Radey
Re: Ron DeSantis's Attack on Black Studies Is Textbook Proto-Fascism
 
I  taught critical race theory for over 30 years at Sonoma State University. 
DeSantis must be called out and stopped for his racist position.
Peter Phillips, PH.D., Professor Emeritus Political Sociology
Florida Schools  --  cartoon by Adam Zyglis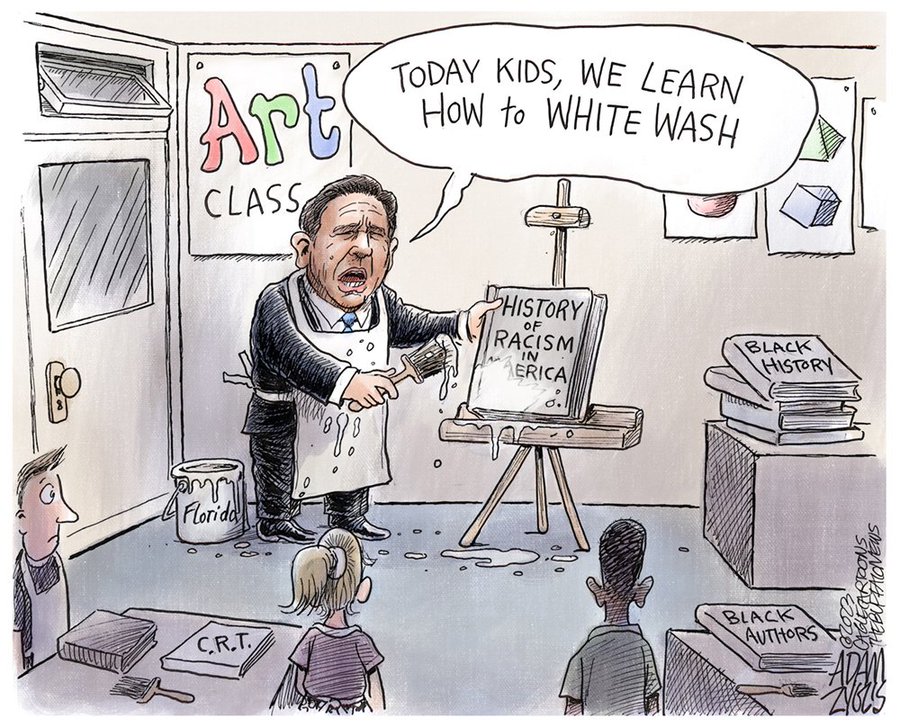 Adam Zyglis
February 3, 2023
The Buffalo News
Re: Making Sense of the Ukraine War - continued
(posting on Portside Culture)
 
So we think it's acceptable to send weapons we previously sought to ban? Continued escalation, loss of lives and destruction? Or condemn the escalation as well as condemning the brutal war and call for negotiations? I am confused by this article. What is the point?
Vali Buland
Posted on Portside's Facebook page
Re: Is It Forensics or Is It Junk Science?
 
The presentation of sampling, analysis and interpretation of "scientific" investigations in criminal prosecutions poses problems (mostly) for defenders, "Expert" witnesses, cloaked in science costumes and adorned with technical "qualifications" give opinions which can land defendants in prison. Even fingerprint analysis can fudged. Here, via Portside, https://portside.org/2023-02-06/it-forensics-or-it-junk-science a look at some of the more egregious forensic fictions which courts entertain. Thanks, especially to ProPublica https://www.facebook.com/propublica for helping to put all this together.
Daniel Millstone
Posted on Portside's Facebook page
      =====
"… Dubious forensic techniques have spread throughout the criminal justice system for decades. Here's what ProPublica has learned about junk forensic science techniques and how they proliferate.…"
    
George Lessard
Posted on Portside's Facebook page
Just When You Thought Facebook Couldn't Get Any Worse  --  cartoon by Dr. James MacLeod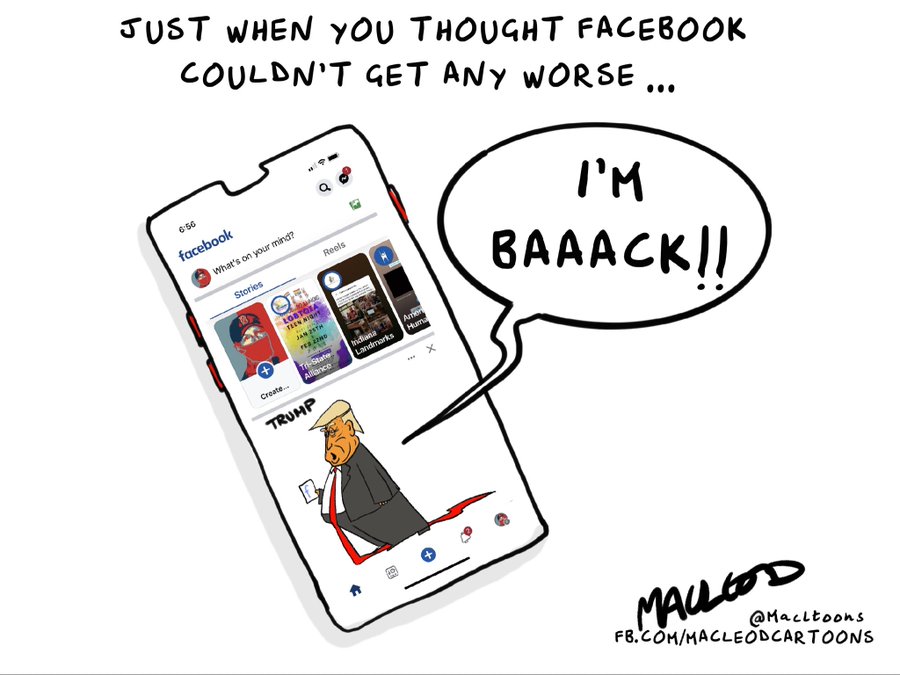 Dr. James MacLeod
January 26, 2023
MacLeodCartoons FB.COM/MACLEODCARTOONS
Webinar - Extending Collective Bargaining Rights to Tenants: Early Lessons from San Francisco's Union-at-Home Ordinance - February 16 (UC Berkeley Labor Center and Housing Rights Committee of San Francisco)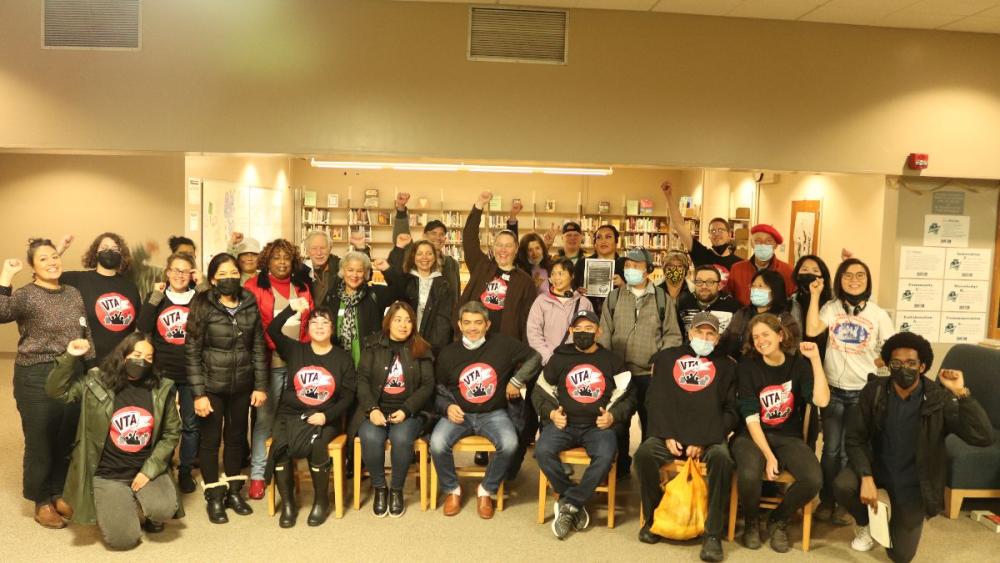 Thursday, February 16, 2023
12:00-1:00pm PST
El evento se realiza en i inglés y español.
JOIN US via Zoom
Please join the UC Berkeley Labor Center and Housing Rights Committee of San Francisco for a conversation about the early successes and challenges of San Francisco's Union-At-Home ordinance. The ordinance, which took effect in April 2022, is a first-in-the-nation law that extends collective-bargaining rights to San Francisco tenants.
During this webinar, a UC Berkeley Labor Center research team will present a short overview of their findings from an implementation study of the Union-At-Home ordinance. Afterwards, the research team will moderate a panel discussion with four people who have been deeply involved in tenant organizing at the local, state, and national levels. Panelists will discuss the importance of tenant organizing, the strengths and weaknesses of San Francisco's ordinance, and what it would take to expand the model to other cities and to state and federal levels.
Panelists include:
Lenea Maibaum, Organizer, Tenants of Corporate Landlords, Housing Rights Committee of San Francisco
Maria Toriche, San Francisco Tenant
Katie Goldstein, Director of Housing and Healthcare Campaigns, Center for Popular Democracy
Deepa Varma, Program and Campaign Director, Tenants Together
Please RSVP if you plan to attend. Don't miss this exciting lunchtime event!
2521 Channing Way
Berkeley, Ca 94720
The 2023 XVI May Day Brigade Application Is Now Open!  -  April 23rd - May 7th 2023. (application deadline - February 17) (National Network on Cuba)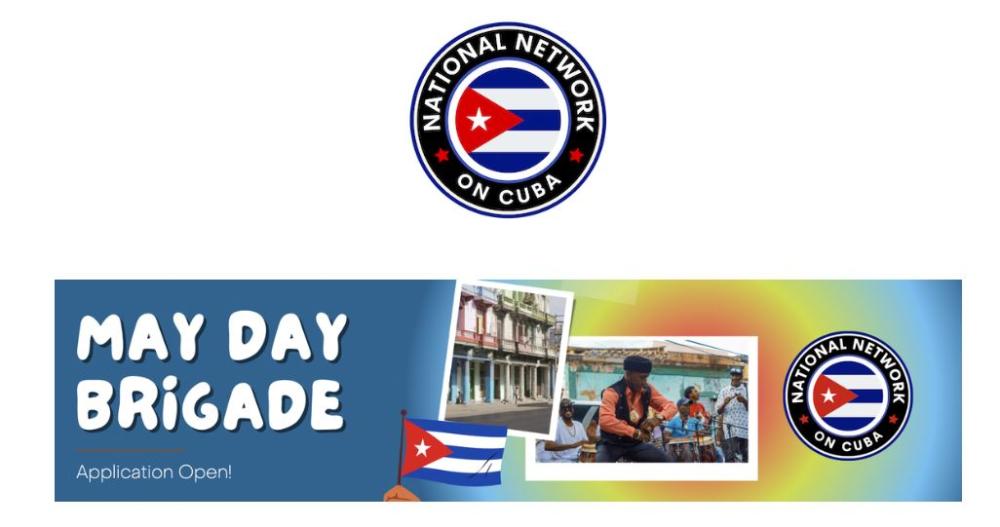 This year's May Day Brigade is Sunday, April 23rd - Sunday, May 7th 2023.
The 14-day program will include solidarity delegations from all over the world! Preview this dynamic program here.
The price of this year's brigade is $900. The program costs includes accommodations for 14 days (most of which will be spent at the Julio Antonio Mella Camp), travel to and from the airport, meals, and program activities. Please note, the $900 program costs does not include visa nor airfare to and from Cuba; however our partners at Marazul Tours, Inc. may help arrange flight travel for a small fee.
Marazul Tours Inc. has provided this U.S. flight list for your reference here.
The program deposit is $200 and is due by Friday, February 17, 2023. Please communicate with us if you require special payment arrangements.
Money Order, Bank Check or Certified (Cashier's checks) are welcome – no personal checks

Credit Card payments will include a 4% convenience fee-for the land package. Charge does not apply for airline tickets reserved through Marazul Tours, Inc.

Payments can also be arranged via Zelle, Direct Deposit, or through institutional checks. Or major credit cards (Visa, Mastercard, AmEx).

ZELLE Deposits can be sent with your name to malonso@marazultours.com identified ONLY with your name and travel dates.
IMPORTANT: DO NOT REFERENCE THE WORDS "BRIGADE," "CUBA," "HAVANA" AT ALL. Your note should include your name and the trip dates only. Note- Zelle can be used for the airfare as well- if preferred- but as most tickets need to be purchased immediately- a credit card may be best.

Bank transfers are also available. Please contact malonso@marazultours.com to arrange payment this way.
Save the date! On Thursday, February 16, 2023, we will host an informational drop in, where we will discuss the May Day Brigade, answer application questions, and share additional insight about our program schedule in smaller break out sessions.
Questions? Please email icangotocuba@nnoc.org.