Tidbits – Mar. 09, 2023 – Reader Comments: Police Culture; Woke Origins; Women; Announcements: Mumia Abu-Jamal; New Deal for CUNY; Love Rising Benefit Concert – Tenn; Reclaiming Water for the Public Good; Celebration of Dr. Antonia Pantoja;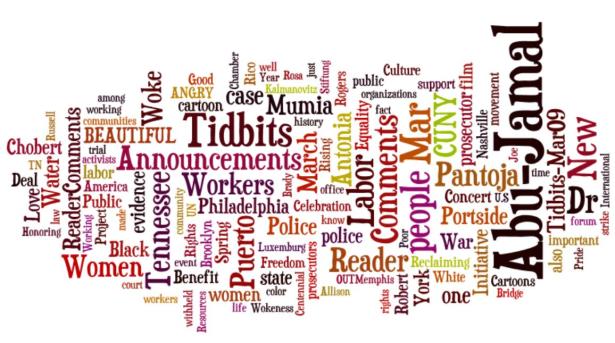 Tidbits - Reader Comments, Resources, Announcements, AND cartoons - Mar. 09, 2023,Portside
Resources:
 
Honoring Pathbreakers  -  Honoring Women  -  Celebrating International Women's Day March 8
Announcements:
 

Re: How Police Culture Has Reshaped America
Not the world I want to live in!
Tom Wilson
Posted on Portside's Facebook page
      =====
Is violence and brutal power contagious?
But given the complexities of military culture, it's hardly surprising that a certain segment of Black people, Latinos and other people of color, just like some of their white counterparts, would return from war sharing the far-right's illiberal embrace of brute force. That may mean an increased comfort with cruelty, as well as a tendency toward gun fetishization, the increasing dehumanization of adversaries and the conflation of freedom with violence.
Sal Mangiagli
Posted on Portside's Facebook page
      =====
Um. It's not just POC that are opposed to a police state. What affects one, affects us all. Unity, not division.
Laura Barnes
Posted on Portside's Facebook page
      =====
they said "led by" not "exclusive to." There's nothing divisive about recognizing that POC have been disproportionately impacted, and that it's a serious problem for all of us.
E.W. Anderson
Posted on Portside's Facebook page
      =====
Exactly my point. What effects "one" affects us all so we should all be coming together as one to fight against it. It isn't a competition. We are one people.
Laura Barnes
Posted on Portside's Facebook page
      =====
America's prison culture and military commitments have transformed America's cultural and economic landscape — particularly among communities of color. By treating citizens of color as monolithic entities, they have failed to consider how attitudes toward policing and homeland security have been shaped not only by white supremacy but also by decades of endless war at home and abroad.
Ty DePass
Posted on Portside's Facebook page
      =====
Turning us into a feudal state
Christóforos Jean Mac Cionaodha
Posted on Portside's Facebook page
Sorry but Wokeness = Care (or caring) is a much better alignment because
1) can't always be kind to haters
2) if we care we can learn, grow expand
3) from caring come myriad other positive dispositions that each all facets of life: care for planet, other species, pollution... gets results.
Tracy Ann Essoglou
Posted on Portside's Facebook page
      =====
WE HATE HOLOCAUST DENIERS!!!
Germans are learning, and have learned ,the truth.
The Germans I know are happy that they learned the truth and they try to compensate by working in Peace and Justice Organizations. They feel good about themselves.
My grandson's closest friend is the grandson of German Nazis. His mother volunteers at a Jewish Community Center and he, along with my grandson, started a Peace and Justice Club in 7th Grade.
Germany gets more people who have abdicated from Israel than any other country in the world.
History is history and should not be taught based on selection factors; it should be taught as truth.
Arlene Halfon
The Woke Joke  --  cartoon by Adam Zyglis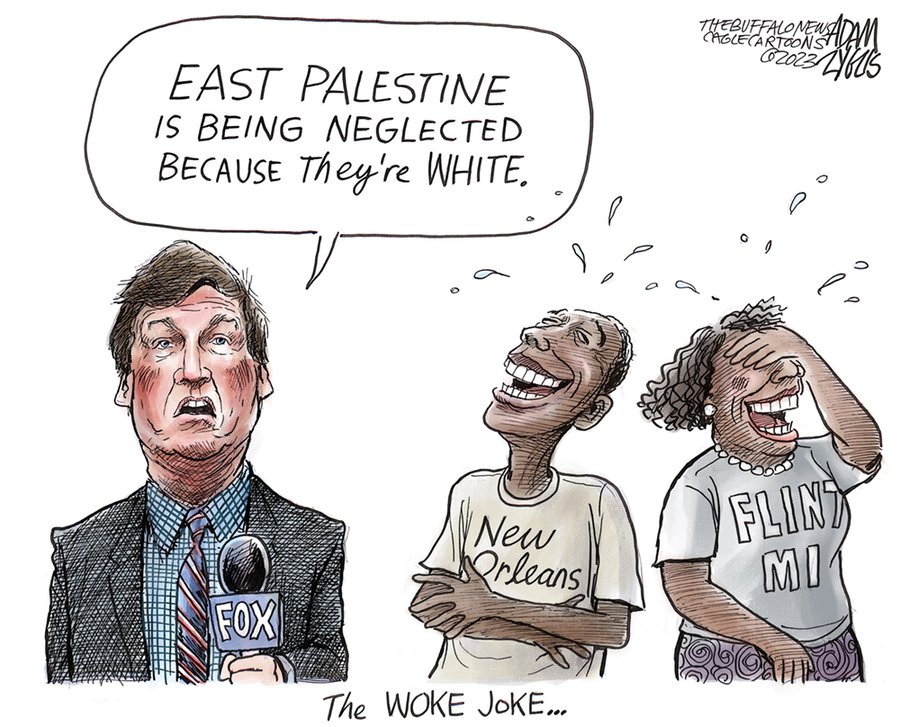 How do these FOX pundits keep a straight face?
Adam Zyglis
February 22, 2023
The Buffalo News
Re: Setting Our Sights on the Equality of Women  
This issue needs much more ATTENTION!  Please share this article.
Gina Klein
Posted on Portside's Facebook page
Re: June Jordan's Legacy of Solidarity and Love Remains Relevant  
A beautiful and moving piece. 
Joe Kaye
I'm Replacing You  --  cartoon by Jeff Koterba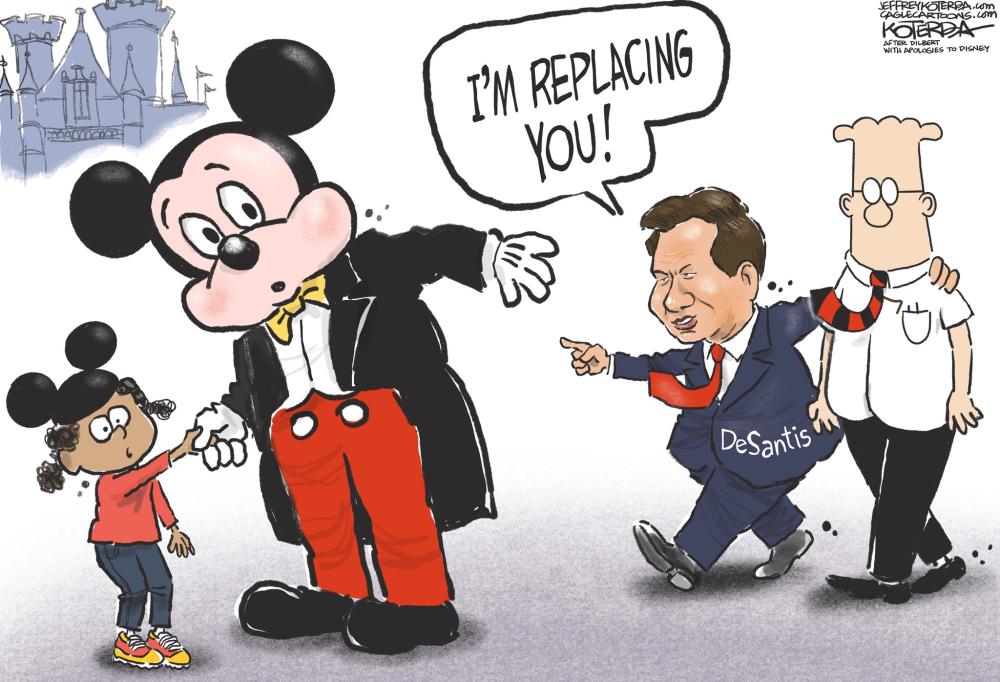 Jeff Koterba
February 28, 2023
Omaha World-Herald
Re: Science Sunday: Do No Unconscious Harm  
Very insightful and not addressed enough.
Marianne Brucker
Posted on Portside's Facebook page
Re: Noam Chomsky: The False Promise of ChatGPT  
"… We know from the science of linguistics and the philosophy of knowledge that AI minds
differ profoundly from how humans reason and use language. These differences place significant limitations on what these programs can do, encoding them with ineradicable defects.…"
The MediaMentor Digital
Posted on Portside's Facebook page
Re: The Longest Strike in the U.S. Just Ended: This Is the Workers' Story  
The Kohler strike lasted from 1954 to at least 1960. How is this strike longer? Doesn't Portside Labor know labor history?
Ken Lawrence
Spring Mills, Pennsylvania
      =====
Ken Lawrence has a point, the Kohler Strike was longer, so too was the strike at Diamond Walnut, the Watsonville Canning strike and a number of others -- these are all worthy of note as they speak well of the determination of working people and speak ill of US labor law.  Careful reading of the headline and first paragraph, however, should make clear that Kim Kelly is talking about current strikes in the US.
More important, we ought not lose sight of the main point of the article:  the UMWA and the broader labor movement currently lack the strength to defeat a corporation like Warrior Met, notwithstanding the courage of those who walked the line.   That is the reality we need to address.
Kurt Stand,
one of the moderators at Portside Labor
Re: The Nuclear "War" in Ukraine May Not Be the One We Expect  
Last I checked, the US started this arms race when Bush pushed for tactical nukes and violated treaties to start developing them. It has been continued under every President since. We are also leading the way in violating international treaties by weaponizing space, etc. This is usually where someone comes in and starts regurgitating "Putin was the one who invaded", which is true, but also omits all of the treaties the West has broken to put Russian security up against the wall.
Brandon Mouser
Posted on Portside's Facebook page
      =====
Nice article putting the blame on Russia not the US ,the only country to ever use nuclear weapons.
Bernard Sampson
Posted on Portside's Facebook page
Re: 20 Years Ago, the World Said No to War  
I was in D.C. and it was 17 degrees that day and the following day the Washington Post had a picture that showed thousands of protesters... I used a magnifying glass and found me and my son in the midst of the protest... BTW, people forget that Hans Blix had just reported to the UN Security Council that Iraq was cooperating fully in letting the weapons inspectors go where ever they wanted???
Bob Harrison
Posted on Portside's Facebook page
      =====
in Oliver Stone's film "W", when Cheney is pointing out the plan for going into the MiddleEast, Powell asks "What's the exit plan?" & the Dick replies "There is no exit plan."
Ari Camarota
Posted on Portside's Facebook page
      =====
And yet, war still drives the world economy
James Rodriguez
Posted on Portside's Facebook page
Re: Haymarket Books Fights Back Against Republican Attacks on Educational Freedom  
I think it's hilarious that after all these years Republicans haven't figured out that telling people (especially young people) "We forbid you to do X" only makes them want to do it more.
Robert Laite
Posted on Portside's Facebook page
Racist Comic  --  cartoon by Rob Rogers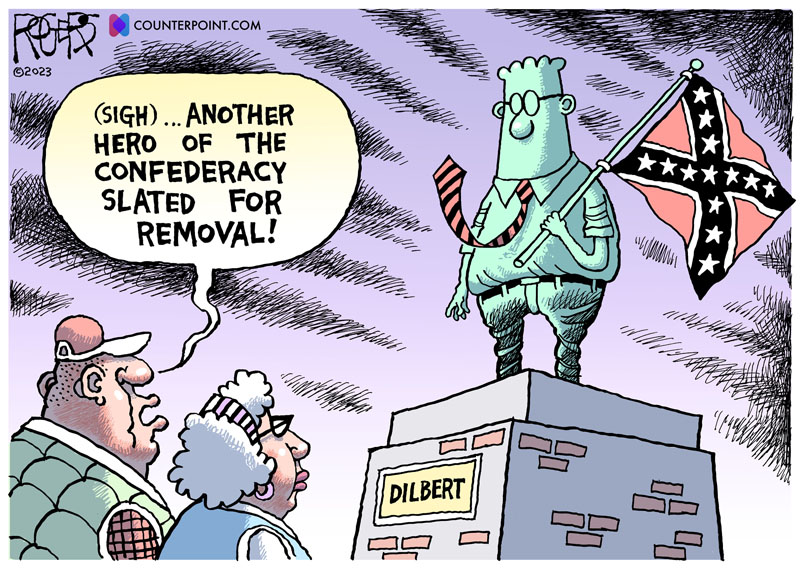 Rob Rogers
February 28, 2023
robrogers.com
Re: A Rarely Revived Lorraine Hansberry Play Is Here — And It's Messy but Powerful
Be sure to let everybody know that tickets cost $200-300 at BAM. Lorraine would be disgusted.
Lisa E Davis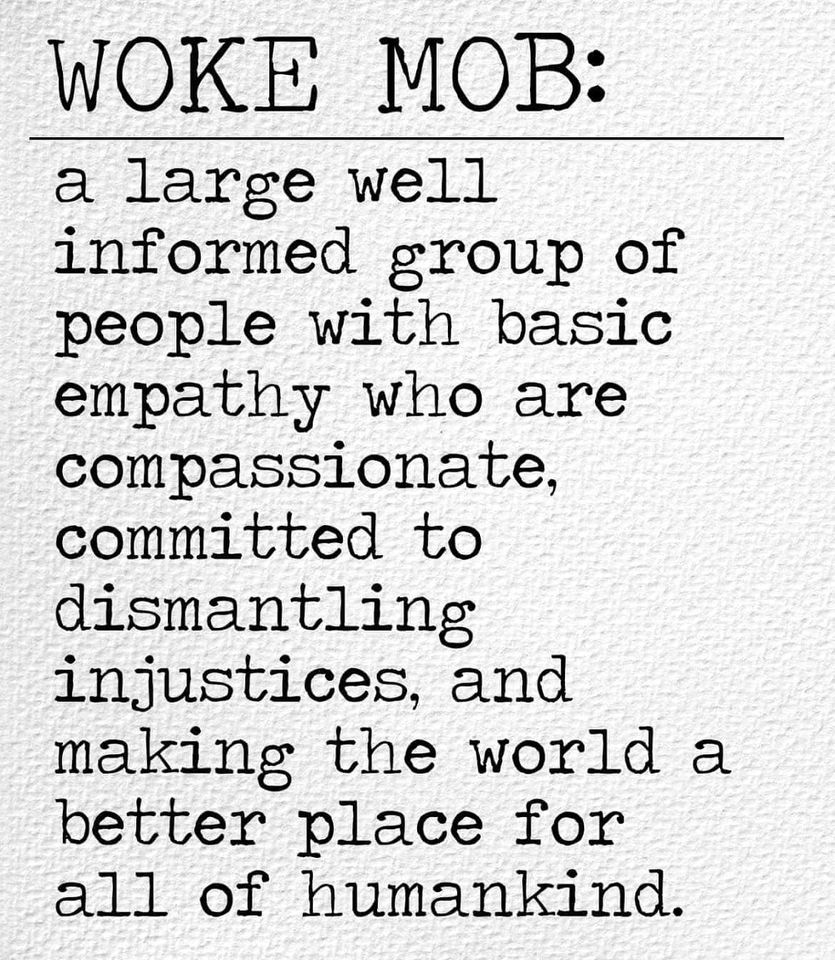 Woke Origin - Lead Belly: "Scottsboro Boys"
The Lead Belly song about the "Scottsboro Boys" where the phrase "stay woke" first appears in popular culture. I wonder how many people currently campaigning against "Wokeness" know this history, and whether they would care if they knew!
Posted by Mark Naison to the Facebook page Historians of the Black Freedom Movement
March 3, 2023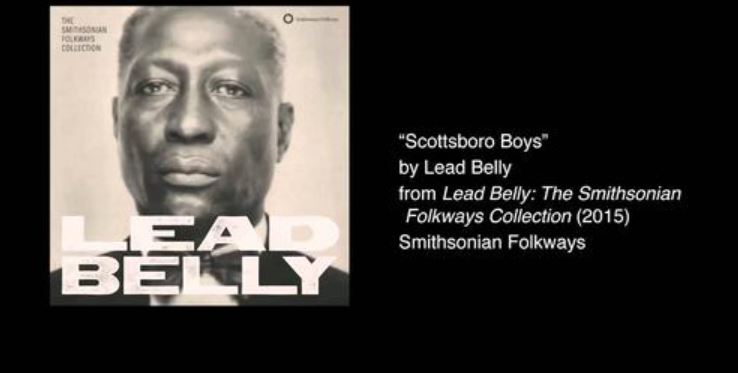 Honoring Pathbreakers  -  Honoring Women  -  Celebrating International Women's Day March 8
SHE'S BEAUTIFUL WHEN SHE'S ANGRY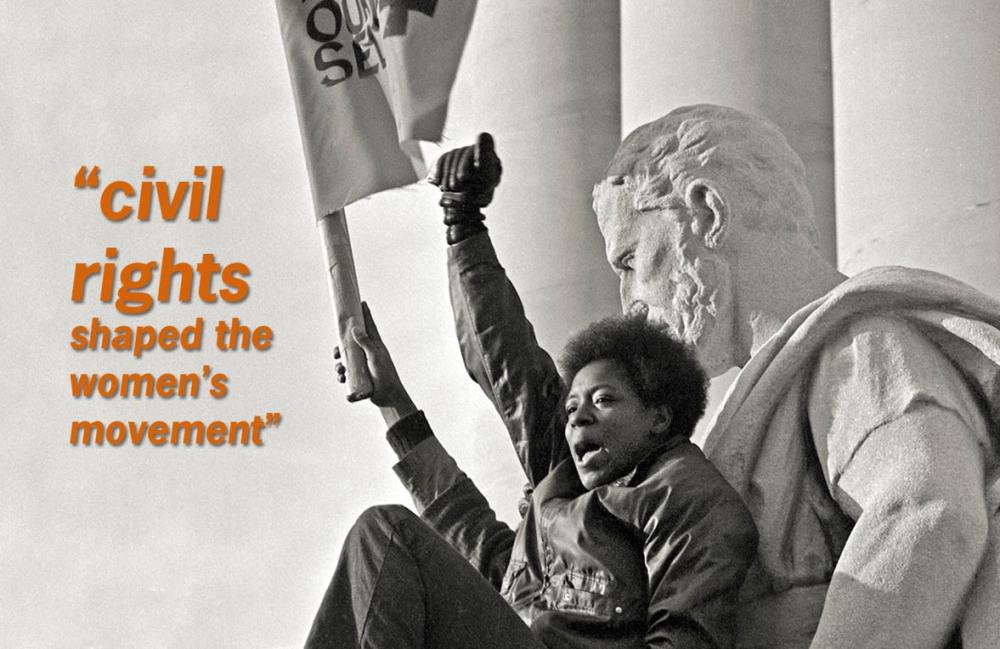 SHE'S BEAUTIFUL WHEN SHE'S ANGRY resurrects the buried history of the outrageous, often brilliant women who founded the modern women's movement from 1966 to 1971.   SHE'S BEAUTIFUL takes us from the founding of NOW, with ladies in hats and gloves, to the emergence of more radical factions of women's liberation; from intellectuals like Kate Millett to the street theatrics of W.I.T.C.H. (Women's International Conspiracy from Hell!).  Artfully combining dramatizations, performance and archival imagery, the film recounts the stories of women who fought for their own equality, and in the process created a world-wide revolution. 
SHE'S BEAUTIFUL does not try to romanticize the early movement, but dramatizes it in its exhilarating, quarrelsome, sometimes heart-wrenching glory.   The film does not shy away from the controversies over race, sexual preference and leadership that arose in the women's movement.  SHE'S BEAUTIFUL WHEN SHE'S ANGRY captures the spirit of the time --- thrilling, scandalous, and often hilarious.
That story still resonates today for women who are facing new challenges around reproductive rights and sexual violence, as the film shows present-day activists creating their generation's own version of feminism. SHE'S BEAUTIFUL WHEN SHE'S ANGRY is a film about activists, made to inspire women and men to work for feminism and human rights.  
Watch here  
Now streaming on Prime and Kanopy
More information here
Bearing Witness in the Case of Mumia Abu-Jamal - Philadelphia - March 11 (Campaign to Bring Mumia Home)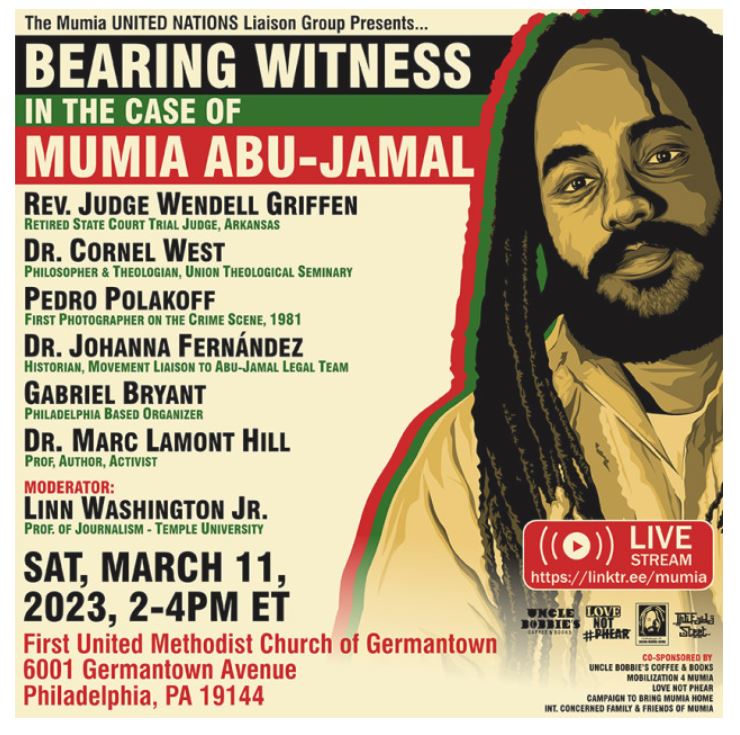 Saturday, March 11th, 2023, from 2 - 4 pm (EST)
First United Methodist Church of Germantown
6001 Germantown Ave., Philadelphia, PA.
Evidence of Abu-Jamal's innocence was illegally withheld by prosecutors at his trial and subsequent appeals
Will Judge Lucretia Clemons have the impartiality and independence to make a decision that reckons with the long history of racism in Philadelphia?
The case of Black journalist Mumia Abu-Jamal, falsely convicted in 1982 of the murder of Police officer Daniel Faulkner the year before is now back in court. Newly discovered evidence, previously withheld by prosecutors, a clear violation of law, makes it clear that Abu-Jamal should be freed or given a new trial. Abu-Jamal has endured over 40 years of wrongful imprisonment and almost three decades on death row.
Philadelphia Court of Common Pleas Judge, Lucretia Clemons, is expected to rule by March 16, 2023, on whether newly-found documents pointing to Abu-Jamal's innocence are worthy of an evidentiary hearing where they can be properly reviewed and examined.
The court is reviewing three sets of documents that the prosecution withheld from Abu-Jamal's attorneys for more than 36 years:
Handwritten notes by prosecutor Joe McGill that show that he tracked the race of potential jurors during the jury selection process;
A handwritten letter by star witness, Robert Chobert, in which he asks prosecutor Joe McGill for money "owed" him, an indication that Chobert's testimony was bribed, and,
A series of memoranda between prosecutors and officers of the judicial system in and outside of the state of Pennsylvania indicated that the prosecutor's other main witness, Cynthia White, was also bribed. Just months after her testimony at Abu-Jamal's trial, all of White's pending prostitution charges were suddenly dismissed.
Failure to release Robert Chobert's letter and the series of memoranda between the prosecutor and numerous officers of the court across state lines is a flagrant violation of the 1963 landmark U.S. Supreme Court ruling in the case of Brady v. Maryland. Brady established that prosecutors MUST turn over to defense attorneys, all potential evidence pointing to a defendant's innocence.
Prosecutors in District Attorney Larry Krasner's office who are currently litigating Abu-Jamal's case today are arguing, against all reason, that Robert Chobert's letter demanding money owed to him as well as all the memoranda seeking favorable treatment for Cynthia White are not "materially important" and that, therefore, the Brady claim is not merited in Abu-Jamal's case. They argue that Abu-Jamal would have been convicted with or without the testimony of these witnesses.
But the other "evidence" used to convict Abu-Jamal mainly consisted of a made-up confession allegedly heard by police and their claim that Abu-Jamal's gun was found next to him at the scene, but which police failed to test to prove it had been fired. The alleged confession was "remembered" two to three months after the fact by police, among them one who wrote in his report about Abu-Jamal the night of the shooting, "the negro male made no comment." Both claims were made by the very same police officers who beat Abu-Jamal brutally, within an inch of his life, shouting "Kill the Black motherfucker, beat the shit out of the Black motherfucker," and lied on the stand about having properly handled the crime scene, while in fact, the police did the opposite.
DA Larry Krasner's office is, thereby upholding the perjured testimonies and theory of the case put forth by the same homicidally violent police officers whose behavior, according to an investigation of the Philadelphia Police by the U.S. Department of Justice in 1979, "shocks the conscience."
The narrative of what happened on the night that Office Faulkner was killed promoted by Larry Krasner's office and the racist Fraternal Order of Police (FOP) is false.
In fact, the original prosecutor in the case had to bribe the testimonies of key witnesses, Chobert and White, because they did not see what happened that night, as long-standing evidence shows. The newly discovered evidence is "material" because the original trial court heavily relied on their bribed testimony to convict Abu-Jamal. If jurors would have known that Chobert and White were, respectively, paid and relieved of prison time in exchange for their testimonies, the jury would have doubted the prosecutor's theory of the case. And the fact that this new evidence of bribery was withheld for almost four decades by Philadelphia prosecutors requires throwing Abu-Jamal's conviction out, or at the very least, holding an evidentiary hearing.
Our event brings together eminent scholars, experts, and activists who will bear witness to constitutional violations in a case that is emblematic of how the prosecutor's office operates and disfigures the lives of Black people, their families, and communicates in Philadelphia. Participants include Cornel West, who will testify to the cruel and inhumane nature of death row's solitary confinement and death by incarceration; recently retired Arkansas state judge, Rev. Wendell Griffin, who will address the Brady v. Maryland violation; Professor and social critic, Dr. Marc Lamont Hill; Abu-Jamal's friend and defense team liaison, Dr. Johanna Fernandez; and photographer Pedro Polakoff whose photos, among other things, document the absence of cab driver Robert Chobert from the crime scene.
The evidence that justice was not done in Mumia's case and that federal law was violated is overwhelming. Will Judge Clemons of the CCP listen to it and do the right thing?
More information here
March over the Brooklyn Bridge for the New Deal for CUNY - New York - March 19 (#NewDeal4CUNY)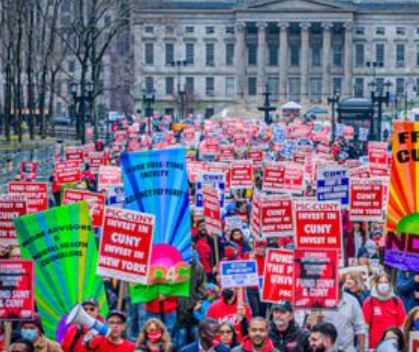 March Over the Brooklyn Bridge for a New Deal for CUNY
Sunday, March 19, 12:00 PM Brooklyn Borough Hall
Tell us you'll be there for this student-led march over the Brooklyn Bridge in support of a #NewDeal4CUNY.  The event begins at Brooklyn Borough Hall (209 Joralemon St.) at 12:00 noon and ends at City Hall.  Download a flyer here.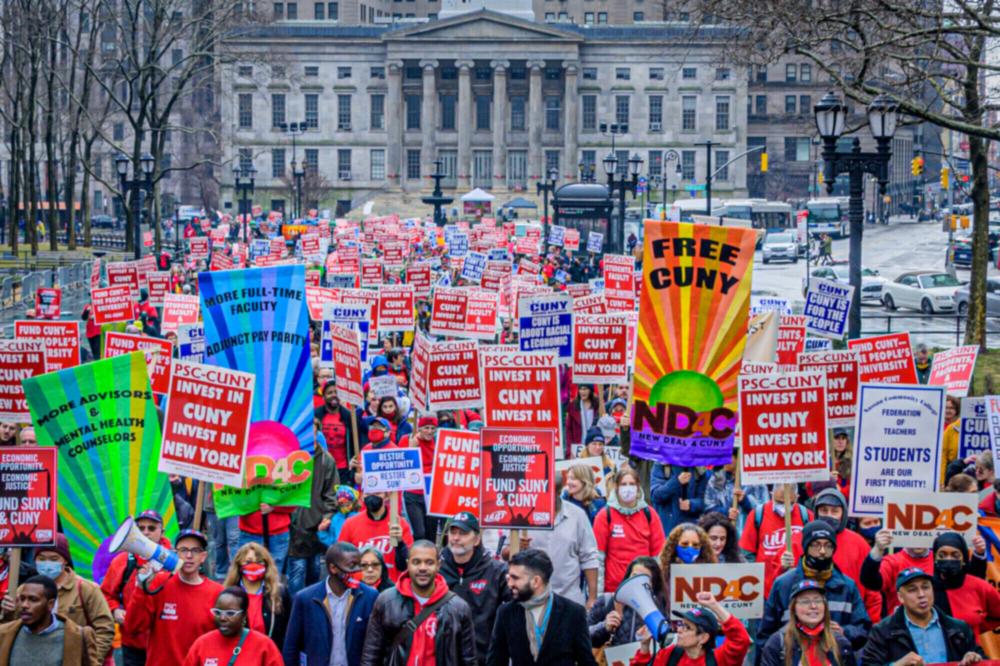 PROFESSIONAL STAFF CONGRESS/CUNY AFT LOCAL #2334
Spotlighting Workers' Rights in Labor Spring - Washington, DC - March 20 (The Kalmanovitz Initiative for Labor and the Working Poor)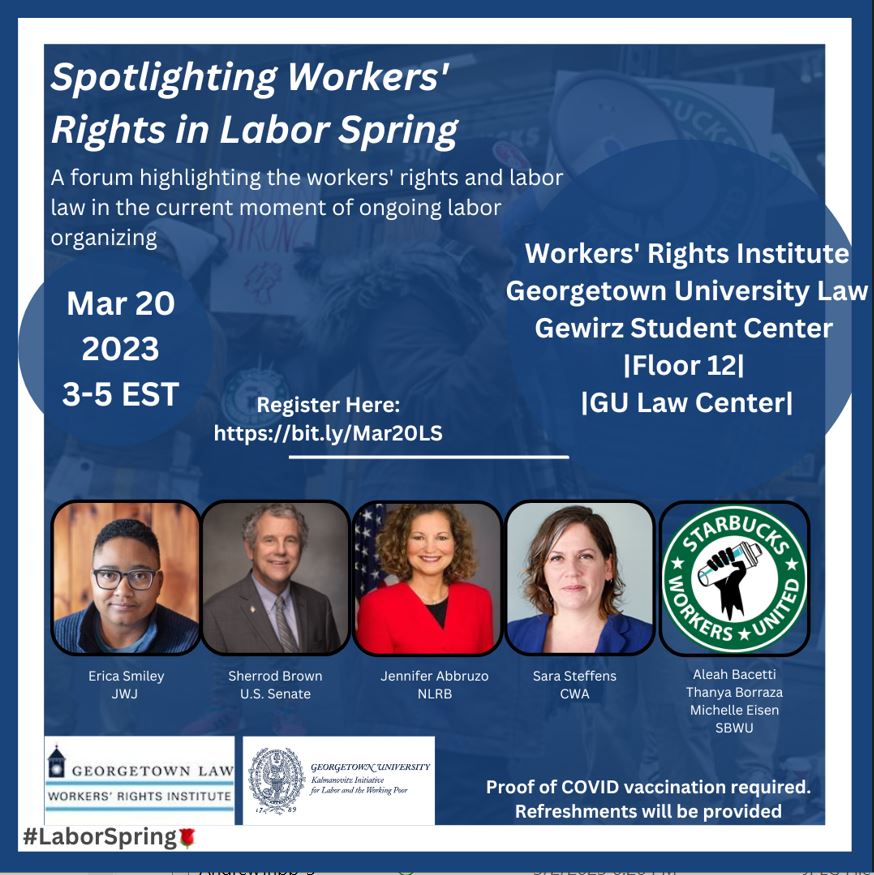 Spotlighting Workers' Rights in Labor Spring
Worker Rights Institute / Georgetown University Law
March 20, 2023 
3-5 pm ET
Gewirz Student Center / 12th Floor / Georgetown University Law Center 
The Workers' Rights Institute of Georgetown Law is hosting a workers' rights forum as part of Labor Spring, a nationwide series of more than 60 labor teach-ins and events on campuses and in communities nationwide, launched by the GU Kalmanovitz Initiative for Labor and the Working Poor.
The GU Workers' Rights Institute's Labor Spring forum will lift up workers' rights and labor law in a moment of sweeping organizing and activity among the nation's working people, in the wake of the coronavirus pandemic.
This forum is building on a newfound public appreciation for working people and their organizations in the pandemic. Public support for unionism is at a historic high – 71% approve of unions, the highest level since 1965!! The forum will also lift up the need for more labor education in our schools and communities. It will highlight how already vulnerable workers (especially workers of color) have been made more vulnerable since the pandemic through inadequate wages and safety protections, abusive monitoring causing a proliferation of workplace injuries, surveillance of union activity and unlawful termination, and laws and policies on captive audience speeches allow for coercion and intimidation and the silence of worker voice. policies on captive audience speeches allow for coercion and intimidation and the silence of worker voice.
Speakers will include: 
Sara Steffens, Secretary-Treasurer, Communications Workers of America (CWA)
Erica Smiley, Director, Jobs with Justice (JWJ)
Jennifer Abruzzo, General Counsel, National Labor Relations Board (NLRB)
Sen. Sherrod Brown (OH), (by video) 
Starbucks Workers / Organizing with Workers United (Michelle Eisen, Aleah Bacetti, Thanya Cruz Borrazá) 
We are expecting an audience of up to 150 students, academics, practitioners, activists and policy makers!! The event will be livestreamed.  Some speakers will participate by video.  
Refreshments will be provided.  Advance RSVP and covid protocol are required.  
More on Labor Spring can be found on this press release and on our website laborspring.org
The Kalmanovitz Initiative for Labor and the Working Poor
209 Maguire Hall
Georgetown University 37th and O Streets NW
Washington, DC 20057
Love Rising Benefit Concert - Nashville, TN - March 20 (Tennessee Equality Project, inclusion tennessee, OUTMemphis and The Tennessee Pride Chamber)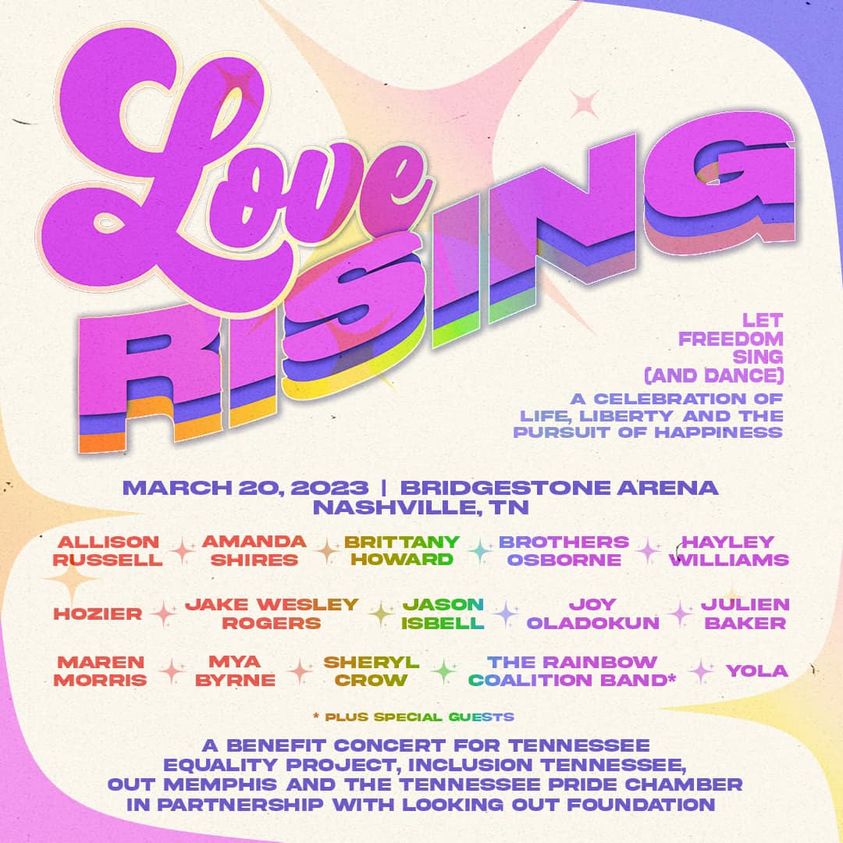 ANNOUNCING LOVE RISING
Featuring Allison Russell, Amanda Shires, Brittany Howard, Brothers Osborne, Hayley Williams, Hozier, Jake Wesley Rogers, Jason Isbell, Joy Oladokun, Julien Baker, Maren Morris, Mya Byrne, Sheryl Crow, The Rainbow Coalition Band, Yola and more TBA
March 20 at Bridgestone Arena in Nashville, TN
Presented by Live Nation
A Benefit Concert for Tennessee Equality Project, Inclusion Tennessee, OUTMemphis and The Tennessee Pride Chamber in Partnership With Looking Out Foundation
TICKETS ON SALE STARTING WEDNESDAY, MARCH 8TH 
A celebration of Life, Liberty and the Pursuit of Happiness.
Let Freedom Sing — and Dance!
LOVE RISING, a benefit concert for the Tennessee Equality Project, inclusion tennessee, OUTMemphis and The Tennessee Pride Chamber will take place on March 20th at Bridgestone Arena in Nashville, TN presented by Live Nation. Performers include Sheryl Crow, Maren Morris, Jason Isbell, Hayley Williams, Hozier, Brittany Howard, Brothers Osborne, Amanda Shires, Julien Baker, Joy Oladokun, Yola, Jake Wesley Rogers, Mya Byrne and Allison Russell and the  Rainbow Coalition Band, with more to be announced. Tickets go on sale  beginning Wednesday, March 8th at 10AM local time with net proceeds benefiting these important organizations. The Looking Out Foundation will support the event by accepting donations and doubling contributions received, up to a maximum of $100,000. Fans can purchase tickets HERE.
Since 2015, Tennessee has enacted more anti-LGBTQIA+ laws than any other state in the country. The latest of these are Senate Bill 3 and House Bill 9 — two anti-LGBTQIA+ bills that ban all performances deemed male or female impersonation otherwise known as "drag" from taking place on any public property in the state, as well as in any location where people under 18 could be present.
"As a queer, intersectional artist and mother, raising my child in Nashville, it's important to me to support these wonderful Tennessee LGBTQIA+ advocacy organizations, working so hard to build bridges, reduce harm and promote equality for all Tennesseans," says Allison Russell. "LGBTQIA+ contributions and creativity are foundational to every genre of modern song and arts performance. I think it speaks volumes that so many in our community are feeling the same call to support, celebrate and uplift!" "SB3/HB9 and SB1/HB1 are clearly targeted attacks on Tennesseans who haven't done anything wrong," says Jason Isbell. "These bills add up to an attempt to eradicate a valuable part of our community and force good people to live in fear. We can't in good conscience just stand by and let that happen."
Allison Russell
post on Facebook
UN 2023 Water Conference Side Event: Reclaiming Water for the Public Good - New York - March 22 (Rosa Luxemburg Stiftung)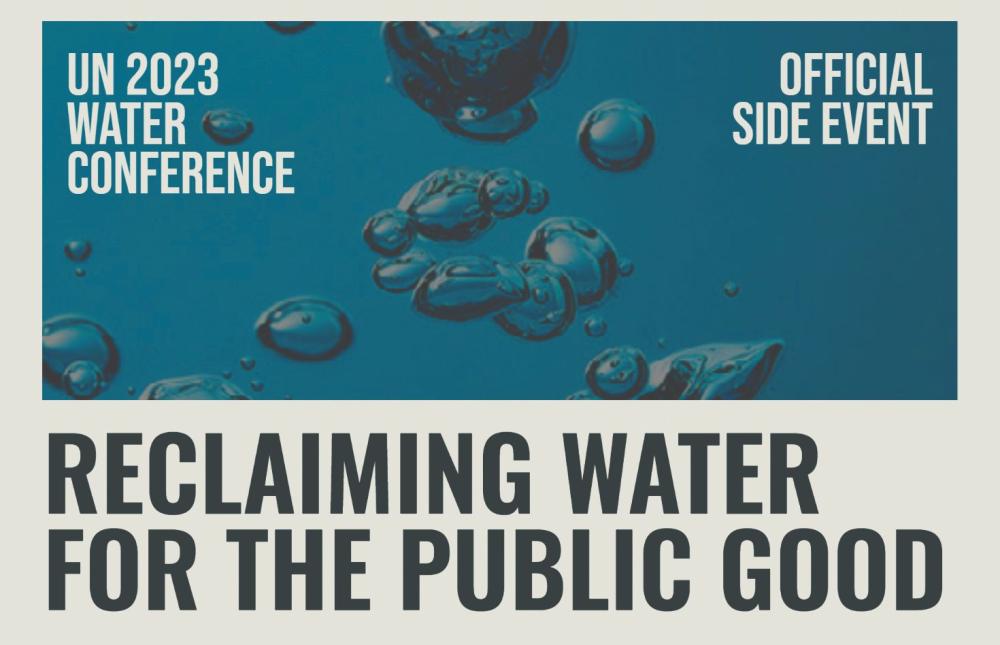 On the occasion of the UN 2023 Water Conference, join us for a UN 2023 Water Conference Official Side Event to learn from different experiences from around the world about utilities public ownership, democratization of public services, and how water defenders continue the fight for economic, social, climate and ecological justice
Featuring: Anne Le Strat, former Executive of Eau De Paris and Paris Deputy Mayor (France); Miriam Planas, Engineering Without Borders (Spain); Marcela Olivera, Blue Planet Project (Bolivia); and Hannah Thomas, missionary for the Mount Zion Baptist Church and a long time North Bellport resident and community advocate of the Setalcott Nation.
Moderated by Professor Michael Menser, CUNY (USA)
This panel is co-organized by the Rosa Luxemburg Stiftung New York Office and CUNY Earth and Environmental Sciences Department.
Capacity is limited. Entrance will be on a first come, first serve basis for those registered.
Please notice the guidelines for Building Entry. To enter the Graduate Center, visitors are required to show a government-issued photo ID to the security officers at the lobby's front desk.
Wednesday, March 22, 2023, 6:30 PM – 8:30 PM EDT
Martin E. Segal Theatre
CUNY Graduate Center
365 5th Avenue First floor
New York, NY 10016
This panel is co-organized by the Rosa Luxemburg Stiftung New York Office and CUNY Earth and Environmental Sciences Department.
Rosa Luxemburg Stiftung  
275 Madison Avenue,
Suite 2114
New York, NY 10016
Centennial Year Celebration of Dr. Antonia Pantoja - March 23 (Friends of Puerto Rico Initiative)
Dr. Antonia Pantoja, is an icon for Puerto Ricans both in the US and in Puerto Rico. Committees to celebrate her life have been organizing events in both countries to celebrate the centennial of her birth.
In New York, Friends of Puerto Rico Initiative will be hosting a Zoom with Lillian Jimenez, director of the film, Antonia Pantoja ¡Presente!
Dr. Antonia Pantoja was one of the most important leaders of the Puerto Rican Diaspora, or Puerto Ricans who immigrated to the United States throughout the 20th Century. Born outside of Old San Juan in Puerta de Tierra in 1922, Dr. Pantoja worked as a schoolteacher in rural Puerto Rico before finding her calling as a community organizer and educational activist in the United States. Over the course of her life, she founded several community-focused organizations, including the Puerto Rican Forum, which served as an incubator for local programs that promoted economic self-sufficiency, and ASPIRA, which trains young, high school-aged Puerto Ricans to take on leadership roles in their schools and local communities. Dr. Pantoja also helped to bring about the implementation of bilingual education in New York City public schools, and co-founded the Universidad Boricua, the precursor to today's Boricua College.
The Morning Bell
October 4, 2021
(The Morning Bell is an online publication designed for NYC students, parents, and educators, published by NYC Department of Education.)