Global Left Midweek – Winter of Discontent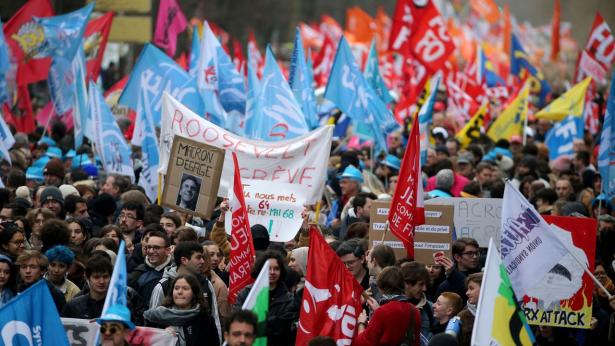 Protesters in Reims, northeastern France on March 7, 2023. Credit, Francois Nascimbeni/AFP/Getty Images
__________
France: General Strike Continues
__________
UK: Defending National Health
__________
Swaziland Communist Escapes Captivity
Pavan Kulkarni / Peoples Dispatch (New Delhi)
Mvuselelo Mkhabela narrated how he escaped from the police and made it to safety with the help of his comrades, following hours of torture, after being shot by the King's police while leading a pro-democracy protest.
__________
Australia: Greens, Labor Party Support Four-Day Work Week
Paul Karp / The Guardian (London)
Australia should try out a four-day work week at full pay and more than double paid parental leave to 52 weeks, according to recommendations backed by Labor and Greens senators. The Senate work and care committee called for a suite of policies that would radically adjust work-life balance, to make more time for caring responsibilities and boost quality of life.
__________
Voices of Left Leaders in South America
__________
Anti-Netanyahu Upsurge While IDF and Settlers Spread Terror
__________
Czech Workers vs South Korean Capital
Veronika Sušová-Salminen / Cross-Border Talks (Warsaw)
After a week-long strike, the Czech KOVO trade union and the management of the South Korean company Nexen Tire, with mediation from the Czech ministry of social affairs and labour and the South Korean embassy in Prague, came to terms on an 8% increase in wages for local workers. However, the agreement is a compromise, and the end of the strike is conditional.
__________
UK: Unified Left Slates for Labour Party Elections
Labour Hub (London)
Momentum and other organisations in the Centre-Left Grassroots Alliance have today announced unified slates for internal elections in the Labour Party this year. Following a Starmer-backed rule change to move away from one-member one-vote (OMOV) elections as part of a wider attack on member democracy, Labour Conference 2023 will be the body to decide on crucial elections.
__________
Can the World Save the World?
John Feffer / Foreign Policy in Focus (Washington DC)
Transforming the current system of global governance around climate, energy, and economic development is like trying to repairing an ocean liner that has sprung multiple leaks in the middle of its voyage with no land in sight. But there's an additional twist: all the crew members have to agree on the proposed fixes.