Media Bits and Bytes – March 21, 2023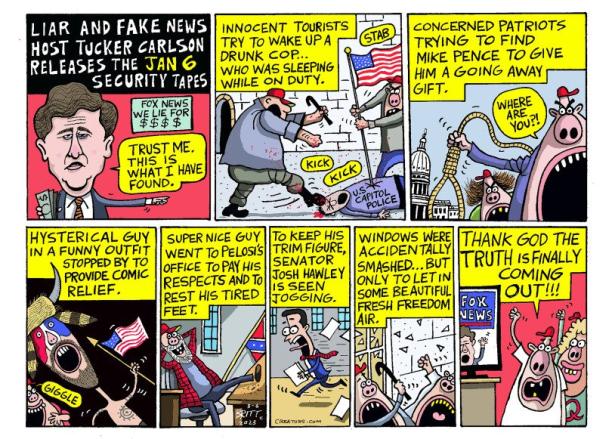 Chris Britt | Copyright 2023 Creators Syndicate
By Daniele Served
Cointelegraph
The collapse of Silicon Valley Bank and Silvergate Capital, some of the most crypto-friendly banks in the industry, has forced many crypto firms to hold their breath. With no significant banking partner, many companies will find it harder to comply with regulations and offer their services in a way that is consistent with the expectations of the United States Securities and Exchange Commission.
The Times, They Are A-Driftin' Right
By Saranac Hale Spencer, Robert Farley and D'Angelo Gore
FactCheck.org
Fox News commentator Tucker Carlson mangled recently released video from January 6, 2021 to misleadingly minimize the violence at the riot and to distort the actions of the police.
Canceling Melissa Harris-Perry
By Nick Pinto
Hell Gate
Behind the scenes, the end of "The Takeaway", and the manner in which it has been handled, has stirred up long-standing frustrations between employees and the organization's management. Former staffers allege that the show never received the support it needed from WNYC's leadership. 
DeSantis Goes to Bat for Newsmax
By Ted Johnson
Deadline
Florida Gov. Ron DeSantis said that Congress should investigate AT&T and DirecTV for their decision to drop Newsmax and, last year, One America News Network. DirecTV dropped Newsmax last week, contending that the conservative channel was demanding "significant fees" at a time when it was already available for free on streaming platforms.
By Jon Allsop
Columbia Journalism Review
Aspects of the Gary Lineker controversy resonate beyond the BBC's particular circumstances, and, indeed, beyond the UK. While Lineker is not a traditional journalist, his comments, and the BBC's response to them, thus play into a second broader debate—what those who work for news organizations that like to position themselves as neutral are and aren't allowed to say on their own time. 
By Henry Ly
e27
Vietnam started using AI in healthcare a few years ago. Ducosan, a startup established in Ho Chi Minh City, is a website that links patients and physicians. The fundamental idea is to employ technology to speed up the selection of a doctor, the intake of new patients, and the management of patient records.
The First Amendment and Section 230
By Jason Kelly and Chao Liu
Electronic Frontier Foundation
Thanks to Section 230 and the First Amendment, websites can take down what they want. Section 230 is essential to smaller companies and startups: "The big guys can take care of themselves," but the small guys should be able to compete with the big guys.
By Jinoy Jose P
Frontline
Whether its OpenAI's ChatGPT, Google's Bard or Meta's Galactica, chatbots powered by generative artificial intelligence (AI) may help create, in spite of all the benefits they claim to be bringing to humanity's table, an unequal world where the poor will be left to the mercies of AI while the rich can have the best of both worlds, feels AI expert and author Arvind Narayanan.
Biden's Campaign Against TikTok
By Sara Morrison
Vox
The status quo — an impasse where TikTok operates as normal with the seemingly empty threat of a ban hanging over its head — won't be tenable for much longer. But the choices that the US and TikTok's China-based owner ByteDance are left with don't seem very tenable, either.