Dispatches From the Culture Wars – March 28, 2023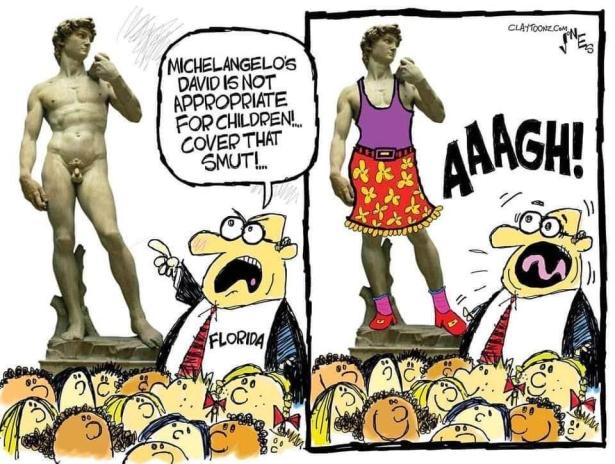 Clay Jones, claytoonz.com
Electeds Fight GOP Book Banning
By Julia Conley
Common Dreams
Progressive lawmakers and education advocates on Friday condemned the passage of House Republican lawmakers' "Parents Bill of Rights Act." The legislation bans books and further ostracizes marginalized communities, while providing no improvements to children's safety at school. 
Conservationists Sue Biden Over Willow Drilling
Center for Biological Diversity
Earthjustice filed a lawsuit on behalf of conservation groups to stop the massive Willow oil drilling project in Alaska's Western Arctic, which the Biden administration approved March 13. This approval of an enormous new carbon pollution source undermines President Biden's promises to slash greenhouse gas emissions in half by 2030 and transition the United States to clean energy.
State Takeover of Houston Schools
By Domingo Morel
The Conversation
The state of Texas took over Houston's public school district on March 15. Research on state takeovers of school districts suggests that the Houston takeover, like others, is influenced by racism and political power. Negative consequences often include the removal of locally elected school boards. They also involve decreases in teachers and staff and the loss of local control of schools.
A Welsh Town Hears From the Far Right
By Ashitha Nags
BBC News
Patriotic Alternative has been staging anti-migrant protests across the UK, and leafleting communities where there are existing tensions about the provision of accommodation for asylum seekers. In one town in south Wales, a local community has banded together and is planning a peaceful counter-protest.
LGBTQ+ Exhibition in Hong Kong
By Lisa Movius
The Art Newspaper
Billed as "the first major survey exhibition on LGBTQ+ perspectives in Hong Kong", Myth Makers—Spectrosynthesis III tests the current waters for free speech in a fast-changing city. Though censorship has been ramping up in Hong Kong, only one work has been removed from the show.
Hidden Injuries of Class Then and Now
By Richard Sennett
Verso Books
The Hidden Injuries of Class, which recounts the lives of working class families in the early 1970s, seems to tell the story of a vanished world: people held jobs for decades; unions were strong; "globalization" did not mean much on the shop floor. But rereading this book now I'm struck by how some of the worst ills of that era have persisted, indeed grown worse in a new age of capitalism. 
Where Woke Goes to Die
By Daniel Desrochers
Kansas City Star
Sen. Josh Hawley referenced Woody Guthrie last week when he sponsored a bill to prevent people associated with the Chinese Communist Party from owning U.S. farmland and called it the "This Land Is Our Land Act." Woody's daughter wrote in an email, "We do not consider Josh Hawley in any way a representative of Woody's values,"
By Henry A. Giroux
Salon
Creeping calamities have become routine, matched only by a civic culture that is under siege by the apostles of neoliberalism promoting privatization, consumerism, anti-intellectualism and a brutal market ideology. Historical consciousness has become the target of white supremacists and a far-right Republican Party that is silent about the dark past of its authoritarian politics.