Tidbits – Apr. 6, 2023 – Reader Comments: Trump Indictment; Nashville Students Protest, Tenn Legislators Dixiecrat Policies; Israeli Protests; Dolly Parton; Russian Neo-Imperialism; the Measures Taken-Live Theater Performance of Bertolt Brecht Play;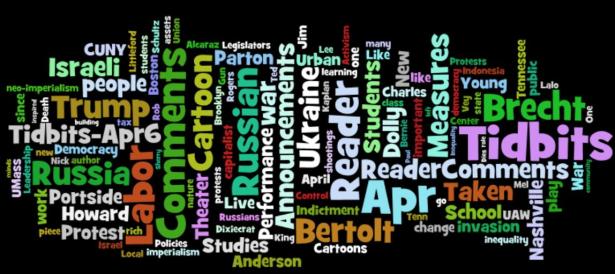 Tidbits - Reader Comments, Announcements AND cartoons - Apr. 6, 2023,Portside
Announcements:
Re: Act Like a Mob Boss, Be Indicted Like One  

Now we'll see how many people want elite criminals treated differently from the rest of us.
Karl Edler
Posted on Portside's Facebook page
      =====
Donald Trump makes Benedict Arnold look more like Honest Abe.
Brian De Leo
Posted on Portside's Facebook page
Trump 2024  --  Cartoon by Nick Anderson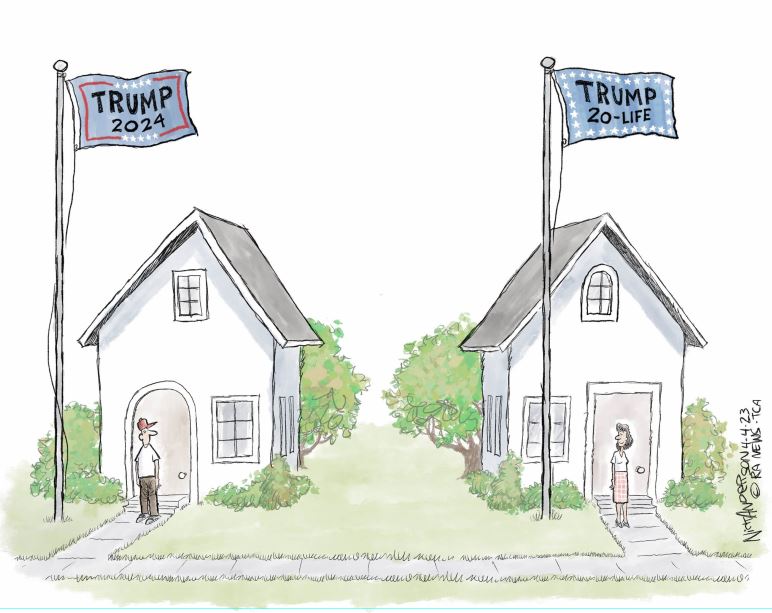 Nick Anderson
April 4, 2023
Pen Strokes
Golden Escalator: Felonious Trump Is Going Down  --  Cartoon by Lalo Alcaraz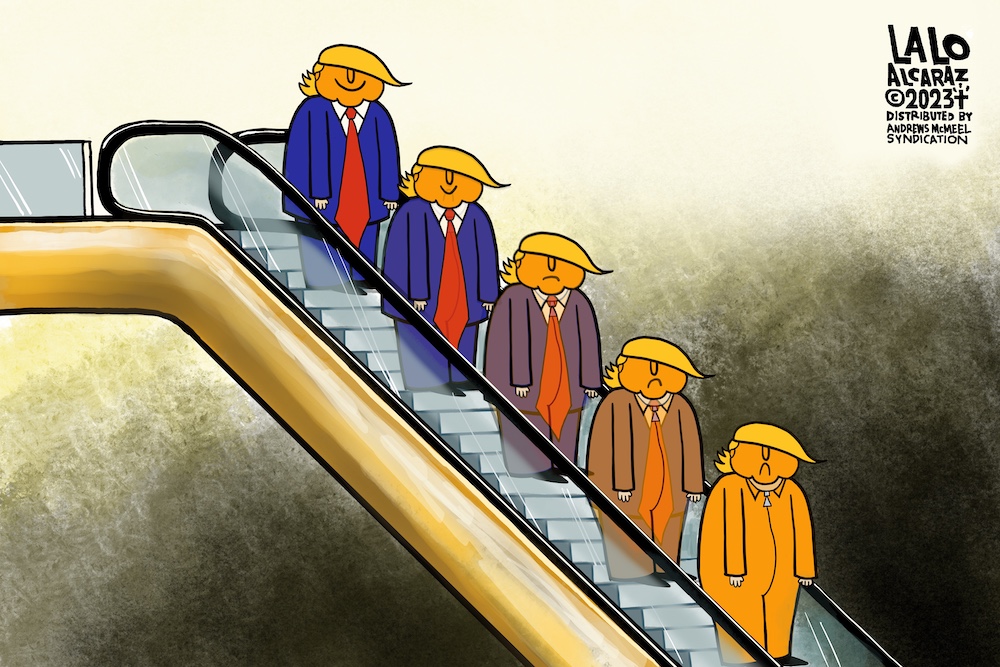 Lalo Alcaraz
April 4, 2023
Pocho.com
Re: As Young People March for Their Lives, Tennessee Crushes Dissent and Overrides Democracy  
Power to the children! And look what the "leaders" in the state do to punish those who are inspired by and follow the kids. But the struggle is on (and how appropriate it is that once again it's the young people of Tennessee, following in the footsteps of those who started the student civil rights movement by sitting in at Jim Crow lunch counters 63 years ago).
Kipp Dawson
Posting on Facebook
Re: Nashville Students Rally for Gun Control Ahead of April 5 Nationwide Walkout  
While I severely doubt anything will change the minds of current law makers protests like give me hope. If they can keep this determination into adulthood they will be able to effect real change either through running for office themselves or by voting for those who will bring about the changes needed.
Here's some numbers for you to chew on. There have been 377 school shootings in the US since Columbine. 199 students and educators have been killed and another 425 injured in those shootings. More than 349,000 kids have experienced (been present in the building or directly witnessed) gun violence in that time. Young people know this is wrong and should never have had to go through this in the first place. It IS an important issue to them and they WILL do something about it as they become eligible to vote or run for office themselves.
Robert Laite
Posted on Portside's Facebook page
Re: 55 Years After MLK's Death, His Radical Vision Should Galvanize Our Struggles Today  
Assassination not Death.
Charles Ezra Ferrell
Re: Tax the Rich, Because Inequality Is Bad for All of Us  
The "tax the rich" essay focused on income inequality, not wealth inequality. In addition to revising the income tax regime, a more powerful approach is to focus on assets. We should be talking about taxing the assets of the rich. A 50% tax on assets over $10 million would quickly address inequality.
John Gehan
Re: Why the Main Players Behind the Israeli Protest Movement Are Bringing the Confrontation to a Head  
a very shrewd and persuasive analysis of events in Israel and their deeper meaning
Paul Buhle
Posted on Portside's Facebook page
      =====
You can't have a religious democracy. It doesn't exist in nature. You may use the ballot in your theocracy. Voting alone does not create or maintain a democracy. A Constitution that guarantees separation of church and state. Freedom of the press and the right to speak and assemble to request redress from the government. Israel cannot become or create a democracy while fighting religious wars with their neighbors or having second class citizens because of a difference in religion.
Leta Caplinger
Posted on Portside's Facebook page
Re: The Israeli Right's Arrogance Has Made a New Struggle Possible  
The mass protests have opened the possibility, however slight, that Israelis will begin to demand fundamental changes we haven't seen since 1948.
Norm Littlejohn
Posted on Portside's Facebook page
Re: First Graders Not Allowed To Sing 'Controversial' Dolly Parton Song About Acceptance  
Ridiculous! We should be protecting our children from being shot instead.
Sherry Bridwell
Posted on Portside's Facebook page
      =====
There you go. Exactly. Maybe if we sang more Love and Respect each others songs, like this one. We'd have less mass murderers.
I just read the entire lyrics. WTF? Nothing in there but, let's all get along and be respectful of each other. THAT'S being BANNED? Wisconsin, you are sliding down the hate slope to hell. How can you find fault in love and respect?
Marce Anderson
Posted on Portside's Facebook page
      =====
Oh for God's sake
The song includes lyrics like "wouldn't it be nice to live in paradise. Where we're free to be exactly who we are."
Pam Bouldin
Posted on Portside's Facebook page
      =====
They're coming after Dolly now?!!!! What in the world?! We're headed towards dictatorship guys. Put your boots on.
April Rodriguez
Posted on Portside's Facebook page
      =====
What I understand is it was banned because the word rainbow is in the title, that they also removed the Muppet Movie song Rainbow Connection.
Reggie Bixler
Posted on Portside's Facebook page
      =====
I guess a few of my Favorite things from Mary Poppins needs to go too?
Donna Datz
Posted on Portside's Facebook page
      =====
Truly stupid. But what do you expect from people who have turned Christianity into a political party.
Lee Huddleston
Posted on Portside's Facebook page
      =====
Absurdity, insanity, insane how can humans be sooo effin stupid ?
Karin Weinfurtner
Posted on Portside's Facebook page
      =====
Neanderthal Republicans, who pretend to be good Christians but have mostly hate and prejudice in their hearts and very little in their brains.
Mara Giulianti
Posted on Portside's Facebook page
Burnt Books  --  Cartoon by P. C. Vey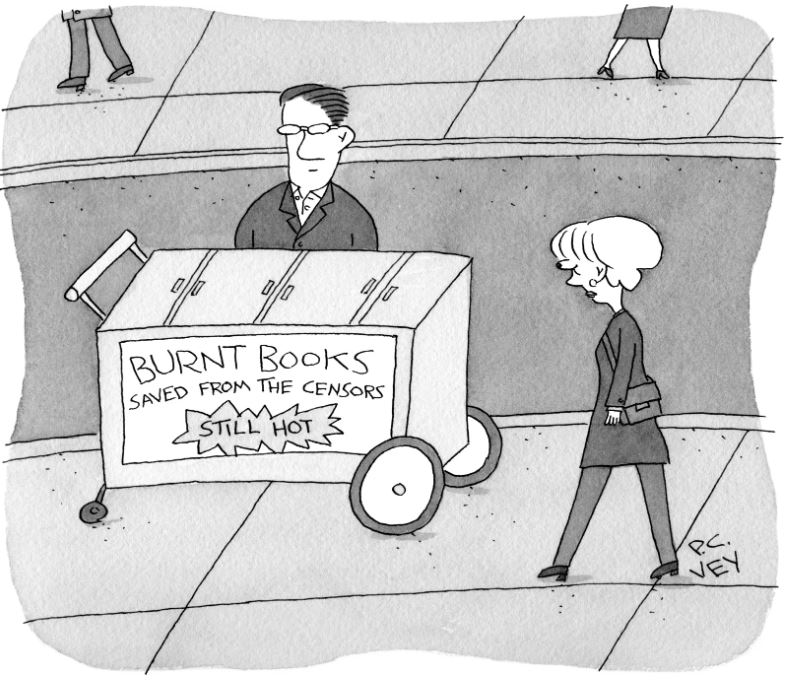 P. C. Vey
April 3, 2023
The New Yorker
Re: The Revolution Against Shady Landlords Has Begun  
As one of the countless, working class, elderly people forced out of their home, I pray these brave tenant activists are sussessful in their work. Housing should be for humans to live in, not for predators to extract blood.
Alyssa Bonilla
Posted on Portside's Facebook page
(posting on Portside Labor)  
Many thanks for publishing Alex Press's piece on the UAW dynamics. As a namesake of my grandfather Jim Gallivan, a founding member of UAW Local 14, the first GM plant organized (spearheaded by Bob Travis), and a member of Local 1981 until its demise, I valued the account very much. May even carry me back to Jacobin. 
Splendid choice.
In solidarity,
Jim Young
President, PA 
Labor History Society
Re: Mel King, Whose 1983 Mayoral Campaign Ushered In a New Era in Boston Race Relations, Dies at 94  
He was an amazing man. During desegregation, he led a march on the public beach in South Boston which by tradition had been whites only. Local folks gathered to throw stones and bottles from behind a police line. Mel Ignored them and calmly walked up to his thighs in the water showing great courage. He is truly an important part of Boston History and will be missed by many.
Charles Patrick Lynch
Posted on Portside's Facebook page
Re: The Cold War Was Never About Democracy  
quite a read, and then after Indonesia, the powers-that-be tried the same thing in Vietnam with different results
Howard Scott
Posted on Portside's Facebook page
      =====
Awful.CIA inspired regime change in Indonesia. Killed hundred thousands
Howard Kaplan
Posted on Portside's Facebook page
Re: About Russian Neo-Imperialism  
A good piece for understanding the nature of modern Russian imperialism, the development of it's capitalist oligarchy, the emergence of Putin as a strongman, and motivations behind Russia's invasion of Ukraine.
While the author condemns Russia's invasion of Ukraine and criticizes those on the left that doubted Russia would invade, he does not take the side of Ukraine's U.S.-led capitalist backers.  Instead he calls for an independent view of the war.  He also doesn't get into what many have described as Russian opposition to Ukraine's western-backed provocations, nor the civil war in Donbas, nor Russian intervention in Donbas prior to it's invasion.  Nor does the author deal with the most critical question: how the war in Ukraine can be ended.
This piece is helpful in discrediting those on the left who have taken Russia's side in the war in Ukraine and who mistakenly argue that Russia's invasion of is somehow playing a progressive role in confronting U.S.-led western capitalist imperialism.
Jonathan Nack
Posted on Portside's Facebook page
After Every Shooting  -- Cartoon by Ted Littleford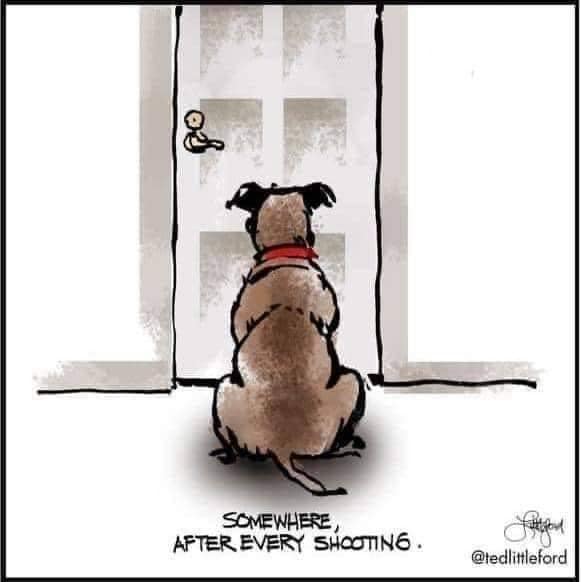 Ted Littleford
March 28, 2023
Facebook
Re: Bernie Unloads on Howard Schultz at Senate Hearing
(posting on Friday Nite Videos)  
It was wonderful seeing Bernie Sanders rip Schultz a new one. In a quarter of an hour he demonstrated  why we need socialists and why the rich want to destroy/eviscerate government!
Cap'n Steve & Admiral Duffy
Four Seasons  --  Cartoon by Rob Rogers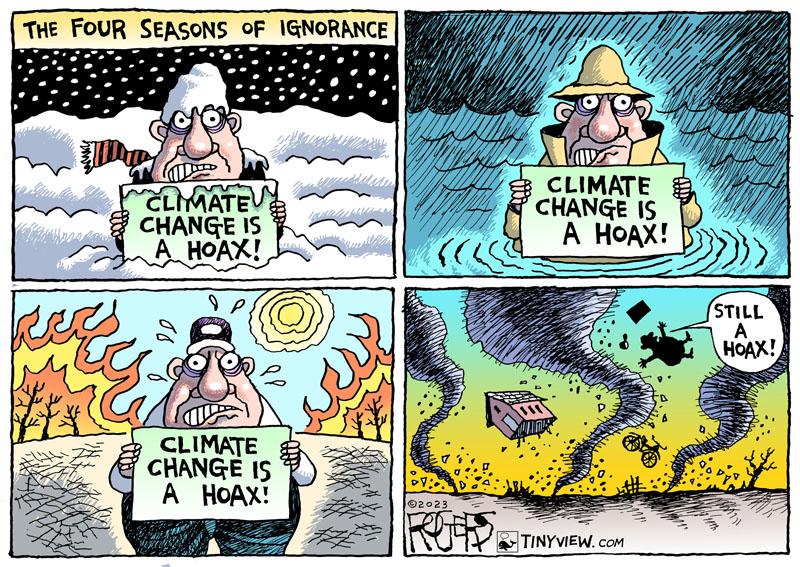 Rob Rogers
April 4, 2023
robrogers.com
Live Theater Performance - The Measures Taken by Bertolt Brecht - New York - April 26 (CUNY School of Labor and Urban Studies)
The Measures Taken
Live Theater Performance @CUNYSLU
Wednesday, April 26, 2023  
6:30pm - 8:30pm (U.S. Eastern Time)
An in-person only event at the
CUNY School of Labor and Urban Studies
25 West 43rd Street, 18th floor, New York, NY 10036  (map)
All attendees must display proof of vaccination to enter. Masks optional.
About THE MEASURES TAKEN:
After mounting a successful revolution, four political agitators report back to their party leader and reveal that in the course of their struggle they had to execute a comrade. In order to explain themselves they stage a play. In The Measures Taken, Bertolt Brecht leads us to question the nature of solidarity and sacrifice, as we follow the four agitators' mission to spread class consciousness, to organize labor movements, and to overthrow the evils of capitalist society.
This production of The Measures Taken has sought to use Brecht's learning plays a way to engage people in movements and to discuss its highly relevant issues, from the role of unions in revolutionary work to the complexity of vanguardism.  During the spring and summer of 2022, this show was performed in public parks, community gardens, and activist spaces throughout NYC -- including collaborations with Brooklyn Eviction Defense, Club A, the Gym, DSA North Brooklyn, Interference Archive, and Haymarket's Socialist Conference in Chicago.  Each show was followed by a facilitated conversation focusing on building interorganizational connections and to reflect on the current state of organizing in Brooklyn and beyond.
About Bertolt Brecht:
Considered one of the most important dramatists, poets, and thinkers of the twentieth century, Bertolt Brecht (b. 1898 - d. 1956) was a German Marxist playwright and poet who sought new ways to bring together art and politics. His work was performed for audiences of socialists, unionists, and a growing working-class in post WW1 era-Berlin, and has been an important touchstone for leftist artists ever since. Brecht's The Measures Taken was written in 1930 as a learning play, a form of radical experimental theater meant for non-actors to embody and reflect on communism, revolution, the ills of capitalism, and the impact of living in a class-based society.
Written by Bertolt Brecht
Staging and concept by Jurrell Lewis and Lucas Kane
Directed by Lucas Kane
Performed by Malachi Brown, Ava Kaplan, Nashwa Zaman, Adi Blaustein Rejto, and Kaiden Talesh
Music by Malachi Brown and Livia Reiner
Costumes by Willa Schwabsky and Zelda Mazor-Freedman
Set design by Eliza Williamson
Painting by Adi Blaustein Rejto
Photos by Lee Rayment
The CUNY School of Labor and Urban Studies strives to promote learning by producing thought-provoking public programs that present diverse perspectives by scholars, public policy experts, artists, and labor and social justice activists.
Questions or suggestions?  Email us at: events@slu.cuny.edu
Sponsored by the CUNY School of Labor and Urban Studies  
25 West 43rd Street, 19th Floor
New York, NY 10036
(646) 313-8300
Why do Russians Support the War? - April 27 (openDemocracy)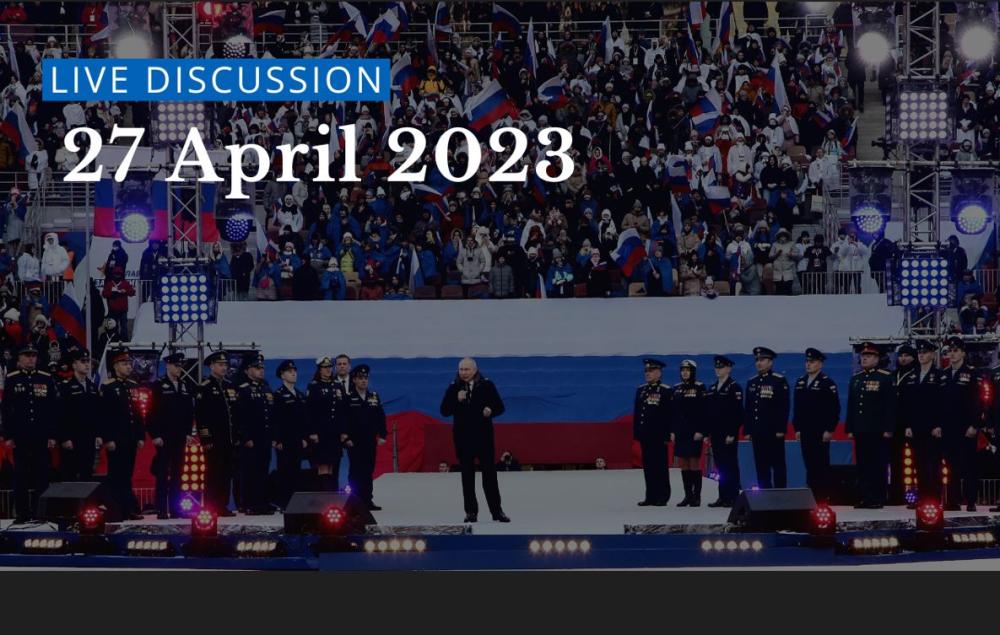 One year since Russia's full-scale invasion of Ukraine, surveys demonstrate that over two-thirds of Russians still support the war. Why do people believe that the 'special military operation' was necessary? How is it possible that they don't change their minds even when they know about the Russian army's devastating war crimes in Ukraine and losses and chaos the army is suffering?
Our expert speakers will unpack these questions – and answer yours – at this event.
Hear from:
Oleg Zhuravlev Researcher with Public Sociology Laboratory (Russia). He received his PhD in social sciences from the European University Institute (Florence, Italy)
Elena Koneva Researcher at ExtremeScan, a Russian opinion-polling company
Jade McGlynn Research fellow at the department of war studies, King's College London. She is the author of a new book, 'Russia's War' (2023), and 'Memory Makers: the Politics of the Past in Putin's Russia'
Chair: Polina Aronson Debate editor at oDR, openDemocracy's post-Soviet space project
Recruiting the Next Generation of Labor Leaders   Union Leadership and Activism Starting July 9-19 - Rolling applications until May 1, 2023 (UMass Labor Center)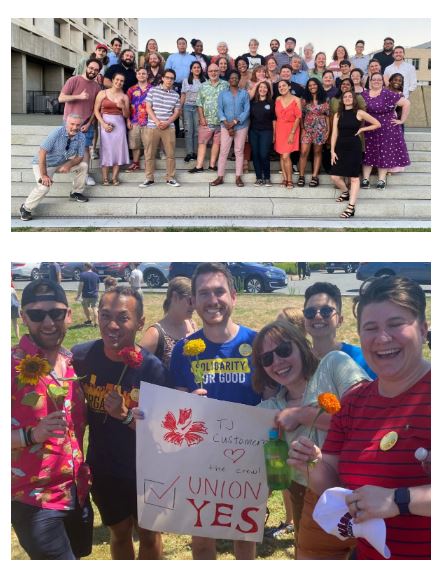 Union Leadership and Activism (ULA) students maintain full-time work while completing a Master's Degree in Labor Studies in 5 semesters of coursework.
Students attend 10-day residencies on UMass Amherst campus and complete coursework after returning home.
Inspiring courses taught by notable scholars and industry practitioners provide ideas and skills that are immediately applicable to the work our students are already doing in unions, worker centers, community organizing, advocacy, and politics.
GRE not required.  Scholarships available.
Rolling applications until May 1, 2023.
UMass Labor Center  
Labor Center, University of Massachusetts
200 Hicks Way
Amherst, MA 01003