Global Left Midweek – June 14, 2023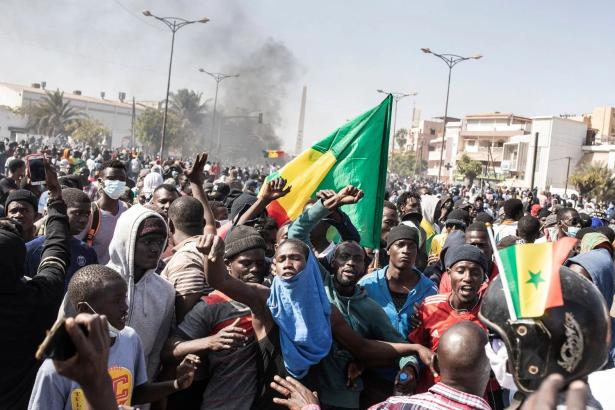 Protesters at Place de la Nation in Dakar, Senegal, on March 8. Credit, JOHN WESSELS/AFP VIA GETTY IMAGES
__________
Demanding Democracy in Senegal
Tanupriya Singh / Peoples Dispatch (New Delhi)
Last week, Senegal, often touted as a beacon of democracy in West Africa, was rocked by clashes between state forces and protesters following the condemnation of the country's main opposition leader, Ousmane Sonko for "corrupting youth". The government has arrested opposition leaders, restricted access to the internet and social media platforms, and deployed the military in several cities. 
__________
Making Movement Politics Planetary
Alexander Behr / Berliner Gazette
Establishing and politicizing links between environmental and labor struggles means, not least, re-establishing the connection between ecological catastrophes and the economic and social systems that caused them. A further development of intersectional approaches under the sign of planetary alliance politics and a solidarity-based division of labor is fundamental for this.
__________
Clara Zetkin: Understanding Fascism
Jörn Schütrumpf / Rosa Luxemburg Stiftung (Berlin)
For Clara Zetkin, it was "evident that fascism has different characteristics in every country, based on specific circumstances. Nonetheless, in every country it has two essential features: a sham revolutionary program, which links up in extremely clever fashion with the moods, interests, and demands of broad social masses; and the use of brutal and violent terror."
__________
Ukraine Information and Solidarity
[This is an excerpted e-translation. Read the full report in German here.]
It begins, how could it be otherwise, with "Imagine" by John Lennon. The Lorely hall in the west of Vienna, which had to be rented at short notice after being expelled from the Austrian Trade Union Federation premises, is very well filled this Saturday morning. Around 300 people have come. Average age 50 plus. The protesters expected by the organizers do not appear. "Everything inconspicuous," says one of the security guards, who are not necessarily immediately recognizable as such. Leaflets, buttons and flags line the hall and the vestibule. [...]
The linguist and left-wing activist Noam Chomsky gives an expected zoom speech, in which he does not deny Ukraine its right to defend itself, but repeatedly says vaguely that there are many alternatives for creating peace. According to Chomsky, the world community is ready for peace in Ukraine, but the United States is promoting the continuation of the war. [...]
Gerhard Kofler from AbFaNg Austria, the Action Alliance for Peace, Active Neutrality & Nonviolence, as one of the organizers, then opens the peace effort "in neutral Austria". He thinks that if only five fewer people would die in Ukraine thanks to this event, then it would have already achieved its purpose. Asked by the STANDARD how concretely this should work, he does not really have an answer ready, demands a reorganization of the UN Security Council and a chair for peace research in Austria, and says that one simply has to discuss peace more seriously. [...]
"Ceasefire means first of all that the daily killing and murdering stops, thereby opening up avenues for negotiations that help overcome intolerable conditions," said co-organizer Reiner Braun, explaining his central demand. Asked whether such a measure in Ukraine would not lead to the entrenchment of military territorial gains by Russia, he said that a ceasefire has sometimes led to the freezing of conflicts. It would depend on political will.
Sean Conner of the International Peace Bureau, the second main organizer, spoke next. The war must come to a "just and peaceful" end, he says. History has shown that wars are not decided on the battlefield, he says, whereas history has very much shown that negotiated settlements after war have often been preceded by the military defeat of one party to the conflict or a stalemate. "Listen and learn," he says, even if you disagree. [...]
He addresses Russia's accountability for the war crimes committed and says that the "question of territorial integrity" must, of course, also be part of a long-lasting peace that guarantees that Russia can no longer intervene. Postscript: of course, however, one must look at whether the West has always acted correctly. [...]
Jeffrey Sachs, the most famous speaker at the event, takes the stage. [...] His speech meets every criterion of the classic conspiracy narrative. He constantly emphasizes that he has inside information from the White House and from high-ranking members of the government, which would supposedly prove that all evil in the world, every major conflict in recent years, can only be traced back to the United States and its will to intervene. The Syrian civil war then quickly becomes a "so-called Syrian civil war", the Russian war of aggression is a war between two global fronts. [...]
In the afternoon, representatives of Ukrainian and Russian civil society speak. Neither, however, represent majority positions in their countries by any means. [...]
In the early afternoon, Nina Potarska, from the Women's International League for Peace and Freedom, brought to the 300 or so peace supporters a Ukrainian perspective, for the first time, what a ceasefire really means at the present time. [...] Families would remain separated, the conflict itself would not be resolved, Russia would probably once again illegally annex land. There would be no guarantee that Russia would not try again. On the verge of tears, the woman who had fled Ukraine said she probably wanted peace more than anyone else in the room. "But what do you really mean when you want peace," she asked. We should be aware that singing songs while living in peace is a privilege, she said. Unlike all the other speakers, there was no applause during the speech, modest applause afterward, and no standing ovation as with the previous speakers.
In front of the conference building, the STANDARD meets Viktor, 76 years old from Kherson. He fled at the beginning of the war, and speaks good German. [...] He says that his homeland was first occupied and now flooded by the dam burst. It is important to him to say, even to those who do not want to hear it, that Russia is a terrorist state.
__________
The AMLO Project
Edwin F. Ackerman / New Left Review (London)
AMLO's overarching project has been to move away from neoliberalism towards a model of nationalist-developmentalist capitalism. To what extent has he succeeded, and what can the left learn from this endeavour?  
__________
Israel's Protests
__________
Italy's Democrats and the Left
Norma Rangeri / il manifesto Global (Rome)
Precisely because there is a reactionary, conservative, fascistoid government, the opposition forces should roll up their sleeves to try to build a credible, plausible, lasting alternative from the grassroots up. There's no chance of that happening, though – because, now as before, the impulse actually prevailing is that of a self-referentiality that is as stubborn as it is nonsensical.
__________
14-Hour Day: South Korean Youth Push Back
Pablo León / El País (Madrid)
In March, a series of protests swept across South Korea. A proposed labor reform met with widespread opposition. The Korean Confederation of Trade Unions said it "would make it legal to work from 9 a.m. to midnight for five days in a row." The Korean Women's Associations United warned: "While men would work long hours, exempt from care-taking duties, women would be forced to do it all." 
__________
All Eyes on Colombia
__________
Rent Strike Wave in Toronto
Mitchell Thompson / Jacobin (New York)
As Toronto grapples with skyrocketing housing costs, tenant unions across the city are uniting against major corporate landlords in a massive rent strike. The strike is vitalizing the fight for housing justice in one of the world's most expensive cities.