Global Left Midweek – Euro Focus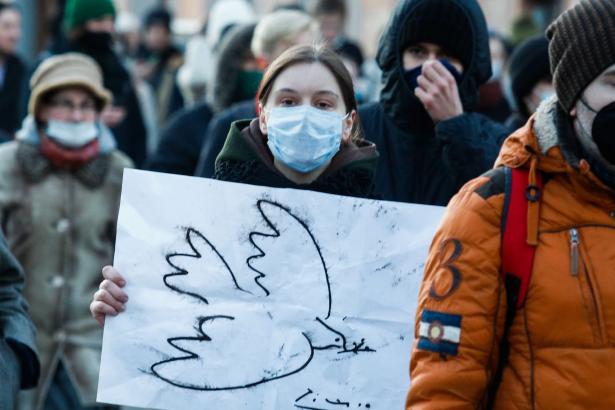 Protesters demonstrate in St. Petersburg, Russia, against military actions in Ukraine in February 2022. Credit, VALYA EGORSHIN / NURPHOTO VIA GETTY IMAGES
__________
Macron Dissolves Climate Coalition
Angelique Chrisafis / The Guardian (London)
Les Soulèvements de la Terre (Earth Uprising) is an umbrella group of several different environmental activist associations across France. It is seen as leading a new form of more radical climate action in Europe with high-profile direct action often aimed at big business interests, state projects and large-scale farming. A government spokesman accused the coalition of encouraging violence.
__________
Swiss Voters Take on Corporations and Climate
Brett Wilkins / Common Dreams (Portland ME)
By wide margins, Swiss voters on Sunday approved a global minimum corporate tax and a law mandating carbon neutrality in the alpine nation by midcentury. "Climate law is essential to take a first step and inscribe in Swiss law a clear objective for 2050. When you have a clear objective, you can then put in place the necessary measures," said Céline Vara, a Green Party parliamentarian.
__________
Are Austria's Social Democrats Going Socialist?
Adam Baltner / Jacobin (New York)
For years, Austria's Social Democrats have embraced the values of the free market and lost ever more working-class votes. Now, left-winger Andreas Babler has surged to the party leadership — and promises to transform his country's politics.
__________
Thousands Demand Abortion Rights in Poland
Weronika Strzyżyńska / The Guardian
"Stop killing us," protesters across Poland chanted on June 14, demanding the legalisation of abortion, after reports reached the media of a pregnant woman's death in a hospital in May. Marta Lempart, founder of the All-Poland Women's Strike, which organised many of the protests, said: "The anti-abortion legislation in Poland is very restrictive. But doctors are denying access to abortions that are legal."
__________
Greek Left at Crisis Point Ahead of Vote
Florian Schmitz / Deutsche Welle (Berlin)
Greece goes to the polls on Sunday for the second time in just over a month. While the left wing opposition is divided, the conservative government grows stronger. What does this mean for politics in Greece?
__________
New Leader For Portuguese Left Bloc
Mariana Carneiro / Rosa Luxemburg Stiftung (Brussels)
On 27 and 28 May, the Bloco de Esquerda (the Left Bloc) held its 13th National Convention in Lisbon. The new Left Bloc national coordinator, Mariana Mortágua, stated that "the duty of the left is to regain strength, to unite the social forces that do not renounce the struggle for a good life. The duty of the left is to be united and combative, to speak out and mobilise the people".
__________
Russia: Interview with the Feminist Anti-War Resistance
Roksana Kiseleva and João Woyzeck / Europe Solidaire Sans Frontières (Paris)
We focus on the social and economic impact of the Russian invasion of Ukraine in Russia. Our movement is open to anyone who wants to join it - people can send us pictures of their small protests and we post them on our social media accounts. Our main goal is to unite and fight together against the Kremlin.
__________
Germany: Die Linke and Sahra Wagenknecht Part Ways
Gabriel Rinaldi / Politico (Arlington County VA)
In a unanimous statement, the Left Party leadership called on controversial party icon Sahra Wagenknecht, the party's parliamentary group leader from 2015 to 2019, to give up her Bundestag mandate, and demanded that she refrain from founding a competing party project. Wagenknecht has often flirted with the idea of founding her own party.
__________
Norway's Rødt Party 
Tobias Drevland Lund and Federico Fuentes / Links (Sydney)
It took us ten years to build up our party to the point of being able to win seats in parliament. Over this period of time, we have gone from something like 1500 members in 2010 to about 14,000 members. Grappling with Russia's invasion has been quite difficult and something we have had to collectively think through as a party. 
__________
A Closer Look at Gramsci
Michael Denning and Daniel Denvir / Jacobin
Few thinkers on the Left loom as large as Antonio Gramsci. He's cited often by a wide range of thinkers for a wide range of purposes, but few actually bother to take the time to really read and wrestle with the Italian communist, especially in his historical context.