Global Left Midweek – July 5, 2023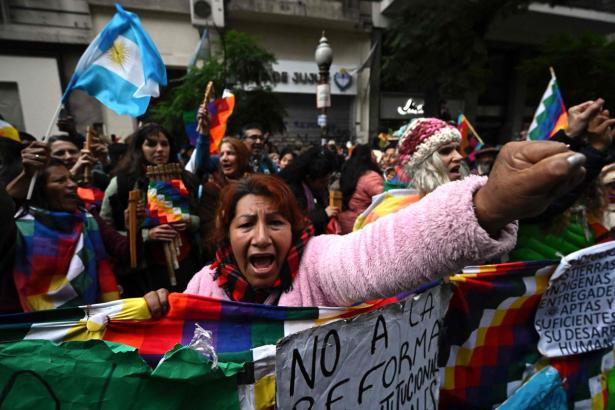 Protest in Buenos Aires against police repression in Jujuy, Argentina. Credit, LUIS ROBAYO (AFP)
__________
France's Left Parties Take On Police Racism
Mathieu Dejean and Christophe Gueugneau / Jacobin (New York)
France's left has often failed to speak up for marginalized minorities. But after the backlash over the police murder of 17-year-old Nahel, left-wing parties have taken a clear stance, refusing to condemn rioters and insisting their anger is justified.
__________
Iran: Oil Workers Support Insurgent Women
Anonymous / Red Pepper (London)
Following the murder of Mahsa Amini, a 22-year-old Kurdish woman, by the Iranian state's 'morality police', the Council for Organising Oil Contract Workers' Protests issued a statement to the Iranian authorities, asking, 'How long will our streets be dominated by the violence against women, under the pretext of hijab? How long will our lives be dominated by financial insecurity and hunger?' 
__________
The Struggle for Environmental Justice in Africa
Nnimmo Bassey / Peoples Dispatch (New Delhi)
The struggle for environmental justice in Africa is complex and broad. It is the continuation of the fight for the liberation of the continent and for socio-ecological transformation. It is a fact that the environment is our life: The soil, rivers, and air are not inanimate or lifeless entities. We are rooted and anchored in our environment. 
__________
Jenin: Symbol of Resistance and Resilience
Middle East Eye (London)
For more than two decades, the refugee camp, which sits in the eponymous West Bank city of Jenin, has become a focus of international attention and a stronghold of Palestinian determination to defy Israeli occupation. Israel's latest assault on the refugee camp, which started on Monday, has left residents shocked by the sheer level of destruction left in its wake.
__________
Myanmar and the Rohingya
Chloe DS and Maung Zarni / Green Left (Sydney)
Zarni: "Two things are going on here: one is armed resistance, supplemented by a civil disobedience movement of civil servants. Then, a cultural boycott of the military and its economic products. And the other — in my view equally important — is the social revolution that attempts to build a different type of society that is worthy of a democratic system."
__________
Closing Notes From il manifesto Editor
Norma Rangeri / il manifesto Global (Rome)
Democratic and left-wing forces are not in good shape – as we also saw in the last local elections – and we at il manifesto, who are part of this left, are also laboring under the pains of the inadequacy of our camp. The left must rediscover its people, its empathy for the weakest, for those who depend on a living wage, and it must come to terms with a much-changed new lexicon of social and civil rights.
__________
Jujuy, Argentina Lights Up
Harsh Thakor / Crosscurrents.org (Kottayam, India) 
In San Salvador de Jujuy, Argentina, a turbulent revolt has arisen for weeks against the reform of the Provincial Constitution that will leave indigenous people landless to pave way for mega-projects for the extraction of lithium for foreign companies. In addition, the people are facing merciless repression by the provincial security forces.
__________
Major Strikes Target Governments
__________
Hugo Blanco (1934-2023)
Warren Montag / Tempest (Brooklyn)
"When I entered the room to be judged, and saw my comrades after three years in prison, I yelled: Earth or Death! That was our slogan. They responded: We will win!"