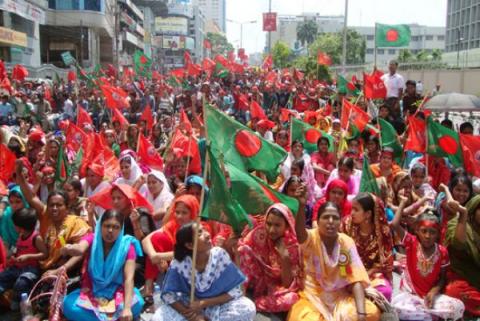 Workers holding red banners shouted "Hang the killers, Hang the Factory Owners!" during a May Day rally that was largely peaceful,May Day Celebration 2013
"It's tempting to think that this is just the way the world is. That this kind of tragedy happens in that kind of country. The people of Bangladesh disagree. In the wake of this horrific event, there has been a society-wide mobilization. Not unlike what happened in India after a young woman was gang raped on a bus. Not unlike what happened here in this country, in the wake of Newtown, Conn., when a long-festering social problem announced itself in a way that shook the nation's conscience. In the meantime, the horrific details surrounding Rana Plaza's collapse keep trickling out."
In Hong Kong, one of Asia's beacons of capitalism, trade unions say they are expecting 5,000 people to march to the headquarters of Asia's richest man, Li Ka-shing, in support of striking dock workers. 
Duration: 00:58.
Hundreds of Iraqis participated in rallies across Baghdad to mark May Day including supporters of the Communist Party. Violence in Iraq rose sharply in April, with 460 people killed according to AFP figures. 
Duration: 00:29
"The strongest payoff comes with socializing and universalizing health and retirement coverage. Adopting either would erase the bad jobs entirely. Adopting both would push the share of good jobs to nearly half (50 percent for men, 39 percent for women.)"
THIS statement is too important to be left dangling.  Please spell out the evidence and reasoning.
Martin Morand
A brilliant article by Conn Hallinan.  And a few points should be emphasized:
The US-ROK "joint maneuvers" preceded the DPRK "bluster". There have been no comparable China-DPRK joint maneuvers since the 1953 cease fire. US military are in over 100 countries on nearly 1000 bases. Since WW2, the US has invaded repeatedly in many wars, almost all unsuccessful. It destroyed several countries - in North Korea, over 2 million dead, and few buildings standing. The US has refused a peace treaty requested by the DPRK for 60 years. The US applies crippling sanctions to the DPRK. The US has the power, they use it, and they promise more.
The DPRK has no military outside its own land. It has never invaded another country; the war (still existing without a peace treaty) between North and South is a civil war. The DPRK does not embargo (an act of war) - in cruel attempts to disrupt economies and impoverish citizens. Who does, and pressures others to do it?
The DPRK uses "peace through strength" logic just as the US did during the Cold War. A strong army with some nuclear capability might deter attack. We do not criticize "friends" like Israel for this logic. It IS dangerous. We should criticize it!
A threatened chihuahua barks loudly. South Koreans on the street know it, no panic there. Are DPRK threats magnified as prelude to a devastating preemptive attack? The US B2 Stealth Bombers designed for atomic weapons, and F22 Stealth Fighters, are poised for a knockout blow. They calculate that North Korea will be no match for them. Only China's new might now stands in their way, as it did in 1950. 
David Ecklein
I am pleased to see the ongoing discussion of Kissinger and his crimes.  When Kissinger receives his award, along with other honoree David Koch, at the gala dinner at the Intrepid on Thurs., May 23rd we will be on 12th Ave. and 46th Street protesting.  Please join us!  Initiating sponsors:  War Criminals Watch/World Can't Wait, War Resisters League, Veterans for Peace Chapter 34, East Timor Action Network.
Stephanie
Poor Pres. Obama, surrounded by red lines of his own making.  If rhetoric were all there was to the job, he'd be fine.
A couple of Syria's more-or-less stable neighbors have accepted Syrian refugees, Turkey and Jordan.  How about that other country, the one intended, we are told, to be a state of refuge (at least for some), Israel? Israel could even keep the refugees on the Golan Heights, territory Israel controls which adjoins Syria. Anyone heard that discussed?
Joe Maizlish
Does anyone recall the "Yellow Rain" hoax, which falsely alleged that Vietnam had used previously unknown biochemical weapons? The substance offered in evidence turned out to be bee pollen, but it served the propaganda purpose long enough to spread the lie around the "free" world.
Ken Lawrence
Spring Mills, Pennsylvania
The Syrian regime invited UN inspectors to vet its claim that the opposition used some kind of gas in the Aleppo area. At this point a game starts (as we also see in Iran with the sec-gen of the IAEA, a national of a regime with a military alliance with the US -Japan) and  the UN sec gen, another national of regime with a military alliance with the US (SK) insists the inspectors have to go elsewhere in Syria - which Syria refused, perhaps recalling that IAEA inspectors spied for the US and Israel in Iraq. So the original site is subject to all sorts of manipulation and reports are confused.
These games of the :international community" (the US and its friends) are transparent to all but the US media.
Michael Munk
Go Dave!  In our sports-crazed competitive world, as a former ballet dancer whose craft has been corrupted by Competitions, it partly, but not wholly, explains Tamerlan's disaffection with the US.  That there are many athletes who compete on Olympic teams from countries that they are not citizens of has always bothered me.  Why him and not all of the others?  That certainly does not explain the stupid violence of his actions.  And, indeed, what did he hope to achieve.  Obviously, death by cop.  He was a coward.  But the total corruption of sports of organized - going down to children's sports activities - is well noted.  Gee, let's take our kids from ballet and piano lessons to beating up their friends on the soccer field and T-ball.
And mil gracias to Jason Collins who "came out."
Claire Carsman
No mention of the ties through the family to the CIA and Afghanistan.
Ismael Parra
Another aspect of gutting OSHA, and indeed a number of laws, is employer retaliation against whistleblowers who blow the whistle on violations. Thus preventable effects, including deaths, occur.
Leroy Pletten
Although I think that it is wonderful that you ran a report on OSHA and the way some unions used it, I was disappointed to see that the article omitted the part that rank and file worker activism and the left played in making OSHA happen.  The backdrop to OSHA was the combination of a long and massive series of wildcat strikes by coal miners and their related formation of Miners for Democracy in the late 1960s and beyond.  This led to the Black Lung Act but also was part of the motivation for OSHA, since other workers took note of what was possible.
All of this happened at a time of rank and file activism in many unions and workplaces, and in the context of radical movements by Blacks, Asians, Latinos/as, American Indians, women, students and gays--and at a time when the potential for social explosion if firmer ties could be forged between the rank and file movement and the other movements was becoming evident to many in all  movements.  (And of course to the wiser defenders of the ruling class.)
OSHA was both a concession to our demands and yet another of a long line of bureaucratic agencies that tended to defuse activism.  Some unions, including the Miners once the MFW got in office, and the various COSH groups did our best to keep the activism going.
Best
sam friedman
Oh! I'm 82 years old, and I miss things sometime. I must have missed that it was an obit in my haste to write you. I am very sorry that he has died and that I cannot send him a greeting. 
I knew Wiley and his father, and worked with Wiley in the NAACP. I was, I think, the only white member in the State. I met Leo when he was defending the Smith Act defendants. I'm sorry I did not continue our contact, but I was draftee in the Marine Corps (it was the Korean War period) and went into LA from the Base in Barstow only on the weekends, and shortly after meeting Leo I married and my wife and I were busy setting up a household. When I was discharged, I went to work in the ILWU, and was extremely busy in the Union, and just failed to keep up my acquaintance with Leo. Pity.
Donald Todd 
Beginning this past weekend, AOL subscribers to Portside have either not been receiving Portside's daily posts, or they arrive with subject lines and blank messages.
We are not sure what is happening.
We do know that AOL has intermittently blocked messages sent out from the server that Portside uses.
We are working to resolve the problem.
Moderator 
This year's Workers Unite Film Festival will take place at Cinema Village, 12th Street and University Place and The Brecht Forum (at Bank Street and West Street), for a full week of films, music, spoken word and frank discussions about the state of workers lives and labor organizing in the U.S. and around the world.
We are screening The Machinists, a timely film about the brave workers who are fighting for their labor rights in Bangladesh - the same women who recently escaped the tragic, deadly fires that killed over 150 workers before the recent massive death toll over 320 in the garment factory collapse.
SAVE THE DATE
Frederick E. Samuel Community Democratic Club
Political & Social Action Committee
Housing Forum
Harlem Y.M.C.A.
180 West 145th Street
New York, NY 10030
Thursday, May 30, 2013 -- 7:30pm
Let Your Voice Be Heard!
Take the B, C, 2 or 3 trains to 135th Street
Yours-in-Service,
Dawn L. Jones, Chair, Political & Social Action Committee
And check out the videos below for songs you might hear live at the event!
Police are leading a group of black school children into jail, following their arrest for protesting against racial discrimination near the city hall of Birmingham, Ala., on May 4, 1963. 
Film. By Hudson and Houston. 2005. 40 minutes. This Academy Award-winning documentary film tells the heroic story of the young people in Birmingham, Alabama, who brought segregation to its knees.
Mighty Times: The Children's March tells the story of how the young people of Birmingham braved arrest, fire hoses, and police dogs in 1963 and brought segregation to its knees. In the spring of 1963, Birmingham, Alabama, was the "do-or-die" battleground for the Civil Rights Movement. Heavy intimidation by Birmingham authorities left the Movement floundering. Using word-of-mouth under a veil of secrecy, more than 4,000 African American schoolchildren organized to desert classrooms at exactly 11 a.m. on "D-Day," May 2, 1963, touching off a week of mass demonstrations and rioting that shocked the nation. Police tried to stop them. Yet, the children prevailed.
Mighty Times: The Children's March offers a rare glimpse into the 1963 Birmingham children's march from the ground up. More than 100 eyewitnesses contributed to the storytelling, with appearances by notable participants and organizers James Orange, Gwendolyn Webb, James Bevel, Harry Belafonte, Dick Gregory, and Andrew Young. Richard Cohen, President and CEO of the Southern Poverty Law Center said "It is our hope that The Children's March will inspire youth to take stands on vital human issues affecting their communities and their lives, most especially racism and the devastating impact of discrimination upon our society." [Producer's description.]
"The Children's March" kit includes a 40-minute teachers' edition of the Academy Award-winning documentary film with closed-captioning; and a teacher's guide with lessons for social studies, language arts, and music classrooms.