Dispatches from the Culture Wars - Now You See It, Now You Don't Edition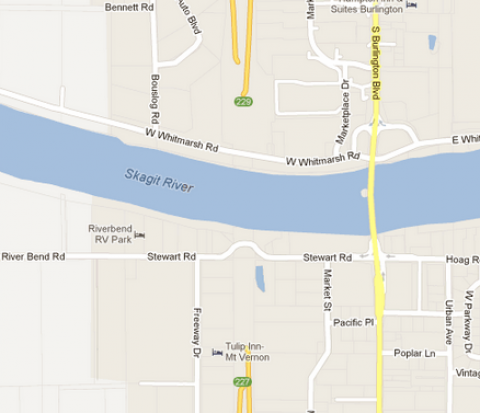 Shortly after the bridge collapse, Google Maps was updated with the I-5 span removed., GeekWire.com
I-5 Bridge that Collapsed into River is Already Gone from Google Maps
By Taylor Soper
May 24, 2013
If you're traveling on Interstate 5 this Memorial Day Weekend and need directions, Google Maps is going to be your best bet. Why? Well, Google has already updated its map to show Thursday night's collapse of the 58-year-old bridge spanning the Skagit River.  The quick update is likely the result of public contribution to Google Map Maker, a service that allows people to submit changes to Google Maps that often show up after review. (Learn more about Google Map Maker here).  
Glow-in-the-Dark Cockroach Among Top 10 New Species of 2013
By Karen Kaplan
May 23, 2013
Los Angeles Times
Scientists estimate that there are about 8.7 million species on Earth, give or take 1.3 million. (Some believe that the true figure is even higher.) Of these, perhaps 1.2 million to 2 million have been officially identified -- the rest are still out there, awaiting discovery.  Researchers have identified new species at a rate of about 18,000 a year, but that's too slow to close the gap.
To bring attention to the plight of undiscovered species, the International Institute for Species Exploration at Arizona State University has compiled a top-10 list of species that were identified in 2012. More than 140 species were nominated. Here's a look at the winners. 
Peace Corps Says Same-Sex Couples Can Apply to Serve Together
By Colleen Jenkins
May 21, 2013
Retuers
The Peace Corps said on Tuesday it will start accepting applications next month from same-sex couples who want to volunteer together as part of the overseas service program, but not all of the 76 countries that host the program will be open as assignments for those couples.
Married heterosexual couples have been allowed to serve together since the Peace Corps was created and fill 7 percent of its assignments. Same-sex couples can apply starting on June 3.
Exxon Defies Calls to Add Gays to Anti-Bias Policy
By James B. Stewart
May 24, 2013
New York Times
For millions of gay and lesbian employees, much has changed since 1999, when no states recognized gay marriage, "Don't Ask, Don't Tell" effectively barred people who were openly gay from serving in the military, Matthew Shepard's murderer was convicted — and Exxon Mobil shareholders were first asked to protect gay and lesbian employees from discrimination.
One thing hasn't: Exxon Mobil's implacable opposition to adding sexual orientation to its official equal employment opportunity statement.
Internet Archive to Bring TV News Footage to the Public
May 21, 2013
Knight Foundation
The Internet Archive, one of the world's largest public digital libraries, will expand its research library to make readily available hundreds of thousands of U.S. television news programs, with $1 million in support from the John S. and James L. Knight Foundation.
With this funding, the archive will expand its TV News Search & Borrow service, which now includes 400,000 broadcasts dating back to June 2009. The aim is to help strengthen the work of journalists, scholars, teachers, librarians, civic organizations and others.  The service uses closed captioning to allow users to search, quote and borrow programs from dozens of sources and producers.
Think Tank Could Pull Event From Newseum Over Hamas Memorial
By Rosie Gray
May 10, 2013
BuzzFeed.com
The Newseum, a journalism museum and event venue in Washington, is honoring journalists who were killed on the job this past year in a ceremony on May 13, a plan first noticed by the conservative Weekly Standard.  Two of those journalists, Hussam Salama and Mahmoud al-Kumi, are cameramen killed in Gaza in November who worked for Al-Aqsa Television, a Hamas-funded outlet, which itself has been designated a terror organization by the Treasury. The right-wing Foundation for the Defense of Democracies is scheduled to hold its event there later this year, but has become concerned about the Newseum's choice to pay tribute to thePalestinan cameramen.
In response, the Newseum defended its choice to honor the journalists:  "The Newseum Journalists Memorial recognizes 2,246 journalists who died or were killed while reporting the news. Hussam Salama and Mahmoud Al-Kumi were cameramen in a car clearly marked "TV." The Committee to Protect Journalists, Reporters Without Borders and The World Association of Newspapers and News Publishers all consider these men journalists killed in the line duty."
The Climate-Change Wars Begin This Summer
By Jonathan Chait
May 22, 2013
New York Magazine
The biggest piece of President Obama's second-term agenda is his widely expected plan for the Environmental Protection Agency to issue new carbon regulations for power plants, a move that could bring the United States in line with the greenhouse-gas-reduction goals it agreed to in Copenhagen and open the way for an international treaty to control climate change. If the administration unveils such a plan, conservatives will undoubtedly challenge its legality. The legal challenge won't take place for two years, but the two sides are preparing for war already. The field of battle will be the Federal Appeals Court in Washington, D.C.
The Inside Story of the Harvard Dissertation That Became Too Racist for Heritage
By Zack Beauchamp
May 22, 2013
ThinkProgress.org
The idea that some racial groups are, on average, smarter than others is without a doubt among the most discussed (and debunked) "taboos" in American intellectual history. It is an argument that has been advanced since the days of slavery, one that helped push through the draconian Immigration Act of 1924, and one that set off a scientific firestorm in the late 60s that's hardly flagged since.
Yet every time the race and IQ hypothesis reclaims the public spotlight, we are caught slackjaw, always returning to the same basic debates on the same basic concepts.
The recent fracas sparked by Dr. Jason Richwine's doctoral dissertation is a case in point. The paper is written for an academic audience, yet its core claim, that Latino immigrants to the United States are and will likely remain less intelligent than "native whites," has proved proper tinder for a public firestorm. The Heritage Foundation's Senior Policy Analyst in Empirical Studies is now a former Senior Policy Analyst — Heritage could not risk defending its scholar.  Yet if the dissertation was bad enough to get him fired from the Heritage Foundation, how did it earn him a degree from Harvard?
Eric Weinstein May Have Found the Answer to Physics' Biggest Problems
By Marcus du Sautoy
May 23, 2013
The Guradian (UK)
Two years ago, a mathematician and physicist whom I've known for more than 20 years arranged to meet me in a bar in New York. As he took me through the equations he had been formulating I began to see emerging before my eyes potential answers for many of the major problems in physics.  It was an extremely exciting, daring proposal, but also mathematically so natural that one could not but feel that it smelled right.
On Thursday in Oxford he will begin to outline his ideas to the rest of the mathematics and physics community. If he is right, his name will be an easy one to remember: Eric Weinstein.
Weinstein's Theory of Everything is Probably Nothing
By Andrew Pontzen
May 24, 2013
NewScientist.com
Yesterday Weinstein, encouraged by du Sautoy, went public with a loud splash in British newspaper The Guardian and in a 2-hour presentation in the main physics lecture theatre here at the University of Oxford. "I'm trying to promote, perhaps, a new way of doing science. Let's start with really big ideas, let's be brave and let's have a discussion," du Sautoy told The Guardian.
Sounds fair enough, until you discover that no one thought to invite any of Oxford's, er, physicists.
While Weinstein was delivering his lecture, the theoretical physicists were in a different room listening to a different speaker discuss a different topic. Only afterwards did anyone spot news of the revelatory talk that had taken place next door.
How Conservatives Captured the Law
By Michael Avery and Danielle McLaughlin
April 15, 2013
The Chronicle of Higher Education
The history of the Federalist Society is a story of how disaffection, bold ideas, commitment to principle, and enlightened institution-building have created a significant conservative shift in the legal, policy, and political landscape of America over the past 30 years.