labor
Labor Mobilizes for March on Washington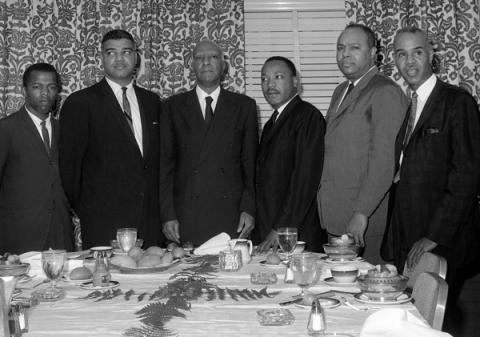 Civil rights leaders meet on March 6, 1963 in New York's Roosevelt Hotel to organize the March on Washington. Labor leader A. Philip Randolph (third from L) merged his planned jobs march with the Rev. Martin Luther King, Jr's freedom march.,In These Times /OFF/AFP/Getty Images
By Bruce Vail
August 17, 2013
Unions are strongly backing a march in Washington, D.C., next week to mark the 50th anniversary of the 1963 March on Washington for Jobs and Freedom, where Rev. Martin Luther King Jr. gave his famous "I have a dream" speech. Participating unions are heralding King's strong ties to labor, and many are using the opportunity to renew the original march's call for jobs and freedom.
"At AFSCME, we have a special connection to Dr. King," says Fleming. "Many will remember that he died in Memphis in 1968 when he went there to support the sanitation workers who were organizing with AFSCME. The same struggle for economic justice continues today, so we are proud to honor him by continuing the struggle."
Other unions sponsoring the march are the American Federation of Teachers (AFT), the American Federation of Government of Employees (AFGE), the Communications Workers of America (CWA), the International Association of Machinists (IAM), the International Brotherhood of Electrical Workers (IBEW), the Laborers International Union of North America (LIUNA), the National Education Association (NEA), the Office & Professional Employees International Union (OPEIU), the Service Employees International Union (SEIU), 1199SEIU (United Healthcare Workers East), the United Federation of Teachers (UFT), UNITE HERE, United Steel Workers (USW) and the Utility Workers Union of America (UWUA). Several other labor groups are also sponsors, including the AFL-CIO, Council of Labor Union Women, and the A. Philip Randolph Institute (APRI).
Donna McDaniel, Assistant Director of the Minority Advancement Department of LIUNA, says her union has chartered 16 buses, some from as far away as Ohio and Kentucky, and expects to bring 1,000 people to the march.
McDaniel spoke for several union representatives contacted by Working In These Times when she commented that "it is amazing how far we have come in the last 50 years in civil rights. But the original march had the theme of `jobs and freedom,' and I think we have lost ground on the jobs part. Unions are smaller and are under constant attack. Unemployment is high, particularly in our African-American communities, and very few of our politicians seem to care about that at all. We're still fighting for jobs."
Claude Cummings, a Texas-based CWA official at center of the union's march organizing efforts, agreed. "Some the same things we were fighting for in 1963 we are fighting for today. At CWA, we are working to strengthen our alliances with other labor unions and with other progressive groups beyond labor. So we'll be there next week," he says.
by Mike Hall
August 8, 2013
The march, most widely known for King's "I Have a Dream" speech, propelled the passage of the Civil Rights Act and the Voting Rights Act. It was a combined effort by the civil rights and labor movements. One of the key figures was A. Philip Randolph, president of the Brotherhood of Sleeping Car Porters and an AFL-CIO vice president.
"As one of the "Big Six" legacy organizations which spearheaded the original march in 1963, the A. Philip Randolph Institute will join major organizations to bring together diverse communities representing all who are interested in civil, human and working rights of all Americans across this nation."
We pledge to use the 50th anniversary of the March on Washington to recommit ourselves to extending and deepening freedom, equality and democracy for all in this country, and building a strong social and economic justice movement.
by Building Bridges Radio 
August 14, 2013
Produced and Hosted by Mimi Rosenberg & Ken Nash
We'll probe deeply into the significance of the massive 1963 march and the movement it inspired with civil rights and labor historian William P. Jones .  While in a resounding cadence, King lifted the crowd when he told of his dream that all Americans would join together to realize the founding ideal of equality, the very power of  King speech has also narrowed our understanding of the march organized by A. Philip Randolph Pres. of the Brotherhood of Sleeping Car Porters. Prof. Jones reminds us that this was a movement of sustained grassroots organizing, linked locally to women's groups, unions, civil rights and faith-based organizations across the country - it was a movement of the grassroots.  Prof. Jones restores the march to its full significance and with his fresh, compelling history delivers a new vision of this emblematic event and the broader movement it propelled and what it instructs for building a movement now for Jobs Freedom and Civil rights as we get ready to return once again  to March on Washington on August 24th to commemorate the 50th Anniversary of the first March to demand the implementation of its still unrealized goals of Jobs and Freedom.
Final Plans for the MARCH ON WASHINGTON FOR JOBS AND FREEDOM AUGUST 28, 1963 
This site is about the Civil Rights Movement of the 1960s. We are veterans of the Southern Freedom Movement, and this is where we can tell the story of the Civil Rights Movement, in our own words, as we lived it.