Dispatches from the Culture Wars - Missing Links Found edition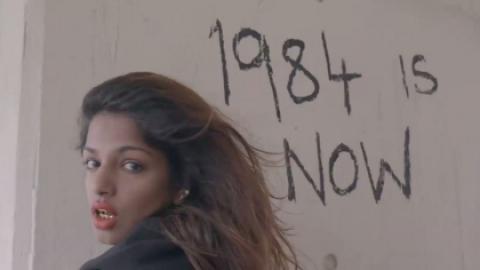 A still from M.I.A.'s new video/YouTube, Salon
Why Do Millennials Not Understand Racism?
By Jamelle Bouie
May 16, 2014
Slate
MTV has worked with pollsters to survey a nationally representative sample of people ages 14 to 24 to measure how young people are "experiencing, affected by, and responding to issues associated with bias."
Overall, MTV confirms the general view of millennials: Compared with previous generations, they're more tolerant and diverse and profess a deeper commitment to equality and fairness. At the same time, however, they're committed to an ideal of colorblindness that leaves them uncomfortable with race, opposed to measures to reduce racial inequality, and a bit confused about what racism is.
Meet the organizer who pulled off the Gap Does More hoax
By Isabelle Nastasia
May 24, 2014
Waging Nonviolence
This week, a small online organizing group threw punches at one of America's largest corporations in an effort to change the international labor practices of the Gap.
18 Million Rising, an online organization dedicated to "activating Asian America" pulled off a Yes Men-style hoax targeting the Gap. Posing as the clothing company's public relations department, Cayden Mak and fellow 18MR organizers launched an impeccably designed fake website called Gapdoesmore.com and released a statement coinciding with the company's shareholder meeting on Tuesday. The statement announced that Gap had signed on to a significant labor accord in Bangladesh.
Gap has released a response confirming the Mak's site as a fraud and serving them a take down notice. Despite the corporation's statements, 18MR continues to plans for escalation in their ongoing campaign to expose Gap's unjust labor practices.  

The Koch Brothers Kick Detroit While It's Down
By David Firestone
May 21, 2014
Taking Note/New York Times
Over the last five months, a deal has come together that would solve some of the most contentious issues in Detroit's bankruptcy. It would minimize the pension cuts for 30,000 retirees and city workers, save the city's art collection and give a reasonable amount of money to the city's bondholders.
And then, a few days ago, a loud and depressingly familiar voice rose in protest. The Koch brothers, through the screeching megaphone they built known as Americans for Prosperity, condemned the deal and announced plans to contact 90,000 conservatives around the state to build up pressure against it. The Associated Press reported that the group threatened to run ads against any Republicans in the legislature who voted for the deal in the coming days.
AFP has already set up a website - "No more bailouts for Detroit!" - that plays on the long-running, sometimes racially inflected resentment of Detroit around Michigan. They apparently want city workers and retirees to publicly suffer for the sin of having been union members.

The missing women you don't hear about: How the media fails Indigenous communities
By Lauren Chief Elk
February 14, 2014
Salon
On July 5, 2013, Hanna Harris, a member of the Northern Cheyenne tribe, was reported missing by her family in Lame Deer, Mont. After search efforts by community members and law enforcement, she was found dead five days later. While there was some coverage of the disappearance and death of Harris, the media initially took the opportunity to focus on her use of peyote for ceremonial practices or to suggest her death was the result of drug use.
Hanna Harris matters and deserves respect, as do the hundreds (possibly thousands) of indigenous women who have also gone missing and murdered. Unfortunately, Harris' story - a death so far uninvestigated by government authorities - is ubiquitous among indigenous people. A year ago my co-worker Laura M. Madison and I launched the Save Wiyabi Map, a project to keep track of missing and murdered sisters. In that time, we have tracked 1,050 violent incidents involving indigenous women - women who have disappeared, or who have been found dead.
By Whet Moser
March 24, 2014
Pacific Standard
At some point over the last 15 years-sometime, say, between the 1999 release of "I Want It That Way" by the Backstreet Boys and last year's "Roar" by Katy Perry-it became an inescapable fact that if you want to understand American pop music, you pretty much have to understand Sweden.
What Hollywood is to movies, what Nashville is to country music, and what Silicon Valley is to computing, Stockholm is to the production of pop. In fact, Sweden is the largest exporter of pop music, per capita, in the world, and the third largest exporter of pop overall. And in recent years, the country has seized not just the message, but the medium as well: As the industry moves toward a distribution model that relies on streaming music services, the Stockholm-born Spotify is a dominant player, with 24 million users per month.
M.I.A. Releases Politically Charged Video, Apparently Against Her Label's Wishes
By Dee Lockett
May 19, 2014
Slate
Last week, M.I.A. unleashed her manic remix of Beyoncé's "Flawless," and today she's back with the long-awaited video for her frenzied Matangi cut "Double Bubble Trouble"-though, once again, not without more infighting with her record label. After claiming Universal Music Group held the self-directed video for four days, she uploaded it herself this morning on YouTube. But, immediately, UMG blocked the video from being played, citing "copyright grounds." M.I.A. then retaliated, going on a Twitter rampage in which she re-tweeted disgruntled fans' demands to see the video. And it appears that worked, as you can finally stream the polarizing piece of work.