Media Bits and Bytes - Google This edition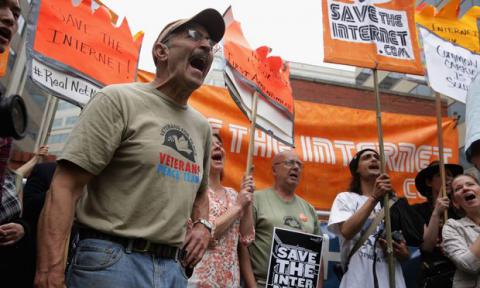 Activists protesting outside FCC headquarters in Washington,,Photo by Alex Wong/Getty Images // The Takeaway/ WNYC
Google to Flag 'Right to be Forgotten' Censored Search Results
By Lisa Vaas
June 9, 2014
Naked Security
Google may be forced to forget about you, but it just might stick a flag on the search results it's reluctantly expunged.
According to The Guardian, the search giant plans to put an alert at the bottom of every page where it's been compelled to remove links in the wake of the recent, landmark "right to be forgotten" court ruling.
Last month, at the command of the EU's Court of Justice, Google reluctantly put out a "forget me" form to enable European Union citizens to request that it remove links that include their name and that are deemed "inadequate, irrelevant or no longer relevant, or excessive in relation to the purposes for which they were processed."
As of last week, that number had hit 41,000 requests, at the rate of about 10,000 per day.
According to the Financial Times, those familiar with the search results removal process say that the takedown requests are coming in from across the EU, with a particularly high proportion coming from Germany and the UK.
 
Black Girls Take on Tech's Diversity Woes
By Contessa Gayles
June 12, 2014
CNN/Money

Over 60 participants, 17 teams and two days of marathon computer programing -- and they're all girls of color under the age of 18.
This past weekend, Black Girls CODE, a nonprofit that teaches coding to girls from underserved communities, hosted its first ever hackathon.
Black women are only 2% of the United States' science and engineering workforce, while white men comprise 51%, according to the National Science Foundation.
So far, Black Girls CODE has served about 3,000 girls, many on scholarship, in six different cities to date.  
 
The Internet of Things Isn't About Things. It's About Cheap Data
By Stacey Higginbotham
June 9, 2014
Gigaom
The value that comes from connecting your thermostat to the internet isn't that you can now control it from your smartphone, or that it's a theoretical home for new ads.  The value is that you suddenly have access to cheap information about the temperature of your home, and by collating other data points or simple extrapolation techniques, you also have access to detailed information about what is happening in the home.
The internet of things is a way to deliver cheap information that could be used for good or ill. It's a tool. And like a hammer is used to expand the amount of force generated over a small area (allow you to hit something really hard), the internet of things is a tool is for cheaply delivering and gathering information.
So if we view this as a tool, then let's stop talking about the internet of things as this monolithic system that will make homes smarter, businesses leaner, and so on. We need to break this tool down and figure out what information we want and where we can get it. We also need to think about what it can unleash on the world and how to set safeguards.
 
The Weird Google Searches of the Unemployed and What They Say About the Economy
By Ylan Q. Mui
May 30, 2014
Washington Post/Wonkblog
If you really want to know how the economy is doing now, just Google it.
At least that's the goal of a growing number of researchers who are turning to big data in hopes of unlocking the secrets of the economy at the speed of the Internet. The movement - dubbed "nowcasting" - is piquing the interest of policymakers in Washington and around the world frustrated by the long lag in official government statistics as they make decisions where timing is everything.
Want to figure out where prices are headed in 86 countries on a given day? A project at the Massachusetts Institute of Technology tracks them at thousands of retailers. How many people will file for unemployment benefits in one week? Economists at the University of Michigan are tapping Twitter to estimate the number of new applicants. Are more young men finding jobs? Google suggests the incidence of searches for adult entertainment can provide a clue.
In the midst of the recession, Google's chief economist Hal Varian released a paper showing how to use the company's search data to measure auto sales and consumer spending, among other things. The company said its data can improve the accuracy of standard estimates of economic data in a current month as much as 10 percent.  Now, researchers both inside and outside of government are using it to estimate everything from unemployment to mortgage delinquencies.

Cable Companies Are Astroturfing Fake Consumer Support to End Net Neutrality
By Lee Fang
June 5, 2014
Vice
Many of the organizations protesting a move toward classifying internet service providers as a utility, which is the only likely option for enacting net neutrality, are funded by the ISP lobby.
In an opinion column in the San Francisco Chronicle, former Republican Senator John Sununu and former Democratic Congressman Harold Ford argue that reclassification would lead to "chronic underinvestment" in broadband services while threatening job loss. The disclaimer running under their byline says they are honorary co-chairs of Broadband for America, which the paper describes as "a coalition of 300 internet consumer advocates, content providers, and engineers."
A disclosure obtained by VICE from the National Cable and Telecom Association (NCTA), a trade group for ISPs, shows that the bulk of Broadband for America's recent $3.5 million budget is funded through a $2 million  donation from NCTA.