European Anti-Immigrant Racism--and the Fightback Against it - Civil Rights Activist Reports on Recent Trip thru Europe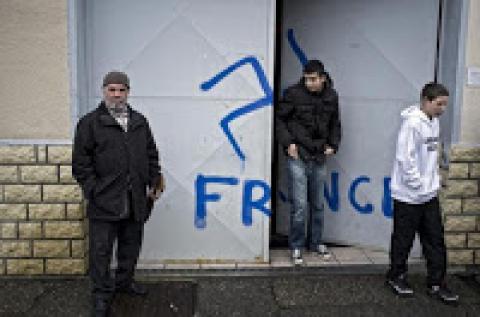 A new wave of anti-Muslim intolerance and antagonism is sweeping Europe. The far right political gains seen in some parts of the continent are alarming., Post on Politics
I visited nine cities, in as many countries, in Europe, from April 8 thru May 12.  There is a dangerous growing movement in opposition to immigrants spreading across the continent.  I wanted to know why.
What fuels it?  Is it racist?  Is it fascist?  Is it something else?
Michael Privot, based in Brussels, Belgium, is executive director of ENAR--the European Network Against Racism.  He helped me arrange my itinerary.  Many wonderful people, from labor, media and other organizations, also assisted me.
Colleagues I knew in the U.S. Civil Rights Movement in the Deep South  in the 1960's, who currently live in Europe, also helped.   Advocates for peace, both Palestinian and Jewish, provided invaluable contacts in several countries.
I spent three to five days each in Athens, Greece; Budapest, Hungary; Vienna, Austria; Munich, Germany; Fribourg, Switzerland.  Then I continued on to Turin, Italy; Brussels, Belgium; Paris, France; and London, England.
In Greece there is the Golden Dawn, a group that, I was told, openly wears the swastika.  In Hungary, the neo-fascist group Jobbek got 15% of the vote a few years ago.  It polled 20% recently.
Back in Athens I met with representatives of five immigrant-rights groups, Roma (Gypsies), other Eastern Europeans, and Africans.  They provided much background.
I had bought a Eurail Pass, hoping to travel by train from Athens all the way to London.  But the trains in Greece ran irregularly, forcing me to fly from Athens to Budapest.  The Greek economy, once very strong, is now at the beck-and-call of Angela Merkel and the German economic powerhouse--or so it seems.
Unemployment is growing throughout Europe.  Sad to tell, rather than blame this on an economic model that puts profits before people, too many of Europe's "white" working class curse immigrants, people of color and others who are "different".
In Munich I attended an anti-fascist demonstration.  How wonderful to see this in Germany.  I was in Brussels during May Day, that U.S. holiday celebrated all over the world, except in the U.S.
I cannot possibly, in one column, give a complete description of what I found.  But I can tell you that the recent voting across Europe shows a marked right-wing and, yes, neo-fascist growth that is scary.
I was on the radio and on television, thanks to Radio Afrika, and Afrika TV--based in Vienna.  On the tv program I was honored to appear with an Austrian woman, originally from Syria.  She was so politically sophisticated.  The director, a gentleman originally from Rwanda, and his assistant, provided invaluable help.
Soma, my Austrian co-panelist, gave a sobering view of the growth of the radical right in her country.  (to access this show by computer, go to http://okto.tv/afrikatv/12350/20140428 ).
Across Europe, including France and England, the reactionaries are on the rise.
Friends in Budapest took me to the Great Synagogue, and to the side of it where Jews, during the Hitler period, were lined up before being taken to the camps and the gas chambers.  In Munich I was shown the house where Neville Chamberlain and Adolph Hitler signed the "peace-in-our-time" pact, objectively hastening the Nazi butchery.
I also visited the Dachau concentration camp, where there were imprisoned so many anti-fascists--Soviet soldiers; veterans of the International Brigades against Franco who fled Spain for France and were imprisoned when fascism came to France.  There were many Jewish and Roma inmates, and a small number of Catholic priests.
I cannot predict the future.  But I do know what Santayana wrote:  those who refuse to learn from history are condemned to repeat it.
contact Ira Grupper:  irag@iglou.com
Published by FORsooth, newspaper of Louisville chapter of FOR [Fellowship of Reconciliation]
Thanks to the author for sending this to Portside